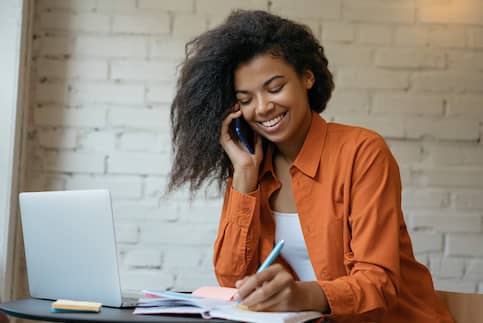 Buying A House Without A REALTOR®: A Guide
Published on July 14, 2021
Whether you're a first-time home buyer or a seasoned homeowner who's been around the home-buying-and-selling block a few times, it's never a bad idea to work with an experienced real estate agent when you purchase a home.
Their ability to stick to a deadline and experience in the industry makes choosing a real estate agent one of the best things you can do when you start looking for a new home.
However, when almost everything is accessible online, it's easy to research listings on your computer or phone and schedule tours.
There are certain stages during the home buying process when you may want someone in your corner. Here's what you need to know about buying a house without a real estate agent or REALTOR®.
View Your Refinancing Options
See expert-recommended refinance options and customize them to fit your budget.
Start Your Refinance Online
Do You Need A REALTOR® To Buy A House?
First, a quick lesson in terminology on REALTOR® versus real estate agent. A REALTOR® is an individual who represents you in the home buying process. While the term "REALTOR®" is often used colloquially in a way that implies it has the same meaning as the term "real estate agent," there is a small difference between the two.
All real estate agents must be licensed and are all held to a strict code of ethics. REALTORS® are simply real estate professionals who are members of the National Association of REALTORS®.
This does not mean that REALTORS® are better or more qualified than regular real estate agents; it just means that they've joined a broader network of real estate professionals.
REALTORS® and real estate agents alike will set up home viewings on your behalf, give you information on houses that pique your interest and help you negotiate the best price on the home you would like to purchase. Additionally, they provide references for reputable mortgage lenders, home inspectors and other service providers that you'll need during the home buying process.
While buying a house without a REALTOR® or real estate agent is possible, it's not always the best idea.
A good real estate agent will have access to neighborhood knowledge including comparable sales, local history and neighborhood demographics. They should also be knowledgeable about the current market and set realistic expectations for your home buying timeline and price point.
Working With Buyer's Agents Vs. Seller's Agents
Generally, the buyer and seller may have representation from separate agents.
You can choose to use the seller's agent; however, they may not have your best interest in mind. A seller's agent, also referred to as a listing agent, has a fiduciary duty (legally mandated obligation) to the seller.
Sometimes they can declare dual agency, meaning they claim to represent both seller and buyer in a home transaction. However, at the end of the day, their primary duty is to the seller. This is just one of the many reasons to hire a real estate agent to represent your interests in the transaction. In some states, this dual agency is also illegal.
A buyer's agent, on the other hand, will have fiduciary duty to you, the home buyer. This means they have a responsibility to act in your best interest, making sure your private information is confidential and accounting for all documents and funds in the home transaction.
When You Should Consider Purchasing A Home Without A Real Estate Agent
There are some serious perks to working with a REALTOR®, but it's not an absolute necessity. You will be able to view homes, attend open houses and complete your purchase without the assistance of a real estate agent or REALTOR®.
Typically, the seller is often responsible for paying any agent commissions to both the listing and buying agents at closing, although this can vary based on market conditions. That means buyers usually won't have to pay a fee to work with a real estate agent. However, since the seller will have to pay less in commissions, they may be more open to negotiating a lower sale price, saving you money upfront.
Additionally, you may be able to find all property information online without additional help. With the rise of technology and being able to buy a house online, you can access most property data in seconds.
If you feel confident you can find everything you need on your own, you may not need the expertise of a real estate agent.
Pros Of Working With A Real Estate Agent Rather Than Buying On Your Own
Even if you're tempted to work alone when buying a home, there are some benefits of working with a real estate agent you should consider:
They're experts in the industry.

Most real estate agents have a wealth of knowledge and expertise that can help you navigate the home buying process. If you're a first-time home buyer, your agent can offer helpful tips to make the process as simple as possible.

They can save you a lot of time and energy.

With all of your daily responsibilities, it may be challenging to juggle the

purchase of a home. Having an agent by your side can add a level of convenience when making one of the biggest purchases of your life. Real estate agents can also save you time by screening listings and searching for homes that fit your criteria.

They can calm your nerves.

If you choose to buy a home without an agent, you will need to handle communications with sellers throughout the whole process. Delayed responses from sellers can make it hard to find your dream home quickly. Another important component of buying or selling a home is the paperwork involved. If you miss something, it will delay the process. Your agent can help you manage everything, limiting your stress and giving you peace of mind.

They act as go-betweens and help with negotiations.

You might have questions and concerns about a home before you put in an offer. A real estate agent can express your concerns to sellers without insulting them, by acting as a party representing your interests in the buying process. Your agent can use your concerns to negotiate the best price for you.
If you decide that working with an agent is right for you, our sister company Rocket HomesSM can help match you with one of their Verified Partner Agents who has expertise in your area and can understand your goals as well as your budget.1,2
Apply Online with Rocket Mortgage
Get approved with Rocket Mortgage® – and do it all online. You can get a real, customizable mortgage solution based on your unique financial situation.
Apply Online
Cons Of Working With A Real Estate Agent
Although there are many positives to working with an agent, there are still a few downsides:
You or the seller may have to pay a commission.

Hiring a full-service real estate agent can be pricey. Either alone or between the two of you, buyers and sellers expect to pay an average of 6% of the total sale price. The more the seller has to pay in agent commissions, the less willing they may be to accept a lower offer.

You may be one of many clients.

Real estate agents make money when they sell houses. That's why they tend to have multiple clients at any given time. You may not get the individualized attention you need.

You may find yourself working within their time constraints.

Most likely you have your own goals and timeframe for purchasing a home and that timeframe may not be the same as your real estate agent's. You may have to spend extra time communicating with your agent to ensure that they're doing what they can to help you meet your goals.

Agents are not the only professionals you'll need to hire.

Real estate agents can help you find a house and negotiate a fair price, but they can't do everything themselves. Your lender will still need to set up an appraisal. and some states require that a real estate attorney be involved to review the final contracts.

Every agent is different.

Real estate agents have unique skills and personalities and finding one that you work well with may not be as easy as you think. It can take time to interview several agents in your area to find one you like.
Real estate agents can add a lot of value to the home buying process if you select the right one to match your needs. Making a poor choice could cost you time and money. It's worth noting that you can negotiate how long you have an exclusive agreement with that agent. If it's not working out and you still don't want to do things yourself, you can always let the time run out and go with someone else.
How To Buy A House Without A REALTOR®
If you choose to buy a home without a real estate agent or REALTOR®, you should do your research and prepare as much as possible. Here are nine important steps to take during the home buying process:
Step 1: Prepare Your Mortgage Documents
There are several documents you'll need to apply for a mortgage and the sooner you gather them, the easier the application process will be. Once you have everything together, start your mortgage preapproval, as it can help streamline the home buying process, and may even make your offer stand out to sellers.
You can make an offer on a home without a preapproval, but it may be rejected or slow the process down and increase your chances of not getting the home of your dreams. At Rocket Mortgage®, you can get a Verified Approval where your income, assets and credit score are verified by our underwriting team, so sellers can be sure you're good for the financing.3
Step 2: Do Your Research
Get familiar with the neighborhood you're considering and its market. You should make an effort to gain a sense of local crime rates, school statistics, property development and anything that would encourage or discourage you from buying a home there.
As you research the market conditions, current listings are not always indicative of actual value. However, getting an understanding of how much comparable homes are selling for in the area where you're interested in buying property will make it easier for you to navigate the market without encountering any unpleasant surprises with regard to house prices. Look for how long homes were available on the market and whether homes were sold above or below asking price to help you navigate the competition.
Step 3: Ask For The Seller's Disclosure
When you find a home you like, request a seller's disclosure and prepare questions. It's required by law in many states that sellers provide documentation disclosing any issues with the property you're looking to purchase. If you don't know what to ask for, they may not share all the information you need such as structural issues, plumbing, heating or electrical system problems, presence of lead paint, radon or asbestos and more.
Don't hesitate to ask about things like their reason for selling, how much they paid for the home when they first purchased it or whether there were any previous issues with the property that were addressed in the time that they lived there.
Step 4: Hire A Real Estate Attorney
A real estate attorney can review your contract and provide legal advice. Some states require a real estate attorney to finalize the home sale and transfer title but even if it's not required, an experienced lawyer can protect your interests.
Step 5: Make An Offer
Once you find a home, it's time to make an offer.
Your offer letter should include the address of the home, offer amount, names of those buying the house, contingencies, earnest money amount, any seller concessions you'd like, items you want included in the sale like appliances and window treatments, your home loan approval letter, expected closing date and more.
Step 6: Hire An Inspector
Home inspections will help you understand the actual condition of the home. Ask for recommendations from friends and family on inspectors.
Even in a competitive market, a home inspection contingency can help you negotiate repairs, sale price or even the option to walk away with your earnest money.
Step 7: Purchase A Title Insurance Policy
Be sure to purchase a title insurance policy. You have to buy one that protects your lender in the event of title issues. However, there's a separate owner's title policy that will give you the money to buy a new house if someone asserts a successful claim to your property after you close.
You can ask the seller to purchase this as part of your contract. This should help clear the title of any liens or hindrances.
Step 8: Negotiate
Be ready to negotiate. There's a lot more at stake when negotiating the purchase price of your home. Unless the home is for sale by owner (FSBO), expect to negotiate the price and terms with the seller's agent. Otherwise, you can submit your offer directly to the owner.
You'll want to get familiar with the best negotiation tactics and what's appropriate when negotiating the sale of your new home. Be sure to establish who should pay which closing costs. You don't want to get stuck with extra expenses without agreeing to it.
Step 9: Finalize Home Financing And Closing Documents
When you reach an agreement with the seller, it's time to close on your home loan. Once the appraisal and underwriting process is complete, your mortgage lender will send you a Closing Disclosure which tells you about the terms and conditions of your loan, monthly payment, closing costs, interest rate and other important details.
Your attorney can help review the closing package and guide you though the final closing process so you can have the keys to your new home in no time.
Buying A House Without A REALTOR® FAQs
Does buying a house without a REALTOR® save you money?
Most of the time, home buyers don't pay their REALTOR® or real estate agents out of pocket. The buyer's agent commission is paid by the seller from the sale of the house. If you can negotiate a lower price on the house since the seller doesn't have to pay for your agent's commission, this could save you money.
When should I consider buying without a REALTOR® or real estate agent?
The home buying process can be complex, but if you know the seller or have experience taking out a home loan in the past, you typically know what to expect and how to prepare for closing. Just make sure you're clear on the price, closing date and contingencies with the seller and have it all in writing.
How hard is it to buy a house without a REALTOR®?
The level of difficulty to buying a home without a REALTOR® depends on your own experience and schedule. If you don't have the time to attend open houses, search for comparable house sales, lack confidence in your negotiating skills or don't understand the legal requirements, buying on your own might be more involved than you want. A good real estate agent makes their job look easy. Hiring professional help can help save you time and energy.
Will sellers take me seriously if I don't use a REALTOR®?
Every seller is different. Some sellers may prefer to work with an agent, others may be happy to work with you alone. It's important when buying a home without a REALTOR® or real estate agent to ensure the seller you know what you're doing. Be prepared may increase your chances of sellers being more receptive to you.
The Bottom Line
Buying a house without a REALTOR® or real estate agent is doable, but it's far from easy, especially if you're inexperienced. If you want to get the best deal on your home, partnering with an experienced real estate agent may be your best option.
Though starting your home buying journey with a real estate agent can be ideal, you're free to start out on your own and work with an agent later on in the process. Just make sure to meet with several agents so you can choose the one that best understands your needs and goals.
Ready to begin your home buying journey? Apply online and start your search the right way. You can also give us a call at (833) 230-4553.
1 Rocket Mortgage, LLC and Rocket Homes Real Estate LLC are separate operating subsidiaries of Rocket Companies, Inc. (NYSE: RKT). Each company is a separate legal entity operated and managed through its own management and governance structure as required by its state of incorporation and applicable legal and regulatory requirements.
2 Rocket Homes® is a registered trademark licensed to Rocket Homes Real Estate LLC. The Rocket HomesSM Logo is a service mark licensed to Rocket Homes Real Estate LLC. Rocket Homes Real Estate LLC fully supports the principles of the Fair Housing Act. For Rocket Homes Real Estate LLC license numbers, visit  RocketHomes.com/license-numbers. California DRE #01804478. Hawaii License # RB-23371. TREC: Information about brokerage services, Consumer protection notice.
3 Participation in the Verified Approval program is based on an underwriter's comprehensive analysis of your credit, income, employment status, assets and debt. If new information materially changes the underwriting decision resulting in a denial of your credit request, if the loan fails to close for a reason outside of Rocket Mortgage's control, including, but not limited to satisfactory insurance, appraisal and title report/search, or if you no longer want to proceed with the loan, your participation in the program will be discontinued. If your eligibility in the program does not change and your mortgage loan does not close due to a Rocket Mortgage error, you will receive the $1,000. This offer does not apply to new purchase loans submitted to Rocket Mortgage through a mortgage broker. This offer is not valid for self-employed clients. Rocket Mortgage reserves the right to cancel this offer at any time. Acceptance of this offer constitutes the acceptance of these terms and conditions, which are subject to change at the sole discretion of Rocket Mortgage. Additional conditions or exclusions may apply.
Apply Online with Rocket Mortgage
Get approved with Rocket Mortgage® – and do it all online. You can get a real, customizable mortgage solution based on your unique financial situation.
Apply Online