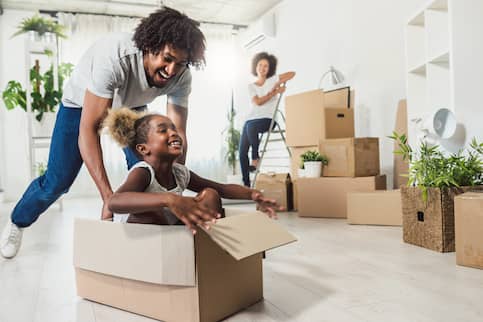 How To Make An Offer On A House That Will Get Accepted
Published on October 11, 2023
If you've been looking for a home or ever bought a home, you probably know how amazing it feels to find the right fit. Once this happens, you'll need to make an offer on the house. But what's the best way to get your offer accepted?
You'll want to go into the home buying process with a plan. Let's learn how to make an offer on a house and what to do if your offer gets accepted. We'll also walk through some helpful tips for making an offer in a competitive market.
What To Do Before Making An Offer On A House
If you're looking to make an offer and buy a house, it's wise to be as prepared as possible. Getting preapproved and finding a real estate agent will set you up to make a successful offer.
Get Preapproved
Before you start looking at houses, you'll need to get preapproved for a mortgage. During the preapproval process, your mortgage lender reviews your income, finances and credit history to determine how much to approve you for.
Once you're preapproved, you'll receive detailed information about interest rates, closing costs and your estimated monthly payment. You'll also receive a preapproval letter that you can show home sellers. A preapproval letter will indicate the amount you are eligible to borrow which could strengthen your offer in the eyes of sellers.
Find A Real Estate Agent
Before you start the home buying process, you should find a qualified real estate agent to work with. Also known as a buyer's agent if you're the one looking to make a purchase, this real estate professional can be a huge help – especially for first-time home buyers.
Your agent will research and find potential properties that meet your requirements. And, more importantly, they'll be able to guide you through the negotiation process with the seller's agent.
6 Steps To Follow To Make An Offer On A House
The process of buying a house depend on whether you're in a buyer's market, a seller's market or a relatively balanced market, but the basics will be consistent. Let's take a look at the steps you'll need to take in order to place an offer on a home.
1. Decide On A Price
Once you find a home you love, you and your real estate agent will use several criteria to determine how much to offer on a house. Your agent will look at a number of factors, including a comparative market analysis that they'll perform to determine the correct offer amount. You'll also want to consider factors like how long the house has been up for sale, the local market conditions and how quickly homes are selling in that area.
Make sure to keep in mind how much house you can afford when making an offer. While it can be tempting to get into a bidding war, don't commit to a home outside of your budget. It's not worth overextending yourself to get an offer accepted.
2. Consider Contingencies
Next, you'll want to consider whether you should include any contingencies in your offer. For instance, you can have a contingency stating that if the home inspection reveals problems with the home, you can walk away from the sale without losing your earnest money.
Contingencies in real estate often protect the home buyer, but a contingent offer can be problematic in a seller's market. If you include too many contingencies in your offer, the seller may end up choosing another offer. Talk with your real estate agent about whether certain contingencies, or any contingencies, are right for your home offer.
3. Decide How Much Earnest Money To Offer
Earnest money is a deposit that protects the seller if the contract falls through, and it's typically 1% – 3% of the home price. Your earnest money deposit will be held in an escrow account during the purchase process and eventually go toward your down payment or closing costs when you close on your home.
If you want your offer to be attractive to the seller, you can offer a higher deposit than average. This shows homeowners you're serious and have the cash to back up your purchase offer.
4. Write An Offer Letter
Next, your real estate agent will write an offer letter to submit to the seller's agent. The offer letter is your chance to stand out to the seller, so you want to be sure you get this right.
What To Include In Your Offer Letter
Here are the elements a good real estate offer letter should include:
The seller's name

The address of the property

How much you're offering to pay for the home

How much you're willing to pay in earnest money

Any contingencies you want to include

When you want to close on the home

A deadline for when the seller should respond to the offer
What To Attach
When evaluating offers, a seller's highest priority is choosing a buyer who can pay for the home. So, if you plan to take out a mortgage, you should attach a preapproval letter to your offer letter.
This shows the seller you already have the financing worked out and can pay for the house. If you plan to make an all-cash offer, you should include a proof of funds letter.
5. Receive Seller Responses
When the seller responds, you could receive one of three answers: an acceptance, a rejection or a counteroffer. Your offer getting accepted on the first try is the best possible scenario. You'll be able to move forward with the home sale without further negotiations over the price of the home.
If your offer is rejected, it's likely that the seller preferred another offer. While it's normal to feel disappointed if this happens, you'll want to regroup with your real estate agent and look at your remaining options so you can decide on the next steps in your house-hunting process.
If you receive a counteroffer, you should talk to your agent about whether to raise your offer. If the seller is willing to counteroffer, they're clearly willing to negotiate. Your agent can talk with the seller's agent to gauge their expectations. This can help you know whether to keep negotiating or walk away from the sale.
6. Negotiate And Sign A Purchase Agreement
Once the seller has accepted your offer, you'll sign a real estate purchase agreement. Before you sign, your agent or real estate attorney will help you negotiate any terms not outlined in the offer letter. You'll have time to properly vet the contract before signing and make sure it includes the terms you've agreed to.
A purchase agreement is a binding contract between the buyer and seller that outlines the terms of the real estate transaction.
A purchase agreement typically includes:
The buyer's information

The seller's information

Details about the property

The agreed-upon purchase price

How the buyer is financing the sale

Any fixtures and appliances included in the sale

The total earnest money deposit

The closing costs and who's paying for them

Any contingencies that must be met for the sale to proceed
What Happens If My Offer Is Accepted?
Once the offer is accepted and you've signed your purchase agreement, you're committed to buying the home. However, you'll still have to take a couple of steps – which we'll highlight next – before the house is officially yours.
Get A Home Inspection
Even if you choose to waive the home inspection contingency, you should still get the house inspected before closing. The Seller's Disclosure should reveal the home's condition, but it's not a good idea to rely on this exclusively.
If the inspection reveals substantial problems with the home but there's no inspection contingency, you may be better off walking away and losing your earnest money. Nobody likes to lose money, but it's better to lose that deposit than move into the wrong home.
Move On To Closing
Once the home has been inspected, it's time to decide on a closing date. Your closing will likely be held at the title company's office, where you'll review and sign your loan documents. You'll also pay your closing costs and receive the keys to your new home.
Tips For Making An Offer On A House That Will Get Accepted
It can be hard to make an offer competitive in a seller's market, which we're currently in. Although recent trends seem to indicate that the housing market is cooling a bit, we aren't in a buyer's market yet. Home prices remain high in many urban areas while inventory remains low across the country.
You could still face tough competition in many markets, so it's important to shine a light on your offer. Wondering how to get an offer accepted on a house? Next up are four strategies you can try.
Offer Above Asking Price
High-demand, low-inventory markets drive up home prices, so if you're trying to win a bidding war or worried about having one, you probably want to offer above the listing price. If you offer at or below the listing price, it's likely another buyer will place a higher bid.
Make A Clean, Non-Contingent Offer
Contingent offers are common in real estate transactions because they protect buyers from unexpected repairs, insufficient value and title defects. In a buyer's market, contingencies are often accepted without question.
However, in competitive markets, many buyers are removing contingencies to help make their offer stand out to sellers. This comes with some risks, however, so you should always discuss the strategy with your real estate agent first.
Be Willing To Pay In Cash
If you want to set yourself apart from other home buyers, making an all-cash offer is one of the best ways to do it. When homeowners receive an all-cash offer, they know the buyer has the funds to purchase the home. This speeds up the closing process and eliminates many of the hang-ups that can come with financing.
Make A Large Earnest Money Deposit
When a seller accepts an offer on a home, the buyer may be required to put down earnest money. This is a deposit that protects the seller if the purchase falls through, and it's typically 1% – 3% of the listing price.
If you want your bid to get the seller's attention, you can offer a large earnest money deposit. If the sale doesn't pan out, the seller gets to keep your deposit and move on to another buyer.
How To Make An Offer On A House FAQs
Making an offer on a house is exciting, but it comes with a lot of questions. We'll take a look at some common questions below.
Do I need a preapproval letter to make an offer on a house?
You should get preapproved to show homeowners that you're financially prepared and are a serious buyer. Only in rare situations is a preapproval letter not needed. One such example is a cash-offer situation where you won't need to secure financing.
What is a strong offer on a house?
A "strong" offer can vary from market to market, but it's generally one that's suitable for the market conditions, meets or eclipses the asking price, and includes a significant earnest money deposit. Some homeowners may consider a cash offer desirable because of the faster closing timeline.
How much lower than asking can I offer on a house?
Any offer that's less than 20% of the asking price will likely be considered a lowball offer. If you're wondering how much to offer on a house in a particular market, it's best to discuss it carefully with your agent. If you're in a seller's market, it will likely be hard to get an offer accepted that doesn't meet the asking price.
The Bottom Line: In A Competitive Market, Making An Offer On A House Is An Art
Making an offer on a house isn't something to do casually. When you make an offer on a home, you're taking a risk by making an earnest money deposit, so you need to know what you're agreeing to and have a strong plan in place.
Want to put your best foot forward and show buyers you're serious? Apply for a mortgage today!
Take the first step toward buying a house.
Get approved to see what you qualify for.
Start My Approval