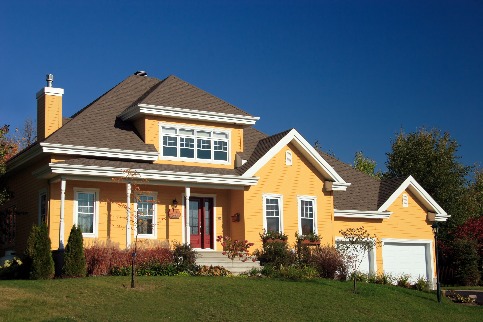 For Sale By Owner: Understanding FSBO Homes
Published on October 14, 2021
There is more than one way to sell a house, which is why many home sellers turn to a for sale by owner (FSBO, pronounced, fizz-bo) transaction. Using data from the National Association of REALTORS®, in 2020, 8% of homes were sold in a FSBO transaction.
So, why do people even bother with a FSBO at all? There are a variety of reasons why a seller may opt for a FSBO:
They already have a relationship with the buyer
A belief the process could be quick and easy due to a hot market or having a home that "sells itself"
And let's not forget the savings of 6% in both buyer's and seller's agent commissions
Despite the cost savings, the entire real estate process itself can be a bit tricky, particularly if you are a real estate novice undertaking a FSBO transaction. It's important to know what to expect before you dive into the FSBO market.
Apply for a mortgage today!
Apply online for expert recommendations with real interest rates and payments.
Start Your Application
What Is FSBO?
As the name suggests, "for sale by owner" refers to a property that's sold by the homeowner without the assistance of a licensed real estate professional, such as a real estate agent or REALTOR®. Selling your own property is completely legal in all states, but many home sellers opt to use a licensed real estate professional to save time and hassle, and to help with buyer-seller negotiations.
How Does FSBO Work?
Functionally, a FSBO works in the same way as a traditional real estate transaction, but in a FSBO situation, the homeowner is in charge of all responsibilities that normally a REALTOR® or real estate agent would have (e.g., listing the house, taking photos, negotiating the sales price, preparing and reviewing contract paperwork, etc.).
Below is a quick overview of all the steps involved in a FSBO transaction:
Prepare the home for listing
Market the home
Schedule and coordinate showings for the home
Negotiate an offer from a buyer
Accept an offer from a buyer
Turn paperwork over to a closing attorney
Make home available for both an inspection and a lender appraisal
Attend the closing
Looks pretty harmless, right? Yet many sellers get tripped up on a few small items of the FSBO process.
Unless you live in an incredibly popular area or are in a "seller's market," most often as a seller you'll need to market your home to let people know that the home is, in fact, for sale. FSBO homes may not be listed on a multiple listing service (MLS), which provides exposure to thousands of real estate agents and buyers. (Although there are now services that allow FSBOs to list on the MLS for a fee.)
This means a FSBO home will be harder to find and harder to market, especially if you decide not to offer a commission to a buyer's agent. Typically, agents may not show a home if there isn't a commission offered as this is how they get paid.
In a FSBO transaction, the seller will handle all paperwork and negotiations, especially if the buyer is working without a real estate agent. If the buyer does not have an agent, you'll also need to find a closing attorney and title company who can work on the legal and financial side of the transaction on your behalf so you are able to close on the sale of the home with the buyer's lender and record the transfer of property in your county records.
Benefits Of FSBO Homes (Sellers)
In a traditional real estate transaction, the seller pays a fee to the listing agent (the seller's agent) and also to the agent that brings the buyer, for a total of 6% in real estate commission fees. Factor in some type of closing assistance (with what's normal varying by city and state), and selling a house can be surprisingly pricey.
For example, you owe $200,000 on your mortgage and you want to sell your home for $300,000 so you can walk away with a clean, simple $100,000 in your pocket. What many sellers do not realize is that with 6% real estate commission fees, you'll pay $18,000 in fees on the sale and only net $82,000.00. If the buyer wants $5,000 in closing assistance from you, you'll walk away with $77,000. So, the cost savings with a FSBO can be significant.
Money aside, there are additional benefits to FSBO sellers, including more control over the process of the sale, like when showings take place. As an added benefit, research shows for sale by owner homes sell faster: New data from the National Association of REALTORS® shows 77% of FSBO homes sell in under 2 weeks.
Benefits Of FSBO Homes (Buyers)
Sellers aren't the only ones who receive benefits by going the FSBO route. A few main advantages to buying a FSBO include:
Having direct communication with the owner.
The potential for direct negotiation.
The owner has insider knowledge of the home and neighborhood.
The ability to snag the home at a lower price due to commissions not being involved. Data from the same report referenced above shows FSBO homes have a lower median sales price than agent-assisted transactions.
Tips When Dealing With For Sale By Owner As A Buyer And Seller
Should you opt for a FSBO transaction, below are a few tips to help navigate the terrain.
Selling For Sale By Owner Homes
While a FSBO does save money, many sellers often feel working with an agent is worth the investment because of all the time, energy and paperwork that goes into selling a home. Real estate professionals must be licensed because there are a variety of legal and financial ramifications if a sale goes awry.
Managing an active real estate listing is also a very time intensive process: from coordinating showings, to making sure the key is available, to ensuring the home is clean and ready to show. The purchase agreement and exhibits attached to a sales contract can also be very confusing to navigate for non-licensees.
And don't forget – there's also the expertise real estate professionals bring to the transaction such as knowledge of the area, how fair market value is determined for homes in your area, and how to draw attention to your listing. The last thing you'd want is to list your home too low simply because you were unaware of what prices are like in your area.
While cost savings are likely top of mind for FSBO sellers, they should still be prepared to pay out of pocket for certain items that are included when listing with a traditional agent such as listing photos, home staging, MLS listing fees and marketing materials.
Rocket Mortgage® Pro Tip: If you aren't using an agent, it's imperative to familiarize yourself with the paperwork you'll be reviewing throughout the transaction. Along with studying on your own, you should also consider having a professional review everything and offer advice. Professionals such as a closing attorney, title company and professional handyman can help you navigate the particulars of closing on a sale with relative ease.
Buying FSBO
We've discussed the benefits of buying a FSBO house, but there can also be substantial drawbacks for buyers too. These negatives can weigh heavy on the minds of buyers and sellers, which may explain why so few sellers opt for a FSBO transaction.
Here are some of the main disadvantages to buying a FSBO house:
The owner may inflate the home value due to a lack of experience or an emotional attachment to the home.
The owner may have little knowledge of real estate.
The owner may not disclose everything (which an agent is obligated to do), and a lawsuit would be a long, expensive process.
The owner may not agree to help pay the commission of a buyer's agent if you have one. (It is worth mentioning here that there is a hybrid FSBO model where the seller doesn't have a listing agent, but does pay a buyer's agent the 3% in order to entice more agents to show the listing.)
The seller may not want to spend more money on the property if there are issues that need to be fixed.
Rocket Mortgage® Pro Tip: Negotiating the sale price of a home that's for sale by owner can be tricky when you're dealing directly with the seller. For one thing, sellers often overvalue their property due to lack of experience and the emotional connection to the home.
Keep in mind that you are also not just negotiating the purchase price. You'll also need to negotiate fees, concessions (such as asking for closing cost assistance), contingencies and responsibilities of the seller (for example, if they are going to fix a broken furnace) too.
Apply for a mortgage today!
Apply online for expert recommendations with real interest rates and payments.
Start Your Application
The Bottom Line: Know The FSBO Meaning Before Choosing That Path
A FSBO home sale can be a little more complex than a standard home sale – and that's just one of many reasons you should hire an agent, particularly one who is experienced in these types of transactions. Whether you work with an agent or not, you should familiarize yourself with the end-to-end home selling process and prepare yourself for working with a buyer and a buyer's agent.
FSBO may or may not be the right option for a home buyer or home seller, which is why it is important to research on your own to figure out which options makes the most sense for you. Perusing the Rocket Mortgage® Learning Center is a great place to start.
Apply for a mortgage today!
Apply online for expert recommendations with real interest rates and payments.
Start Your Application