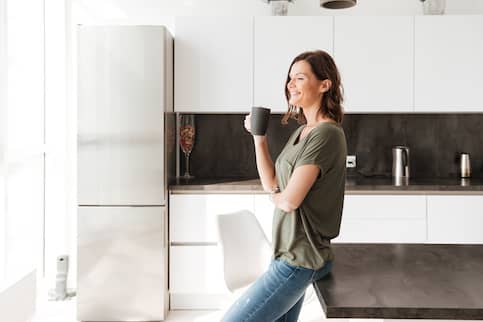 : How To Negotiate House Price For Buyers
Published on Novermber 14, 2023
When you're in the process of buying a home, it's natural to feel a little nervous if you're not sure how to negotiate house prices with confidence. Negotiating house prices can require some very specific tactics, and if you walk into negotiations knowing exactly what to do, you can have a much easier time of it.
Let's take a close look at how to negotiate house prices successfully and how doing so can potentially save you a lot of money.
Can You Negotiate House Prices?
Put simply: Yes, you can negotiate house prices. Often, sellers will list a home with an asking price above its market value to leave room for negotiations. Whether you're a first-time home buyer or looking for your next home, know that negotiating house prices is a normal part of the process.
Negotiating house prices involves certain strategies, though, and you could inadvertently insult the seller by making too low of an offer. Negotiating the right way will require patience, confidence, organization and perhaps even compromise, and it also requires a good understanding of the current housing market.
How To Negotiate House Prices
Learning how to negotiate house prices can be difficult to outline because each home sale is different, but a few commonalities, tips and tricks are worth keeping in mind. We'll delve into them next.
1. Start With A Home Inspection
Home inspections help buyers understand what's in good condition with the property and what needs updating or repair as soon as possible.
Home inspections aren't typically required but are highly recommended, particularly when you want to use an inspection as leverage for negotiations. You can use the inspection report to ask the seller to cover the cost of repairs or to take money off the asking price so you can pay for repairs, which puts less strain on your budget.
For example, if the home inspection reveals that the home needs a new roof, you can ask the seller to reduce the cost of the home to be in line with the cost of a new roof.
2. Work With A Real Estate Agent
It might be difficult to go through the home buying process without a real estate agent, and if you're seriously considering the possibility of not working with a real estate agent, you might want to rethink your plan. Not pairing up with a real estate agent can put you at a higher risk of paying more for a property than you should.
Real estate agents can help you determine an appropriate initial offer, and they'll have a lot of inside knowledge based on the housing market where you live and the condition of the property. REALTORS® and other real estate professionals can also represent you when speaking with the seller's agent, and they can advise you of when a higher offer is necessary, particularly if you're having to navigate a bidding war.
Look for these traits in a real estate agent:
Experience working with buyers similar to you

Knowledge of the area, specific neighborhoods and real estate comps
A friendly

and outgoing personality

Availability

to take buyers on as clients

A known ability to negotiate effectively with seller's agents, especially in a seller's market
3. Ask Sellers To Cover The Closing Costs
As a buyer, you shouldn't just focus on finding ways to get sellers to commit to lowering their asking price. You can also encourage sellers to cover at least part of your closing costs if you decide to purchase their home.
Closing costs typically range from 3% to 6% of the loan amount and include an origination fee – which is the cost of setting up the mortgage loan – and the cost of getting title insurance on the deed. You can ask the seller to pay for some or all of these costs when negotiating a home purchase.
A seller can't pay more than the total amount of the actual closing costs, though. For example, if closing costs are$3,000, the seller can't pay over that amount.
4. Don't Hesitate To Ask For Personal Property
As a buyer, you can negotiate for items in the home, not just discounts on the purchase price. For example, you may want to consider asking for:
Furniture

Appliances

Artwork

Landscaping tools or equipment

Decor (such as unique light fixtures or window treatments)
It's important to iron out exactly what's included in the purchase agreement so both buyer and seller understand the details. Items that belong in the home, such as a chandelier, can have an impact on the already-established style of the home.
Whatever the item you wish to keep, you must clearly state your request in your negotiations with the seller and communicate your wishes with your real estate agent.
5. Choose A Closing Date That Works For You
The seller often tries to set a closing date based on their needs, but as a buyer, you can and should negotiate the closing date to fit your preferred timeline. Sellers do have the option to rent the home from you if they're not ready to move out at closing.
This is called a rent-back agreement, and it requires a carefully drawn-up agreement that both you and the seller sign. It can benefit both parties to have a real estate attorney present to navigate potential issues during a rent-back period.
6. Don't Give Up If The Seller Rejects Your Offer
Think of the negotiation process as a two-way conversation. Build it into your expectation that a seller may reject your initial offer. If you're sure you've found your dream home, you can follow up with a better offer rather than throwing in the towel.
7. Know When To Walk Away
Negotiating takes time, but if you spend too much time trying to talk a seller into accepting your terms, it could backfire. You may want to consider walking away from the home in these instances:
The seller isn't interested in negotiating.

If the seller refuses to negotiate for a lower price and the home price is still too steep for your needs, consider walking away.

The inspection uncovers extensive repair problems.

If the home has major structural issues, you may need to walk away. The home may cost you more money later than you can afford or want to pay.

The home appraises for lower than the asking price.

When the home appraises for a lower market value than the sale price, your lender will likely decrease the amount you can borrow. Consequently, you'll either have to pay more out of pocket, get the seller to lower their asking price or give up on purchasing that particular home. If you have an appraisal contingency, you can at least reclaim your earnest money.

The title comes into question.

When issues related to title arise, you may feel safer walking away, particularly if outstanding liens show that the original owner of the property still owes money on the home. For example, a construction worker might put a mechanic's lien on the property because the original owner hasn't paid a renovation bill.
Walking away from a home you love can seem devastating. However, keep in mind that by moving on, you can make offers on similar properties more quickly, which means you'll be at less risk of losing out on a comparable home.
Why Negotiating House Price Is Important
Negotiating prices with sellers can benefit home buyers in a number of ways. For example, this process can help you:
Reduce the amount you borrow:

Negotiating may lower the total amount you borrow, which shaves money off your monthly payment.
Lower the amount you pay over your loan term:

The less money you borrow, the less you pay in interestover the life of the loan.
Save on repairs and updates:

Because you can ask the seller to make specific repairs ahead of time, negotiating may allow you to avoid making repairs or updates after you move in.
Save on closing costs:

Closing costs are the fees you have to pay for the services involved in getting your mortgage loan. The seller and/or the buyer can pay closing costs, but in a buyer's market, the seller might be more inclined to pay a larger share.
FAQs About Negotiating House Prices
Negotiating a house price can appear complicated since a lot goes into doing it right. Here's what other buyers are asking about how to negotiate house price:
How much can I negotiate on a new house?
In a buyer's market, it can be acceptable to offer up to 20% under a seller's asking price, assuming the home in question requires hefty repairs. Otherwise, you're better off negotiating 1% – 10% below the asking price. In a seller's market, buyers have even less leeway when negotiating down.
How do I negotiate house price after an inspection?
Once a home inspection has been completed, you can request that the sellers reduce their asking price based on the inspector's findings. If the house requires expensive renovations before you can move in, you could negotiate to have some or all of the repair costs subtracted from the asking price.
How do I negotiate house price without offending?
It's important to remain polite and understanding when negotiating a house price. Clearly stating your reasons for seeking a lower price can also be helpful. By working with a real estate agent when deciding on an initial offer, you're more likely to offer a price that's competitive but not out of your price range.
The Bottom Line
Negotiating house prices can help you reduce the amount you borrow, lower the amount you pay over time, save you money on repairs and updates, and help you save on closing costs. Make sure to request a home inspection, work with a trusted real estate agent, consider asking sellers to cover at least a portion of your closing costs, and choose a closing date that works for you. Finally, know when to walk away from the sale, as painful as that might be.
Ready to buy a home? Start a mortgage application today to speak with a Home Loan Expert who can help guide you through the home buying process.