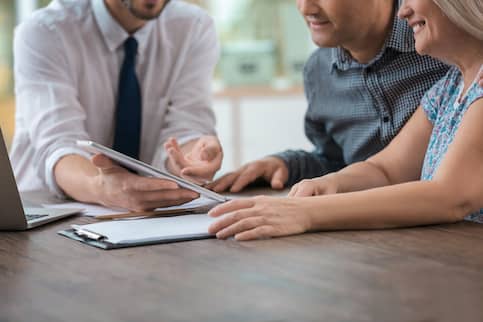 Underwriting 101: Your Guide To The Mortgage Underwriting Process
Published on July 1, 2021
If you want to get a mortgage, the underwriting process is a make-or-break step in the journey. In the underwriting process, the lender will decide whether you get final approval for your home loan. Let's take a closer look at how this critical piece of the homeownership process works.
Apply for a mortgage today!
Apply online for expert recommendations with real interest rates and payments.
Start Your Application
What Is Underwriting?
When you apply for a mortgage, your lender will conduct a risk assessment by verifying your income, assets, debt and property. This process of collecting information and evaluating the risk of issuing a loan is called underwriting.
If the lender likes what they find as a part of the underwriting process, they will proceed with the mortgage process to finalize your loan. But if the details of your loan application don't stand up to the rigors of the underwriting process, the lender won't help you become a homeowner.
What Does A Mortgage Underwriter Do?
If you're getting a mortgage, it's the job of the underwriters to make sure that all the information you have provided is true and accurate. To do this, the underwriter assigned to your application will:
Review your credit score and order a credit report. Keep in mind that the type of loan you are applying for determines the median FICO® credit score required.
Order an appraisal of the property you wish to buy to make sure that the amount being financed is not more than the home's value.
Verify income and employment.
Evaluate the amount of debt you are carrying.
Verify the source of your down payment and other savings you have on hand.
Ultimately, an underwriter goes over the entire mortgage application with a fine-toothed comb. The goal is to make sure you can truly afford to make payments on the loan. But if you default, the lender wants to know they can recoup their losses based on the value of the home.
What Is The Underwriting Process? What To Expect
Before you jump into the mortgage underwriting process, it's a good idea to get a mortgage preapproval. A preapproval involves providing an extensive amount of financial information and submitting to a credit check to see how much the lender is willing to provide for your home loan.
Obtaining a preapproval before a home shopper can help you avoid shopping with a bigger budget than the lender will approve.
When you are ready to finalize a home purchase, the underwriting process puts your finances and credit under a microscope. Lenders will verify your income, appraise the home, assess your credit history and evaluate your assets.
Stages Of Underwriting Review Process
The underwriting process takes a close look at your financial picture. Here are the areas an underwriter will dig into:
Income: Typically, lenders ask for your most recent W-2s, pay stubs, and bank statements. But if you are self-employed, you may need to provide tax returns from the previous 2 years as proof of income.
Appraisal: Your lender will order an appraisal of the home you wish to purchase. It protects you from overpaying when you're buying a house, and it protects the lender and investor (Fannie Mae, Freddie Mac, FHA, etc.) from lending more than the value of the house.
Credit: Underwriters want to know whether you have paid and continue to pay your bills on time. They find this information by checking your credit report and looking at your credit score.
Debt evaluation: A loan issuer also needs to be able to review any documents detailing how much other debt you owe, in the form of car payments, student loans, credit card debt or other liabilities. Typically, mortgage lenders won't provide a loan if your debt-to-income ratio is too high. The limit depends on the lender and the loan type.
Asset verification: When an underwriter reviews your assets, they look to make sure the money is actually yours, and not just a loan from someone else. They'll look at checking accounts, savings accounts, stock, bonds, real estate, and more to make sure you have enough money in reserve for homeownership expenses.
Property and title insurance details: The underwriter will confirm that the house in question doesn't have any liens attached. Typically, a title company is hired to perform a title search.
With all of this information, the underwriter can make an informed decision about your loan application.
Documents For Your Mortgage Application
Throughout the underwriting process, you'll need to provide documents to the lender. Here's a list of what you might be required to provide:
W-2s from the last 2 year
Most recent pay stubs
Bank account statements
Tax returns
Statements on other assets, like brokerage accounts or life insurance policies
Gift letter, if using a gift to fund your down payment
Credit report
Apply for a mortgage today!
Apply online for expert recommendations with real interest rates and payments.
Start Your Application
Tips For A Smooth Mortgage Underwriting Process
A smooth underwriting experience results in an on-time loan approval decision. Here are some tips to avoid the headache of your mortgage falling through on closing day.
Tip 1. Keep Your Debt In Check
During the underwriting process, it's imperative to avoid taking on any new debt or making other large financial changes. A few changes to avoid include requesting a higher loan balance, closing credit cards, and making a large purchase.
Any big financial change could lead to delays in your loan approval or even cause a denial.
Tip 2. Stay In Touch With Your Lender
The underwriter is likely to run into questions about your finances along the way. It's critical to be responsive to your lender's questions throughout the process. When they ask for a particular document, provide it as soon as possible. With the right information in their hands, the underwriting process can speed up.
Tip 3. Be Honest
Be honest when applying for a home loan. Whether or not you include information on your loan application, the lender will likely uncover the details during the underwriting process. It's important to be upfront about any potential issues.
Underwriting FAQs
Let's take a look at other questions you might have about the underwriting experience.
What is the purpose of underwriting?
Underwriting allows the lender to confirm your income, assets, and property details before moving forward with a home loan. The information found during the process will impact the lender's risk assessment of issuing the mortgage.
How long does underwriting take?
If all of your paperwork is finished and all of the proper documentation is provided, the underwriter could finish their work within a few days. However, if they need more information or if your finances are more complex, it could take up to a few weeks to get past the underwriting stage of your mortgage approval. You'll need to fill any informational gaps and provide your underwriter with any additional materials they'll need to verify all aspects of your financial history.
To make sure this process runs as efficiently as possible, you should understand what is expected of you from the lender. Don't try to hide any less-than-perfect components of your financial records from the underwriter.
How often does an underwriter deny a loan?
An underwriter might deny a mortgage loan if you have a low credit score, high DTI, unusual banking activities, or unstable history of employment. Another common reason is if the home's value is too low compared to the loan amount.
Is underwriting automated or manual?
Some mortgage loan products allow for manual underwriting. That means if an automated underwriting algorithm rejects your mortgage application, a human underwriter will review it to see if there was any way to approve it regardless. Unfortunately, not all mortgage programs allow for the exercise of a human being's discretion, and your numbers either add up, or they don't.
Is underwriting the final process?
Underwriting is a major milestone in the homebuying process. But it's not the final step. You'll still need to attend closing to finalize the loan process.
The Bottom Line
Mortgage underwriting is a hurdle that everyone seeking a home loan must clear. After a careful review of your finances and the property, the underwriter will approve or deny your loan. Preparing your documents ahead of time will streamline your underwriting experience.
Ready to buy a home?
Apply for a mortgage today!
Apply online for expert recommendations with real interest rates and payments.
Start Your Application