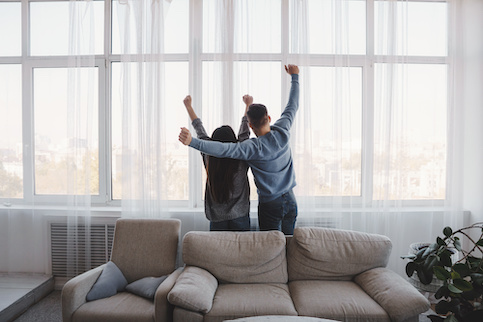 How A Verified Approval Letter Can Help You Buy Confidently
Published on January 14, 2022
When you're a home buyer in a competitive real estate market, it can be frustrating to have your offers repeatedly rejected. Sellers want to know you have the funding to back your offer, and an approval letter from a lender could give your offer a huge boost. Borrowing through Rocket Mortgage's® Verified Approval1 program can grant you a Verified Approval Letter (VAL) and the advantage you may need over other buyers.
This article will explain how a VAL differs from other forms of approval and how it can improve your chances of getting the home you want.
What Is A Verified Approval Letter?
A Verified Approval Letter can strengthen a buyer's offer on a home, as it acts as proof that the buyer has been given a strong preapproval for a mortgage and can financially back their bid. Verified Approval is a stage of the mortgage loan process during which Rocket Mortgage verifies buyers' documentation of their income, assets and credit history.
Getting a VAL can be a huge help in competitive markets, where buyers without preapproved financing often get passed over for buyers whose preapproval is backed by documentation – in a seller's eyes, these offers have the potential to fall through before closing.
When you include a Verified Approval Letter with your offer, sellers can have a little more assurance that the sale won't fall through.
How To Get A Verified Approval Letter For A Mortgage
To receive a VAL from Rocket Mortgage, you'll need to share documentation verifying your income and assets. This documentation can include:
W-2s
Income tax returns
Pay stubs
Bank statements
Your credit score and report will also need to be checked. This allows your lender to confirm that you qualify for a loan option and your finances can handle a monthly mortgage payment. It can tell you with certainty just how much house you can afford.
How A Verified Approval Letter Can Help You
Even in a slow or buyer's market, sellers want to know that a sale won't fall through before closing.
When a seller takes their home off the market to enter into a contract with a buyer, they're doing so with the hope that the buyer will be able to follow through to closing. If the buyer's financing falls through at the last minute, the seller has to put their house back on the market and go through the whole lengthy process all over again.
Sellers generally don't want to have to go through all that trouble, so reassuring them that you'll be able to make good on your end of the deal can be worth quite a bit when you're making an offer on their house.
Verified Approval provides that assurance and shows that you've gone through the underwriting process, making your offer more attractive to sellers in a competitive market.
Preapproval Vs. Verified Approval
Getting a preapproval letter for a mortgage might seem like the same as receiving a VAL (and in some cases, it may be). The problem for clients is that some lenders and other real estate professionals use the terms prequalification and preapproval interchangeably. There's a big difference.
A prequalification may or may not involve a credit check and only verbal or written estimates of your income and assets. But a Verified Approval can take things a little further by also verifying your financial documentation. The process involves a credit check, but submitting your additional documents for a Verified Approval can all but ensure you'll be able to get a mortgage for your home purchase, and save you some time later during the mortgage application process.
Being prequalified or preapproved may show that you have the credit to take on a mortgage, but only a strong preapproval like that from a Verified Approval Letter proves that you have the financial stability as well.
FAQs About Verified Approval Letters
Does a Verified Approval Letter mean you get the mortgage?
A Verified Approval isn't a full mortgage approval. You'll need to avoid a significant change in your finances such as that resulting from a job loss. The home will also need to go through an appraisal.
How long does it take to get a Verified Approval Letter?
Rocket Mortgage can deliver a VAL to prospective home buyers shortly after receiving their documentation.
How long is a Verified Approval Letter good for?
A VAL is typically valid for 90 days after receiving one. If it expires before you can close on a home, you will need to begin the process over again.
The Bottom Line
Getting your offer on a home accepted is a giant step toward closing on and getting the keys to your new home, and having a Verified Approval Letter can improve your odds of completing that step. Showing a seller you're financially able to afford a mortgage can give them the confidence to accept your bid, and give you the confidence to put your best offer forward.
If you want that extra confidence when making an offer on a home, apply online today to get your Verified Approval Letter from Rocket Mortgage.
1 Participation in the Verified Approval program is based on an underwriter's comprehensive analysis of your credit, income, employment status, assets and debt. If new information materially changes the underwriting decision resulting in a denial of your credit request, if the loan fails to close for a reason outside of Rocket Mortgage's control, including, but not limited to satisfactory insurance, appraisal and title report/search, or if you no longer want to proceed with the loan, your participation in the program will be discontinued. If your eligibility in the program does not change and your mortgage loan does not close due to a Rocket Mortgage error, you will receive the $1,000. Client must submit the claim to [email protected] or contact Client Relations at 1-800-863-4332 to complete and return a claim form to Client Relations in order to claim the $1,000. Additional information will be required for tax purposes. This offer does not apply to new purchase loans submitted to Rocket Mortgage through a mortgage broker. Rocket Mortgage reserves the right to cancel this offer at any time. Acceptance of this offer constitutes the acceptance of these terms and conditions, which are subject to change at the sole discretion of Rocket Mortgage. Additional conditions or exclusions may apply.
See What You Qualify For
You can get a real, customizable mortgage solution based on your unique financial situation.
Get Started