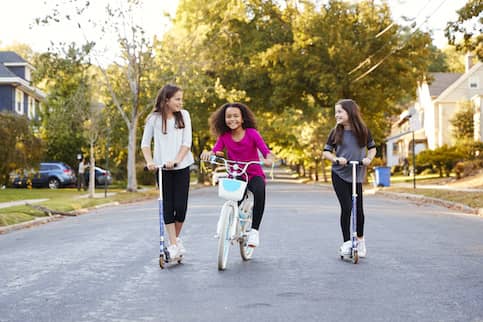 How To Choose The Right Neighborhood To Fit Your Home Search
Published on June 7, 2022
What do you envision when you think of the "perfect" neighborhood? Dozens of friendly neighbors? Amenities like restaurants, shopping and walking trails? A more secluded neighborhood with many trees?
There's no one right answer when learning how to choose the right neighborhood. Even so, learning how to choose a neighborhood for your home search goes beyond peeking into bedrooms and closets. It's just as important as the number of bedrooms in a home.
Follow these steps to choose the right neighborhood:
Calculate Your Budget
List The Must-Have Features Of Your Ideal Neighborhood
Study Up On The Local School District
Research Crime Statistics
Look Up Local Home Values And Property Taxes
Drive Around The Neighborhood At Different Times Of Day
Explore The Neighborhood On Foot
Strike Up Conversations With Potential Neighbors
Map Out The Neighborhood's Proximity To Public Transportation
Test Drive Your Commute
Scope Out The Neighborhood Amenities
Look Into The Neighborhood's Future
Find A Good Neighborhood REALTOR® Or Real Estate Agent
Calculate Your Budget
One of the first things home buyers may want to do is set a budget when buying a house. Believe it or not, setting a budget for a home doesn't have to be complicated. It's an important step in finding the right neighborhood to live in. You don't want to choose the ideal neighborhood only to learn down the road that you can't afford the home.
A few factors to consider when calculating your budget include your income, debt payments, cash for your closing costs, your credit score and payment history. A good way to figure out how much home you can afford involves calculating your debt-to-income (DTI) ratio – the amount of money you spend on debt per month.
To calculate your DTI, add up regular and recurring debt obligations, such as student loan and auto loan payments. You'll divide your debts by your income to determine your DTI. For example, let's say your debts add up to $2,000 per month and your income is $5,500 per month. This means you have a DTI of 0.36, or 36%.
Here's the calculation in full: $2,000/$5,500 = 0.36 x 100 = 36%
Lenders like to see a DTI of 50% or less.
You can use your DTI as a general guide to understand how much you can afford to spend on a home. As a rule, you should spend no more than 33% of your monthly gross income on mortgage payments.
Don't forget to factor in the costs of homeownership, such as homeowners insurance, taxes, private mortgage insurance and closing costs, as well as your regular expenses per month.
Use the home affordability calculator to calculate the maximum amount of home you can afford. You can input your annual income, monthly debt, down payment amount, ZIP code of your potential home as well as your credit score.
List The Must-Have Features Of Your Ideal Neighborhood
What types of features do you prefer in your desired neighborhood? You might have specific features you want to consider, such as an old home or new home or a single- or multi-family home.
You may also want to consider specific types of neighborhoods, such as a historic neighborhood or new-development subdivision, a rural or suburban area or an urban neighborhood.
You can also consider the individual characteristics of neighborhoods that appeal to you, such as quiet or lively, walkable or biker-friendly. Or look at those that offer certain amenities, like local restaurants, grocery stores, parks, community gardens and more.
You may also want to evaluate gay-friendly cities or neighborhoods. Although it can be a challenge for any future homeowner to find the right neighborhood or community, it's especially difficult when seeking out gay-friendly cities in the U.S.
Whatever your requirements, write them down. Have your family contribute to the list. You may see some "must-haves" that keep rising to the surface.
While it's good to know what you want, it also doesn't hurt to keep an open mind. For example, the best neighborhood for you might be more urban, suburban or rural than you'd originally expected.
Study Up On The Local School District
If you have kids, may want to send them to good schools, so research public and private schools in various neighborhoods. It's a good idea to interview school districts and weigh the quality of academics, including test scores, graduation rates, college data and more.
You may also be interested in learning more about extracurricular activities, sports programs, the Parent-Teacher Organization (PTO), etc. It helps to know how far away all schools are from your new neighborhood.
Even if you don't have kids, buying a house within a good school district is important to consider because it lends stability to your home value, offers a higher resale potential down the road, typically has lower crime rates and could even help your home sell more quickly.
You can check school websites or online resources like Niche for more information about school district quality. When evaluating/interviewing schools, you might ask whether the school builds strong relationships within the community, whether the school offers a shared vision and goals, how the school assists students (especially those with exceptionalities) and a list of student accomplishments.
Research Crime Statistics
One of the most important factors to research is a particular neighborhood's crime rate and relative safety. You want to feel secure living in a particular neighborhood. You can consult websites such as CrimeReports and SpotCrime, which collect crime statistics and frequency of occurrences. Simply input the address of your potential home for a list of all the potential crimes in the area. You can also compare these with other area neighborhoods as well.
In determining a neighborhood's safety, you can also get input and opinions from locals about their take on crime in the area. You can often get a more accurate gauge from people who actually live in the area.
It's important to note that safety can be subjective. What feels safe to some homeowners may not to others. As a home buyer, you get to decide which safety features are most important to you. After researching and asking around, keep looking if an area feels unsafe to you.
Look Up Local Home Values And Property Taxes
A home's assessed value helps determine your property taxes. Typically, the higher the assessed value, the more you'll pay in property taxes.
Understanding both local home values and property taxes (both current and in the recent past) can help you determine the amount of taxes you'll pay for your potential home. Municipal or county tax assessors will determine the value of your home and local county treasurers collect your payment for property taxes.
It's important to consider how much you'll pay in property taxes before moving to a particular neighborhood. Do your due diligence ahead of time by checking local assessor and treasurer websites. You don't want the amount you'll pay in property taxes to surprise you later on.
Drive Around The Neighborhood At Different Times Of Day
Consider driving around the neighborhood at different times of the day and night. You can get an idea of what's going on during these times. For example, you may want to ask these questions:
What is morning/afternoon traffic like?
Does the street have adequate lighting at night?
Does the neighborhood seem safe at all hours?
Are there other nuisances, like noise (dogs that bark at all hours, rambunctious kids, etc.), parking and other issues?
It's also a good idea to check out the neighborhood on the weekend versus during the week. A sleepy neighborhood during the week could reveal noisy neighbors who like to throw raucous parties on the weekends.
Explore The Neighborhood On Foot
What's the walkability of a neighborhood? For example, does it have ample walking trails that allow you to get from one end of the neighborhood to the other? Can you walk to a local restaurant on foot, or do you have to drive?
Exploring the neighborhood on foot also allows you to learn more about the homes and people in the neighborhood. It may also be a great way to gauge the friendliness of the neighbors. (Does everyone wave?) If you have a young family, you might see other young families. Will the kids have plenty of children to play with or will you have to drive to playdates or the park?
On the other hand, maybe you wouldn't mind living in a neighborhood where the median age skews a little older.
Your real estate agent should be able to tell you a bit about the makeup of the neighborhood to help you get a sense of the neighborhood demographics. You want to work with someone who knows the neighborhood you're thinking about inside and out.
Strike Up Conversations With Potential Neighbors
It's also a good idea to engage potential neighbors in conversation. Knock on your potential neighbors' doors, or if you see them outside, consider politely approaching them to let them know that you're considering purchasing the home.
You could gather a lot of intel you can't get from a real estate agent or website by going directly to the source: people who live there. It might be your most valuable research tool yet. Here are a few questions to consider asking:
What's it like to live here?
What would you change about the neighborhood?
How do people communicate/socialize here?
Should I be aware of anything specific with this property or neighborhood?
Map Out The Neighborhood's Proximity To Public Transportation
Do you prefer to use public transportation? If so, you might want to gauge your location in relation to the closest mode of public transportation. Ask yourself whether you like the type of transportation available to you. If you're not a fan of the bus but that's the closest mode of transportation available, you may want to keep looking.
It's also a good idea to map the frequency of the route that runs closest to your neighborhood. For example, if there's a great bus stop option close by but it only chugs along every half hour, it may not be a fit for you.
Test Drive Your Commute
How long will it take you to get to all the places you need to go? It's a great idea to time how long it takes you to get to work, in both rush hour and non-rush hour traffic. It's also valuable to consider your commute combined with school, day care and other responsibilities as well. You may want to simulate the drive to make it look as close as possible to the real thing.
Scope Out The Neighborhood Amenities
What amenities are available to you? Which amenities can you live without? For example, if you can live without shops and restaurants but cannot live without a neighborhood pool or dog park, you may need to adjust your search to reflect those requirements.
You can learn more about neighborhood amenities through a REALTOR® as well as read newspapers, bulletin boards and websites to learn more.
Look Into The Neighborhood's Future
Take a look at housing market predictions for the neighborhood, such as home inventory projections, projected development, property values and appreciation predictions, population growth and more. Doing so can help you predict your future sale of the home and possibly how in-demand your home will be. For example, check out the hottest real estate markets for 2022.
Find A Good Neighborhood REALTOR® Or Real Estate Agent
Finally, it's important to learn how to find a real estate agent because you can ask about all the above questions and more. Getting in contact with a good REALTOR® who specializes in your desired areas can make the difference between finding the right neighborhood for you and finding one that's just "OK."
Ask pertinent questions about various real estate agents' experience, how well they know the area where you're looking, neighborhood recommendations for your situation, their marketing plans as well as client references.
The Bottom Line
Learning how to find a good neighborhood to live in may seem like it has a lot of steps. Remember that you can knock some of them out with a couple of well-placed internet searches or strolls in a potential neighborhood.
Everything on this list can be valuable, but one of the most important things you can do is to get the right real estate agent on your side. This individual can help you answer almost everything on this list.
You can begin the house hunting process by starting your mortgage application online. Doing so will help you know how much you can afford for a new home.
Take the first step toward buying a house.
Get approved to see what you qualify for.
Start My Approval