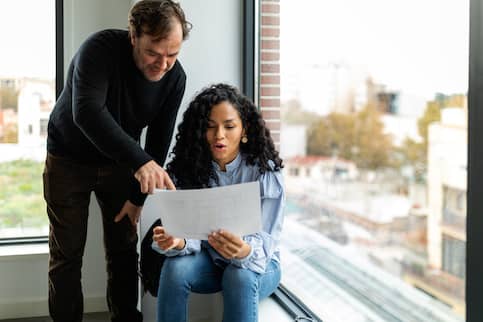 What Is A REALTOR® Vs. Real Estate Agent?
Published on May 31, 2022
You've probably seen the terms "REALTOR®" and "real estate agent" used interchangeably in the world of real estate. While both titles are befitting of a qualified real estate professional, these two roles aren't exactly identical.
While real estate agents and REALTORs® are both legally licensed to aid in residential real estate transactions, understanding their differences can help you connect with the expert best suited for your needs. Let's explore what sets REALTORs® and real estate agents apart.
REALTOR® Vs. Licensed Real Estate Agent: Main Differences
Real estate agents have a professional license to help people buy, sell and rent real estate. A REALTOR® is a member of the National Association of REALTORs® (NAR) and includes professionals who work as real estate agents, real estate brokers, salespeople, property managers and appraisers.
Real estate agents best represent the mental image we have of an expert who helps with selling or buying a house. REALTORs®, while frequently mistaken as another name for a real estate agent, are characterized by a membership with the NAR. Real estate agents can be REALTORs®, but REALTORs® are not exclusively real estate agents.
A Closer Look: What Is A Real Estate Agent?
A real estate agent is someone licensed to aid in real estate transactions. They're also sometimes called "real estate associates" or a "real estate salesperson." Agents have expertise in a specific location and a network which helps them bring buyers and sellers together.
When discussing real estate agents, it's also helpful to understand the term "real estate broker." Real estate brokers are like real estate agents, but with additional training and licenses. Unlike an agent, brokers can enlist real estate agents to work for them, either individually or through a real estate brokerage business.
In contrast, real estate agents cannot work independently and must work for a brokerage firm or real estate broker. The qualifications for becoming a licensed real estate agent varies by location, so research and understand the qualifications in your area.
Responsibilities Of Real Estate Agents
There are different kinds of real estate agents, all with varying responsibilities. A real estate broker, for example, may have a larger workload than a typical agent due to managing a business and other agents. This includes things like ensuring all real estate transactions are law-abiding and that paperwork is accurate and complete.
The kind of work a real estate agent does depends on whether they're representing as a buyer's agent or a listing agent. Buyer's agents represent home buyers and aim to put their clients in their dream home that's within budget.
Responsibilities of a buyer's agent include:
Finding local properties which match the home buyer's preferences and price range
Organizing house showings
Keeping clients informed about the local housing market and goings-on
Submitting bids and aiding in the negotiation process
Arranging home appraisals and inspections
Reviewing contracts, agreements and other documents

Listing agents, also called seller's agents, represent the home seller during real estate transactions. Listing agents help clients sell their home for the best deal they can get.
Responsibilities of a listing agent include:
Coming up with a reasonable yet enticing asking price
Assisting with home staging and marketing
Finding potential home buyers
Bringing offers to clients and helping with paperwork and documents
See What You Qualify For
You can get a real, customizable mortgage solution based on your unique financial situation.
Get Started
Are All Real Estate Agents REALTORs®?
Not all licensed real estate agents are members of the NAR, meaning that not all real estate agents are REALTORs®. REALTORs® are not exclusively real estate agents, either. Property managers, home appraisers and other real estate professionals may also become members of the NAR to gain access to a likeminded community or for their array of industry resources.
Working With A Real Estate Agent: What To Expect
If you're unsure what real estate agents offer, let's go over a few ways having an industry expert's help can be a good idea. Real estate agents can help with the following:

Organizing open houses and scheduling showings with potential buyers: Working with an agent can save you time and energy. They'll screen each home and only show you those which fit your preferences, or by only bringing serious potential buyers to your home.
Research and finding or listing homes: Real estate agents have in-depth knowledge about an area's market. They know the best neighborhoods and the competition.
Provide information during home inspections and appraisals: Buyer's agents can help clients understand home inspections and what they should do before, during and after one is conducted. Although home appraisals are arranged by lenders, real estate agents can communicate the value of different home upgrades or features to an appraiser to ensure an accurate market value.
Help you understand paperwork: There can be a lot of different documents and contracts involved in the home buying and selling processes. Real estate agents can help you understand what it all means.
Working With A REALTOR®: What To Expect
Since REALTORs® must also obtain a real estate license, you'll find a lot of overlap in the benefits of working with a REALTOR® and a real estate agent. Both can demystify complex real estate processes for you and use their expertise and networks to your advantage.
The bonus of working with a REALTOR® specifically? Not only do NAR members have access to perks and resources which can help them serve you better, but REALTORs® must also adhere to the NAR's Code of Ethics. What makes a good REALTOR® – integrity and expertise – is sure to help you on your home buying or home selling journey.
How To Find A REALTOR® Or Real Estate Agent
If you're wondering how to choose the right real estate expert to work with, we've got you covered. Here are some things to look for and avoid when finding a real estate agent or REALTOR®.
| | |
| --- | --- |
| What To Look For | What To Avoid |
| Clear and timely communication | Poor communication or large gaps in interactions |
| Professional credentials (for example, REALTOR®, Accredited Buyer Representative (ABR) or Certified Buyer Representative (CBR) titles) | Missing credentials can indicate a lack of experience or that an agent does not belong to an MLS, an essential database of home listings |
| A successful track record in your area | Minimal market knowledge of your area |
| Comprehensive network including appraisers, inspectors, contractors and other real estate professionals | Few connections can mean missing out on perks like discounts or good recommendations |
The Bottom Line
Although the two are usually used interchangeably, there are differences between REALTORs® and real estate agents. REALTORs® are members of the National Association of REALTORs®, and while they must have a valid real estate license, they are not always practicing agents.
Real estate agents are the standard image most of us have when picturing an agent or REALTOR®: a professional who aids in the buying or selling of houses.
At the end of the day, both REALTORs® and real estate agents can help eliminate some of the stress that comes with the home buying and home selling processes. If you feel ready to begin your home buying journey, connect with an expert Rocket HomesSM verified agent for assistance today.
Take the first step toward buying a house.
Get approved to see what you qualify for.
Start My Approval