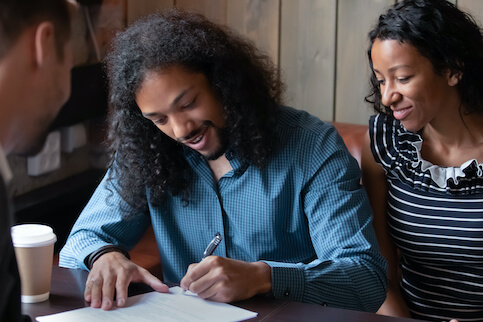 A Guide To Seller Disclosure Requirements: Forms, States And More
Published on September 8, 2021
Congratulations, you just had your offer accepted on a house! Soon, it'll be time to start the closing process.
There can be a great deal of documentation that goes into closing on a property, and one very important document for the buyers to be aware of is called a Seller's Disclosure. Let's discuss the types of information this document typically contains and what disclosure requirements can look like in different areas of the United States.
Apply for a Mortgage with Quicken Loans®
Apply online for expert recommendations with real interest rates and payments.
Start Your Application
What Is A Seller's Disclosure In Real Estate?
In many real estate transactions, the seller has to provide documentation to the buyer that discloses any issues with the property that the seller is aware of that could hinder the new owner's enjoyment of the home. This is called a Seller's Disclosure statement, and it's also referred to as a Seller's Disclosure form or a property disclosure statement.
The buyer typically receives a Seller's Disclosure statement as part of the closing process. After their offer is accepted, they will be given a few days to review the information the seller has disclosed, and they can usually back out of the offer if any negative information about the property pops up. This may depend on local law and provisions in your purchase agreement.
An important thing to note, though, is that the Seller's Disclosure is not the same thing as a home inspection. It can be wise for interested buyers to insist on an inspection of the property in addition to the Seller's Disclosure in order to ensure that no underlying issues with the home have been missed and that the buyer is aware of what they're getting themselves into by purchasing this property.
What Information Can Be Included In A Seller's Disclosure Statement?
There is a substantial amount of important information that can be featured in a Seller's Disclosure statement. Let's discuss some of the most common categories.
Repairs Made And Repairs Needed
In addition to discussing renovations or remodeling projects that have been completed, Seller's Disclosure statements often contain a report of all of the repairs that have previously been made on a given property, like damage to the roof or cracks in the foundation. They also, very importantly, can disclose the current condition of the property, including all of the existing damage in or around the home that's in need of repair.
If there's anything like broken appliances or water damage that a new homeowner will have to address, it's crucial for them to be aware of it in advance so that they can financially prepare to make necessary repairs once they move in or choose to walk away from the transaction if the repairs end up being too costly.
Property Defects And Threats To Homeowner Safety
Another important set of disclosures that tend to be made in a seller's statement are any issues with the property that could pose a threat to the safety of its new tenants. For example, if the home is built in an area that is prone to floods, earthquakes, sinkholes or other natural disasters, it's important for new homeowners to be made aware so that they can prepare with the proper insurance or action plans.
Seller's Disclosures should also include the home's history with pest and termite treatment. If the property contains hazardous or toxic materials like asbestos, radon, lead paint or mold, it's also vital for anyone new to the property to know that so they're able to formulate a removal plan in order to protect their health.
Missing Essentials
If a given real estate property is lacking an appliance or home system that would be considered "essential" for a typical modern-day resident, like a dishwasher or a water heater, some sellers would be obligated to disclose that information in their statement.
Land-Use Limitations
Seller's Disclosure statements often provide details surrounding any restrictions or limitations on the property that the new homeowner will have to deal with and abide by. Examples of land-use limitations include outstanding liens, easements, zoning regulations or restrictive covenants.
Neighborhood-Related Issues
A Seller's Disclosure statement can include information regarding problems the seller encountered with the surrounding neighborhood while living on the property. These can include property line disputes, nearby sources of loud noises or bad smells or other nuisances caused by residential, commercial or industrial properties in the area. If a property is subject to homeowners association (HOA) rules and regulations, a seller may also disclose details about the types of governance the new homeowner will have to follow.
Deaths On The Property
Finally, a Seller's Disclosure can include details of deaths by natural causes, accidents, suicides or homicides that have taken place on the property. Some home buyers have genuine superstitions about purchasing a home that could potentially be haunted, so gaining knowledge of any life lost on the property could be an important factor in an interested buyer's decision on whether to complete the purchase.
Apply for a Mortgage with Quicken Loans®
Apply online for expert recommendations with real interest rates and payments.
Start Your Application
The Bottom Line: Seller's Property Disclosures Matter
At the end of a real estate transaction, it's important for the home buyer to feel confident in the decision they're making to purchase the property. By reviewing all of the information provided in a Seller's Disclosure statement, buyers can gain a little more clarity on whether they can move into their new home with peace of mind or if what they're about to purchase is ultimately not worth the investment or the headache.
Need help completing the home closing process? Consult our guide to closing to learn the essential steps to preparing to close on your house.
Apply for a Mortgage with Quicken Loans®
Apply online for expert recommendations with real interest rates and payments.
Start Your Application