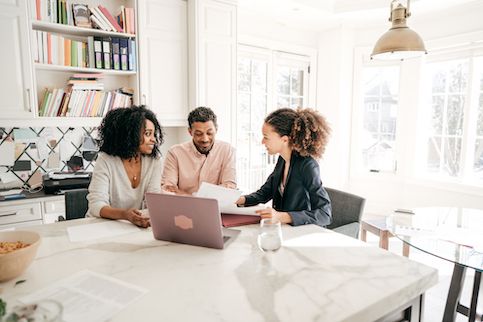 What Is A Listing Agent And What Can The Right One Do For You?
Published on March 1st, 2020
You may have heard that buying a home is a big investment. And when you sell your home, that's when you have the opportunity to cash in. There is a lot that goes into selling a house, from marketing your home to dealing with potential buyers, working through paperwork and closing on the home. And unless you know the real estate market inside and out, the process can be daunting. Luckily, real estate agents are experts in the industry and have the training, resources and pull to make the home selling and buying process significantly smoother. They may even help you get a great return on investment.
If you're considering selling your home, you'll want to work with a listing agent. And if you aren't sure what a listing agent does or how they differ from a buyer's agent, read on to learn all about who they are and why you should work with one.
What Is A Listing Agent?
A listing agent is a real estate professional who represents the seller in a real estate transaction. As the name suggests, the listing agent lists the home for sale and works on the seller's behalf to sell the home at a price and under terms that are best for their client.
Listing Agent Vs. Buyer's Agent
In most real estate transactions, there are two types of agents, a listing agent and a buyer's agent. Listing agents help sellers price, stage and market their property, show it off to prospective buyers and negotiate offers. A buyer's agent represents the interests of the home buyer in a real estate transaction and works to help them find their new home and negotiate a fair price.
In some instances, a buyer and seller may use the same agent. However, this practice, known as dual agency, is frowned upon (and illegal in some states) as it can become a conflict of interest. If an agent does work with both buyer and seller, they should not work in the interest of either party, but instead, focus on moving the transaction forward, which can be difficult to do.
What Are The Benefits Of Working With A Listing Agent?
Selling a home can be stressful, especially for first-time sellers. A listing agent can help by taking on some of the burden and providing the information and resources need to help sellers make informed decisions. Here are a few tasks the listing agent will typically perform throughout the process of selling your home.
Provide professional consultation.

A listing agent can help prepare you for the process by walking you through each step and telling you what to expect along the way.

Determine an asking price for the home.

It's important to get the right price for your home. If you price too high, your home may stay on the market longer. Price too low, and you could miss out on a lot of money. When you have an emotional attachment to the home and a lack of knowledge of the market, it can be hard to objectively determine a price. A listing agent will do a comparative market analysis of your home to find the right price based on the home's square footage, age, locations and features and the local market.

Market and sell your home.

As stated before, your listing agent will list your home on the multiple listing service, an online home-selling database that buyer's agents use to find homes for sale for their clients. They may also make staging recommendations and hire a photographer to best show off your home's functionality and unique features.

Schedule showings.

Most people want to walk through a home and see it in person before they buy it. When a buyer finds a home they love, they or their agent will coordinate a showing with the listing agent. They may also host open houses, which are designated times that potential buyers can walk through the home without an appointment. The listing agent may also be present during the showing to answer questions about the property.

Communicate and negotiate with buyers and their agents on your behalf.

Along with coordinating showings, your agent will also communicate with interested buyers and their agents throughout the process. Buying a home is stressful for everyone involved, so communication is key. Delayed or missed responses can even deter a potential buyer's interest in the home. A listing agent takes care of this important job, staying in touch with all parties, fielding questions, handling paperwork and negotiating the final sale price and terms of the sale with your interests in mind.

Recommend other professionals.

Seasoned listing agents may come with a plethora of professionals who they've worked with over the years who can make the selling process smoother. Such professionals include real estate attorneys, inspectors, stagers and those who specialize in home improvement.
Who Pays A Listing Agent?
Both buyer's agents and listing agents are typically paid a commission, which is a certain percentage taken from the proceeds of the sale. This percentage is usually around 6% of the final sale price (unless otherwise specified in the contract) and split between the buyer's agent and listing agent. Since the money is coming from the proceeds, the seller technically is the one paying for both the listing agent and buyer's agent. However, the proceeds are paid for by the buyer. When figuring out your listing agent's pay, ask questions and don't be afraid to negotiate. Just remember negotiations are only available between the listing agent and the seller.
How To Find The Right Listing Agent
Finding the right listing agent can be a process in itself. You'll want to make sure your agent is licensed and has experience, references and a professional website, where you can learn more about them, their qualifications and professional successes. Remember, most agents work with buyers and sellers, but some may specialize in one or the other.
Once you find a few agents through referrals or online research, meet them in person to ensure they meet your professional needs and match your personality. Questions to ask real estate agents during an interview include:
Is this your full-time job?

How long have you worked in real estate?

What type of experience do you have selling homes?

How many homes did you sell last year?

What's the best way to communicate with you and how long does it typically take you to respond?

What hours do you typically work?

How do you plan on marketing my home?

Why should I choose you as my listing agent?

Do you have recommendations or reviews from previous clients?
Looking for an agent to help you sell your home? Rocket Homes Real Estate LLCSM can help. We'll match you with experienced local professionals who come highly rated and have demonstrated success in their markets.
Can You End A Contract With A Listing Agent?
When you sign a contract with a listing agent, you're agreeing to work with them exclusively for at least 90 days. If, after those 90 days, your listing hasn't been getting enough traction, you may want to reconsider extending the contract and, instead, work with a new agent to sell your home. However, be careful doing so. Switching agents could set you back as you may have to go through the process of searching for a new agent, interviewing potential candidates and providing them all of the necessary information to sell your home. You may also have to give your new listing agent time to complete their own comparative market analysis and create a new listing for your home. That means your home will be on the market longer, which may raise a few eyebrows from potential buyers. Conversely, you could benefit from taking your property off the market for a period of time and relisting it, a strategy used by sharp agents to get your listing back at the top of MLS searches. Keep in mind, though, there will still be a record of the last time it was on the market, so this marketing tactic may not always work.

Looking for a real estate agent?
Visit Rocket Homes Real Estate LLC to get connected with an experienced agent in your area.
Find an Agent