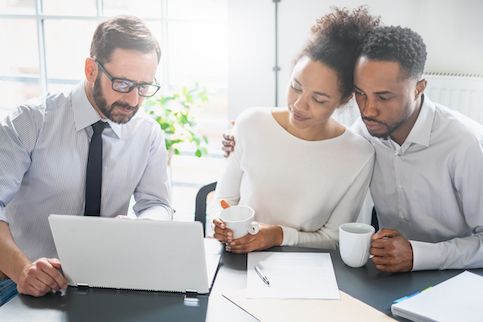 Real Estate Attorney: What They Do And If You Need One
Published on April 1, 2021
If you're planning on buying or selling your home in the next year, then you know how important it is to seek out the advice of an expert. After all, you wouldn't sell your home without a real estate agent, and you wouldn't purchase a new home without having it appraised and inspected.
And anytime you're engaging in a real estate transaction, you can benefit from working with a real estate attorney, a lawyer who specializes in real estate transactions and can ensure you're legally protected through the process.
Keep reading to learn more about what a real estate attorney does and why you should consider hiring one.
What Is A Real Estate Attorney?
To understand what a real estate lawyer does, it helps to have at least a basic understanding of real estate law. Real estate law involves any regulations that come with buying, selling or using a certain property. These regulations help protect both the buyer's and the seller's interest and ensure the details of the transaction are clearly understood by everyone involved.
Real estate attorneys are the lawyers who support you through the process of buying or selling a home. They understand all the rules and regulations that come with a real estate transaction.
All real estate attorneys earn a bachelor's degree before attending a law school accredited by the American Bar Association. After law school, they are required to pass the bar exam in their practicing state. And if they choose real estate as their area of focus, they're also required to receive their real estate licenses.
People often confuse real estate agents with real estate attorneys, but they are two very different jobs. A real estate agent will support you in negotiating for the sale or purchase of a home, whereas a real estate attorney provides legal advice and support throughout the process.
The role of a real estate attorney is also sometimes confused with that of a title company. Title companies ensure the title is legitimate and then provide insurance for the home. Real estate attorneys take an in-depth look at the details of the contract to ensure you're not missing anything.
What Does A Real Estate Attorney Do?
After hiring a real estate attorney, that person is responsible for several different aspects of the real estate transaction. Here is a more comprehensive look at how the right real estate attorney can help you.
Provide Legal Advice
Unless you're an attorney yourself, then you probably aren't familiar with most legal jargon. That's why the average person can benefit from working with a real estate attorney.
A real estate attorney will allow you to make legal decisions with confidence because you know your interests are being protected. The right attorney can help decipher common legal jargon so you understand what your contracts are actually saying.
Prepare, Review And Manage Legal Documents
Your real estate attorney has the power to act on your behalf to draft and manage new legal documents. This will take a weight off your shoulders and free you up to focus on the logistics of the sale and your pending move.
Resolve Transactional Conflicts
The biggest reason to work with a real estate attorney is that if something does go awry, you'll have the support you need to navigate the situation. A real estate attorney can represent you if any legal conflicts arise and help resolve any disputes regarding property transactions, including potential encroachments.
Why Work With A Real Estate Or Mortgage Lawyer?
In certain states like New York, Florida and Georgia, homeowners must hire a real estate attorney before buying or selling a home. Some states put limits on the amount of legal advice you can receive from non-attorney agents.
The bottom line is that a real estate attorney is a requirement for buying or selling your home. And there are several good reasons for this.
First, it's essential to have someone you trust who can support you throughout the real estate transaction. You need to understand exactly what you're agreeing to pay, as well as any stipulations that come with it.
It's hard for first-time home buyers to know when someone is pulling the wool over their eyes. When you work with a real estate attorney, you know you have a qualified individual looking out for your best interests.
And that person can help you with a variety of potential legal issues, including:
Landlord/tenant disputes:

If you're a landlord or currently renting, then it's a good idea to have a real estate attorney you can turn to if any issues arise. An attorney understands the law and can help you navigate the terms of the lease and hopefully negotiate an outcome that works for both parties involved.

Foreclosures:

If you're currently facing foreclosure, then you should have a real estate attorney look over the papers and advise you on your options. An attorney will spot any errors made in the foreclosure proceedings and help make a case for you to keep your home.

Short sales: In a short sale, the lender agrees to let you sell your home for less than what you owe on the loan. The lender will receive the proceeds and then release you from the lien. You should hire a real estate attorney to review the paperwork and ensure that you're getting a good deal.
Easements: If you're buying or selling property that has an easement on it, that means another person has the right to use that land. It's a good idea to have an attorney review the easement and advise you on your next steps.

Commercial real estate:

Anytime you're buying or selling a home, it's a good idea to work with a real estate attorney. Hopefully, the transaction will proceed smoothly, but an attorney can be indispensable if problems do arise.

Dealing with someone else's

life estate and property included in it: A life estate is a legal contract that stipulates if a person passes away, their property is automatically transferred to you. If you're considering entering into a life estate, you should have a real estate attorney draft up the contract.

Navigating financial roadblocks like

bankruptcy: If you're currently going through a financial crisis like bankruptcy, you should definitely work with an attorney. A real estate attorney can advise you of your options and help you find the solution that's best for you.
Danielle O'Brien, a REALTOR® and broker and owner of Parkway Real Estate in Massachusetts, advises all of her clients to use a real estate attorney. "The main reason is that no deal is the same, and therefore no set standard in the paperwork will be the same," she says.
"As a broker, I am provided only standard Offer or Purchase and Sale Agreement forms by my local real estate board. However, I am not an attorney and therefore not able to edit anything on these forums. Sometimes clients have questions about exactly what they are signing, and it's best to consult an attorney who can truly help them understand the protections and the risks in the language used. And, things can go wrong in real estate deals. I would rather have an attorney part of the process from the start than bring them in once things are messy."
Real Estate Attorney Fees And Costs
Attorney fees can vary greatly depending on who you hire and their level of experience. Some charge a flat rate fee for everything, while others charge an hourly rate. Hourly rates usually range from $150 – $350 per hour.
For a straightforward real estate transaction, you can expect to pay $2,500 – $3,000. And if you have a more complex transaction or run into legal problems, the costs can be quite a bit higher.
You'll be responsible for negotiating and paying the attorney fees. Some attorneys will require an upfront deposit and then agree to ongoing payments.
What Makes A Good Real Estate Attorney?
A home will likely be one of the biggest investments you ever make. So you want to make sure you trust anyone you hire to support you through this process. Here are a few important characteristics all experienced real estate attorneys should have.
Detail-Oriented
Again, this is likely the biggest purchase of your life, and you're giving someone full access to the organization and accuracy of your legal documentation. You'll want to make sure your real estate attorney is known for crossing their t's and dotting their i's, then triple-checking just to be sure.
Communicative
There's nothing more frustrating than not being in the know about your own affairs. A good real estate agent will keep you in the loop throughout the entire process and get in touch with you often.
They'll be ready and willing to provide clarity and answer every question you have regarding the more confusing legal aspects of your transaction. The advice they give you should be without bias.
A good real estate attorney will lay out every option available to you, then use their experience to suggest the best route.
Well-Connected
A real estate lawyer who is well-known in their community could offer options that more independent attorneys may not be able to. Typically, the amount of connections a real estate lawyer has is directly correlated with their experience.
The longer the real estate lawyer has been in practice and the more people they know, the more likely it is that they'll be able to solve any problems that arise with your transaction or at least know someone who can.
It's helpful to work with a real estate attorney who's well-connected with professionals in adjacent housing-related fields as well. These lawyers may be able to get you deals on other services that other attorneys cannot.
For the most part, it's better to work with a real estate lawyer who has already worked with someone you trust. If you just find someone on your own, you won't have a trusted source to vouch for their work.
When a real estate attorney is connected to someone you know and has worked with them in the past, you have a real-life example of how that person's experience was working with that individual. If you're lucky enough to have an unbiased review from a trusted source, be sure to take advantage of that connection.
The Bottom Line
While hiring a real estate attorney during real estate transactions isn't legally required in many states, a strong argument can be made for why you should use one either way.
Between having access to strong legal advice, having someone to draft legal documents in your best interest and having someone to represent you in the event of legal discrepancies, a real estate attorney might be just the thing you need to feel confident in your home buying or selling process.
If you're looking to buy a home in the next year, be sure to apply today with Rocket Mortgage® so you can home shop confidently.
Apply for a mortgage today!
Apply online for expert recommendations with real interest rates and payments.
Start Your Application