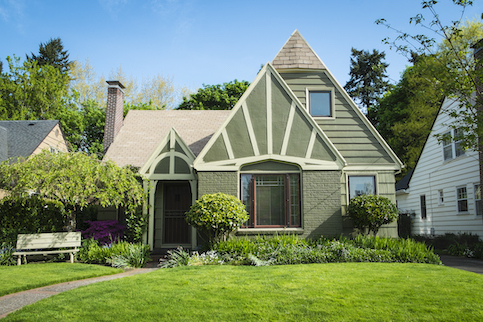 Buying A For Sale By Owner House: A Guide
Published on December 2, 2021
After an eternity searching, you finally find the perfect home. You didn't think it would be so hard, but the market is currently competitive. But what if your agent notifies you that your dream home is "for sale by owner"?
How does buying a house for sale by owner impact your side of the transaction? And what can you expect from the seller? Here is a guide to help you through the process.
What Is A For Sale By Owner (FSBO) House?
When you see a home offered for sale by owner (FSBO), it means that the homeowner is working independently. They didn't hire a listing agent or real estate agent to help them during the process.
There are a variety of reasons a potential home buyer or seller may consider going the FSBO route. For example, the homeowner doesn't have to pay an agent the cost of commission if they act alone. The seller may also believe they can sell the home easily on their own due to the property's appeal or the market's conditions.
But there are challenges for both sides of the transaction when a home is FSBO. As a result, it's important to know what the process may entail before you get involved.
See What You Qualify For
Congratulations! Based on the information you have provided, you are eligible to continue your home loan process online with Rocket Mortgage.
If a sign-in page does not automatically pop up in a new tab, click here
What Warning Signs Should I Look For If I Find A FSBO House?
While the seller of an FSBO house might work alone, you likely won't. Your real estate agent can talk to you about any of the potential properties you find. So, they can fill you in on the background of a house, even if it's FSBO.
Although, your agent may have their work cut out for them – and you, too. Sometimes, sellers in this situation can be difficult to work with. For instance, they may try to make tough demands of your hired agent. Or, you may get to price negotiations but find them uncompromising. They might overestimate the value of their home and refuse to meet in the middle.
These are just two instances where an FSBO house can lead to trouble. As a result, think carefully about whether you want to take on issues like these.
How Does A For Sale By Owner Transaction Work?
Buying an FSBO listing is like purchasing an agent-sold property in many ways. You still probably need a mortgage, to make an offer, get a home inspection, and close on it. However, FSBO homes introduce a few distinct differences.
Seller's Disclosures
A seller's disclosure, or a property disclosure statement, is essentially a legal document that details any problems with the property that the seller knows about. This may include defects like infestations or previous water damage. Typically, buyers receive the document during the closing process. They can take a few days to look over it and back out of the sale if they want.
This document adds transparency to the deal and protects both parties. But without the help of a seller's – or listing – agent sellers might not complete the paperwork correctly, leaving them vulnerable to legal issues.
When buying a FSBO home, issues could apply to other types of paperwork as well.
Working Without A Seller's Agent
An unaware buyer might ask their own agent to represent both parties. That way, there's someone to facilitate the transaction. But this introduces a conflict of interest for the agent, or a dual agency, because the buyer's agent has a fiduciary duty to their client. Meaning they must act in their best interest.
The National Association of REALTORS® (NAR) ethics rules allow real estate agents to act as a dual agent. However, it complicates the process since they must be transparent with both parties. Dual agency is illegal in several states, and some states have particular laws around it.
Depending on state law, agents have ethical obligations to disclose issues with the home. In some areas, that may mean disclosing material defects. In others, it may merely require them to not misrepresent the house's condition. If they fail to do this, the agent could lose their license.
Comparatively, a seller may not know ethical standards or anything about state law to guide them.
Working With A Buyer's Agent
As long as the buyer works with an agent, the seller doesn't completely escape paying commission costs. That's because real estate agents' commissions typically get paid by the seller. Because of this, the buyer's agents must discuss commission payment with the seller before they negotiate on behalf of the buyer. The buyer's agent earns around 3% of the home's selling price.
Pricing
In some cases, FSBO helps buyers buy a home at a competitive price. They engage in face-to-face negotiations with a reasonable seller, making it easy to find a selling price both approve. But you're just as likely, if not more so, to deal with an unreasonable seller, making negotiations difficult.
Unreasonable Expectations
Your buyer's agent may let you know that a home you like is owned by a difficult seller. Namely, they have unrealistic pricing expectations. Some sellers may have turned to FSBO because they had a hard time finding a listing agent.
Lack Of Market Knowledge
There's the chance of overpricing with an FSBO home. But it's also possible for buyers to find a bargain through an FSBO seller. The seller might be compromising, or they might just not understand the market they're selling in.
In fact, NAR statistics show that FSBOs accounted for 8% of 2020 home sales. But compared to the average agent-assisted home sale price of $295,000, the typical FSBO home only sold for $217,900.
Difficulty Getting Seller To Accept Commonly Accepted Practices And Procedures
Sellers that don't understand how the sales process works can create road bumps. For instance, they might not hand over a truthful disclosure. Or, they might refuse to give necessary information to appraisers or home inspectors. Issues like these may ultimately lead to delays or cause the sale to fall through.
How To Buy A House For Sale By Owner: 7 Steps To Navigate The Process
Whether agent-assisted or FSBO, the basic steps to buying a house are the same. So, you can reference these 7 steps as a guide no matter which direction you go.
Get Preapproved Before You Make An Offer
Your first real step should be the mortgage preapproval process. When you get preapproval, you prove that you have enough assets to mortgage the house you want. Your lender will look at things like credit history, credit score, and income level during this.
You earn different levels of approval this way, and the stronger your approval, the better your offer looks to sellers. This can help you win over FSBO sellers and beat out aggressive competition.
Choose A Buyer's Agent To Work With
A good agent makes a world of difference, stress-wise and cost-wise. So, choosing a real estate agent requires serious consideration. You need to make sure they have experience with the market where the home is located, and they have to credentials to back that up. You also want to look for strong interpersonal skills and the ability to negotiate.
These traits will ensure your agent can accomplish any responsibility with competency. That includes tasks like searching listings, scheduling showings, writings offers, assisting with inspections, negotiating prices, and guiding you through the closing process. An agent ensures every step goes smoothly and reduces your overall costs, especially against an FSBO seller.
As a buyer, you should consider whether your potential agent offered a full disclosure about they get paid, too. That will let you know how much it will cost to work to buy an FSBO home.
You can also examine your agent through your buyer's agency agreement. This is essentially the contract between you two that includes both parties' written agreements. So, you know what each person is expected to do, whether it's how you pay them or their ethical responsibility.
Find Your Home And Take A Good Hard Look At Whether It Meets Your Needs
FSBO sellers may not know or understand their responsibility in a sale. They might fail to make an adequate disclosure or let buyers know about crucial information, like a record of previous repairs. So, it's even more important you use your own detective skills. Take a good look at the home to ensure it fits your needs before you move forward with anything.
Make An Offer And Seek Contingencies
When you find the right house, you need to make the seller an offer. But you can't come up with your offer out of thin air – it may take some research and negotiation.
Purchase Price Offer
Before you officially make an offer, ask your real estate agent to use real estate comps, or "comparable sales." Essentially, your agent reviews local sale prices on similar homes to find a fair price to offer. The comparisons support your number and gives you more negotiation power. You can also give your offer an advantage if there's little interest in the home.
Negotiate Contingencies
Buyers beware: you want any home inspections, appraisals, and mortgage contingencies written into the offer from the get-go. A seller in an FSBO transaction may be biased and work from inaccurate information. They might not admit to certain issues.
But the home inspection may reveal serious defects in the property. You want a safety net. A set of contingencies allows you to walk away and recoup your earnest money.
However, if you get roped in by a seller who misrepresents the house, there are options. You can seek out legal recourse against any seller who fails to disclose the condition of the home accurately or fully.
Draft A Sales Contract
Usually, the seller's agent draws up the purchase agreement. This document typically includes information about the buyer, seller, property, fixtures and appliances in the home, pricing and financing details, the earnest money deposit amount, closing costs and conditions of the contract. This may also involve naming contingencies as well.
Without a seller's agent, the buyer's agent may have to write the agreement. Or, you can reach out to a real estate attorney. Regardless, take precautions to ensure the document is done correctly. Mistakes can cost both parties.
Move Toward Closing
Most of the home buying process comes with stress. But the timespan when you approach closing may be the most stressful and busy in the FSBO process. There are multiple things to accomplish, including the home inspection and appraisal inspection. Depending on the results from the appraisal, your lender decides the value of your home.
This is a crucial step in closing on an FSBO home sale. You need an objective, professional evaluation of the home. That can counterbalance any claims the seller makes.
Close On The House
Once you make it to this final step, you receive your closing disclosure. This typically comes around 3 days before closing and describes closing costs, fees and other final terms. Make sure you read this document carefully, especially in a FSBO deal. Check that all costs properly split between the buyer and seller.
Buying A FSBO House FAQs
You might still have some questions about FSBO homes. Here are some answers to the most common questions buyers have.
Am I responsible for paying my agent's commission if the seller refuses?
If the seller refuses outright when the real estate agent first reaches out and you want to move forward regardless, it may become your responsibility. However, you may be able to negotiate that seller pays if your offer is accepted. Who pays the buyer's agent's commission will be outlined in the Purchase Agreement.
How can I find out if the seller has undertaken major repairs recently?
As a buyer, you can ask the seller to provide a Comprehensive Loss Underwriting Exchange (CLUE) report, available through LexisNexis. If the seller refuses, you may need to reevaluate your interest in the FSBO home.
Who holds escrow money when you buy an FSBO home?
A third-party escrow company should hold any earnest money. When you're looking for an escrow company, make sure you look for certain characteristics. A good choice should have a high reputation, strong communication, experience, clear fees and in a reasonable location.
The Bottom Line: If You're House-Hunting, Don't Ignore FSBOs
FSBO properties should not be approached lightly. They come with a variety of challenges that require the help of a real estate agent to navigate. However, you shouldn't outright avoid them unless the seller is unreasonable or unresponsive. After all, it might be your dream home at a bargain price.
If you're in the house-hunting process learn more about how to avoid having your mortgage rejected at the last minute.