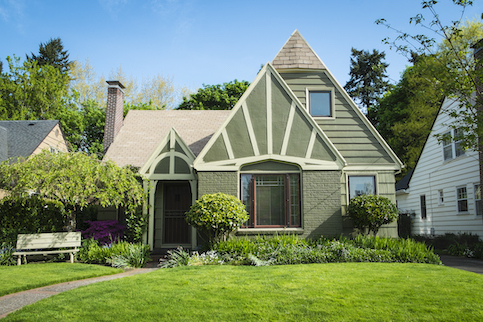 For Sale By Owner: Buying And Selling FSBO Homes
Published on February 25th, 2019
A home is one of the biggest investments a person will make in their lives. When you're buying a home, you're spending a significant amount of money on a down payment and agreeing to pay back a fairly large loan. When you're selling a home, you're hoping to make as much money as you can from the sale. In both scenarios, you're acting with money in mind, and looking for savings any way you can.
One expense where buyers and sellers may be able to save is real estate agent commission. To do this, they forgo using an agent altogether and, instead, sell their home or buy one for sale by owner. But is going that route the best way to save?
Read on to learn what FSBO is, what its pros and cons are and what you need to do if you plan to buy or sell a house using this method.
What Does 'For Sale By Owner' Mean?
FSBO (pronounced "fiz-bo") stands for "for sale by owner," and as the name suggests, it's a property that's sold by the homeowner without the assistance of a real estate agent. While that sounds simple enough, there are a few differences when it comes to buying or selling a FSBO home versus an agent-sold home. For example, FSBO homes cannot be listed on a multiple listing service, which provides exposure to thousands of real estate agents and buyers. That means a FSBO home will be harder to find and harder to market. And if this is the first FSBO home you're buying or selling, there will be a learning curve, opening both parties up to common mistakes, like too-high or too-low pricing.
So why do people choose FSBO? Along with not having to pay an agent's commission, they may also believe that the process will be easier, due to a hot market or having a home that "sells itself." However, the experience can be a little more challenging. That's why it's important to know what to expect before you dive into the FSBO market.
Buying A FSBO Home
Buying a FBSO home is similar to buying an agent-sold home in that you can still get a mortgage, work with a buying agent (and should), walk through the home, make an offer and close. However, there are some differences you should consider before getting started. These include the pros and cons of buying a FSBO home and important things to remember if you choose to do so.
Is FSBO Good For Buyers?
To determine whether this option is right for you as a home buyer, consider how you can benefit and what could go wrong.
Pros Of FSBO Homes:
You have direct communication with the owner.

There's potential for direct negotiation.

The owner has insider knowledge of the home and neighborhood.

You may be able to purchase the home at a lower price.
Cons Of FSBO Homes:
The owner may inflate the home value due to a lack of experience or an emotional attachment to the home.

The homeowner may have little knowledge of real estate.

The seller may not disclose everything, and a lawsuit will be a long, expensive process.

The seller may not agree to help pay the commission of a buyer's agent, if you have one.

The seller may not want to spend more money on the property if there are issues.
3 Tips To Remember When Buying FSBO
Some parts of the FSBO buying process differ from the standard home buying process. While there are some differences, remember that many best practices for buying from an agent still apply to FSBO properties.
Do Your Prep Work
When you that's for sale by owner, you may be working with a seller who doesn't have any real estate experience. While the owner has chosen not to work with an agent, that doesn't mean you can't work with your own. A FSBO home sale can be a little more complex than a standard home sale – and that's just one of many reasons you should hire an agent, particularly one who is experienced in these types of transactions.
Whether you work with an agent or not, you should familiarize yourself with the process and prepare yourself for working with this type of seller. Consider the home and the owner. While FSBO owners are typically serious sellers, scams can happen. If you get a bad vibe from the seller, proceed with caution, if at all. In any case, research what type of documents should be included in the transactions. Depending on your state, these documents may include contracts, contingencies, receipts, disclosures, insurance, occupancy agreements and lead paint records.
Because of all the legalities behind the process and the risk of scams, you may want to consider getting representation, like the aforementioned buyer's agent or a title agent or lawyer. A title agent will give you the history of the property, which can help protect you from claims against the property, like liens and easements, that can make the sale more difficult. The title company can also hold your earnest money deposit (never give it directly to the seller), facilitate closings and file the paperwork. A real estate lawyer can help you understand local laws and requirements, draw up the necessary contracts, walk you through the paperwork and ensure a smooth transaction.
Learn To Negotiate
Negotiating the sale price of a home that's for sale by owner can be tricky since you're dealing directly with the seller. For one thing, sellers often overvalue their property due to lack of experience and the emotional connection to the home. It's often recommended to offer less than the listing and work from there. When you start lower, you have some room to negotiate. Remember, very rarely can you go lower than your initial offer.
Make sure you have a way to get out of the transaction if your inspection uncovers defects, your appraisal comes in low or you cannot get approved for a mortgage. Make sure you include contingencies in your purchase contract that make it null and void should any of these problems or others you list in the contract occur. You'll also want to give your earnest money deposit to a reputable third party, like your agent, title agency or real estate attorney. Never give it to the seller nor the seller's relative or friend. If the transaction falls through, you'll want to make sure you'll be able to get it back.
Of course, you'll also need to negotiate fees and responsibilities along with the purchase price of the home. A few additional fees you'll want to work out are escrow and title fees and commission for your agent, if you use one. If the inspection uncovers problems with the home, you should already know who will be responsible for fixing – and paying for – them.
There are other things you'll want to include in the contract, like when you'll take possession of the property. While you typically receive the keys to your new home the day you close, the seller may need extra time to move out.
Double Check Your Paperwork
If you aren't using an agent, it's imperative to familiarize yourself with the paperwork you'll be reviewing throughout the transaction. Along with studying on your own, you should also consider having a professional review everything and offer advice.
One important document you'll want to make sure you know well is the purchase agreement. When crafting your purchase agreement, make sure it includes:
The agreed-upon selling price

The agreed-upon fees and responsibilities

The closing date and date you'll take possession

The agreed-upon contingencies

Information on the earnest money deposit
Once the purchase agreement is drafted and agreed upon, you and the seller must sign the document before closing. You'll also need to send a copy to your mortgage lender.
All of the paperwork you'll go through is put in place to help protect you and the sale of the home. Another layer of protection comes in the form of title insurance, which prevents human error from disrupting the sale of the home or causing someone to challenge who owns the property. Title insurance covers claims for past events, including back taxes, liens, easements and conflicting wills. Without title insurance, the new homeowner could be held responsible for resolving an issue. For example, if you buy a home without title insurance and find out after closing that the previous homeowner didn't pay their taxes, you'll be on the hook for paying them or risk losing your home.
There are two different title insurance policies: a lender's policy and an owner's policy. As the names suggest, a lender's policy protects the lender and the owner's property protects the new homeowner. If you're getting a mortgage, your lender will most likely require you to get lender's title insurance because it will cover their investment should you lose the home in a property dispute. Remember that this policy will only cover the loan amount for the lender. It won't protect the equity you have in the home. For that, you'll need owner's title insurance. This insurance protects the equity you've built up in the home should you lose it in a property dispute.
Selling Your FSBO Home
Selling your home without an agent may be more complex than you may think. For one, you will need to take on all the work that comes with the process, including marketing your home, showing your home and handling negotiations and closing. Along with that, a lack of knowledge could lead to some mishaps that could cost you – like pricing too low or too high or making a legal error. Before putting that "for sale by owner" sign on your lawn, find out if selling your home on your own is worth it.
Is FSBO Worth The Risk?
Should you forgo using an agent and go it alone? While you may save on commission, you'll be taking on some risks, too.
Pros:
You won't have to pay commissions to a seller's agent, giving you more money from the sale.

You have control of the sale process and your property.

You know your home better than anyone.
Cons:
Lack of experience could cause you to sell your home for less than it's worth or price it too high.

Since you can't list your home on an MLS, it will have less visibility than one sold by an agent.

You'll need to handle all of the paperwork and legal responsibilities yourself.

You'll need to research and educate yourself on the real estate market, pricing your home, marketing your home and negotiating a deal.
3 Tips For Selling Without An Agent
When you sell your home independently, you'll need to take on the role of a seller's agent. Follow these tips to help with the process:
Learn How To Price Your Home
It can be hard to remain objective when deciding on a price. After all, you've built great memories in your home, invested a lot of time and money into it and may have even labored over making improvements to it. But when it comes to pricing your home, you need to take the emotion out of it and focus on the facts. Here are some steps to take to figure out how much your home is worth and determine a reasonable asking price.
Perform a comparative market analysis by researching similar homes in your area that have sold in the last 3 months. You can also look through listings of local homes for sale, too, to get an idea of the current asking price. You want the homes you compare with to be within a half-mile of your home, if possible, and have similar features. Choose homes that are close to the same square footage, age, rooms, bathrooms and amenities. You want to choose homes that are closest to identical to your home as possible. You can do your own research or ask an agent to do one for you. Typically, agents offer this service for free to potential clients
You'll also want to learn more about your local market. Is it a buyer's market, in which the market is saturated with sellers and you have to scale back your pricing to be competitive? Or is it a seller's market, in which buyers are competing for homes, bidding wars are common and you may be able to ask for a little more? To find the data you need to make informed real estate decisions, like pricing your home, check out Rocket HomesSM Neighborhood Trend Report.
You could also pay to have your home appraised, which will give you the best idea of the value of your home. It's important to remember that appraisal value isn't always the same as market value and that lenders can only lend up to the appraised amount, which may not be the same as the agreed-upon sale price. So, if an appraisal comes back much lower than the sale price, you'll need to either lower the price or walk away from the deal. By getting your home appraised, you could potentially remove this risk. Keep in mind that it will cost a few hundred dollars to have your home appraised. The average cost of an appraisal is $300 – $400.
Become Your Home's Spokesperson
Getting your home seen by droves of buyers can be hard when you're selling your home on your own. That's because most MLSs don't typically post FSBO homes. So how do you list your home? Research companies that will post FSBO homes online for free. You may also want to consider posting about your home on your social media channels and asking friends to share your information on their platforms. While nothing beats free publicity, you might also want to consider spending some money on marketing your home. Some ways to invest in promoting our home include paying for:
Sponsored social media posts

Ad space in your local newspaper

Print costs for flyers, posters and signs

High-quality photos shot by a professional photographer
Sites like ForSaleByOwner.com will provide a customizable listing and pricing tools for free, along with other paid services and resources, like "For Sale By Owner" signs, necessary legal forms and professional photos.
Once you market your home, expect interested parties to want to see the property in person. That means you'll need to prepare your home for walkthroughs. If you're not going to use a staging expert, you'll want to learn how to stage your home to show off its functionality and best qualities. To help your home looks its best, you may want to reorganize your closets to show off more storage space, fix any small issues, add a fresh coat of paint or consider a few cosmetic enhancements. As you work on staging your home, make note of any problems that exist that you must disclose to buyers.
Research
When it comes to selling your home without an agent, we can't emphasize enough the importance of making sure you have a high level of familiarity with the sale process and what local laws require. Make sure you know how to price your home fairly and negotiate with buyers. Most importantly, know the ins and outs of the paperwork and processes involved in the transaction and the legal implications if you don't. Make sure you are honestly and accurately filling out your seller's disclosure form for your buyers and following your state-specific regulations. Strongly consider working with a real estate attorney to make sure you have and understand all of the correct forms, including your purchase agreement.
To make the process easier for you and your buyers, research your property and include such supporting documents (which may be required by some states) as:
Property survey

Warranties

Plan and permits

Property tax information

Blueprints of the home

Title

Certificates of occupancy
By knowing the process and legalities of selling a FSBO home and having the supporting documents ready ahead of time, you can ensure a positive and smooth process for you and your buyer and show that you're a serious seller.