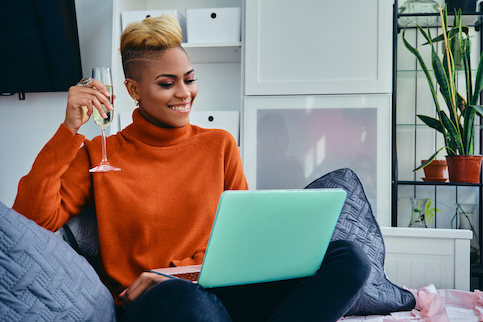 Your Guide To Cash-Out Refinances
Published on May 17, 2022
A cash-out refinance is a type of mortgage refinance that allows homeowners to change up their current mortgage loan and turn their home equity into cash. This is done by replacing their existing mortgage with a new loan amount that's higher than what they owe on their home.
Your home equity is the difference between your home's value and what you owe on your mortgage. By borrowing more than you owe, you can access your equity to fund other projects. You can also rework the terms of your original loan, potentially lowering your interest rate.
How Does A Cash-Out Refinance Work?
Unlike a second mortgage, which adds another monthly loan payment, a cash-out refinance replaces your original loan.
Let's say your current home value is $230,000 and you have $150,000 left to pay on your mortgage. That would mean you have $80,000 in home equity. Maybe you want to dip into that equity to pay off credit card debt, or maybe you need it to finance home repairs.
Whatever the reason, a cash-out refinance might be a good option. By refinancing your $150,000 mortgage to $165,000, you can take out the difference in a lump sum of cash.
The exact amount of equity you can access will depend on your home appraisal value and your chosen lender. In general, mortgage lenders won't allow you to withdraw more than 80% of your home's value.
See What You Qualify For
Congratulations! Based on the information you have provided, you are eligible to continue your home loan process online with Rocket Mortgage.
If a sign-in page does not automatically pop up in a new tab, click here
What Are The Requirements Of A Cash-Out Refinance?
A cash-out refinance, or cash-out refi, typically has three requirements: a good credit score, an acceptable debt-to-income ratio and a decent amount of home equity. To help you understand if you meet these qualifications, let's take a closer look at each.
Credit Score
To qualify for any mortgage refinance, you'll usually need a credit score of at least 580. But for a cash-out refi, your credit score will usually need to be 620 or higher. However, some exceptions to the rule do exist.
If you're getting a VA loan, you can take cash out with a credit score as low as 580 as long as you leave 10% equity in your home. If your score is 620 or better, you can cash out all of your equity using a VA loan.
If you have your loan currently serviced by Rocket Mortgage®, you can take cash out using an FHA loan and a median score of 580 as long as you're using the money to pay off debt at closing.
Debt-To-Income Ratio
An acceptable debt-to-income ratio (DTI) for a cash-out refi is no higher than 50% of your income. Your DTI is the percent of your gross monthly income used to pay debt.
Home Equity
You'll need a sizable amount of equity in your home before you can take full advantage of a cash-out refinance. Your lender won't allow you to cash out all your equity because of the risk involved, so it's a good rule of thumb to plan on keeping 15% – 20% equity in your home after the refinance.
Seasoning Requirements
Lenders often have a "seasoning requirement," or waiting period, of at least 6 months between the time when a borrower gets a mortgage and when they become eligible for a cash-out refinance. If your goal in refinancing is to get rid of private mortgage insurance (PMI) on a conventional loan, there's also a likely waiting period – of up to 2 years. Government-backed loans are likewise not exempt from waiting periods, so an FHA Streamline Refinance, for example, has a seasoning requirement of at least 6 months.
How Can A Cash-Out Refinance Help You?
A cash-out refinance can be attractive for several reasons, but how might you use one to accomplish your financial goals? Here are just a few ways the value of your home could come in handy.
Home Improvement And Renovation Projects
One popular way to use a cash-out refinance is for home improvements. If your home needs major renovations or updates to boost your resale value, a cash-out refi may provide a convenient way to access the large sum of money you need. Upgrades like a new roof, house solar panels or building an addition may be good uses of your home's equity.
Debt Consolidation
Debt consolidation can be another motivator for cash-out refinances. Debts like credit cards, automotive loans and private student loans typically have a higher interest rate than a mortgage. Mortgage rates are synced with the federal interest rate, so taking advantage of a refinance could be a smart move for your finances when rates are low.
Savings And Investments
Looking to maximize your savings and investments? Even if your house has a high value, you can't access that money unless you choose to refinance it or sell it. But if you withdraw some of your home's equity through a cash-out refinance, that money can then be reinvested elsewhere.
Let's say you invest that money in stocks. Year-to-year returns or those based on individual stocks can be far more volatile. But if you invest in a broad index and have a decent mortgage rate, you may make more money by investing your cash rather than letting it sit in your home.
If you have other financial milestones you need to save for – like building a college fund, boosting a retirement fund or buying an investment property – this can be another great opportunity. That's the beauty of a cash-out refinance – you can use the freed-up cash to work toward your financial goals, whatever they may be.
Get approved to refinance.
See expert-recommended refinance options to customize them to fit your budget.
Start My Application
What Are The Pros And Cons Of A Cash-Out Refinance?
Before you apply for a cash-out refi, take the time to weigh the potential pros and cons. This is a big-league financial decision, so run the numbers and base your decision on hard facts.
Pros
A large lump sum could potentially help pay for major expenses.
You could refinance to a lower interest rate with different loan terms.
Unlike a

second mortgage

, taking cash out of your primary mortgage means you only have to worry about one monthly payment.
Your mortgage interest may be tax-deductible.
Cons
You risk foreclosure on your home if you fail to make your monthly payments.
You'll end up paying

closing costs

, typically 2% – 6% of the entire loan amount.
A new mortgage will mean entirely new loan terms, which aren't always to your benefit.
When Should You Get A Cash-Out Refinance Loan?
Many of the advantages that come with a cash-out refinance are impacted by variables that fluctuate with time. Your home's value, mortgage interest rates and your overall financial situation will all affect the outcome of your refi, so timing matters.
You might be in a good position to consider a cash-out refinance if you meet the following criteria:
Your home's value has increased since the original purchase.
You're eligible for a lower interest rate.
You can afford to make higher monthly payments.
You want to pay off debt or fund a large expense, like a home renovation.
Refinance Calculator
Get loan options at today's interest rates that show what your new monthly payment could be. Just answer a few simple questions.
Calculate Now
What Are Alternatives To A Cash-Out Refi?
If you aren't sold on the idea of a cash-out refinance, don't fret – you have other options for leveraging your home equity. From loans to lines of credit, let's look at these alternatives and how they stack up to a cash-out refi.
Home Equity Loan
A home equity loan is a type of second mortgage taken against the equity in your house. Like with a cash-out refi, you can take out this type of mortgage by collecting a portion of what you have in equity.
But how do home equity loans compare to a cash-out refinance? They both offer lump-sum payouts and can have a low interest rate, so why choose one over the other?
The main difference is in your monthly payments. While a cash-out refinance will impact your primary mortgage payments, a home equity loan is a second mortgage that makes you responsible for a second monthly payment. Home equity lenders also typically cover all or most of the closing costs associated with the new mortgage. With a cash-out refinance, however, you'll need to be prepared to pay those costs yourself – just as you did with your first mortgage.
Home Equity Line Of Credit (HELOC)
Another alternative is a home equity line of credit (HELOC). When you take out a HELOC, it's split into two periods: the draw period and the repayment period. The draw period typically lasts 5 – 10 years. During that time, you can borrow up to 80% of your home's equity. Rocket Mortgage doesn't offer home equity lines of credit at this time.
Unlike cash-out refinances and home equity loans, HELOCs function somewhat like a credit card. This means you can borrow cash as you go to avoid borrowing more than you need. When the draw period ends, the repayment period begins. Most of the time, the repayment period lasts 10 – 20 years.
When compared to a cash-out refi, HELOCs can be cheaper at face value because you don't pay all the closing costs associated with a refinance. However, you also don't get the benefits associated with a refinance, such as a potentially lower interest rate.
FAQs: Cash-Out Refinance
Before you choose a cash-out refinance, consider these frequently asked questions.
How much cash can I get with cash-out refinancing?
The amount of money a borrower can get with a cash-out refinance depends on several factors, including their credit score, the type of mortgage they're using and the type of property attached to the loan. Generally, the amount you can borrow is capped at 80% of your home's value.
How long after cash-out refinancing do I get the money?
The average time to refinance a home is 30– 45 days. After closing, it can take 3 – 5 days for the homeowner to receive their money.
How do refinance rates compare to other interest rates?
If mortgage rates have gone down since you purchased your home, refinancing may provide an opportunity to lower your interest rate.
Mortgage and refinance rates are also typically more reasonable than those associated with credit cards, so a refi will be more affordable in the long term if you need access to a lump sum of money.
Does a cash-out refinance affect my credit score?
A cash-out refinance is viewed as a new loan. The change in both your total amount of debt and your credit mix can potentially affect your credit score, but any impact on your credit report should be temporary.
Can I get a cash-out refinance on a second home?
Second homes can be refinanced in mostly the same way as primary residences, with a few small differences. Interest rates will be slightly higher on a second home than a primary property due to the increased risk for the lender.
You'll also be able to borrow less of your equity. Where you can borrow up to 80% of the property value on a primary property, a cash-out refinance on a second home is capped at 75%.
What's the difference between a cash-out refinance and a no-cash-out refinance?
The difference between cash-out and no-cash-out refinances is primarily in the amount you refinance. With a no-cash-out refinance, your lender will refinance no more than your original mortgage loan balance – often with the goal of reducing your interest rate or term length. Like other types of rate and term refinances, you aren't advanced any additional cash with a no-cash-out refi.
Conversely, a cash-out refi allows a homeowner with equity in their home to refinance to a loan amount greater than their current mortgage balance.
Is cash-out refinancing a good idea?
It depends on how you plan to use your home's equity. Upgrading your home to improve its value, eliminating high-interest debt or investing in real estate are good reasons to use a cash-out refi. Experts might advise against using one to buy a new car or fund a vacation, though.
What is the downside of a cash-out refinance?
Cash-out refinancing has a few disadvantages. For example, you'll have a new mortgage with entirely new terms so you'll have to pay closing costs on the loan amount. You'll also have higher monthly mortgage payments.
When should I avoid a cash-out refi?
Using your home's equity for non-essential items like a vacation can be risky. You may wind up with loan interest payments for years, increasing the cost of the purchase. The higher mortgage payments may also become a burden.
The Bottom Line
If you're in the market to refinance and want to tap into some equity to fund a home project or consolidate debt, a cash-out refinance could be right for you. But like with any financial decision, it's important to take the time to research and understand your options before diving in headfirst.
Run the numbers on a different interest rate, closing costs and how a cash-out refinance will affect your monthly payment. And if you don't have the equity you need to achieve your goals, it's best to consider other funding types, such as a personal loan.
Talk to one of our Home Loan Experts to see if a cash-out refi is a good choice for you or apply to refinance now.
View Your Refinancing Options
See expert-recommended refinance options and customize them to fit your budget.
Start Your Refinance Online