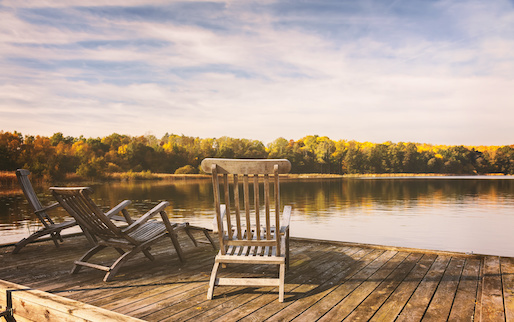 How To Buy A Vacation Home
Published on August 21, 2021
Do you dream of spending your vacations in a breezy beach house or rustic mountain cabin you can call your own?
If you're tired of trips spent in cramped hotel rooms and having to do without the many comforts of being in your own home while on vacation, then it might just be time to make that dream a reality.
Considering buying a vacation home? Here's everything you need to know.
What Is A Second Home?
As it relates to mortgages, a property is classified into one of three categories: primary residence, second home or investment property.
Generally, vacation homes fall into the "second home" category. A second home is a residence that is occupied by the owner for a portion of the year.
To be considered a second home, your vacation property:
Must be occupied by the owner for a portion of the year
Must be accessible and suitable for year-round occupancy
Must be a one-unit dwelling
Cannot be subject to any rental, timeshare or property management agreements
Different lenders will likely have their own additional requirements and restrictions. Be sure to discuss your expectations and intentions for the property with your lender at the beginning of the process.
What Second Home Status Means For Renting Out Your Vacation Home
Simply put, second homes are for you to live in, use and enjoy part-time. They aren't intended to be used as rental properties.
If you're interested in renting out your property for the majority of the time and visiting infrequently, you'll likely have to get an investment property loan. These come with slightly higher mortgage rates and more stringent requirements. However, with an investment property loan, you're able to use part of your projected rental income to help qualify for the loan. You can't do this with a second home loan.
You might be wondering if you're allowed to do short-term, occasional rentals on a vacation property that's classified as a second home. With the rising popularity of sites like Airbnb.com, some lenders are now allowing more leeway for vacation homeowners to generate rental income on their properties, provided they occupy the home for a portion of the year. That being said, if you're interested in doing this, be sure to clear it with your lender first.
At Rocket Mortgage®, the property may qualify as a second home if it's rented out for no more than 180 days in a calendar year. You must also reside in the home for either 14 days or 10% of the days the property is rented – whichever is greater.
See What You Qualify For
Congratulations! Based on the information you have provided, you are eligible to continue your home loan process online with Rocket Mortgage.
If a sign-in page does not automatically pop up in a new tab, click here
Should You Buy A Vacation Home?
You might be thinking, "Why wouldn't I want a vacation home?" Having a vacation home can be a great, fulfilling investment. However, like anything else, you need to take some time to go over your financial situation and think about whether investing in a second home makes sense for you.
Let's discuss some of the benefits and drawbacks of buying vacation property.
Pros
For frequent vacationers, having a home away from home means that they have a space that is their own when traveling. Not only will it help you save on lodging, but you can save on other expenses as well. For example, utilizing the kitchen instead of eating out for every meal will lower your food budget. Having your own home with more space can also make traveling much easier for larger families.
If you're also looking to add assets to your financial portfolio, investing in real estate by purchasing a vacation property can be a good way to start. Whether you're able to rent out the property or not, your vacation home can help you build wealth as well as equity through your mortgage payments. So, if you can afford the initial investment, this kind of purchase can mean good news for your finances in the long term.
Cons
Although you'll ostensibly save money on lodging when you go on vacation, you're taking on a new mortgage with monthly mortgage payments. If you're still paying off the mortgage on your primary home, you'll have two monthly payments to worry about.
If you're able to rent out your vacation home for part of the time, that means you have to act as a landlord, which can be time-consuming and expensive.
Additionally, while a vacation home can be a valuable asset, like any investment, there's no guarantee it will appreciate in value. If you're going into this process with dollar signs in your eyes, you should probably slow down and take some time to calculate your expected gains (or losses) on the home.
Anytime you take on new debt, you need to tread carefully. While mortgage debt can represent an investment in building wealth, it can quickly become a burden if you find yourself in a financial rough spot.
How To Buy
A Vacation Home: Key Steps Of The Purchasing Process
Now let's go over what the process of purchasing a vacation home looks like, and what you should expect.
Determining Whether You Can Afford It
First, you need to consider whether buying a vacation home is a realistic or responsible financial goal in your current position. Even if you're able to rent it out, owning a second home comes with a lot of expenses, and rental income might not completely cover them. You need to not only consider whether you can afford the monthly mortgage payment, but also if you're prepared to take a loss on the property if you decide to rent it out but struggle to generate significant revenue.
It may be a good idea to discuss your plans with a financial advisor who has experience in this area before making any serious commitments.
Qualifying For A Second Home Mortgage
Once you've gone over your finances and mapped out what owning a second property will look like for you, you'll want to make sure you meet the requirements for a second home mortgage:
Minimum credit score: 620

Minimum down payment: 10%

Max debt-to-income (DTI) ratio: 50%
Depending on how strong your financial profile is, a lender may ask for more than 10% down. If you're having trouble finding the cash, you may be able to use the equity you have built up in your primary home to take cash out for your down payment.
Your lender will also likely ask that you have at least 2 months of reserves saved up. Reserves are readily available funds that you could use to cover your mortgage payments if you lost your job or were otherwise unable to generate income to cover your bills. Depending on your lender and credit situation, you may be asked to have as much as 6 months of reserves saved up.
Once you've determined that you're eligible and able to take on a second home loan, you can get preapproved for a mortgage and start looking for an experienced real estate agent in the area you plan on buying in.
Finding Your Dream Vacation Home
"Location, location, location" is an important and oft-cited adage in the real estate world, and it's vital to buying a vacation home that will suit your needs for years to come.
Your vacation home should be in an area you've already spent time in, and one you know you'll be happy visiting again (and again). You should also consider its location within your chosen area and whether it's close to any attractions you frequently go to, like the beach, as well as other amenities, such as grocery stores.
If you plan on buying your vacation property in an area that's far away from your primary residence, make sure to budget for travel costs ahead of time, since you'll likely want to visit the home at least once before you agree to buy it. This is where finding the right real estate agent can make a huge difference. A good real estate agent will help you find the right home from afar, so you don't have to keep traveling back and forth to look at houses.
Other Considerations When Buying Your Vacation Home
If you're considering purchasing a vacation home, you need to consider all of the costs that will likely pop up, not just the price tag on the house.
Maintenance And Repair Needs
The costs of regular maintenance and repair often surprise new homeowners, and your vacation home is no exception. Make sure you're prepared to cover these costs.
One rule is to budget 1% of the home's purchase price for maintenance. While this may not be a perfect measurement, it can be a good rule of thumb for calculating how much you should have in savings. You should also consider the home's age and condition; older homes will likely be more expensive to maintain.
Insurance
Figure out how much you'll spend on insurance, especially if you plan on purchasing in an area that's close to water or is heavily forested. These locations are often at risk for wildfires, hurricanes and flooding, and you may need to purchase additional policies to ensure you're covered in the event of a damaging environmental event.
Taxes
Don't forget to consider the tax implications of your vacation home purchase.
Second homes do qualify for the mortgage interest tax deduction. However, if you plan on renting, keep in mind that you must use the home for more than 14 days or more than 10% of the days when you would normally rent it out, whichever is greater. Otherwise, you won't qualify for this deduction.
Additionally, if you rent your home for fewer than 15 days, you don't have to report the income to the IRS. If you rent for 15 days or more, you'll have to report the income, but you may be able to deduct any related expenses. Always verify with a tax professional to ensure you're reporting and deducting the correct amounts.
Keep in mind, these are IRS rules related to the tax aspect of owning and renting a second home. Your lender will also have its own rules related to renting and rental income that you'll need to know as well.
Buying A Vacation Home With Friends
If you can't afford to purchase a vacation home on your own, you may want to consider asking some friends or relatives to co-own a property that you can all share the costs of and take turns using.
While this isn't an uncommon situation, it might not be an advisable one.
Sharing a home with multiple people requires a lot of cooperation and compromise – not just when you're first going through the buying process, but also in the long term. What happens when someone can't pay for their share of the mortgage? Is everyone else OK with covering for them? What if the person responsible for making payments is late one month? That affects everyone's credit. Down the road, what happens if someone decides they want out of the deal? Can everyone else afford to buy out their share?
If you're considering owning a vacation home with another person or a group of people, be sure to plan ahead for any issues that may pop up over the years. While it can certainly be a beneficial agreement, circumstances and relationships can change over the years, and you need to be prepared for that.
The Bottom Line
If you decide you want to buy a vacation home, make sure you're ready for the responsibility that comes with it. If you enter your search for a second property fully prepared for each step of the process and equipped with sufficient knowledge about what's financially expected of you, your oasis awaits!
Ready to make the leap and buy a home in your favorite vacation spot? Let us help! Start your application online with Rocket Mortgage to begin the process.
If you're looking for inspiration as far as where to buy a vacation home, explore our guide to the best places to buy a vacation home.