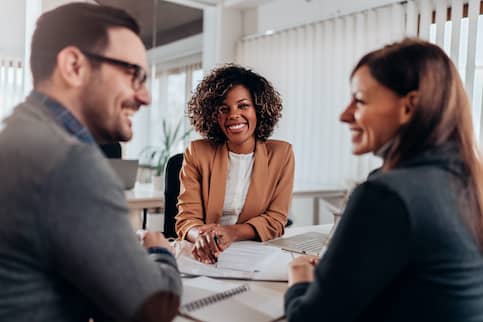 Real Estate Agent Commission: How Much Is It And How Does It Work?
Published on October 21, 2021
Anytime you're buying or selling a home, you may want to work with a licensed Real estate agents can simplify the home buying process since they have access to information the average person doesn't have.
A realtor can also help you stage, price and sell your home, and they may be able to help you get a better offer. According to the 2021 "Profile of Home Buyers and Sellers" by That's $58,000 more than the median selling price of For Sale by Owner (FSBO) homes.
While working with a real estate agent can be beneficial to both a seller and a buyer, it's important to remember that most receive a real estate agent commission, which is based on a percentage of the property's selling price.
How Much Commission Do Real Estate Agents Make?
A small percentage of agents work on a salary, but most are paid on commissions that are around 5% - 6% of the home's sale price on average – split between a few agent parties. However, the exact amount you pay could be slightly higher or lower depending on your contract and how much your house sells for.
Average Real Estate Agent Commission
Home prices can vary widely depending on where in the country you live. In the table below, you'll find some examples of what you can expect to pay for different home sale prices with a 6% real estate commission.
| | |
| --- | --- |
| Home Sale Price | Real Estate Commission At 6% |
| $100,000 | $6,000 |
| $150,000 | $9,000 |
| $250,000 | $15,000 |
| $500,000 | $30,000 |
How Does Commission For Real Estate Agents Work?
When your home is listed on the market, you'll sign a listing agreement with your real estate agent. This contract outlines the terms of the listing and how much your agent will receive in commissions.
Real estate commissions are always negotiable, but they typically range between 5% and 6%. The commission is usually split between the buyer's agent, the listing agent and their respective real estate brokerages.
You may even pay more than one agent or broker, depending on your situation. Some home sellers opt for a nonexclusive compensation agreement that allows them to work with more than one of either party.
Who Pays Real Estate Commission Fees?
The home seller typically pays the real estate fees for their agent and the home buyer's agent unless the buyer and seller negotiate a split. Other times, the loan product may dictate who pays. For example, for a VA loan, a buyer cannot pay this fee.
The agents are paid once the sale is finalized during the closing process. Technically, an agent's commission is not included in a home's closing costs, which are typically paid by the buyer – unless the seller is covering some of those fees as part of the sale negotiation. Closing costs for a buyer can include things like appraisals, home inspections, transfer taxes and title insurance.
The seller often accounts for the cost of commissions when they set the sale price of the home.
What's Included In Real Estate Agents' Commission?
Some sellers choose to forgo using a listing agent in an attempt to avoid paying real estate commissions. However, real estate agents provide the following valuable services to their clients:
Real Estate Agent Commission FAQs
Here are the answers to some additional questions you may have about real estate commissions.
Can I avoid REALTOR® fees?
Real estate agents and REALTORS® can't work for free, so the only way to avoid paying commissions is to sell your home yourself. If you choose to list your home for sale by owner (FSBO), you'll be responsible for navigating the home sale process on your own.
Are real estate agent fees negotiable?
Yes, real estate agent fees are always up for negotiation. And, occasionally, agents will offer a discount if you use their agency to buy your new house and sell your current home.
You can also ask for a lower fee if the agent provides fewer services than normal. For example, if you only hire them for one part of the sale process or the home is already move-in ready.
Do I have to pay commissions if my house doesn't sell?
No, you're only responsible for paying real estate commissions if your home sells. However, the contract you signed with your agent could require some type of payment regardless, so it's a good idea to always ask your agent and read the fine print. And a seller may still owe their listing agent in certain situations, like if the seller backs out of a contract.
What is dual agency?
Dual agency means a real estate agent represents both the buyer and the seller in a real estate transaction. It's illegal in several states since there's the potential for a conflict of interest. It's best for the buyer and the seller to have separate representation.
The Bottom Line
Real estate commissions can feel like a big expense, but working with a knowledgeable real estate agent may be worth the extra cost. Real estate transactions are complex, and they're hard to navigate on your own, especially if you don't have any industry experience.
Your home is your biggest investment, so you want to make sure it's in good hands. If you're selling your home and buying a new one or are buying your first home, you can get started on your real estate journey with Rocket Mortgage® today.
Apply for a mortgage today!
Apply online for expert recommendations with real interest rates and payments.
Start Your Application