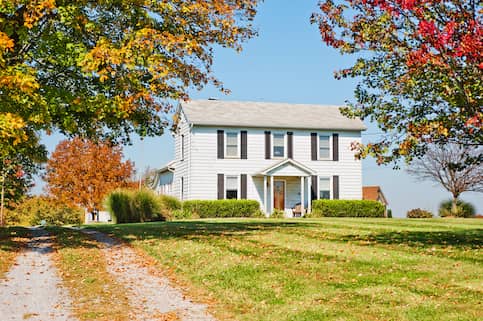 What Is A USDA Loan? Rates And Eligibility
Published on November 1, 2021
*As of July 6, 2020, Rocket Mortgage® is no longer accepting USDA loan applications.
USDA home loans are zero-down-payment loans for rural properties. These loans allow over 100,000 families to buy homes each year that they might otherwise not be able to afford.
When it comes to shopping for a mortgage, there's no shortage of options to choose from, but if your search includes rural and lower-population areas, you might want to consider a USDA loan.
Let's look at what a USDA loan is, how it works and how it compares to other mortgage options.
What Is A USDA Loan?
A USDA loan (also known as a Rural Development loan) is a type of government-insured mortgage that is guaranteed by the U.S. Department of Agriculture (USDA) in order to support rural housing markets. Because they don't require a down payment, USDA loans provide an affordable borrowing option for home buyers looking to purchase a property in a rural area.
Apply for a Mortgage with Quicken Loans®
Call our Home Loans Experts at (800) 251-9080 to begin your mortgage application, or apply online to review your loan options.
Start Your Application
How Do USDA Loans Work?
In many ways, USDA loans function similarly to conventional loans. For example, with both types of loans, borrowers will pay the same closing costs and adhere to the same repayment schedules.
There are, however, some unique advantages and disadvantages to USDA loans. Let's take a look at those.
No Down Payment Required
With the USDA loan, there's no down payment required. This is a striking difference from most conventional loans, and it makes this loan program a particularly attractive option for low- to moderate-income home buyers.
Guarantee Fees
Most loans that allow borrowers to make low (or no) down payments require a form of mortgage insurance. This is meant to protect the lenders and/or investors backing the loan.
The USDA version of this insurance is called a guarantee fee. USDA loans have upfront guarantee fees of 1% of the loan amount, after which the annual guarantee fee is 0.35% of the average unpaid principal balance each fiscal year.
Interest Rates
Relative to other mortgage options, USDA loans offer competitive interest rates. That said, in order to get the best rates for any home loan, it pays to have a strong credit score and minimal recurring debts.
Smaller Lender Network
Many private lenders – including Rocket Mortgage – do not offer USDA loans. The USDA maintains its own lender network that specializes in rural lending.
USDA Eligibility And Requirements
To qualify for a USDA loan, applicants must be U.S. citizens or legal permanent residents.
Beyond that, eligibility for a USDA loan depends on several factors, including geographic location, as well as your income, debt and credit score.
Here's what you need to know.
Eligible Areas And Properties
USDA loans were designed to help develop affordable housing in rural areas. USDA loans are not available in or around large, populated areas.
Fortunately, most of the country qualifies to get a mortgage under this loan program. You can check area eligibility by putting an address into the USDA eligibility map. If you're looking to buy in an area that's not marked by the color orange, you may be eligible for a USDA loan.
Eligibility for a USDA loan depends not only on location, but on the type of property as well. For a property to be USDA-eligible, it can't include a working farm. Additionally, USDA loans can only be used to purchase a single-unit primary residence.
Income Eligibility
To qualify for a USDA loan, you and all the adults in your household can't make more than 115% of the median income in your area. You can use Fannie Mae's look-up tool to find the median income where you live.
Household income is a meaningful distinction because it includes the income of those adults living with you without regard to whether they're on the loan.
Fortunately, you can exclude the cost of childcare under many circumstances. It's also important to note that if any adults in the home are full-time students, only a certain portion of their income is counted for qualification purposes.
You can use this income calculator from the USDA to help you get an idea of whether you qualify.
Credit And DTI Requirements
Credit- and debt-related requirements for a USDA loan will vary by lender.
That said, to qualify for a USDA loan, you'll want a FICO® credit score of 640 or above.
Your debt-to-income ratio (DTI) is a comparison of your monthly debt payments against your overall monthly income. For the best chance of qualifying, your debt-to-income ratio shouldn't exceed 50%. To increase your likelihood of approval, you should keep your DTI at 45% or less.
USDA Appraisals
USDA appraisals differ from standard appraisals in that the appraiser must check to make sure that the property meets USDA guidelines, and then determine its fair market value.
USDA Home Loan Condition Requirements
There shouldn't be too many surprises when it comes to what USDA appraisers are looking for when they examine the property. However, it's helpful to understand the guidelines they'll use, and the reasons behind those rules.
The appraiser will use the following guidelines aim to make sure the home will be legal, safe and liveable:
Structural integrity. The foundation and roof of the home must be in an immediately liveable condition.
Wiring, plumbing, heating and cooling. The electrical system must be sound, with no exposed or fraying wires, and it must be able to support standard appliances such as a refrigerator. Plumbing must be functional and include waste removal. Heating and cooling systems must be functional.
The home must be accessible from a road that will function in all weathers.
Location of well and septic system. These must be at least 100 feet from the home.
Compliance with all zoning and building codes. This includes state and local guidelines.
The appraiser will use the following guidelines to make sure that the property is a good fit with the philosophy and aims of the USDA loan:
The home must be in a qualifying location.
Land-to-home value ratio. The value of the land cannot exceed 30% of the home value.
Income-generating buildings. A property with an income-generating building, such as a barn or commercial greenhouse, will not qualify.
USDA Inspections
Unlike an appraisal, an inspection is not required. It is, however, often a good idea. Even though USDA appraisals are thorough, inspections will reveal a range of issues that are not covered.
The Bottom Line: USDA Loans Are A Great Option For Those Who Qualify
There's no denying the attractiveness of a loan with zero down payment, but like any mortgage, USDA loans aren't for everyone. But don't worry. There are many types of mortgages available, and one of them is bound to be right for you.
Apply for a Mortgage with Quicken Loans®
Call our Home Loans Experts at (800) 251-9080 to begin your mortgage application, or apply online to review your loan options.
Start Your Application