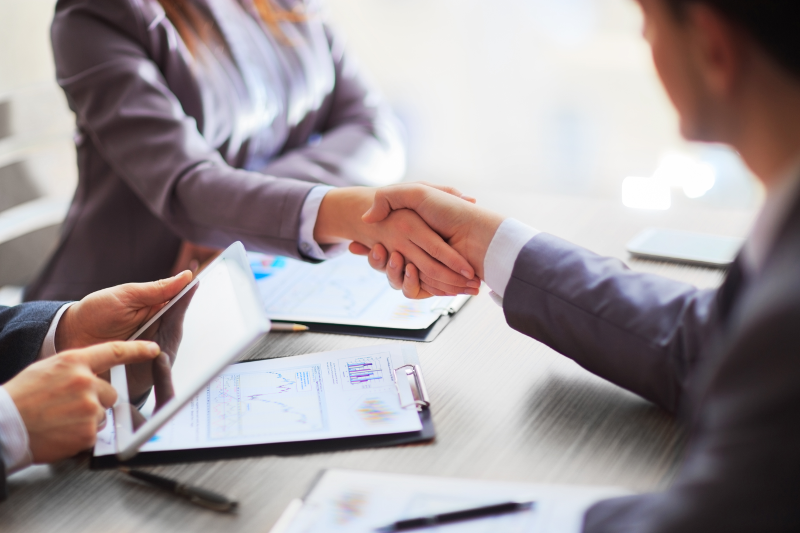 12 Steps to Buying a House: The Home Buying Process Made Simple
Published on December 9, 2019
Buying a home is an important milestone for anyone, but it can be intimidating when you're not sure what to expect. We've highlighted the main points in the home buying process to prepare you for this exciting step in your life.
Steps To Buying A House: At-A-Glance
Even before you start looking for that perfect home, you need to ensure that you have a strong credit score, money saved for a down payment and closing costs, preapproval for a loan, and the appropriate representation. You need to be prepared.
The best way to prepare is to know exactly what to expect. Here are the 12 steps that you will need to accomplish before you can receive the keys for your new home.
Step 1: Check Your Credit Score
Step 2: Save For A Down Payment And Closing Costs
Step 3: Determine How Much Home You Can Afford
Step 4: Choose A Lender
Step 5: Get Preapproved For A Loan
Step 6: Find The Right Real Estate Agent
Step 7: Determine Your Priorities
Step 8: Start House Hunting
Step 9: Make A Smart Offer
Step 10: Get A Home Inspection
Step 11: Make Sure The Home Is Appraised
Step 12: Close On Your New Home
Step 1: Check Your Credit Score
Before you begin the process of buying a house, you want to make sure that you're actually in a position to take on this significant milestone. That's why the first step is to check your credit score and review your finances.
Obtaining a loan is not always an easy feat. All mortgage lenders will look at your credit score and financial history before agreeing to provide you with a loan. You should be one step ahead of them.
To obtain a conventional loan, you'll need a credit score of 620 or higher. However, if you qualify for an FHA loan, the minimum credit score requirement is 580 with Rocket Mortgage®.
Does your credit score meet the requirements? If you're unsure, you can find out by creating an account on Rocket HQSM. After signing up, you'll receive a free credit report, which is updated every week, and have access to resources that can help you improve your credit.
Your credit and financial history will dictate whether you're able to obtain a mortgage and at what interest rate. Buyers with higher credit scores tend to secure better interest rates, so you must get a sense of where you stand before you get deeper into the process.
Step 2: Save For A Down Payment And Closing Costs
Although a mortgage spreads out the cost of buying a house over many years, you'll still need to provide some money up front to pay for your down payment and closing costs.
Unless you're getting a VA loan or a USDA loan – which don't require a down payment – you'll need to make sure you have funds saved for a down payment. The minimum on a conventional loan, like a 30-year fixed loan, is 3%. An FHA loan is available with a down payment of 3.5%.
Keep in mind, the larger the down payment, the more equity you'll have, and the lower your monthly mortgage payments will be. By paying more up front, you'll save on interest and be less likely to have to pay private mortgage insurance.
Along with your down payment, you'll have to save money for closing costs (fees associated with processing and securing your loan). Although the amount you'll need will vary depending on your loan amount and the tax requirements in your area, you can generally expect closing costs to be 3% - 6% of the purchase price.
To ensure you know exactly what you'll owe, your lender will provide you with a Loan Estimate within three days of receiving your home loan application. This three-page form, which is required by law, will itemize the loan terms, projected payments and closing costs for your potential mortgage, so you are aware of precisely what you'll need to have saved.
Step 3: Determine How Much Home You Can Afford
Before you speak with a mortgage lender, it's useful to calculate how much house you can afford on your own. A lender will tell you how much money you qualify for, but you want to make sure you won't be overextending yourself by determining your budget and what you realistically can afford to spend on mortgage payments each month.
When determining how much house you can afford, you should use the 28/36% rule of thumb, which stipulates that you should not spend more than 28% of your gross monthly income on housing expenses (your salary before taxes) and 36% on your total monthly debt payments.
Your housing expenses are your monthly mortgage payment, which includes:
Principal: The money that you borrowed to purchase your home.
Interest: The fee that the lender charges you to borrow the funds.
Taxes: The property taxes that you're required to pay the government based on the value of your home.
Insurance: The homeowners insurance that protects your home against any damages.
Association dues: The fee you must pay if your home is part of a homeowners association. Note that if your home is not part of a homeowners association, you will not be required to pay this fee.
To calculate how much home you can afford, you can use the Quicken Loans Home Affordability Calculator or do the following calculations yourself:
Maximum Monthly Housing Expenses = (Gross Monthly Income X 28) / 100
Maximum Total Monthly Debt Payments = (Gross Monthly Income X 36) / 100
But, once you've determined how much you can afford, be sure to consider the lifestyle that you want to maintain and leave yourself a cushion in case of emergencies.
Apply for a Mortgage with Quicken Loans®
Call our Home Loans Experts at (800) 251-9080 to begin your mortgage application, or apply online to review your loan options.
Start Your Application
Step 4: Choose A Lender
Many buyers don't realize that they can and should shop around for lenders before choosing one. There can be variations in the interest rates, terms and closing costs that each lender offers, which is why it's essential to do your homework.
When comparing different lenders, you should ask each one to provide you with a Loan Estimate, which – as discussed above – will spell out the loan terms, projected payments and closing costs for your potential mortgage. This form is provided in a universal format, meaning that it will allow you to clearly see the differences between what each lender is willing to offer you.
However, one crucial factor that is not included in a Loan Estimate is customer service. Getting a mortgage and making payments is not always an easy process. Unfortunately, there may be hiccups along the way, which is why you want a lender that can make the mortgage process as simple and convenient as possible.
The ideal mortgage lender will guide you through each step of the way, make you feel comfortable asking questions and respond with a sense of urgency.
Step 5: Get Preapproved For A Loan
Contrary to popular belief, getting prequalified for a loan is not a guarantee that you'll actually be able to obtain a loan. When you get prequalified, lenders will only estimate your finances based on the information you provide.
On the other hand, getting preapproved for a loan requires a thorough investigation of your finances that includes the verification of your income, assets and credit rating. When you get preapproved for a loan, you are guaranteed that you'll be able to obtain the loan, assuming your finances don't change.
A preapproval will tell you exactly how much the bank is willing to lend you and specify the costs of obtaining the loan. Furthermore, getting preapproved will demonstrate to sellers that you're a serious buyer who is ready and able to buy their home.
At Quicken Loans ®, there are two different levels of approval offered in our Power Buying Process SM:
A Prequalified Approval, which provides an estimate of what you can afford based on your credit report, as well as the information you provide us about your income and assets.
A Verified Approval SM,1 which goes a step further to verify your income and assets. By allowing us to verify your information, you are provided with the assurance that you'll be able to obtain a loan.
Step 6: Find The Right Real Estate Agent
There are some buyers who decide that they don't want to work with a real estate agent, but that is often a huge mistake. A real estate agent will represent you throughout the home buying process to ensure that you find the right home, ask the important questions, make an appropriate offer, have the power to negotiate and receive the necessary disclosures.
Real estate agents take the stress out of the experience by providing buyers with knowledge of the market and skills in the negotiation process. Furthermore, agents' expertise and skill are provided to buyers without charge.
How is this possible? Well, as a buyer, your agent is only paid a commission if you close on a new home. And the commission that they receive is paid through the purchasing price of the house. So, it's technically the seller who pays for your representation.
Therefore, the question shouldn't be: Should you find a real estate agent? It should be: How do you find the right agent?
The way to find a good agent is by asking the right questions. Some questions to ask may include:
How long have you been working as a real estate agent?
What makes you different than other agents?
How many customers/clients are you currently working with?
What experience do you have finding homes in my price range?
How knowledgeable are you about my desired area?
Are you willing to provide me with references?
Real estate agents play a big role in a successful and stress-free home buying experience, so it's crucial that you find a good one. If you need help finding the right real estate agent, check out Rocket Homes Real Estate, LLC (Rocket HomesSM), which partners with top-rated agents in all 50 states.
Once you select the best agent for you, he or she will look over your approval letter, discuss your budget and help you set your priorities.
Step 7: Determine Your Priorities
Once you've determined how much you can afford to spend on a home and found the right agent to help you through the process, you should start to talk to your agent about what your ideal home looks like. During this time, you should consider:
Location: Which neighborhoods would you prefer to live in?
Type: Would you like a single-family house, multifamily house, townhouse, condo, etc.?
Lot: How much land, if any, are you looking for?
Size: What is your ideal square footage?
Bedrooms and bathrooms: How many bedrooms do you require? Does every bedroom need its own bathroom?
Age and condition: Are you willing to do work on the home?
Although your real estate agent will send you listings after you've discussed your needs, it's useful to do a search yourself prior to this conversation. By conducting your own search, you'll be able to get a sense of what's available on the market.
You won't have access to your local Multiple Listing Service, which provides your agent with a full list of all homes currently on the market. However, you can browse homes listed on various websites, like Rocket Homes, which will allow you to see the many homes on the market and filter the results by price, location, type, square footage, rooms and year built.
As you begin to look at listings, you'll most likely notice that your perfect home is not available on the market or in your budget. That's to be expected – after all, it is your ideal home. That's why it's vital that you figure out what your priorities are now before you get deeper into your house search.
Determining your priorities really means that you need to decide what you're willing to sacrifice. Start by asking yourself: Which aspects of a home do I absolutely need and which would I prefer to have?
For example, if you have three children, is it necessary for all of them to have their own bedrooms, or is it more important that the house is close to the best schools?
Finding the best home is all about the give and take, so make sure you know what you're willing to give up and what's absolutely necessary to take.
Step 8: Start House Hunting
After you've settled on your priorities and clearly communicated them to your real estate agent, it's time to start house hunting. As you browse the listings your real estate agent sends you, or you find yourself, keep your priorities at the back of your mind. Remember, it is highly unlikely that any listing will perfectly match your dream home, so try not to be too picky until you see the listings in person.
You'll find that the more houses you see, the more they all start to blend together. So, try to be organized and make sure that you talk to your agent about your likes and dislikes about each property.
When going to see each listing, reflect on the neighborhood that the home is in, as well as the home itself. Before every tour or open house, drive around the area. Consider what your commute would be like. Research the schools your kids would go to and figure out how long it would take them to get there. Find out where the closest grocery store and pharmacy is located. Overall, make sure the area fits your everyday habits.
When touring each house, take photos and make notes. Make sure each home meets your needs. Think about the style of the home: Is it conducive to your lifestyle? Are there enough bedrooms? Enough bathrooms? Does it get enough natural light?
If the home seems to check all of the boxes, it's time to start thinking about the condition. Keep an eye out for these potential red flags:
Plumbing and electrical issues
Poor insulation or problems with the HVAC system
Issues with the foundation, like slanted floors or significant cracks in the walls
Visible water damage on ceilings or walls
Chimneys or gas furnaces that need to be repaired or replaced
Presence of radon, asbestos, lead paint or carbon monoxide
Although a house in poorer condition may seem like a steal, remember that you're the one who will be left to make those repairs. Even homes with outdated appliances can be a nuisance because you're the one who will have to pay to replace them ultimately. So, try to be as realistic as possible as you view each house by thoughtfully considering what you're willing to live with and what your budget can cover.
Step 9: Make A Smart Offer
When you find the right place, ask your real estate agent to run a comparative market analysis to determine what a fair price would be based on recent sales of similar homes in the area. The less interest there is and the longer the house has been sitting on the market, the more power you'll have to negotiate.
Beyond the price you plan to offer, you should also speak to your real estate agent about whether it makes sense to include any contingencies in your offer. A contingency is a stipulation included in an offer which states that if a particular condition is not met, the buyer is free to break the contract without any repercussions.
Although sellers often balk at offers made with contingencies, there are some contingencies worth making regardless of the seller's feelings about them, especially if you're negotiating from a position of power.
Mortgage Contingency
If your ability to afford the home is dependent on your ability to obtain a loan, you must include a mortgage contingency in your offer. This contingency will make it possible for you to back out of your offer if, for any reason, you're unable to receive financing.
Even if you've been preapproved for a loan, you should still write this contingency into your offer. If you don't, you'll find that you're still on the hook for the purchasing price regardless of whether you've obtained any funds.
Home Sale Contingency
If you're planning to sell your home and require the funds from the sale to purchase this new one, you'll want to ask for a home sale contingency. This contingency will provide you with a certain period of time within which to secure a buyer for your own home.
If you're unable to find a buyer during that time, the home sale contingency will enable you to rescind your offer and reclaim your earnest money deposit without any recourse. Understand, many sellers will refuse this contingency, but it's still worth a try in most cases.
Inspection Contingencies
Inspection contingencies are also worthwhile additions to any offer. After you make an offer, you'll want to get the home inspected to make sure you have a full understanding of the home's condition. It's in your best interest to ensure that the seller is willing to do any work necessary before closing or take the respective cost out of the purchasing price.
With an inspection contingency, you'll be able to not only renegotiate the offer based on any necessary repairs but also break the agreement if the home needs more work than you can handle.
The decision to include any contingencies in your offer should be made based on the transaction and your financial circumstances. If you're in the middle of a bidding war, your agent will probably dissuade you from including any – as sellers are less likely to choose offers that require them. However, if there are no other offers on the table, it is worth the try. Contingencies can always be removed during the negotiation process.
Earnest Money Deposit
Along with your offer, you'll also be required to provide an earnest money deposit, also known as an escrow deposit. This deposit is money that you provide up-front to show the seller that you're serious about the offer, so the seller feels comfortable taking the home off the market.
The amount of money included in the deposit can be negotiable; however, an earnest money deposit is typically 1% – 3% of the purchase price. The money is held in an escrow account and applied to your down payment and closing costs at closing.
If you change your mind and decide that you won't buy the home for any reason that is not specified in a contingency, the seller gets to keep your earnest money deposit. That's why it's vital that you consider the conditions in which you may need to pull out of the contract before you make an offer. Including a contingency in your offer can be the difference between keeping and losing your earnest money.
Step 10: Get A Home Inspection
After your offer is accepted, you should arrange for a home inspection to be completed. You'll want to hire a professional, third-party home inspector to examine the home you're preparing to buy. The home inspection is a crucial step as it will identify areas where major repairs or renovations require immediate attention, as well as any work that needs to be completed in the future.
If significant repairs are needed, you can request that the seller complete them before closing. If the seller declines to handle the repairs and an agreement can't be reached, you may be able to withdraw your offer.
However, if you've included an inspection contingency in your contract, you'll be able to guarantee that either repairs are made, the cost is deducted from the purchase price or the contract is broken, and your earnest money is returned.
Step 11: Make Sure The Home Is Appraised
If you're getting a mortgage to purchase your home, your lender will require the home to be appraised before they agree to release your funds. A home appraisal provides an estimate of how much a home is actually worth based on comparable sales in the area, market trends, public records and a comprehensive inspection of the property.
Generally speaking, home appraisals help you ensure that the purchasing price of the home is in line with the home's true value. Therefore, these home valuations are a protective measure for lenders. By insisting that a home be appraised before money is lent, lenders can make sure that they're not lending more money than the house is worth.
Whenever a buyer obtains a loan to purchase a house, the house itself is used as collateral. If the buyer is unable to keep up with monthly mortgage payments and defaults on the loan, the buyer would go into foreclosure, and the lender would sell the loan to recover the money lent.
However, if a lender didn't require a home appraisal and mistakenly provided the buyer with more money than the home was worth, the lender would be at risk. If the buyer defaulted on the loan and the lender had to sell the house, it's likely that the lender would not be able to recoup all the money that was initially lent.
So, when you get the home appraised, keep in mind that the lender will only provide funds to cover the appraised value of the house. If the appraisal comes in below the purchasing price, you'll have to either renegotiate price or come up with the difference – which is one of the many reasons having a mortgage contingency (or appraisal contingency) is in your best interest.
Step 12: Close On Your New Home
Before closing, walk through the property with your real estate agent and make sure that everything is in order. If the seller agreed to make any repairs, the walk through is the time to ensure that the seller has actually completed them.
Then, review your Closing Disclosure. It will outline the terms, final closing costs and any outstanding charges or fees included in your loan. Your lender will send the disclosure to you at least three days before closing.
During closing, the property title will pass from the seller to you. A closing agent will oversee this process, which typically takes place at a title company, management firm, escrow office or your home.
The closing agent will ensure that all necessary parties are present at closing. The agent acts as a mediator between you and the seller and confirms that all required documents are signed. Once documents have been signed, the agent will ensure that all funds, including closing fees and escrow payments, are paid and properly disbursed.
During closing, you have two major responsibilities:
Signing legal documents: This includes the Closing Disclosure, promissory note, deed of trust and certificate of occupancy.
Paying closing costs: This may include fees for your mortgage application, appraisal, survey, title search and funds to establish an escrow account. An escrow account is used to pay for property taxes and insurance premiums.
While the home buying process can be confusing, these 12 steps will help you get through it unscathed. If you're still unsure about any step, we're happy to talk to you about it. You can contact a Home Loan Expert online or call (888) 452-8179.
Apply for a Mortgage with Quicken Loans®
Call our Home Loans Experts at (800) 251-9080 to begin your mortgage application, or apply online to review your loan options.
Start Your Application
1Participation in the Verified Approval program is based on an underwriter's comprehensive analysis of your credit, income, employment status, debt, property, insurance, appraisal and a satisfactory title report/search. If new information materially changes the underwriting decision resulting in a denial of your credit request, if the loan fails to close for a reason outside of Quicken Loans' control, or if you no longer want to proceed with the loan, your participation in the program will be discontinued. If your eligibility in the program does not change and your mortgage loan does not close, you will receive $1,000. This offer does not apply to new purchase loans submitted to Quicken Loans through a mortgage broker. Additional conditions or exclusions may apply.