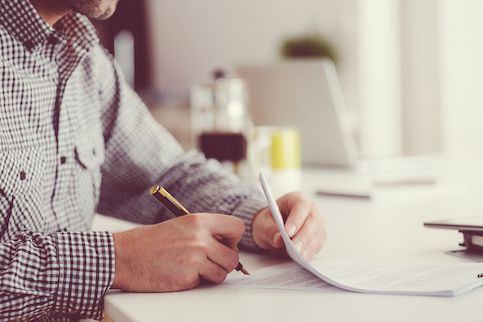 What's A Closing Disclosure And Why Is It Important?
Published on September 30, 2021
Disclosure: This post contains affiliate links, which means we receive a commission if you click a link and purchase something that we have recommended. Please check out our disclosure policy for more details.
For most people, buying a house may feel like a treasure hunt that culminates in finding a home, making an offer and moving in. It's easy to get caught up in the process of buying your dream home; however, there are a lot of practical details you'll need to tackle along the way. You'll have to complete tons of paperwork (though most of it can be done online), provide a variety of closing documents and read through all the required disclosures.
After all, it isn't just a home. It's the largest investment most of us will ever make. One of the most important documents you'll need to tackle is your Closing Disclosure form. We'll walk you through what it is, what should be included and how to check it for errors so you can feel confident heading into the closing process.
What Is A Closing Disclosure?
A Closing Disclosure is a legal form that details the final terms and costs of a mortgage, including the total loan amount, interest rate, monthly mortgage payments and closing costs. Mortgage lenders are required to provide borrowers with their Closing Disclosure at least 3 business days before closing on their mortgage loan.
The Closing Disclosure is one of the most important pieces of paperwork you'll receive during the mortgage process, so you'll need to check it over carefully.
The History Of Closing Disclosures
Though mortgage lenders are required to provide Closing Disclosures today, that hasn't always been the case. In October 2015, under the direction of the Consumer Financial Protection Bureau (CFPB), the Closing Disclosure form replaced the HUD-1 Settlement Statement. Previously, federal law mandated that borrowers receive their HUD-1 Settlement Statement on the day their loan closed.
This didn't give home buyers much time to review fees and charges or ask for clarifications. The current 3-business day window is designed to give buyers more time to check their final loan terms and spot any errors.
Why Is the Closing Disclosure Form Important?
Consider the Closing Disclosure form the final version of the Loan Estimate – formerly known as a Good Faith Estimate – which you received when you first applied for your home loan.
Although the Loan Estimate form outlines the approximate fees you'll pay for your mortgage, the Closing Disclosure form uses the final numbers. This is why you must read your Closing Disclosure carefully and ask about anything you don't understand.
Whereas the HUD-1 Settlement Statement was long and confusing, the Closing Disclosure form used today is more streamlined.
What Is The Closing Disclosure 3-Day Rule?
CFPB regulations require that home buyers and those looking to refinance receive the Closing Disclosure form at least 3 business days prior to closing, but this 3-day timeline isn't required for delivering disclosures to the home seller.
Known as the TILA-RESPA Integrated Disclosure – or, more commonly, the Know Before You Owe rule – these federally mandated regulations give mortgage borrowers more time to review and get their questions answered properly.
Additionally, buyers get 3 more days to decide whether they wish to proceed if changes are made in these key areas after the initial Closing Disclosure is printed:
It's important to note that a decrease in the APR or a reduction in fees won't always cause delays.
What's In The Closing Disclosure Form?
The Closing Disclosure form offers a lot of important information you'll need to review, including:
Loan terms: The terms include the loan amount, interest rate, projected monthly payments (principal and interest), prepayment penalty (if applicable) and balloon payment (if applicable).

Mortgage payment breakdown: The monthly mortgage payment breakdown includes principal and interest, private mortgage insurance (PMI) (if applicable) and your estimated escrow payment for property taxes and required insurance.

Closing costs: These are the costs that you'll be required to pay at your

Loan costs:

These costs include origination fees, underwriting fees, the mortgage application fee and any applicable prepaid mortgage interest points. You'll also see fees paid to third parties in this section, including the appraisal fee, credit report fee, title insurance fee and pest inspection fees.

Other

costs:

These costs include taxes, recording fees and prepaid costs – like a homeowners insurance premium or mortgage insurance premium – as well as home warranty fees.

A

cash-to-close table: This shows what costs have changed since your Loan Estimate, whether any seller concessions have been made and the total amount you should bring to closing.

A transaction summary table:

This provides the big picture of what you're paying versus what the seller is paying.

Loan disclosures:

Any boxes checked off in the loan disclosures section apply to your loan. For example, the appropriate boxes will be checked if your loan is assumable, you have an escrow account to collect and distribute your property tax and homeowners insurance payments or your loan allows for partial payments.

Loan calculations:

This section outlines how much you'll pay over the life of your loan, including

total payments, the finance charge, amount financed, APR and total interest percentage (TIP).

Other disclosures:

This section includes details about your appraisal and loan, as well as what happens if you don't make your payments. For example, these disclosures cover whether your state's laws protect you from being held liable for the loan balance in the event of foreclosure.

Contact information:

Under this section, you'll find the contact information for the lender, brokers and settlement agent involved in your home loan.

Confirm receipt:

Signing the final page of the Closing Disclosure form confirms that you received the form. The Closing Disclosure will be available for you to sign in its finalized form at the close.
Compare And Save
Have control over your money. Shop all your financial options in one place.
Find Your Best Offer
What Happens After You Receive The Closing Disclosure Form?
Once you receive your Closing Disclosure, you'll want to carefully check it for any errors. The CFPB offers a Closing Disclosure tool to help you double-check the form for errors. Although your Closing Disclosure should be ready for signature, you should always read the form with the assumption that any information – your name, the interest rate or the address of the property – could be incorrect.
If you find an error with your closing documents, notify your lender and title company immediately. Because once you and your lender sign the Closing Disclosure, no changes can be made to the mortgage terms.
If changes are significant, the document will need to be revised, which will push your closing back at least a few days because you'll have to review your updated Closing Disclosure form at least 3 business days before your new closing date.
How To Check Your Closing Disclosure Form
You'll want to compare the Closing Disclosure form side-by-side with your Loan Estimate form. Most of the numbers and terms should be similar but may differ because of the weeks (or even months) that have passed between when you applied for your mortgage and your closing date.
Your real estate agent won't receive a copy of the Closing Disclosure form from the mortgage lender. Make sure to share the form with your agent so they can help you check it for accuracy.
Take plenty of time to review, double-check and ask questions about the information in the document. Start with this checklist – but you should only consider this a starting point:
How your name is spelled:

Even small errors can create big problems later.

Loan type:

There are many types of loans. Conventional mortgage loans typically come with either a fixed interest rate or an adjustable rate.

Interest rate:

If you locked in your rate, it should be the same as shown on your Loan Estimate.

Loan term:

Typically, your loan term will be 15 or 30 years, but this can vary.

Cash-to-close amount:

This amount includes your down payment and closing costs. It represents how much money you need to bring to closing.

Closing costs:

These are the fees paid to third parties, such as the appraiser. In general, you'll pay 3% – 6% of the home's purchase price.

Loan amount:

This number may be higher than it was on your Loan Estimate if you rolled your closing costs into your loan. If you're unsure about this number, ask your mortgage lender.

Estimated total monthly payment:

Payments will stay the same over the course of the loan for a fixed-rate mortgage. However, with an adjustable-rate mortgage (ARM), your monthly mortgage payment amount may increase after the loan's initial fixed-rate period ends.

Estimated taxes, insurance and other payments:

If your property taxes, homeowners insurance premiums or homeowners association (HOA) dues increase, this amount can change over time.
After you and your real estate agent have carefully reviewed your Closing Disclosure and have determined that it's error-free, you should be ready to sign.
The Bottom Line: Closing Disclosure Forms Make Closings More Transparent
The Closing Disclosure is an itemized, comprehensive list of all the costs you'll need to pay both at closing and throughout the life of your mortgage loan. When you receive your Closing Disclosure form 3 business days before closing, be sure to compare it to your Loan Estimate and mention any concerns to your lender ASAP.
Now that you have a better understanding of how and where the mortgage loan process ends, you can embark on your own home buying journey. Talk to one of our Home Loan Experts and start your mortgage application today. You can also give us a call at (888) 452-0335.
Find A Mortgage Today and Lock In Your Rate!
Get matched with a lender that will work for your financial situation.
Get Started