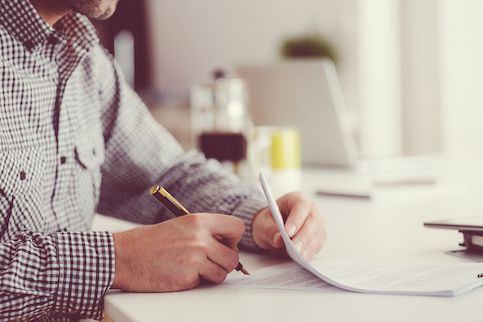 What's A Closing Disclosure And Why Is It Important?
Published on September 4, 2019
A closing disclosure is a five-page form your lender provides to you three days before your closing. It outlines the final terms and costs of your mortgage, and it's one of the most important pieces of paperwork you'll receive, so check it over carefully.
Under the direction of the Consumer Financial Protection Bureau (CFPB), the closing disclosure replaced the HUD-1 settlement statement in August 2015.
The previous settlement statement was long and confusing, and federal law mandated its distribution to home buyers on the day their loan was closing, which didn't give them much time to react to the figures or ask for clarifications. The closing disclosure is more streamlined, and lenders must provide it to you at least three business days before your loan closes.
Why Is the Closing Disclosure Important?
You can consider the closing disclosure as the final version of the loan estimate, formerly called a good faith estimate, which you received when you first applied for your loan.
While the loan estimate outlined the approximate fees you would pay for your mortgage, the closing disclosure uses the real numbers, which is why you need to read the closing disclosure carefully and ask about anything you don't understand.
What's in the Closing Disclosure?
Loan terms– Loan amount, interest rate, projected monthly payments (principal and interest), prepayment penalty (if applicable), and balloon payment (if applicable).
A breakdown of your projected monthly mortgage payment– Principal and interest, mortgage insurance, and your estimated escrow payment (which can increase over time).
Closing costs– Including what you'll owe when you're at the closing.
Loan costs– Origination charges, services the borrower did not shop for (like the appraisal) and services the borrower did shop for (like the title search and pest inspection).
Other costs– This includes taxes, fees, and prepaid costs as well as any other fees, such as for a home warranty.
A cash-to-close table– This table will help you understand what costs have changed since your loan estimate.
A transaction summary table– Providing the big picture of what you're paying versus what the seller is paying.
Loan disclosures– Boxes are checked that apply to your loan, such as whether or not it's assumable and whether or not you'll have an escrow account to collect and distribute your property tax and homeowners insurance payments.
Loan calculations– The total of your payments, finance charge, amount financed, annual percentage rate (APR), and total interest percentage (TIP).
Other disclosures– A catchall list of other details about your appraisal, loan, and what happens if you don't make your payments.
Contact information– How to reach the lender, brokers, and settlement agent involved in your loan.
Confirm receipt– Signing the final page of the closing disclosure only indicates you've received it. This form will be available for you to sign at the close.
How to Check Your Closing Disclosure
You'll want to compare the closing disclosure side-by-side with your loan estimate. A lot of the numbers and terms they have should be fairly close. Some may differ though because of the weeks (or even months) that passed between when you applied and your close.
Your agent also should receive a copy of the closing disclosure from the lender and can help you check it for accuracy.
What to Look For:
How your name is spelled – Even small errors can create big problems later.
Loan type – There are many types of loans, although conventional loans typically come with either a fixed interest rate or adjustable rate.
Interest rate – If you locked in your rate, it should be the same as shown on your loan estimate.
Loan term – Typically this will be 15 or 30 years.
Cash-to-close number – How much money you need to bring to the table to close the deal, including your down payment and closing costs.
Closing costs – Fees paid to third parties, such as the appraiser. In general, you'll pay 3% – 6% of the purchase price.
Loan amount – This number may be higher if closing costs were rolled into your loan. If you're unsure of this number, ask your lender.
Estimated total monthly payment – This number may be higher if you have an ARM loan since your monthly payment can change over time if the interest rate increases.
Estimated taxes, insurance, and other payments – This amount can change over time if, say, your property taxes or HOA dues increase.
What If Something's Wrong?
The CFPB offers a closing disclosure explainer on its website to help you double-check the closing disclosure for errors.
If you think there is an error in your closing disclosure, you should notify the lender and title company immediately.
If changes are significant, the document will need to be redone. This will cause your closing to be pushed back for at least a few days, since you'll have to review an updated document at least three days prior to your new close date.