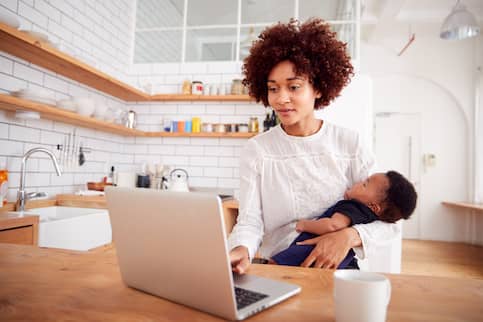 What Does It Mean To Refinance A Mortgage?
Published on October 1, 2021
If you're a homeowner, you probably get more than your fair share of mortgage refinance offers, especially now while refinance rates are still low. If you don't live and breathe real estate, though, you might not be exactly sure what refinancing entails or why you might do it.
So, what is refinancing? Let's walk through the process together.
What Is Mortgage Refinancing?
Refinancing is the process of replacing your old mortgage with a new one, or paying off an existing loan by taking out another loan with better terms. Refinancing can make sense if your credit score or debt-to-income ratio have improved, or if interest rates have dropped since accepting your original loan terms.
How Can Refinancing Lower My Monthly Mortgage Payments?
Let's look at an example to demonstrate how much it's possible to save in a refinance. (To see the impact refinancing could have on your own monthly budget, you can also use our refinance calculator.)
Meet Chris, our prospective candidate for a refinance. They've purchased a $100,000 home with a 30-year fixed-rate mortgage with an interest rate of 5.5%. The monthly payment is $568. After a year, Chris decides to take advantage of lower rates and refinances the home. They're able to secure a mortgage loan with an interest rate of 4.1%, reducing their monthly payment to $477. This monthly payment difference translates into $1,092 in savings per year.
Reasons To Refi
Refinancing can help homeowners achieve these and other goals:
How Does Refinancing Work?
Refinancing works by replacing your existing mortgage with another one that has a different rate and term. You pay off your current mortgage with the proceeds from a new loan. You can also use a cash-out refinance to take a loan worth more than the amount that you currently owe and get the difference in cash.
The refinancing process is very similar to the initial home loan process. To qualify for most refinances, you must be named on the ownership documents and have owned the home for 6 months or more.
Similar to your original mortgage, the higher the credit score, the better your rate. However, it is possible to refinance with bad credit. Most lenders require a minimum credit score of 620 for loan approval. If you have a median FICO® Score of 580 or better, you may be able to qualify for an FHA or VA loan with sufficiently low debt. In addition to an adequate credit score, you must have built up enough equity in your home to qualify for a refinance.
20% Equity Or More
A general rule of thumb is that you should have at least 20% equity in your home if you want to refinance. If you want to get rid of private mortgage insurance (PMI), you'll likely need 20% equity in your home. This is also the same amount of equity you need in your home to qualify for a cash-out refinance.
Under 20% Equity
If your equity is under 20% and if you have a good credit rating, you may still be able to refinance, but your lender may charge you a higher interest rate or have you take out mortgage insurance. There are no equity requirements for interest-reduction FHA refinance loans, but you will need at least 20% equity for a cash-out refi.
Apply for a Mortgage today!
Apply online for expert recommendations with real interest rates and payments.
Start Your Application
Types Of Refis
While the reasons for refis are infinite, there are basically only four types of refinances. Let's look at them.
Cash-Out Refinance
A cash-out refinance is a handy way to convert your home's equity into cash while refinancing your mortgage at the same time. In addition to lowering your interest rate, a cash-out refi can help you fund projects or consolidate debt.
Cash-out refinancing is great for borrowers who have a lot of equity in their home and they want to use that equity to refinance for home improvements. Things like an addition, adding a garage or outbuilding, or updating home systems can add value to your home and enrich your family's life.
Rate-And-Term Refinance
A rate-and-term refinance lets homeowners change their existing loan's mortgage rate, loan term or both. It's likely your financial situation has changed and you may qualify for a lower rate, or your budget will allow you to pay your mortgage down more aggressively.
The goal of a rate-and-term refinance loan is to save money. You do this by getting a lower monthly payment or paying less interest overall because of a lower mortgage rate or a shorter loan term.
If you refinance into a shorter loan term, your monthly payments will be higher because you're paying off the same amount of money in a shorter amount of time. However, you do save money in the long run because you're removing years of interest payments.
Cash-In Refinance
If you've come into a lump sum that you wish you'd had when you bought your home, you might want to consider a cash-in refinance. With a cash-in refinance, you'll get the chance to put your lump sum into a new down payment. If you're refinancing to get rid of PMI premiums while getting a better interest rate, this is what you'll want to explore.
On the other hand, if you already have a mortgage you're happy with, you might consider a mortgage recast, sometimes called a mortgage reamortization. With a recast, you're putting money into paying off your mortgage principal, which is reamortized to reflect the lower principal on which you'll continue paying interest.
Streamline Refinance
If you purchased your home with a mortgage offered through the Federal Housing Administration (FHA), the Veterans Administration (VA) or the U.S. Department of Agriculture (USDA) and you're looking for the benefits of a rate and term refinance without going through the full refinance process, consider a streamline refinance.
FHA Streamline refinances are available with very little paperwork, and they don't require an appraisal. VA refis are known as IRRRLs – that's pronounced "earls" – and they're similarly easy to apply for with minimum requirements.
Pros And Cons Of Refinancing
Before you apply to refinance your mortgage, take a realistic look at your family's budget. Base your decision on how much equity you have and what you plan to use the money for. Will it be worth it? Below we have some pros and cons to help you decide:
Pros
You could refinance to a lower rate with different loan terms, saving money each month and over the life of the loan.

Taking cash out of your primary mortgage means you only worry about one monthly payment.

You can potentially take out a large lump sum to pay for improvements or to pay off debt.
Cons
You risk foreclosure on your home if you fail to make your monthly payments.

You'll end up paying closing costs on the entire loan amount.

A new mortgage will mean entirely new terms, which can be good or bad.
How To Refinance A Mortgage
Remember our friend Chris? They decided to refinance their 30-year loan and take advantage of current mortgage rates. Chris reached out to their existing mortgage lender and a few others to compare pricing and discuss their options. Most lenders will require a simple online application to get approved.
Mortgage underwriters will evaluate the application in three areas: credit score, income and employment history, and assets and cash reserves. While the application is being considered, the home will need to be appraised by a licensed appraiser for its current market value. Chris will likely need to provide W-2s, pay stubs, proof of assets, bank statements and proof of residency as they did when they originally applied for the first mortgage.
Despite the similarities between a new mortgage and refinancing, borrowers can expect less paperwork. Most refinances take less time to process than a new loan and can be clear to close in 30 days or less. If mortgage rates are low, expect a longer wait time to close, as many other homeowners are refinancing at the same time.
The Bottom Line: Refinancing Can Help You Meet Your Financial Goals
Wondering if now is the right time for you to make some changes with your loan? Learn more about whether you should refinance in our Learning Center.
View Your Refinancing Options
See expert-recommended refinance options and customize them to fit your budget.
Start Your Refinance Online