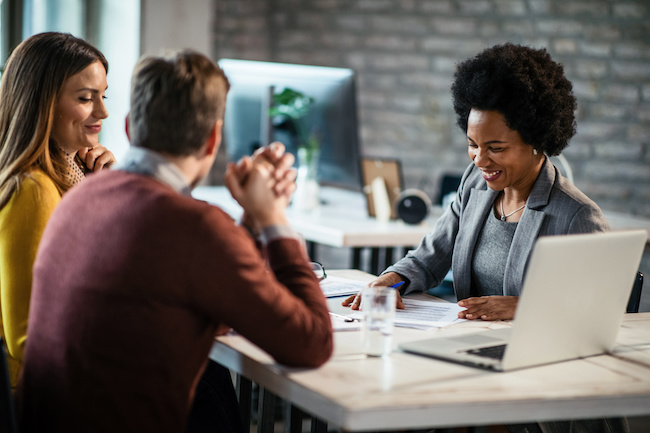 How To Find The Right Real Estate Agent
Published on October 8, 2019
At the beginning of your home search, the task of picking one real estate agent out of thousands may seem daunting. When making a purchase as important as your home, you want to work with someone you can trust who will advocate for you during the entire process. There are some easy ways to narrow your search. Chisholm Gentry, an agent in the Rocket HomesSM 1 Partner Network, offers some advice on how to pick the right agent.
Help Your Agent Understand Your Needs
Although this might seem simple, Gentry says it's often an overlooked step in the home buying process. Many home buyers focus on getting to know their agent when, really, it's most important to ensure the agent gets to know them.
Your agent should learn about you and what you're looking for. Anybody can find a ranch or colonial in a specific budget range with three bedrooms. If you're on the selling side, the first point of conversation may be what you would like to get out of the sale. Your agent should help you go beyond the surface level.
Are there special home characteristics you've been dying to have? Although you may know the maximum amount you're approved for, what would you feel most comfortable spending? Should the agent be looking in an area with trendy restaurants or shops, or one that's near the best schools? Don't hesitate to have this discussion with your agent. It will keep you from wasting your time on showings for homes that don't really meet your needs.
"From a buyer's perspective, you want your agent to know you: your short- and long-term goals, family, where you grew up and where you want to live. Are you a saver or a spender, etc.," Gentry says. "This is key to a long-term relationship, not just a one-off transaction. An agent who cares about the long-term relationship will be far more likely to put the client first and work hard to see that long-term goal happen."
As a home seller, in addition to your best-case scenario sales price, tell your agent the following details:
Is there a specific time frame when you need to sell or move out? If you're motivated to move quickly, your agent should know this. On the other hand, if you want to move after the kids get out of school, your agent may be able to find buyers who are more flexible on timing.
What's the minimum amount you would take in a sale?
Let your agent know your schedule. This will accomplish two things. First, your agent will know the best time to contact you. Second, he or she will be able to try to schedule home showings so they cause minimal disruption in your life.
Check The Resume
Another thing to think about is the agent's credentials and whether or not they line up with your needs. There are different types of real estate agents out there, and you'll want to make sure you find one who makes sense for you. For example, a Certified Residential Specialist has done specific training for residential real estate, while a Seniors Real Estate Specialist is geared toward buyers in the 50+ age group. Also, check on how long they've been in the business, and if they've won any awards. The longer they've been working, the more they'll know about the business and how to provide you with the best experience possible.
Of course, doing all this background checking may be a lot to ask for if you're also thinking about everything you need to do to get approved for a mortgage. Each agent in the Rocket Homes partner network is prescreened so you can feel comfortable you're getting a top-quality agent.
Word Of Mouth
Gentry says finding the right real estate agent is often like looking for a significant other. "Don't be afraid to stalk your agent online to learn more about them," Gentry says. With these types of relationships, it's often best to seek a good friend or family member's referral. "The best resource is to be referred to the agent. Then, reach out and meet with the agent to see if there's a fit."
Talk to any friends who recently purchased a home. If they had a good experience with their agent, you might want to meet their agent. Since you'll be spending a lot of time with your agent during the home search process, you'll want to work with someone you trust.
Gentry suggests checking reviews. As with any internet dealings, make sure to do thorough research. "You can get one-sided reviews without the perspective of what really happened. [Make sure to] research your agent as well as your home," Gentry says.
Recommendations from friends can be great, but it's also important to be aware that your friend may not have the same tastes or goals that you do in the home buying process. The agent who meshes best with your friend may not be the best agent for you.
Rocket Homes real estate coordinators will work with you to find an agent who matches up with your needs and goals in the home buying or selling process. If you're on the same wavelength from the start, things will go that much more smoothly.
Ask The Right Questions
Interviewing your potential agent is one of the most important steps in the process. Gentry says it's not uncommon for agency websites to provide questions you should ask a potential agent, but while some of them might be helpful, Gentry says most agents are expecting to hear them. The unexpected questions are where you'll find out the most about your agent, and you'll want to make sure you're asking the right ones.
"Have your sit-down meeting, see what questions the agent has for you and ask questions in return about what the agent thinks about your answers," Gentry explains. "Pay attention to how the agent answers, and how comfortable you are with the agent and their responses. Did it sound like the agent understood your goals, both short- and long-term, as a buyer?"
Make sure to ask about the current market in your target or selling area. You want to work with someone who knows the neighborhood you're targeting inside and out. Make sure your goals align by asking about their work history and why they'd be the right agent for you. If they've worked with a lot of clients with goals like yours, they'll likely be a good fit.
At the end of the day, Gentry says the most important thing to remember when searching for an agent is to trust your gut. "Your agent is your financial advisor for the largest (typically) purchase you will make. A good agent needs to be excited about the business they're in," Gentry says.
If you're ready to get started, Rocket Homes can connect you with an agent that meets your needs. Visit RocketHomes.com to find an agent today!

Looking for a real estate agent?
Visit Rocket Homes Real Estate LLC to get connected with an experienced agent in your area.
Find an Agent
1 Rocket Homes Real Estate LLC, 701 Griswold St, Detroit, MI 48226. Equal Housing Opportunity. We do business in accordance with the Federal Fair Housing Law.
Rocket Homes Real Estate LLC License Numbers: MI 6505346028; FL CQ1053125; OH REC.2018004495; MA 422609; NC C27494; WA 20438; Rocket Homes Real Estate IL LLC License Number: 481.012770
© Copyright 2018 Rocket Homes Real Estate LLC, All Rights Reserved.