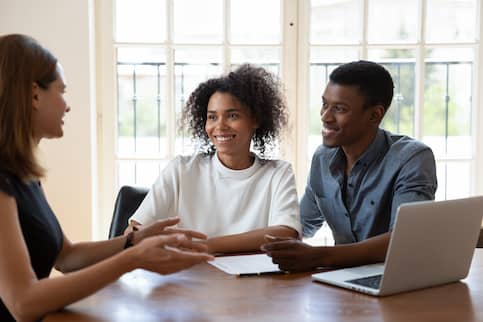 Why Should You Hire A REALTORⓇ Or Real Estate Agent?
When you plan to buy a home, what does your ideal experience look like?
You may think about touring beautiful living rooms and kitchens and spacious backyards. But who is showing you these features? Do you envision having a real estate agent or REALTORⓇ walking you through each home, scouting possible homes that match your budget or helping you through the paperwork?
Similarly, if you're selling a home, what do you want that experience to look like? If you're wondering, "Why hire a REALTORⓇ or real estate agent at all?" note that an agent can help you through all the steps of real estate transactions, whether you plan to buy or sell.
Here's what you need to know about buying a house with a real estate agent or REALTOR®.
Is It Worth It To Hire A Real Estate Agent?
Yes, it's worth it to hire a REALTORⓇ or real estate agent.
You can legally sell or buy a home without a real estate professional to help reduce your costs. However, sellers are usually the ones who pay the listing and buyer's agents' commissions. If you're buying a home, hiring a REALTORⓇ or agent can be an easy decision because you're not "out" any money.
If you're thinking about going the for sale by owner (FSBO) route – selling your house on your own – research indicates that a REALTORⓇ can help you show your home to more potential buyers, help you negotiate the sale and spend more time showing your home than you might be able to, especially if you're busy. In addition, a REALTORⓇ or real estate agent can make sure you're not letting your emotions get in the way during the selling process. It's a good idea to seriously consider hiring a real estate agent, even if you must pay a commission or REALTORⓇ fees.
The difference between a real estate agent and a REALTORⓇ is that REALTORsⓇ are active members of the National Association of REALTORS® (NAR), the professional association for the field of real estate. Real estate agents perform the same duties as a REALTORⓇ except that they don't belong to this broad professional network.
Reasons To Hire A Real Estate Agent
You'll have to research to decide if hiring an agent is worthwhile for your situation. Before you decide in favor of an agent or against, consider the following reasons to have an agent on your side.
They're Your Real Estate Market Expert
Why should you hire a real estate agent? Real estate agents are professionals trained to handle many types of home sales or purchases. They're knowledgeable about current trends and ready to help home buyers and sellers with common issues.
A REALTORⓇ must also follow a strict code of ethics and pass an exam before receiving their NAR membership. This means that you can count on a REALTORⓇ to navigate your home sale or purchase with integrity and professional competence.
Most real estate agents have a wealth of expertise that can help you navigate the home buying process. If you're a first-time home buyer, your agent can offer helpful tips to make the process as simple as possible
Find A Mortgage Today and Lock In Your Rate!
Get matched with a lender that will work for your financial situation.
Get Started
They'll Handle Your Listing
With all your daily responsibilities, it may be challenging to juggle the sale or purchase of a home. Having an agent by your side can add a level of convenience when making one of the biggest purchases of your life. Real estate agents can also save you time by screening listings and searching for homes that fit your criteria.
They'll also handle a wide variety of tasks when you're selling your home. Here's a quick list of time-consuming responsibilities that a listing agent can handle for a homeowner, though these are not the only things they can do for you:
Creating local social media ads to attract potential buyers
Scheduling open houses
Accepting appointments for showings
Helping with pricing the home
Hiring professional photographers to capture photos of the home
Educating you about the local market
A REALTORⓇ and real estate agent will also know how to use real estate comps to calculate an appropriate asking price for your home.
They Can Find Prospective Properties
Locating potential homes can be a difficult task without an agent. Real estate professionals have access to the multiple listing service (MLS), which can streamline the house hunting process. MLSs are private databases that real estate professionals create and maintain to help clients buy and sell property.
In addition, real estate agents also know about pocket listings, which are real estate listings not on the MLS. The seller keeps the listing in the "pocket" of an agent and seller instead of making it known to the public. These are usually communicated by word of mouth or on private listing networks. In other words, agents have the "inside scoop" on these homes, which you ordinarily wouldn't know about.
They're Your Representative
Selling or buying a house is a legal process that can be complicated. Whether you're buying or selling, agents are trained to represent you through the transaction.
For example, you might have concerns about a home before you put in an offer. A real estate agent can express your concerns to sellers by representing your interests in the buying process. Your agent can use your concerns to negotiate the best price for you.
Your agent will also be able to find a real estate attorney (if necessary) to help finalize the contract and answer other legal questions. They'll also help you through the closing process by looking over every document to ensure that all terms and conditions have been met.
They Know How To Negotiate
A real estate professional's negotiation skills are invaluable. This is one of the reasons why you should hire an agent who will work exclusively for you.
Consider this essential reason for finding an agent: The National Association of REALTORS® (NAR) found that FSBOs accounted for 7% of home sales in 2020. Of that number, FSBO homes sold for $260,000 compared to $318,000 for agent-assisted home sales. That's a difference of $58,000 — a hefty chunk of change!
This is one of the many compelling reasons to hire a real estate agent to represent you in the transaction.
They Set Up Appraisals And Inspections
Real estate agents also help set up home appraisals and inspections. In a home inspection, a licensed home inspector examines the condition of the home when making the assessment.
During an appraisal, a licensed home appraiser doesn't inspect individual home systems or the quality of the foundation. Instead, they consider the overall condition of a home, comparable homes and prices and more to determine the fair market value of a home.
Agents can have close relationships with appraisers and inspectors. They may recommend an inspector, but if your getting a mortgage, your lender will hire the appraiser.
The Bottom Line: The Benefits Of Hiring A REALTORⓇ Can Be Worth The Costs
Still asking, "Is it worth it to hire a real estate agent?" or "Should I hire a real estate agent?"
The answer is yes, there are many benefits of hiring a REALTORⓇ. You're in good hands with an agent. They have intimate knowledge of the industry, can handle your listing from start to finish and can help you through the process.
With their knowledge, a real estate professional can help you save money in the long run. Keep all these factors in mind when deciding whether to hire an agent during your home buying journey.
Learn more by reading about the questions to ask a REALTORⓇ.
Find A Mortgage Today and Lock In Your Rate!
Get matched with a lender that will work for your financial situation.
Get Started