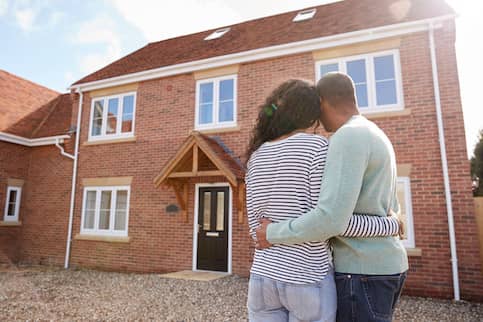 Home-Buying Checklist: Beginner's Guide
Published on June 7, 2022
Buying a home for the first time can be an intimidating process. Not only must you find the right home, you'll need to research neighborhoods, find a real estate agent, apply for a mortgage and schedule appraisals and home inspections. It's a lot to consider for a first-time buyer.
Fortunately, there are several professionals who can help you along the way. And understanding how the process works can eliminate any unpleasant surprises on your home buying journey.
Here's a look at what you must consider when buying a home, what you should look for when choosing a neighborhood and what you'll need to qualify for the mortgage loan to finance your purchase.
Take the first step toward buying a house.
Get approved to see what you qualify for.
Start My Approval
Things To Look For When Buying A House
What should you look for when buying a house? Start by considering the size of the home you'll need. Are you interested in a starter home or is your family already large enough that you'll need something bigger?
In general, the larger the home, the more you'll pay. This is why it's important to determine your monthly housing budget before you start searching for a home.
Once you buy a home, you'll pay a monthly mortgage payment, unless you are one of the small number of home buyers paying with cash. You'll also pay for homeowners' insurance and property taxes. Then there's the cost of maintenance and repairs, all of which can eat into your monthly savings if you don't have the right amount of money budgeted and saved.
You'll need to determine which style of house is right for you. Younger buyers might prefer a two-story house and the privacy it affords, while older buyers or multigenerational families might choose a ranch home that doesn't have many stairs.
Your home's location is another key factor. How far do you want to live from where you work? What neighborhoods can you afford? Do you want to live in the city center or do you prefer the quiet of the suburbs or a more rural area?
These are all important questions to answer before you begin your home search.
What To Consider When Buying A House
You'll also need to consider outside factors when buying a home.
You might be concerned about the safety of the neighborhood in which you are considering buying. You can check websites such as AreaVibes and NeighborhoodScout for information about the rate of violent crimes in neighborhoods. You can also check local newspapers or community websites for any police-blotter information they might have.
If you have school-age children – or even if you don't –investigate the strength of the local public and private schools, too. Strong school districts help increase the property values of homes, so it makes sense to buy in a neighborhood that features highly regarded schools.
You can research school districts at sites such as SchoolDigger or Niche.com.
Home-Buying Process Checklist In 10 Steps
Ready to buy a home? Here are 10 steps that can help you navigate this journey.
1. Determine How Much House You Can Afford
First, you'll need to determine how much of a home you can afford. To do this, create your household budget, listing your monthly expenses and income. Be sure to include expenses that change each month, such as the dollars you spend on transportation, groceries and clothing, as well as expenses such as restaurant meals, concerts and movies.
Once you've calculated your expenses and income, you'll see how much extra money you have each month. When buying a home, make sure your monthly mortgage payment – including what you'll spend for taxes and homeowners' insurance – doesn't exceed this amount.
To be safe, your monthly mortgage should be significantly under your extra income. If your mortgage is too high, even if it's not more than what your budget allows for, you'll struggle to build savings or an emergency fund.
When applying for a mortgage, your lender will consider your debt-to-income ratio (DTI).This ratio looks at the relationship between your monthly debt payments and your income. In general, lenders prefer that your monthly debt payments, including your new mortgage payment, equal no more than 50% of your monthly income.
If you want help in calculating whether a home is affordable, check out our home affordability calculator.
2. Start Saving For Your Down Payment
You don't need a down payment equal to 20% of your home's purchase price today. You might qualify for a loan that requires a down payment of just 3% of that price. Still, that's a significant amount of money: 3% of a home costing $250,000 is $7,500. It's important to start saving for this cost long before you begin hunting for a home.
The bigger your down payment, though, the better it is for you financially. If you come up with a down payment of 20% or more of your home's purchase price, you won't have to pay for private mortgage insurance, better known as PMI. This insurance protects your lender in case you stop making your monthly mortgage payments. Its cost varies, but you can expect to pay $30 to $70 a month for every $100,000 you borrow.
Higher down payments also typically lead to lower mortgage interest rates. This can save you money each month on your payment. Lenders are more willing to approve borrowers for mortgages when they come up with more down payment dollars.
3. Get Preapproved And Choose A Lender
Applying for a mortgage preapproval from a lender is another key step in buying a home. During a preapproval, you'll send proof of your monthly income to a lender. These include copies of your two most recent paycheck stubs, two months of bank account statements, last two W2 forms and last 2 years of your tax returns. This same lender will also check your credit reports and credit score.
The lender will use this information to decide whether it will approve you for a mortgage and for how much. Then they'll send you a preapproval letter stating how large of a mortgage they're comfortable giving you.
This is important because it tells how much home you can afford. If a lender preapproves you for a mortgage of $250,000, you won't waste time looking at homes that cost $300,000.
You are under no obligation to close your mortgage loan with the lender that preapproves you. Many borrowers decide to do so because they have already established a relationship with this lender.
The best part of getting preapproved by a mortgage lender? It's free.
Just don't get confused with a mortgage prequalification. A prequalification is like a preapproval, only you won't send your lender proof of your income and your lender won't check your credit.
Instead, lenders will take your information over the phone or by email and then estimate how much they think they'd lend you. Because lenders are not verifying your income or checking your credit, a mortgage prequalification is more of an informational service for you, and not a true representation of how large of a mortgage you might get from a lender.
4. Find A REALTOR® Or Real Estate Agent
It's important to find a REALTOR® or real estate agent to help you find the right home. A skilled real estate agent will know the neighborhood in which you're searching for a home and can let you know when a home you are considering is priced well. A real estate agent will also help you make your offer and guide the negotiations over the home's sales price and your move-in date.
Best of all, as a buyer, you won't pay for your real estate agent. Your agent is paid by the sellers, using the proceeds from their home sale.
When interviewing agents, ask them how long they've worked in the profession, how familiar they are with the neighborhoods you're considering and how many buyers they work with in a given year.
You should also ask real estate agents for a list of past customers with whom you can talk. These referrals can tell you if the agent helped them find the right home and negotiate a lower sales price.
5. Start Searching For Your Dream Home
Once you have an agent on your side, it's time to start looking for your new home. You can start by scouring the Multiple Listing Service (MLS), an online listing of homes for sale across the country. You can access the MLS, and its listings, at Realtor.com.
You can also tell your real estate agent what type of home you are looking for in what neighborhood. If you also tell your real estate agent your price point, this professional will send you home listings as they become available. Agents can also point you toward homes for sale before they hit the MLS, giving you the first chance to make an offer
6. Make An Offer And Negotiate If Needed
Once you find the right home, it's time to make an offer. Your real estate agent will help you in making an offer and, possibly, negotiating with the sellers, especially in a competitive market.
After you make an offer, the sellers can either accept it, reject it or make a counteroffer. This last option often happens: You might say you'll pay $200,000 for a home. The sellers will then ask for $240,000. You might settle on $220,000.
Your agent, working with the agent representing the sellers, will lead the negotiations, working with you on your initial offer and then helping you tweak the offer. You might also decide to walk away if you and the sellers can't agree on a final sales price.
If your offer is accepted, it's time to work toward closing on your mortgage, unless you are making an all-cash offer.
7. Possibly Hire A Real Estate Attorney
Some states require that you hire a real estate attorney when closing on a mortgage. It's important to ask your real estate agent or check your state's laws to determine if you are buying in one of them. State laws change, so some states that might not have required a real estate attorney as of the writing of this story might require it now.
But even if your state doesn't require a real estate attorney during the loan closing, it might make sense to hire one. Real estate attorneys will review your loan documents and your home's title to make sure there are no errors. If you pay for a real estate attorney to represent you, this legal official will serve as your advocate during the closing.
8. Schedule Your Home Inspection And Appraisal
After the sellers accept your offer, you'll need to order a home inspection and home appraisal.
During a home inspection, an inspector will tour the home, looking for problems with the property. The inspector's report will list any such problems. This could include everything from aging roofs and sinking foundations to signs of termite damage, hot water heaters that are nearing the end of their life spans or signs of mold and water damage.
Once your inspector provides this report, you can ask that the sellers fix the problems, provide you the money to hire contractors or reduce their asking price. If there are too many costly problems, you might be able to walk away from the sale without any financial penalties.
During an appraisal, an appraiser will tour the home you are buying and consider the sales prices that similar nearby homes have fetched to determine its current market value. If the appraiser values your home under the price you've agreed to pay, the home sale might fall through. Your lender won't loan you more money than what your home is worth.
Say you agree to pay $250,000 for your home. If the appraiser determines that your home is worth $230,000, you'll either have to produce the extra $20,000 on your own or convince the sellers to lower their sales price to $230,000. If neither can happen, the home sale will fall through.
9. Prepare For Closing
Once the appraisal is done, it's time to prepare for the mortgage loan closing. During this process, your lender will send your loan application through the underwriting process, making sure that you have the income to afford your new mortgage payment and that you have a history of paying your bills on time.
You'll need to provide your lender with copies of several financial documents during this time, including your last two paycheck stubs, last 2 months of bank account statements, most recent W2 forms and your last two income tax returns. Lenders will use these documents to verify your income.
Your lender will also check your three credit reports and your three-digit FICO® credit score. The higher this score, the lower your interest rate will be and the higher your odds of qualifying for a mortgage. Most lenders consider FICO® credit scores of 740 or higher to be excellent ones.
10. Close On Your New Home
Finally, you'll close on your mortgage loan and take possession of your new home. Your closing today can be held in person, usually at the office of a title insurance company, or virtually. You'll need to bring certain documents to the closing table:
Photo ID: You'll need to bring proof of your identity. You can use a signed U.S. driver's license, U.S. ID card or U.S. or foreign passport to serve as your photo ID. Make sure that if you're buying a home with someone and they'll have their name on the mortgage, they bring a photo ID, too.
Cashier's check for closing costs: You will need money for closing costs, your down payment, prepaid interest, property taxes and insurance during your closing. You most likely can't bring a personal check to cover these expenses. Instead, you'll need to provide a cashier's check made out in the amount you need to cover the cost of closing your loan. Your lender or title insurer will provide this figure before closing day. You can get a cashier's check from your bank. The main difference between a cashier's check and a personal check is that the bank is certifying that you have the funds available to pay the amount written on the check.
The Closing Disclosure: The Closing Disclosure lists the final terms and costs of your mortgage loan. Your lender is required to provide it to you at least 3 business days before your loan closing. The form lists your loan's amount, interest rate and monthly payment, including how much of your payment is made up of principal, interest, private mortgage insurance, property taxes and homeowners insurance. The form also lists your closing costs, spelling out the amount you'll need to pay on closing day. Having this form with you lets you verify that you are paying the right amounts for your loan.
Proof of insurance: Before your lender approves you for a mortgage loan, it will require that you take out a homeowners insurance policy. This policy protects you if your home is damaged or destroyed. Your insurance company will provide you with a payout to help cover the damages or rebuild.
The Bottom Line: Buying A New House Is Worth All The Checklists
Yes, there are plenty of steps involved in buying a home. But ending up with your dream home makes it all worthwhile. Once you own a home, you can start to build wealth by paying down your mortgage loan and boosting the equity you have in your property. You also have your own retreat, a place to unwind after a busy day or a base for building a family.
If you're ready to buy a home, start your application today.
See What You Qualify For
You can get a real, customizable mortgage solution based on your unique financial situation.
Get Started