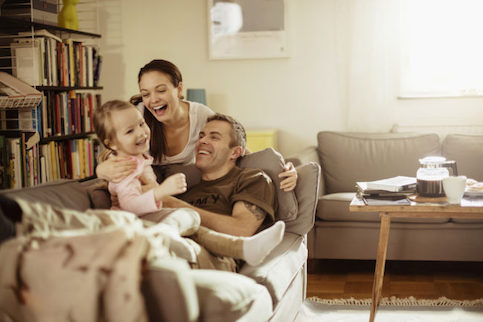 Walls Can Talk: The Importance of a Home History Report
Published on July 14, 2016
You get an ownership history report when buying a used car. Why wouldn't you do the same thing when shopping for a home? Believe it or not, you can subject those walls to an interrogation with sites like Hometrackr that can help you go back in time and see what that cute little bungalow you've got your eye on has seen.
Not sure what you can expect from a home history report? Check out all the information it can give you to make sure that dream house isn't full of nightmares.
Damaging Events
A house may look good on the outside, but there could be past damage from fires, floods or pests. Knowing what problems occurred in the past could help you know what to look out for down the line.
Fire Damage
According to HomeTrackr, there are over 360,000 residential fires in the U.S. every year resulting in over $6.6 billion in damage. All fires are serious, but some are worse than others. Extensive fires could damage an area badly enough that it would need to be rebuilt. Your home history report would show any building permits so you know that the rebuild was done to code.
Flood Damage
Water damage can occur from a number of sources inside and outside the home. Typical water damage inside the home can happen when dishwashers or washing machine hoses rupture, causing living areas to fill with water. More serious water damage can occur from floods, severe storms and natural disasters. Last but not least, if a home has experienced severe fire damage, the effort to extinguish the fire usually results in extensive water damage.
Pest Damage
Termites do more damage to residential property nationwide than hurricanes, tornadoes and floods combined, according to Hometrackr. In certain areas of the country, detailed property records are available from service providers. If you're in one of those areas, service records for pest companies would be included in your home history report.
Building Permits
When construction is done on a home, municipalities require that permits be pulled to make sure the work is up to code. This helps ensure that safety requirements are met, and it can also give a perspective buyer a key window into the work that was done.
How and Why to View Permits
Permits enable you to create a more or less full picture of what was done to your home, when and by who.
Sites like Hometrackr search public records to allow you to see the permits that have been pulled for a particular property. You could do all this yourself, but it would require finding multiple documents, potentially across different departments. It helps to go through a service that will pull this together in one spot.
Previous Contractors
Another item on your report that could be helpful is a list of contractors who have done work on the home. This can help you check for warranties on any work that may have been done or tell you who to ask for valuable information such as the stain color on the floor. You might also want to look up reviews to see if you want to hire these contractors to do work in the future.
Most homeowners should have a list of the maintenance done on the house and who did it. If they don't, it may well be a red flag that they haven't been keeping up with necessary maintenance.
Seller's Disclosure
When a home is put on the market, the seller is required to publish a disclosure of all the current and past issues they're aware of. Unfortunately, according to Hometrackr, the way these disclosures are structured often allows the seller to omit details and essentially plead the fifth.
One thing that can definitely be helpful in this scenario is to get copies of the seller's disclosures from previous owners of the home. You can ask your real estate agent if they have access to this.
What if I'm Already Getting a Home Inspection?
If you're getting a home inspection, you may not think you need to get a property history report. Getting a property inspection can help shed light on the current condition of the house. You can even make the sale contingent on passing inspection.
What a home inspection doesn't show is anything regarding the past history of the property. Knowing past issues that have come up can help you identify anything that might happen again in the future. This is where a property history report comes in.
If you're ready to move forward now that you have the property history, you can go ahead and get your loan process started.
Apply Online with Rocket Mortgage
Get approved with Rocket Mortgage® – and do it all online. You can get a real, customizable mortgage solution based on your unique financial situation.
Apply Online