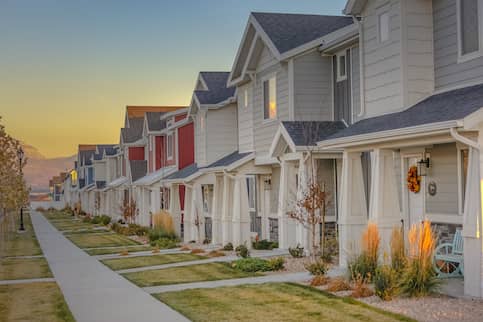 Buying An Investment Property: The Complete Guide
Published on October 7, 2020
Your primary residence should be considered a feather in your cap. But maybe you want to take property ownership a step further. Owning and maintaining an investment property can be a lot of work, but the payoff can be substantial.
This article will define what an investment property is, the different types of investment properties, the pros and cons of owning an investment property and how to buy one.
What Is An Investment Property?
An investment property's sole purpose is to make you money. This can range from flipping a house for resale, to renting a house, to buying land for development.
Investment properties can be used for short-term gains or long-term endeavors. No matter the type of investment property, whether it's rental property or land, research is necessary to know how to invest in property. It can be risky, so make sure you're financially prepared and your decision is well researched.
Types Of Investment Properties
There are several types of investment properties to consider depending on your goals and budget. These types of properties include residential, commercial, industrial and land. Each has their own risks and required knowledgebase.
Let's talk through each of these property types and breakdown what's necessary to know about each.
Residential
Residential properties are place zoned for living or dwelling. These include single-family homes, apartments and more. Renting out residential properties means you'll be dealing with tenants who live in your property.
You'll need to be aware of your state's landlord tenant laws and renter's rights. This includes notices required for visiting the property and laws around security deposits and evictions. Consider the following property types and the different strategies to invest in them
Single-family homes – The simplest rental property. You have one house, rented to one renter. Research the neighborhood and comparable rental properties before investing.
Duplexes – Two-unit homes separated by a wall or a floor. Make sure the separation is apparent, with distinct mailboxes and entrances. Bonus points if the separating wall or floor has good insulation.
Apartment buildings – These multi-unit structures require more work, but can result in a higher income. They also require much more capital to purchase than a single-family home or a duplex. Unless you can make being a landlord a full-time job, consider hiring a property manager to collect rent, make repairs and handle tenant relations.
Townhouses – One of the most difficult parts of investing in townhouses is finding the right lender. Many lenders have a difficult time with townhouse classification and appraisal. Also know that townhouses don't appreciate in value like single family homes.
Condos – Condos are usually a less expensive investment than a single-family home. You could buy one in a popular vacation area to use when you want and rent the rest of the time. Just make sure you find a quality one with a responsible property manager.
Commercial
Commercial properties are used for retail or office space. An investment in a commercial property is more complex and can pay off if you know what you're doing. Commercial properties tend to provide a higher income than residential properties, but come with extra costs and risks.
Your success is tied with your tenant's success. If their business is suffering, your investment will suffer. To draw in the right tenant for your spot, you may have to invest in certain amenities. If the building needs work and you have an interested renter, investing in remodeling the space to fit their needs will help build a relationship with them and increase the property value.
Here are a few different commercial property types and what to consider when investing in them.
Stores – Retail property is a solid choice if it's your first time investing in commercial property. You'll have less problems with poor maintenance or bad behavior when compared to residential, because a store's reputation is also on the line. Look for an investment property with parking, the right zoning and good foot traffic.
Office buildings – Office buildings typically have long leases, appreciate over time and can generate a lot of income. That said, you will need more capital to invest in an office space. You may need to pool resources with other investors, through your connections or crowdfunding deals.
Restaurants – Property specifically for restaurants has its own needs. The place will need to be outfitted with a customer area and a kitchen. The kitchen will need ventilation and may require higher power capacity, as well as a walk-in cooler/freezer. The restaurant business is notoriously difficult, so you'll want to find tenants that know what they're doing.
Industrial
Industrial properties are warehouses, heavy manufacturing buildings and industrial parks. These investments are for highly skilled investors. Industrial properties can vary widely in scale. All these properties require substantial capital. Research what each property needs to be successful.
Here are a few tips about warehouses, manufacturing buildings and industrial parks.
Warehouses – Warehouses are incredibly flexible, can be cheaper to purchase than some residential properties and can offer a great return on investment. They generally have less maintenance required, but may need more electrical servicing depending on the tenant's needs.
Manufacturing buildings – Buildings set up for manufacturing, whether it be food production or heavy manufacturing, often need special attention to meet the needs of a tenant. These are bigger investments than warehouses, but can bring a bigger return with the success of your tenants.
Industrial parks – This can easily be the biggest investment in this article. Industrial parks can include oil refineries, factories, warehouses and shipping ports. With such a big investment, you'll need to consult with others. These businesses are complementary to each other, so plan on how each piece will fit into the puzzle
Land
Buying land can be a solid investment, whether you plan for it to be developed or to be used for farming. Land is a riskier investment than any of the above options. Raw land will not bring you income and it may not appreciate over time.
Raw land is relatively cheap, and in some areas, is in short supply. If you own land in a growing area, a lot of money can be made selling it to developers.
Let's look at a couple land investments:
Flipping land – Like you would buy a house to flip, this can be done with land. You can buy land cheaply at an auction or at a tax sale. For larger parcels, go a step further and work to get the land rezoned, subdivided and ready to sell to developers.
Residential and commercial development – You can buy raw land to develop yourself. This will require a lot of time and capital, but if you have the resources and put in the work, developing raw land can really pay off.
Farmland – Whether you work the farm yourself, or lease it to a farmer, land is an essential piece of farming. The key with farming is that it often must be done on a large scale to be financially viable, especially when regarding livestock or row crops.
Apply for a Mortgage with Quicken Loans®
Call our Home Loans Experts at (800) 251-9080 to begin your mortgage application, or apply online to review your loan options.
Start Your Application
Investment Property Pros And Cons
It's important to weigh the benefits and risks of any investment before going into it. Property investments are no different. You need to be aware of the pros and cons before sinking money into a property.
Investment Property Pros
There are many definite advantages to owning an investment property. That's why you're thinking about this in the first place.
Here are three big benefits when it comes to investment property.
Tax benefits – You can deduct expenses like property tax, insurance, mortgage interest, repairs and improvements, advertising your property and property management costs. You can deduct a depreciation from rental properties annually, for up to 27.5 years for residential and 39 years for commercial properties.
Property appreciation – Over time, your property may appreciate, and this increase in value will let you sell at a profit.
Revenue stream – Steady rent payments from tenants will not only help you payback your investment, but could a major source of income.
Investment Property Cons
But with the upsides, there are downsides too. Owning any piece of land is a commitment you should only make if you're financially stable and prepared for what may come with it.
Here are three big cons when it comes to investment property.
Capital and time commitment – If you're the sole or main investor, you're going to have to commit a lot of resources to the investment. This is especially true if you're new to investing in real estate. A whole lot of time and money may need to be put into your investment to get to the payoff.
Tenant responsibility – Depending on the state, landlords have certain liabilities regarding their properties and their tenants. These vary between rental and commercial properties. You must uphold them, not only for legality, but for maintaining tenant relations.
Financial risk – If the development goes south or a longstanding tenant vacates the property, you still must make payments on it. You need to be prepared financially if things don't go as planned.
How To Buy Investment Property In 4 Steps
Once you've made the decision to invest in real estate, you need to go through the process of finding and buying the property.
Here we've laid out how to do this in four simple steps.
1. Set Investment Goals And Be Realistic About Cash Flow
From the start, you should have a solid investment plan. Define the goals you want to achieve, like how much income you need to generate by what time or how much you're willing to sell a property for.
Realistically assess the property's value and how it will generate income. Evaluate rental returns after maintenance, repairs and other costs.
2. Work With Professionals
You'll want to work with the right people, those who have extensive experience in investment properties. You're the one with the vision and the goals and these are people who will help you make it happen.
Here's a list of the different people you'll need to work with.
Insurance agent
Property appraiser
Property inspector
General contractor (for remodeling and/or development)
3. Secure Financing
Because lenders are taking on additional risks when they lend to investors, there are different lending rules involved. Higher risk means higher interest rates and down payment requirements.
You will have to do research to find lenders willing to work with you. Whether it's taking out a personal loan for a small piece of land or crowdsourcing funding for a development, the type of funding will have a lot to do with the property you're investing in.
4. Decide If You Want To Hire A Property Manager
Hiring a property manager can be expensive, and you may not need one if you're renting a single-family home. However, if you're renting out an apartment building or multiple office spaces, managing the property quickly becomes a full-time job. Generally, if it's a big-budget investment with multiple units, you'll need to hire someone or become that person yourself.
The Bottom Line On Investment Property
Smart investments in real estate can lead to a huge source of income. With any major investment, you'll want to do your research. Write out a plan with needs and goals, defining what must happen by when.
Decide whether you want to invest in residential, commercial, industrial or raw land. Research the costs and benefits with these property types further to determine which is a good fit.
Have you decided you may not want to invest in a specific property, but still want some of the pros of investing in real estate? Consider an alternative like investing in a real estate investment trust (REIT). This will give you the exposure to many of the benefits of owning real estate, without many of the responsibilities.
Considering investing a residential property? Speak with a mortgage expert today!
Apply for a Mortgage with Quicken Loans®
Call our Home Loans Experts at (800) 251-9080 to begin your mortgage application, or apply online to review your loan options.
Start Your Application