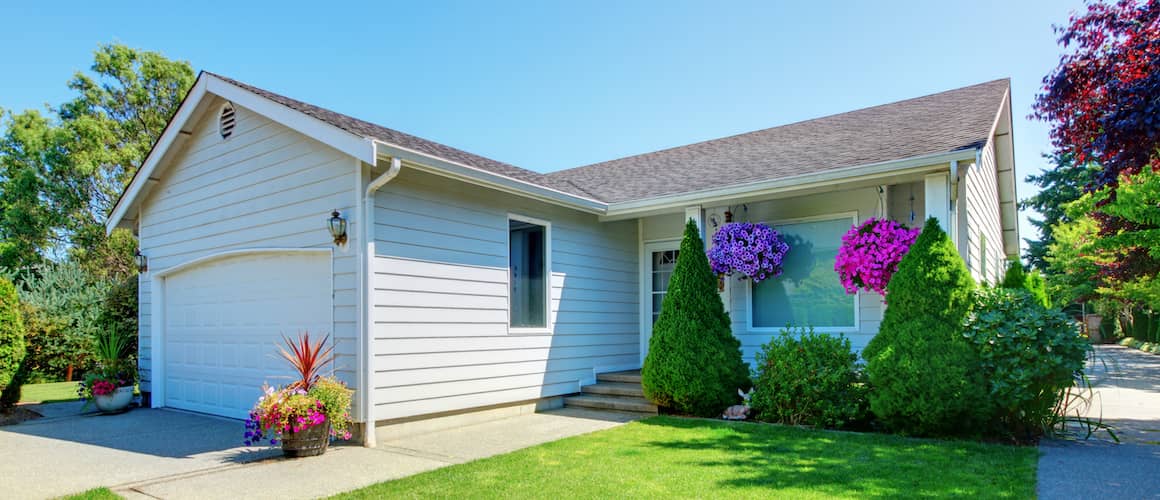 Buying An Investment Property: What To Know
Published on December 6, 2022.
When done right, an investment property can propel you toward your financial goals. Although getting started with real estate investing can feel like a major challenge, it might be the right fit for your financial future.
Let's explore what an investment property is and how to buy one so that you can determine if one fits into your portfolio.
What Is An Investment Property?
An investment property is purchased with the intent of earning an income. Real estate investors can choose to invest in residential, commercial or industrial real estate, or land, depending on their expertise and how much energy and money they want to commit to the venture.
Although an investment property isn't the right choice for everyone, it's one way for investors to build their portfolios.
See What You Qualify For
Congratulations! Based on the information you have provided, you are eligible to continue your home loan process online with Rocket Mortgage.
If a sign-in page does not automatically pop up in a new tab, click here
What Are The Different Types Of Investment Properties?
If you're just getting started investing in real estate, you may be unsure where to begin. There are many different ways you can start investing your capital in real estate, and the method you choose will ultimately depend on your goals and budget.
Let's go over each of these property types and what you need to know about investing in them.
Residential
Residential real estate refers to properties that are zoned for private living or dwelling. This category includes single-family homes, condos, apartments, duplexes and townhouses. If you invest in residential real estate, you'll most likely be taking on the role of a landlord. That means you'll rent out your investment property to tenants and handle the upkeep of the building and the people who will live in it.
If fixing maintenance issues and screening potential tenants sounds like a headache to you, you can hire a property manager to take care of these issues. Keep in mind that will be another cost you will have to shoulder. If you only own one or two investment properties, you may want to handle the duties of a landlord yourself to ensure you're still making a decent return.
Commercial
Commercial real estate is any property used for retail or office space. This category includes everything from offices to shopping malls. Investing in commercial property is similar to investing in residential property in some ways. You'll still rent out a space to tenants, but in this case, you'll share your space with businesses rather than individuals looking for a place to live. Commercial properties tend to provide more income than residential properties, but also carry more risk.
This is because your success is directly linked to the success of your tenant. If their business is failing, your investment will suffer, too. Lease terms tend to be longer with commercial real estate as well – sometimes upward of 5 years at a time – which means you'll have to choose your tenants very carefully.
Commercial real estate requires a great deal of market knowledge, so it isn't recommended to first-time investors, though first-time commercial real estate investor success is still possible with proper research and advice.
Industrial
Industrial real estate refers to properties such as warehouses, manufacturing buildings, fulfillment centers and industrial parks. Even more so than commercial properties, industrial real estate is something geared more toward experienced investors.
Industrial properties attract high-profile tenants but are a higher cost to purchase and maintain than commercial or residential properties. Industrial properties can support the economy on a global, national or regional scale, so they aren't as easy to get into as a beginner investor.
Land
Beyond investing in buildings, you can invest your money in land to resell, rent or develop. Raw land is commonly leased to farmers, flipped and sold to developers or developed by the land investor themself as a larger and more long-term commitment.
Land tends to be a riskier investment than developed property because it may not appreciate in value over time and might not bring you considerable income. Before investing in land, it's important to consider the location of the property as well as what type of land it is. Raw land in a growing area can be a great investment if you're able to resell it to interested developers. Land in an area where it is not in short supply, however, might end up costing you more than it's worth. Landlocked property can present its own challenges with surrounding landowners as well.
Getting A Personal Loan Has Never Been Easier.
The Rocket LoansSM application process makes borrowing simple.
Apply Now
Should You Buy An Investment Property?
As with all financial decisions, an investment property has some advantages and disadvantages to keep in mind. Before sinking thousands of dollars into a real estate investment, it's critical to take several factors into consideration.
We will take a quick look below. But if you have any questions about your unique situation, don't hesitate to consult with a legal or financial professional.
1. Financial Considerations
An investment property can become an expensive venture. It's important to be financially ready before jumping into an investment property.
Everyone has their own definition of financial readiness that's tied to their risk tolerance. For many, financial readiness involves having a cushion of cash to fall back on if anything goes wrong. Typically, an emergency fund to cover a few months of expenses is helpful when diving into this potentially expensive adventure.
An emergency fund isn't strictly necessary. But it can make for a smoother experience as a real estate investor.
2. Housing Market Considerations
You don't want to overpay for a piece of property. A hot market doesn't mean it's a terrible time to invest. However, investors in a hot market will have to work extra hard to track down a reasonable deal that suits their investment portfolio.
Beyond the current market conditions, you should also consider the long-term value of a location. For example, most investors want to invest in growing areas that will attract tenants for years to come.
3. Time Considerations
Investing in real estate often takes a substantial amount of cash. But some investors don't realize that real estate investing is also a time-consuming venture. Even if you buy a turnkey property, repairs will need to be made along the way.
If you don't have a significant amount of time to commit, then it's worth seriously considering a property manager upfront. Otherwise, you might end up stretched too thin.
4. Tax Considerations
When you own a property, you'll have to pay property taxes. When running the numbers for a property, factor property taxes into your bottom line.
Property taxes might add up quickly. But luckily, there are other potential tax benefits that come with real estate investing. For example, you may be able to deduct your operational expenses from your taxes.
How To Buy An Investment Property
If you've decided that purchasing an investment property is the right fit for your financial goals, it's time to start the buying process. There are several things to consider when purchasing your first investment property. Here's a closer look at what to consider as you buy an investment property.
1. Choose Your Location And Property Type
First things first, you need to determine what kind of investment property you want to purchase. Every investor has different goals, which means the right property type varies based on your specific ones.
Regardless of the investment type, location is an extremely important factor to consider when making a real estate investment. If your property is located in a place where it will be in high demand, you're more likely to make additional profit on your investment. A commercial property in a prime location will attract businesses, and a residential property in a popular area will attract tenants.
If you're struggling to choose a location, enlisting the help of a real estate agent might be useful. Real estate agents tend to be very knowledgeable about the areas they work in and can likely provide good advice on high-demand locations.
2. Secure Financing, Possibly An Investment Property Loan
Not every investor has the funds to purchase a property in cash, and that's okay! Many real estate investors obtain their properties with the help of financing.
Depending on the type of property you choose to invest in, the way you go about doing this might look a little different. If you're investing in residential real estate, you might simply get preapproved by a lender for a mortgage loan. Whereas if you're looking to invest in a piece of industrial real estate, crowdfunding the property with a group of investors might make more sense.
Lenders are taking on additional risk when they lend to investors rather than borrowers financing a primary residence. Higher risk means higher interest rates and down payment requirements, which is important to keep in mind when considering your budget for an investment.
3. Work With Professionals And Connections
As you build your investment portfolio, it's also important to make connections with professionals in the industry. Investment property-friendly real estate agents and other pros such as real estate attorneys, contractors, inspectors and property managers can help you with a variety of investment-related tasks. These include locating potentially profitable properties, advising you on investment choices and offering advice on investor-specific tax benefits that you might qualify for.
4. Calculate Your ROI And Cash Back
Before you buy an investment property, it's a good idea to consider what the property's return on investment (ROI) or profitability will be. Calculating the potential ROI can help you assess whether it would be wise to invest in a specific property. The formula for ROI is as follows:
ROI = (gain on investment – cost of investment) / (cost of investment)
So, as an example, if you spend $50,000 on a fixer-upper home – with plans to pay another $30,000 to renovate it – and think you can sell it post-flip for $135,000, the formula would look like this:
ROI = ($135,000 - $80,000) / ($80,000)
In this case, the ROI would be approximately 0.69, or 69%. ROI can be tricky with rental properties, however, since there are many variables and costs associated with the upkeep of the property that aren't accounted for in the ROI formula. As an alternative, you might also calculate the cash back or cash on cash return that you can expect from your real estate investment.
Cash on cash return measures how much of your investment you'll earn back annually. Where ROI measures your total return on investment, cash back simply measures returns based on what you spent out of pocket on the investment. The formula for a cash return calculation is as follows:
Cash back = ( (annual income – annual expenses) / (initial cash investment) x 100% )
So, if your income is $200,000, all your annual expenses totaled $155,000 and your initial cash investment on a property totaled around $175,000, the formula would look like this:
Cash back = ( ($200,000 - $155,000) / ($175,000) x 100% )
Your cash back percentage in this case would be approximately .26 or a 26% return. What constitutes a "good" return percentage is relative to the investor. It all depends on your personal financial goals and what you expect to make back.
How To Finance A Real Estate Investment Property
When it's time to finance a real estate investment property, the type of property impacts your loan options. A few of the options include taking out a loan, crowdfunding, getting help from family or friends and/or finding investment partners.
As an investor, you'll have to determine which option is best for you. When pursuing financing, make sure that the numbers make sense for your long-term goals before moving forward.
The Bottom Line: Investing In Real Estate Can Be Worth It
Real estate investing can be worth it for the right person. It's worth noting that it can take some time to see the ROI you're hoping for. But if you find the right deals and put in all the necessary effort, this type of investment can pay off in the long run.
If you are ready to start investing in real estate, consider getting an initial mortgage approval.
Home Affordability Calculator
Calculate the home price you can afford using your income and the amount of debt you have.
Calculate Now