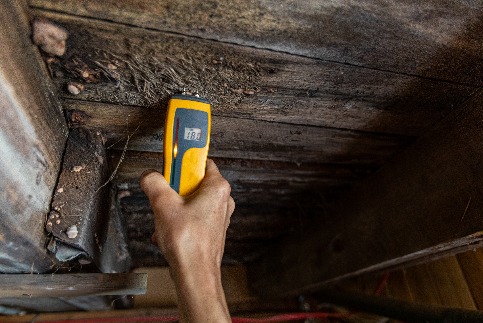 Home Inspection: Everything You Need To Know
Published on December 13, 2021
If you're planning to buy a home in the coming year, it's important not to skip on the home inspection. A home inspection is your final opportunity to uncover any problems with the property you're about to buy.
During the inspection, a qualified home inspector will take a detailed look at the house and make note of any hidden issues. In the worst-case scenario, an inspection will save you from a bad investment.
In the best-case scenario, you'll have peace of mind knowing the condition of the house you're about to purchase. This article will look more closely at the home inspection process and fill you in on everything you need to know.
What Is A Home Inspection?
During a home inspection, a certified home inspector does a visual examination of the property. This person is trained to spot certain issues that could cause problems down the road.
For instance, the home inspection could uncover foundation problems, concerns with the roof, or plumbing issues. When the inspection is complete, the inspector will create a written report summarizing their findings. You can view the home inspector's report and use it to get a better sense of any underlying problems with the property.
However, a home inspection isn't the same thing as an appraisal. An appraisal gives you an estimate of the value of your home, but doesn't look for specific issues.
Your lender will usually require an appraisal before they'll approve you for a mortgage. A home inspection isn't a requirement, but it's a good idea to get one anyway. If you skip this step, you don't know what kind of problems you could end up with.
What Is A Home Inspection Contingency?
The information contained in a home inspection is so important that most home offers include home inspection contingencies. This contingency states if a home inspection uncovers any issues, the buyer can renegotiate the price or back out of the sale altogether without losing their earnest money.
What's Covered In A Home Inspection?
During a home inspection, a trained professional will look at the home's main structures and features. Here are some of the specific areas that individual will evaluate:
The structure of the home:

A home inspector will look for issues with the home's structure, like cracks in the walls or damage to the foundation.

Roof and attic:

The inspector will examine the exterior of the roof to look for signs of damage, like missing shingles or a sinking roof. They'll also examine your gutters and rain guards to ensure water flows away from your property. And they'll check your attic for signs of leaks, structural damage, or insulation issues. And if you have a chimney, they'll check the fireplace for signs of damage.

Basement:

The home inspector will check the basement primarily to look for signs of water damage. If signs of water damage are present, this can lead to more extensive structural damage in the future.

Plumbing:

Next, they'll check your plumbing system to ensure that it works properly. They'll also look for signs of leaks and check your hot water heater.

Electrical:

The home inspector will check the electrical panel to ensure nothing interferes with the wiring and that there are no loose wires. They'll also review the circuit breaker, wiring, ceiling fans, and outlets to make sure everything is in working order.

Heating, ventilation, and air conditioning (HVAC) system:

The home inspector will do a visual inspector of the HVAC system to ensure that everything is running properly. They'll also look for signs of carbon monoxide or gas leaks. They'll also manually check the systems to make sure everything is running properly.

Windows and doors:

An inspector will check all the doors and windows to make sure they open and close easily. They'll also ensure that each room has one window that can be accessed in the event of a fire.

Appliances:

And finally, the home inspector will check all the major appliances in the home to make sure they work properly and aren't a fire hazard.
What Isn't Covered In A Home Inspection?
A home inspection is fairly in-depth, but it doesn't cover everything. In particular, testing that requires special equipment will be performed separately.
For instance, home inspectors will not check for radon, a naturally occurring gas that can cause cancer. You'll need to order a radon test if the home hasn't had one for a while.
Home inspectors will not check for pest or termite problems, though if they suspect the home has a problem, they may recommend a pest inspection. And the home inspection will not uncover problems with mold or asbestos.
Finally, if you live in an area where wells and septic systems are common, you'll have to hire a well inspector to perform a water quality test and a septic inspection.
Apply for a mortgage today!
Apply online for expert recommendations with real interest rates and payments.
Start Your Application
How Much Does A Home Inspection Cost?
The exact cost of a home inspection can vary depending on where you live and the square footage of the home. According to the Department of Housing and Urban Development, the average home inspection costs $300 – $500.
How Long Do Home Inspections Take?
A typical house inspection takes 2 -3 hours, depending on the size of the home. But if the home is older, it may take longer to examine.
What Should You Look For In The Home Inspection Report?
No home is perfect so the inspection report will likely show some issues. But there are two major issues you shouldn't be willing to compromise on: Water damage and electrical problems.
Water damage can cause mold which can lead to serious health consequences. If the report shows that the home was previously flooded or the roof is leaking, you should get a mold inspection. Ongoing water damage can also lead to structural problems with the property.
And if the report indicates the home has electrical problems, that's another red flag. Electrical issues can cause a fire and are a significant safety hazard.
3 Home Inspection Tips For Buyers
As a home buyer, the inspection gives you an opportunity to learn more about the property you're getting ready to buy. Here are three steps you should take to ensure the home inspection process goes smoothly.
1. Have An Inspection Contingency
Before you put down an offer on a home, you should have your REALTOR® include an inspection contingency clause. This clause states that if the inspection reveals issues with the home, you can walk away from the sale and keep your earnest money deposit.
2. Choose A Trusted Home Inspector
If the home inspector doesn't do a thorough job of evaluating the home, they could miss crucial problems. So, it's important to find someone you trust to get the job done accurately.
Look for someone who's certified through a professional organization like the American Society of Home Inspectors. You can also ask your real estate agent for a recommendation.
Once you've found someone you like, be sure to check their online reviews. This will help you see what kind of experience other home buyers have had with that person.
3. Attend Your Home Inspection
Most importantly, you should attend the home inspection and ask questions throughout the process. Bringing along your own inspection checklist will help you understand what the home inspector is looking for.
Of course, you should be careful not to interfere or attempt to participate in the inspection yourself.
3 Home Inspection Tips For Sellers
Home inspections can be a nerve-wracking process for sellers. You're hoping the inspection goes well so the home sale can proceed as planned. Here are three tips to prepare for your own home inspection.
1. Know What Home Inspectors Are Looking For
Knowing what a home inspector will be looking for can help you make necessary preinspection repairs. Go over the inspection list and check off each area in your home.
Make sure the smoke detectors are in working order, all appliances are plugged in, and that none of the sinks are leaking. You should also make sure the inspector can access every area of the home.
2. Clean Your Home
If you want the inspection to go well, the home inspector must be able to access every area of the home. If certain areas are blocked off, the inspector will mark those sections as "Not Inspected." This will look very suspicious to potential buyers, and they will generally assume the worst.
3. Schedule Repairs Prior To The Inspection
If you know that something in your home needs to be repaired, you should do this before the inspection. Making repairs ahead of time will ensure the inspection goes well, and will make it less likely the buyer will ask for seller concessions.
The Bottom Line: Home Inspections Are Crucial To The Buying Process
If you've found your dream home, then conducting a home inspection can feel like an unnecessary extra step. But home inspections are a critical part of the home buying process because it gives you a more thorough understanding of the home you're preparing to buy.
Home inspections are optional, but you should get one anyway. Taking this extra step could save you from purchasing an unsafe home for your family.
And make sure to have your real estate agent write an inspection contingency clause in your offer letter. If you're reading to begin the home buying process in 2022, make sure to contact Rocket MortgageⓇ today.
Apply for a mortgage today!
Apply online for expert recommendations with real interest rates and payments.
Start Your Application