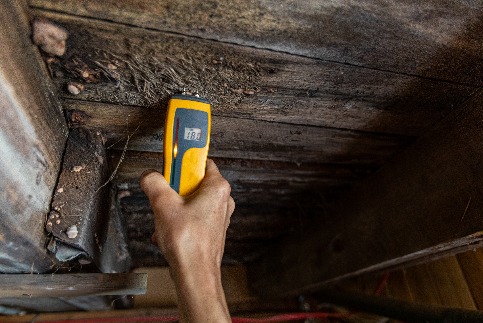 Home Inspection: Everything You Need To Know
Published on July 7, 2023
A home inspection is your final opportunity to uncover any problems with the property you're about to buy. During the inspection, a qualified home inspector will take a detailed look at the house and make note of any hidden or potential issues. In the worst-case scenario, an inspection will save you from a bad investment. Otherwise, you can rest easy knowing your new home doesn't have major issues that you didn't know about.
What Is A Home Inspection?
A home inspection involves a certified home inspector completing a visual examination of the property. This is an important step in the home buying process, and generally happens after the seller has accepted your offer, but before you close on the house.
A home inspector is trained to spot certain issues that could cause problems down the road. The inspection process may uncover concerns such as foundation problems, roof issues or plumbing deficiencies. Once the home inspection is finished, the inspector prepares a thorough written report summarizing their findings.
It's important to note that a home inspection is not the same as an appraisal. While an appraisal provides an estimation of your home's value, it doesn't focus on identifying specific issues. Your lender will usually require an appraisal before they'll approve you for a mortgage.
A home inspection isn't a requirement, but it's a good idea to get one anyway. If you skip this step, you don't know what kind of problems you could end up with.
Do Lenders Require A Home Inspection?
Lenders don't typically require a home inspection as a standard procedure when approving a mortgage, but certain requirements vary by loan type. Home inspections are primarily for the buyer's benefit to assess the condition of the property they're purchasing. Lenders primarily focus on the appraisal, which determines the value of the property you're buying.
Who Pays For The Home Inspection: The Buyer Or Seller?
The buyer of a home typically pays for an inspection. They also usually arrange and schedule the home inspection directly with their chosen inspector. The buyer will be responsible for paying the inspector's fee, which is separate from other closing costs associated with the purchase of the property.
On the other hand, some sellers choose to do a pre-inspection before they put their house on the market. This way, they can get a head start on any repairs they may need to make before selling.
What's Covered In A Home Inspection?
So, what all does the home inspector look for? Depending on the type of home inspection, a certified home inspector typically examines the following:
How Long Do Home Inspections Take?
A typical house inspection takes 2 -3 hours, depending on the size of the home. But if the home is older, it may take longer to examine.
| | |
| --- | --- |
| Interior | Exterior |
| Attic: Checks for signs of leaks, structural damage or insulation issues. | Foundation: Looks for issues with the home's structure, like cracks in the walls, damage to the foundation or signs of termites. Be aware that a home inspector isn't required to check for pests. |
| Basement: Checks primarily to look for signs of water damage. If signs of water damage are present, this can lead to more extensive structural damage in the future. | Roof: Examines the exterior of the roof to look for signs of damage, like missing shingles or a sinking roof. |
| Plumbing: Ensures that plumbing works properly, looks for signs of leaks and checks your hot water heater. | Gutters and rain guards: Examines gutters and rain guards to ensure water flows away from your property. |
| Electrical system: Checks the electrical panel to ensure nothing interferes with the wiring and that there are no loose wires. Also reviews the circuit breaker, wiring, ceiling fans and outlets to make sure everything is in working order. | Siding: Looks for damage in the siding and examines the overall condition of the home's siding or brick and its exterior walls. |
| HVAC system: Does a visual inspection of the heating, ventilation and air conditioning system to ensure that everything is running properly. Looks for signs of carbon monoxide or gas leaks and manually checks the systems to make sure everything is running properly. | Chimney: If you have a chimney, checks the fireplace for signs of damage. |
| Appliances: Checks all the major appliances in the home to make sure they work properly and aren't a fire hazard. | Garage: Checks to make sure garage doors work as expected, whether the garage is ventilated enough and if the garage framing is visible. |
A Buyer's Overview Of The Home Inspection Process

Here are five steps you should take to ensure the home inspection process goes smoothly.
1. Do A Walk-Through Before Deciding To Make An Offer
Before making an offer on a home, it's a good idea to do a walk-through and evaluate any red flags. When thinking about what to look for during the walk-through, keep the list above in mind. This list may change slightly based on what type of loan you're using to make an offer. A walk-through gives you a chance to note and discuss any initial issues with the seller beforehand. Use your real estate agent as a resource throughout this step.
2. Consider Adding A Home Inspection Contingency
A home inspection contingency requires a professional home inspection within a certain time frame before a real estate contract can be finalized. This gives the buyer negotiating leverage. It ensures the buyer receives vital information and allows them to negotiate repairs or sale price, or even walk away with their earnest money altogether.
3. Hire A Home Inspector
When hiring a home inspector, look for things like reviews, recommendations and what their credentials are. Ask your friends or family for referrals and look out for red flags, such as the inspector saying you don't have to come for the inspection or an inspector who has a specific person or company to do repairs.
4. Use The Inspection To Identify Costly Repairs
When you look at the inspection report, you may see some things the sellers don't have to take care of, but still need necessary improvements. You may be able to strike a deal with the sellers. But keep this in mind when deciding whether to purchase the house.
5. Negotiate With Your Sellers Or Back Out
If there are major costly repairs that need to be done to the house, you may be able to negotiate a lower purchase price with the sellers. If you can get the house at a lower price, you'll have money left over for some of those repairs. You also might consider walking away completely if the sellers aren't willing to negotiate or there are repairs you don't want to be responsible for.
A Seller's Overview Of The Home Inspection Process
Before selling a house, you may want to have a pre-inspection. Keep these four things in mind when having a pre-inspection:
Know what inspectors are looking for: Review the list above of what's covered in a home inspection and check what you can before putting your house up for sale. Make sure the smoke detectors are in working order, all appliances are plugged in and that none of the sinks are leaking.
Prepare the home: If you want the inspection to go well, the home inspector must be able to access every area of the home, so it's good to clean ahead of time. If certain areas are blocked off, the inspector will mark those sections as "Not Inspected." This could look suspicious to potential buyers, and they may assume the worst.
Hire an inspector: When hiring a home inspector, take a look at their credentials and any references or reviews from other clients, find out what services are performed by them, receive several pricing quotes and determine if your schedules will work together.
Decide which repairs to make: If you know that something in your home needs to be repaired, you should complete repairs before the inspection, if possible. Doing this ahead of time will ensure the inspection goes well, and will make it less likely the buyer will ask for seller concessions.
House Inspection FAQs
Here are a few quick FAQs about home inspections.
How much does a home inspection cost?
The exact cost of a home inspection can vary depending on where you live and the square footage of the home. According to the Department of Housing and Urban Development, the average home inspection costs $300 – $500.
How long does a home inspection take?
A typical house inspection takes 2 to 3 hours, depending on the size of the home. But if the home is older, it may take longer to examine.
What is the difference between a home inspection and a home appraisal?
It can be easy to confuse a home inspection and a home appraisal, but there are differences. Home appraisals provide an estimated value of a home. Home inspections don't give a value, they give you information about the home and what may already be an issue, or an issue in the future.
What isn't covered in a home inspection?
A home inspection is fairly in-depth, but it doesn't cover everything. In particular, testing that requires special equipment will be performed separately. For instance, home inspectors will not check for radon, a naturally occurring gas that can cause cancer. You'll need to order a radon test if the home hasn't had one for a while. Make sure you know what is and isn't covered.
When is a home inspection worth it?
A home inspection is almost always worth it. There are issues that can only be uncovered by a professional, and you don't want to buy a house without knowing all the risks.
The Bottom Line
Whether your inspector uncovers something you weren't expecting or not, it's always good to know before you're in a binding contract with the seller. If you're looking into buying a house, start the approval process with Rocket Mortgage®.
Find A Mortgage Today and Lock In Your Rate!
Get matched with a lender that will work for your financial situation.
Get Started