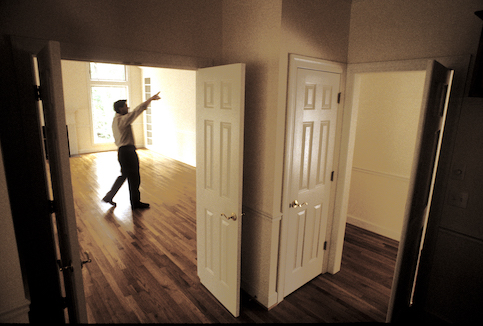 Home Inspection: Checklist Of What Inspectors Look For, And What It Costs
Published on December 4, 2019
It's a good idea to make sure you know the exact condition of your potential future home before you decide to stake your claim. A home inspection gives you an intimate look at what your home may cost you in the future in maintenance and repair costs.
We'll take a closer look at the home inspection process. We'll show you what to expect when a home inspector visits your property and how much you'll pay. We'll also go over what the inspector will and won't look at during their inspection.
What Is A Home Inspection?
During a home inspection, a real estate professional called a home inspector takes a look around your property. They look for any potential problems with the home that you might need to deal with later. As the buyer, you're free to attend the home inspection. After the inspector finishes touring the property, they write a report that contains everything they find during the visit.
No home is perfect. Your inspection results give you a closer look at the real condition of your property. No one wants to spend hundreds of thousands of dollars on a home just to find that it has irreparable structural issues. Be sure to schedule your home inspection before you close on your loan. This leaves time to contact the seller and adjust the sale if the inspection reveals major issues. Ask your real estate agent for home inspection company recommendations.
Keep in mind that a home inspection isn't the same thing as an appraisal. An appraisal simply gives you an estimate of the value of your property. An appraiser won't look for specific problems in your home. Your mortgage company will usually require an appraisal to get a loan. An inspection is optional, but you should still get one.
How Much Does A Home Inspection Cost?
The specific amount you'll pay for your home inspection depends on your home's square footage, where you live and what your inspection includes. The Department of Housing and Urban Development says the average cost of a home inspection runs between $300 – $500.
What Do Home Inspectors Look For?
Your home inspector will take a look at all of the home's major structures and features. Some specific areas where he or she will look for problems include:
The home's basic structure:

Your inspector will look for problems with a home's structure, like cracks in the walls or damage to the home's foundation.

Roof and attic:

They'll look at the exterior of the roof and search for signs of damage. This includes things like missing shingles or a sinking roof. They'll also look at your gutters and rain guards to make sure water flows away from your property. They'll look in your attic for signs of leaks, structural damage or insulation issues as well as damage to your fireplace if you have a chimney.

Basement:

They'll mainly look for basement water damage. Basements are especially vulnerable to water issues, which can quickly cause expensive structural damage.

Plumbing:

They'll look at your plumbing system, making sure that toilets and water flow, shut off and turn back on at the right times. They'll also look for leaks and test your hot water heater.

Electrical:

Your inspector will first check to make sure that your electrical system is properly grounded. Grounding helps avoid overheating and fires and can be an expensive issue to correct. They'll review your circuit breaker, wiring, ceiling fans and outlets to make sure they're working.

Appliances:

Your inspector will check to make sure that large appliances (like your oven and dishwasher) are in working order as well as check their connections to make sure they won't cause a fire hazard.

Garage:

They'll look for damage to your walls and ceiling and test your garage door opener.

Other systems:

Your inspector will make sure that your home's furnace is running properly and check out your air conditioning system and sprinklers.
What Don't Home Inspectors Look For?
Home inspections aren't comprehensive. You may need to schedule a separate inspection for the following systems because they require special equipment or training.
Well and septic system inspection: If your home has well water, you may need a water quality test and a septic inspection.
Cost: Expect to pay between $260 – $420 for a well and septic system inspection, depending on where you live.
Sewer issues: If you're buying an older home with a number of large trees on the property, your home might need a sewer inspection. Sewer inspections look for deep roots that can damage or block your sewer lines.
Cost: You'll pay between $85 – $300 for your sewer inspection, depending on the size of your property.
Lead paint inspection: Before January 1, 1979, many construction companies used lead paint on residential homes. Lead paint is a major home health hazard, especially if you have young children. Lead paint chips have a sweet taste, which entices children to pick them off the wall and eat them. Lead paint consumption can cause everything from developmental delays to neurological disorders. If your home has been around since 1979 and hasn't had a lead paint inspection, you must get one before you close on your loan.
Cost: A lead paint inspection will cost you about $300.
Pest or termite inspections: If your appraiser believes that your home might have a pest or termite problem, he or she might require a pest inspection. Pest inspections are also a requirement to get a VA loan, no matter your home's condition.
Cost:Expect to pay about $100 for a pest inspection.
Chimney inspection:A standard home inspection includes a look at your fireplace, but you might need a professional chimney sweep to check the condition of a chimney's flue, joints and interior.
Cost: You'll pay between $150 – $350 for a chimney inspection, depending on the condition of the chimney.
Asbestos testing: Asbestos is a toxic construction material used in a large percentage of older homes. If the home has never had an asbestos test, make sure to get one before you close.
Cost: Asbestos testing usually costs between $400 – $500.
Mold inspection: Mold can cause severe health problems. If your home shows signs of mold, you should get a mold inspection. Mold inspections can be expensive – ask your home inspector if they believe a home might have mold. You may want to skip mold testing if the seller has recently tested for mold and found nothing.
Cost: A mold inspection may cost you more than $800.
Lot size survey: A lot size survey measures the exact size of your property. Lot surveys are sometimes required for zoning purposes.
Cost: A lot size survey usually costs between $300 – $700. Expect to pay more if you live in a rural area or you're buying a large property.
Radon testing: Radon is a naturally occurring gas that can cause cancer. Order a radon test if a home hasn't recently had one.
Cost: Expect to pay between $100 – $200 for radon testing.
How To Read A Home Inspection Report
You might receive a narrative report that details each individual problem in paragraph form or a checklist report that simply lists the condition of each system. Make notes on systems and areas of the home that the inspector believes are in fair or poor condition and check them out yourself. Keep a copy of your inspection results and go over it with your real estate agent before you close.
Your inspection report probably won't be spotless unless you buy a brand-new home. Minor repairs and issues shouldn't be a deal breaker but if you notice any of the following major issues, you might want to reconsider the sale terms:
Radon, mold, asbestos or lead paint:

All of these substances can cause potentially life-threatening health issues if ignored. Create a plan to fix the hazard with your seller or cancel the sale if any of these health hazards are present.

Electrical system issues:

Your electrical system should be safely grounded and up to code. If it isn't, you might be setting yourself up for a fire.

Plumbing:

A clogged toilet or sink that won't drain isn't a big deal. However, if your home has a leaky plumbing system, it can lead to a mold problem, damage to the home's foundation and a range of other issues.
What's A Home Inspection Contingency?
Your real estate agent should include a clause in your offer letter called an inspection contingency. This allows for a home inspection before you close on your loan. Your inspection window can be as short as a few days or as long as a few weeks, depending on where you live.
This contingency allows you to cancel your home sale if an inspection reveals a major issue with the home that wasn't obvious when you made an offer. It can help you negotiate a lower sale price with the seller. You can use the results to request the seller to make repairs to the home before you close. Your contingency allows you to give up the home and walk away from the sale if you and the seller can't reach an agreement.
3 Home Inspection Tips For Buyers
As the buyer, the home inspection is your last chance to get to know your property before closing. Use these tips to get the most out of the inspection.
Have An Inspection Contingency
An inspection contingency makes it easier for you to back out of a sale and keep your deposit if you find a major problem with your home. Ask your real estate agent to include an inspection contingency in your offer letter. Include a clause that allows you to keep your deposit if the results force you to back out of the sale.
Choose A Trusted Home Inspector
Look for an inspector who has certification from a professional home inspection organization like the American Society of Home Inspectors. If you aren't sure where to start looking, ask your real estate agent for suggestions. Chances are they know of a reliable company that they've worked with before.
Attend Your Home Inspection
You're free to attend your home inspection and ask questions throughout the process. Follow the inspector, but try not to get in the way. Don't attempt to help with any testing yourself. If a scheduling conflict prevents you from attending your inspection, schedule another time to sit down and discuss the results with your inspector.
3 Home Inspection Tips For Sellers
As a seller, there are a few things you can do before the inspection to ensure that everything goes smoothly. Use these tips to improve your results.
Know What Home Inspectors Are Looking For
Knowing where home inspectors will look can help you focus your attention when you make preinspection repairs. Go over our list of inspection areas and check each one in your home. Avoid overspending on things that don't contribute to the inspection, like paint touch-ups.
Clean Your House
Your inspector won't deduct points because the kids left their toys out last night. However, a messy home makes an inspector's job more difficult to complete. This can lead to inaccuracies that may put your home sale in jeopardy. Make sure you tidy up and clean your appliances the night before.
Schedule Repairs Prior To Inspection Day
If you know that something in your home needs a repair, get it done before the inspection. Making repairs before the inspector arrives can help you retain your final selling price. It also improves the overall results of your inspection and makes it less likely that your buyer will ask for concessions.
Final Thoughts On Home Inspections
A home inspection is a crucial part of the home buying process. It gives you a more intimate look at the condition of your home. During a home inspection, an inspector walks through your home and tests all of your home's appliances, systems and structure. Though a home inspection isn't a requirement before you can get a mortgage, you should still get one. You should also have your real estate agent write an inspection contingency clause into your offer letter.
There are a few things you can do to improve your results as a seller when inspection day arrives. Make sure that your home is clean, and you've made all the necessary repairs. If you're the buyer, choose a reliable and certified home inspector and attend the inspection personally. Remember to review the results before you move onto closing.