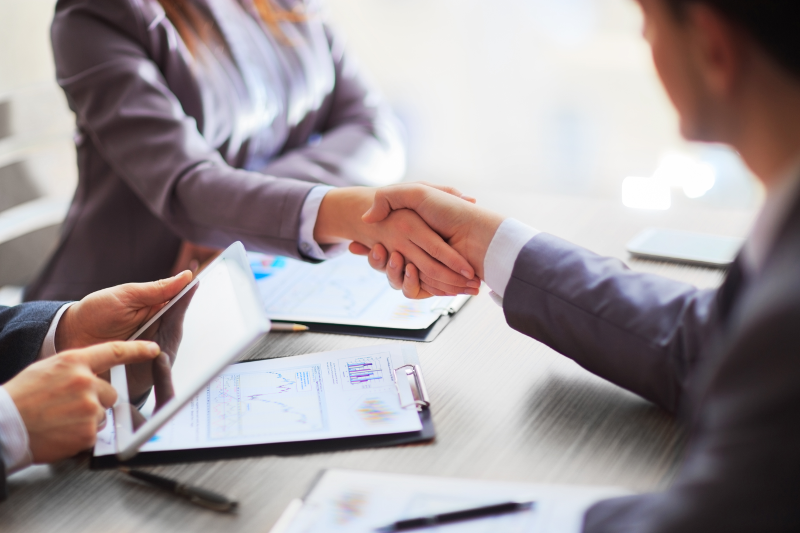 The Home Buying Process: What To Expect In 7 Steps
Published on March 5, 2019
Buying a home is an important milestone for anyone, but it can be intimidating when you're not sure what to expect. We'll highlight the main points in the home buying process to prepare you for this exciting step in your life.
Step 1: Save For Costs And Fees
While the mortgage spreads out the cost buying a house over many years, you'll still need to provide some money up front to pay for your down payment and closing costs.
Estimating Your Down Payment
Unless you're getting a VA loan or USDA loan (no down payment required), you'll need to make sure you have funds saved for a down payment. The minimum down payment on a conventional loan like a 30-year fixed is 3%. An FHA Loan is available with a down payment of 3.5%.
Keep in mind, the larger the down payment, the more equity you'll have, plus the more you'll save in interest. A larger down payment can also help you avoid paying mortgage insurance.
Here's how you can buy a home with low or no down payment.
Estimating Closing Costs
Along with your down payment, you will have to save money for closing costs (fees associated with processing and securing your loan).
You'll have to bring these funds with you when you close the loan. While how much you need will vary depending on the loan amount and tax requirements in your area, you can generally expect closing costs to be 3% – 6% of the purchase price. Your lender is required by law to provide a Loan Estimate within three days of receiving your home loan application, which will help you see a more detailed list of expected total costs.
Home Affordability Calculator
Calculate the home price you can afford using your income and the amount of debt you have.
Calculate Now
Step 2: Get Approved For A Loan
We recommend that you get approved before you start your home search. There are multiple reasons why you should do this first:
It helps you understand what you can afford.
It gives proof to real estate agents and sellers that you're both willing and able to buy a home. This will make a strong impression on them that you're a serious buyer.
It determines the upfront costs that come with the purchase of your new home.
How To Get Approved
There are three different levels of approval in the Quicken Loans® Power Buying ProcessSM:
With a Prequalified Approval, you'll verbally give us your income and asset information, and we'll pull your credit report. This can give you an idea of what you can afford.
Next is a Verified ApprovalSM that goes a step further to verify your income and assets. By allowing us to verify more of your information, you can be even more confident you'll close on a new home. If you don't close based on our review, we'll pay you $1,000.1
Finally, our RateShieldSM Approval2 lets you lock your interest rate for up to 90 days while you look for a new home. If rates go up, your rate stays the same. If rates go down, your rate drops. Either way, you win!
Here's how our mortgage process works and what you can expect from us when you apply.
Step 3: Find A Real Estate Agent
Real estate agents play a big role in a successful and stress-free home buying experience, so it's important to find a good one! At Quicken Loans®, we refer our clients to our sister company Rocket HomesSM, which partners with top-rated agents in all 50 states.
You and your agent will look over your approval letter and discuss your budget before you start reviewing some listings.

Looking for a real estate agent?
Visit Rocket Homes Real Estate LLC to get connected with an experienced agent in your area.
Find an Agent
Step 4: Go House Hunting
When browsing home listings, consider the neighborhood, the commute and nearby schools to make sure the area fits your lifestyle.
As for the house itself, keep an eye out for these potential red flags:
Plumbing and electrical issues
Evidence of problems with the foundation, like slanted floors or significant cracks in the walls
Visible water damage on ceilings/walls
Old appliances, chimneys and gas furnaces that need to be repaired, cleaned or replaced
Radon, lead paint and carbon monoxide
Full or defective gutters
Step 5: Make An Offer
When you find the right place, your real estate agent will draft the offer letter. Your agent should be knowledgeable about your area and familiar with the fair market value of homes in comparison to a seller's asking price. A few things you'll want to consider before making an offer include:
The location, including nearby schools
Neighborhood amenities, like local parks
Age and condition of the home, including the size, plumbing, electrical system, heating and cooling, the roof, and the foundation
Necessary repairs or renovations
Along with your offer, you'll also provide what's known as earnest money. This is a check deposit you make to show the seller you're a serious buyer. An earnest money deposit is typically 1% – 2% of the purchase price, and the check won't be cashed until the offer is accepted. In the meantime, your real estate agent will put the money into an escrow account for safe keeping.
Keep in mind that you may have to deal with competing offers on the home. Your real estate agent will advise you of additional offers. You'll have an opportunity to make a counteroffer, but it's important to know your limit if you end up in a bidding war. If you feel the price is getting too high for what you can afford, tell your agent and you can withdraw your offer.
Step 6: Get A Home Inspection
After an offer is accepted, it's a good idea to arrange a home inspection. This means hiring a professional, third-party home inspector to examine the home you are preparing to buy. The home inspection will help you find areas where major repairs or renovations will require immediate attention and identify any work that will need to be done in the future.
If major repairs are needed, you can request that the seller complete them before closing. If the seller declines to handle the repairs and an agreement can't be reached, you may be able to withdraw your offer.
Step 7: Close Your Loan
Before closing, review your Closing Disclosure. It outlines the terms, final closing costs and any outstanding charges or fees included in your loan. Your lender will send this to you at least three days before closing.
During closing, the property title passes from the seller to you. A closing agent oversees this process, which typically takes place at a title company, escrow office or your home.
The closing agent ensures all necessary parties are present at closing. They act as a mediator between you and the seller and confirm that all required documents are signed. Finally, they oversee that all funds, including closing fees and escrow payments, are paid and properly disbursed.

During closing, you have two major responsibilities:
Signing legal documents. This includes the Closing Disclosure, promissory note, deed of trust and certificate of occupancy.
Paying closing costs. This may include fees for your mortgage application, appraisal, survey, and title search, and funds to establish an escrow account. An escrow account is used to pay for property taxes and insurance premiums.
If you're still unsure about the home buying process, call us directly at (888) 452-8179 to speak to a Home Loan Expert. We can discuss next steps and determine what loan options are available to help you.
1Participation in the Verified Approval program is based on an underwriter's comprehensive analysis of your credit, income, employment status, debt, property, insurance, appraisal and a satisfactory title report/search. If new information materially changes the underwriting decision resulting in a denial of your credit request, if the loan fails to close for a reason outside of Quicken Loans' control, or if you no longer want to proceed with the loan, your participation in the program will be discontinued. If your eligibility in the program does not change and your mortgage loan does not close, you will receive $1,000. This offer does not apply to new purchase loans submitted to Quicken Loans through a mortgage broker. Additional conditions or exclusions may apply.
2RateShield Approval locks your initial interest rate for up to 90 days on 30-year conventional, FHA and VA fixed-rate purchase loan products. Your exact interest rate will depend on the date you lock your rate. Once you submit your signed purchase agreement, we'll compare your rate to our published rates for that date and re-lock your interest rate at the lower of the two rates for an additional 40 to 60 days. Quicken Loans reserves the right to cancel this offer at any time. Acceptance of this offer constitutes the acceptance of these terms and conditions, which are subject to change at the sole discretion of Quicken Loans. This is not a commitment to lend. Additional conditions or exclusions may apply.