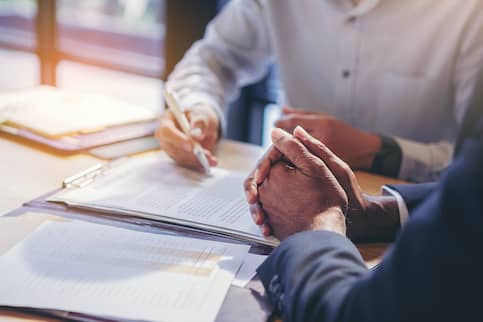 What Is A Mortgage Contingency, And How Does A Financing Contingency Clause Work?
Published on February 4, 2022
So you've found the perfect home, but like most people, you can't pay in cash. You'll be taking out a mortgage to buy the house. However, when you apply, you need to build in time for getting in documentation and having an appraisal done. A mortgage contingency clause in a purchase agreement gives you the time to line up financing while moving forward with an offer.
In this article, we'll explain what a mortgage contingency is, how it works, how to decide when to use one and what you can do to meet the conditions of the contingency.
The Mortgage Contingency Clause, Explained
A mortgage contingency, or financing contingency, is a clause in the real estate purchase agreement. Specifically, a financing contingency clause states that if you can't get the financing, as in a mortgage approval, the contract is null and void, the deposit will be returned to the buyer and the seller will relist the home.
An earnest money deposit, also called a good faith deposit, is paid by the buyer to the seller in exchange for taking their property off the market and goes toward your down payment if the loan closes. If the loan doesn't close, you can lose your deposit. Because it's usually a percentage of the loan amount, the loss can be significant without a contingency.
Apply for a mortgage today!
Apply online for expert recommendations with real interest rates and payments.
Start Your Application
What Is A Mortgage Contingency?
Buying a house is a huge undertaking. Contract contingencies help protect buyers during the home buying process.
When you make an offer on a house in a highly competitive seller's housing market, or really any market, you'll need to include some assurance to the seller that you can pay for the house. If you plan on getting a mortgage loan to pay for the home, you'll include a mortgage preapproval letter with your offer to show that a lender has verified your financial information.
But a preapproval and approval are not the same thing, and there's always a chance that a problem will arise that delays or cancels your closing. That's why sellers prefer all-cash offers – they're sure things.
For this reason, buyers have traditionally included a mortgage contingency, also called a financing contingency, in their purchase agreement. It protects them should they be unable to get a mortgage.
How Are Preapprovals And Approvals Different?
No matter how creditworthy you are, lenders will need to vet the house itself to be sure its value is sufficient to cover the amount of the loan should you default on the mortgage. For this reason, lenders require a home appraisal to assess the value of the property and – if the appraiser notices a problem – a home inspection, usually with a specific focus, to understand the condition of the home.
If your financial situation changes – for example, if you lose your job or you have to buy a car with a new loan – your preapproval will no longer offer any assurance that you'll ultimately be approved for a mortgage.
Your lender will not approve your mortgage application until it receives the following items:
Appraisal
Final documentation checks (employment, income and assets)
Title abstract and lender's title insurance policy
How Mortgage Contingencies Work
If you're looking to include a mortgage contingency with your offer, you should understand how the process works. Let's get into this.
Purchase Agreement
Once you have an offer accepted, you can negotiate a purchase agreement. It's at this point in the home buying process that you can put in a mortgage contingency. This is basically a clause that says you can back out of the deal if your financing falls through.
It's important to note that sellers like certainty as much as you do. In order to get them to accept an offer with a mortgage contingency, you need to give them a reasonable expectation that the transaction will close. We recommend all of our clients get a Verified Approval1 with income and asset documentation prior to formally looking for a home.
Failure To Meet The Contingency
If there is a mortgage contingency in the purchase agreement and you aren't approved for the loan within the time frame specified, it's as if the sales contract never existed. Both parties are restored to their initial position – the seller is free to relist, and the buyer gets their earnest money returned so they can walk away without any further obligation.
What Are The Terms That Need To Be Included In A Mortgage Contingency?
To make a mortgage contingency legitimate, there are some specifics that should be included in the negotiations. The seller will want to know these so they have an idea of what they're agreeing to.
Loan Type
Is it a conventional loan or are you getting financing backed by the FHA or VA? Some sellers will care about the loan type because appraisal and inspection requirements can be different.
Loan Amount
This may or may not be for the purchase price associated with the offer itself, depending on how much savings you might have to bring to the table and still close the deal.
Max Interest Rate
Sellers need to know the highest interest rate at which you still feel comfortable affording the mortgage on a monthly basis. If you get approved, but the interest rate is higher, your contingency is activated and you can get out of the deal.
Origination Fee Limit
To secure a desired interest rate, you might need to pay some amount in mortgage points at closing. One mortgage point is equal to 1% of the loan amount. The purchase agreement should specify the maximum number of points that you're willing to purchase. If you'd have to pay more than the maximum number of points to reach your desired interest rate, you'd be able to walk away from the purchase.
Date To Remove Contingency
Everything is negotiable, but to be on the safe side in a purchase, it's a good idea to ask for up to 60 days in which to secure financing and close. Ask your real estate agent how long it typically takes to get approved for a mortgage. They'll know the common timeline in your area and how long it takes to get things like the appraisal, inspection and title work done.
When you include a contingency with a hard deadline in your purchase agreement, you may hear it referred to as a "kick-out clause." That means that if you fail to get approved by the deadline for a mortgage – in the case of a financing contingency – the seller can kick you out of the contract when the deadline passes and start showing the home to new prospective buyers.
Take the first step toward buying a house.
Get approved to see what you qualify for.
Start My Approval
Are There Other Purchase Agreement Contingencies?
Mortgage contingencies are part of a group of stipulations you can negotiate into contingent offers. Contingent offers feature one or more conditions under which you can get your deposit back. Let's look at some other common contingency conditions.
Home Inspection
It's a good idea for all home buyers to get a home inspection before moving forward so that they know what they're getting into. An inspection is a thorough going-over of the structure and all the major systems within a home.
A home inspection contingency in the purchase agreement allows you to back out of the sale if the findings reveal problems with the home, like an HVAC system that needs replacement or the need for a new roof. For the contingency to be enforceable, there are usually specific conditions named in the contract in which you can walk away and get your deposit back.
Home Appraisal
In order to buy a home with a mortgage, you'll need to have an appraisal done. An appraisal is an evaluation of the property you're buying based on sales of similar properties in the area to assign a value. The value is key because the lenders want to be sure that the value of the home will cover the loan amount in the case of a mortgage default. This prevents you from losing your deposit if you can't come to terms on a deal after an appraisal comes in lower than expected.
Although a home appraisal won't do as thorough a check as a home inspection, your home has to be considered safe and move-in ready. If an appraiser suspects a problem, they may order a separate inspection if evaluating the problem is beyond their own expertise.
Title Search
You could put a contingency in place that there has to be a clean title. That means that, after a comprehensive search, the title company finds that no one else has an ownership claim to the property. A title search will also reveal whether there are any liens, judgments or previously unknown easements on the property.
Home Sale
A home sale contingency is intended to prevent you from having to take on two mortgage payments at once by making your offer contingent on the sale of your current home. In negotiating this, a seller may want you to list your home by a certain date. Unless you're making an offer in a buyer's market, it's less likely that your offer will be accepted with this contingency.
Should You Waive The Mortgage Contingency?
It all depends on your real estate market conditions. The pandemic housing market has been a long seller's market, and although there are some predictions that it may soften a bit in 2022, no one predicts that buyers will have more bargaining power anytime soon. That's because there is a huge demand – driven by demographics – and a very low inventory of available houses.
Make Your Offer Competitive
As a result, in many red-hot real estate markets around the country, sellers are often fielding multiple offers above asking price from potential buyers who have no choice but to waive all contingencies. Because of this, including a mortgage contingency may put your offer at the bottom of the pile.
Consider Delayed Financing
If you can put together the cash to make an all-cash offer and you don't want any chance of losing the house, you might consider making an all-cash offer instead of applying for a traditional mortgage.
After you complete the purchase, you can take a look at doing delayed financing. With delayed financing, you can pay in cash upfront and do a cash-out refinance within 6 months after you purchased the home so that all your money isn't tied up in your house. Obviously, this only works if you have a ton of cash available or assets you can easily liquidate for currency.
How Can Rocket Mortgage® Help?
Our preapproval process is known as Verified Approval. We do a thorough review of your finances before issuing our Verified Approval Letter. Income and asset documentation is shared upfront and speeds the process.
As a result, you can rest assured that if you're preapproved, you're very likely to go on to be approved.
The Bottom Line: A Mortgage Contingency Protects You If Your Mortgage Isn't Approved
Contingencies exist to protect buyers. Unfortunately, in today's overheated real estate market, buyers can't always use them if they want to be competitive. You should get a strong preapproval if an all-cash deal isn't in the cards.
Ready to get started? Apply for Verified Approval today! You can also give us a call at (888) 452-0335.
Apply Online with Rocket Mortgage
Get approved with Rocket Mortgage® – and do it all online. You can get a real, customizable mortgage solution based on your unique financial situation.
Apply Online
1 Participation in the Verified Approval program is based on an underwriter's comprehensive analysis of your credit, income, employment status, assets and debt. If new information materially changes the underwriting decision resulting in a denial of your credit request, if the loan fails to close for a reason outside of Rocket Mortgage's control, including, but not limited to satisfactory insurance, appraisal and title report/search, or if you no longer want to proceed with the loan, your participation in the program will be discontinued. If your eligibility in the program does not change and your mortgage loan does not close due to a Rocket Mortgage error, you will receive the $1,000. This offer does not apply to new purchase loans submitted to Rocket Mortgage through a mortgage broker. This offer is not valid for self-employed clients. Rocket Mortgage reserves the right to cancel this offer at any time. Acceptance of this offer constitutes the acceptance of these terms and conditions, which are subject to change at the sole discretion of Rocket Mortgage. Additional conditions or exclusions may apply.