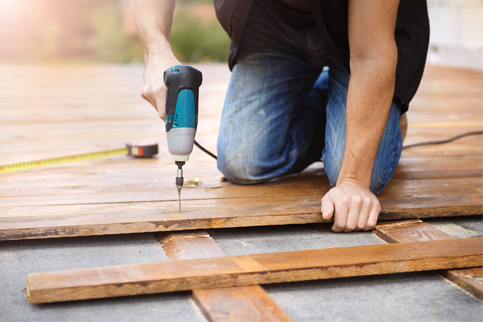 Homeowners Insurance Guide: What It Is, Why It's Important And What It Covers
Published on December 6, 2021
If you're borrowing money to buy a home, homeowners insurance is required. Even if you own your home without a mortgage, though, the coverage provided by insurance companies is something everyone should consider. Your home is one of the largest investments of your lifetime, and it deserves to be protected.
What Is Homeowners Insurance?
Homeowners insurance protects one of the largest investments in your life – your home. At its basic level, home insurance or house insurance covers the home's structure in the event of a natural disaster such as a fire, tornado, or terrible storm.
Homeowners insurance also provides liability protection for homeowners too. Whether someone fell and injured themselves on your property, your pet hurt someone, or you caused damage to someone, or something that leads to a liability, your homeowners insurance coverage may help.
Many people confuse homeowners insurance with a home warranty, but they are quite different. Home insurance covers the cost of loss or damage that occurs suddenly and unexpectedly. A home warranty covers home appliances and systems needing repairs or replacement due to normal use and natural wear and tear.
Is Home Insurance Required?
There isn't a law requiring homeowners to purchase home insurance when owning or buying a home, but mortgage lenders can (and often do) require it to protect their investment in your property. If you cancel your property insurance and still have an outstanding balance on your mortgage, your lender can force insurance on you at much higher costs.
Even though home insurance coverage isn't required by law, there are plenty of reasons to carry coverage even if you paid your mortgage off already, including:
Covers the cost of repairing or rebuilding your home after a disaster at a fraction of the cost of the repairs/renovations

Provides liability protection both at your home and while you're away from it, protecting you financially

Covers the cost of your personal belongings that are damaged in a fire, or weather-related disaster, or even stolen/vandalized during a crime

Provides you with peace of mind even if you own your home without a mortgage
Apply for a mortgage today!
Apply online for expert recommendations with real interest rates and payments.
Start Your Application
What Are The Most Common Types Of Homeowners Insurance Coverage?
There are three types of insurance coverage you can purchase. Each has its advantages and disadvantages, so get to know the details of each one to decide which suits your needs the most.
Actual cash value:

Actual cash value pays you what the item in question is worth today, taking into account depreciation. This means you could walk away with less than it costs to replace the item. For example, if you paid $1,000 for an item that you lost and the insurance company determines it's worth $700 today, you'd get $700, not $1,000.

Replacement cost:

Replacement cost coverage pays you closer to what it costs to replace a lost item. This coverage doesn't deduct depreciation from the cost of the item, and it accounts for inflation, giving you more than you paid for the item based on the current rate of inflation. This may or may not be the full dollar amount needed to replace the item.

Guaranteed replacement cost:

Guaranteed replacement cost pays the full cost to replace your home as it was before the loss. This includes the cost of any construction or renovations you did to the home. This type of dwelling coverage ensures your home is fully reconstructed how you had it before the loss without considering policy limits or depreciation.
What Does Homeowners Insurance Typically Cover?
Many people assume homeowners insurance covers everything in the event of a loss, but that's not always the case. Knowing the four main categories home insurance covers and what it includes is important before you experience a loss.
Damage To Your Home
Damage to your home refers to damage to the home's structure. This property damage must have occurred due to a natural disaster or fire. It does not cover property damage that occurs from normal wear and tear or misuse on your part. Standard home insurance also doesn't cover damage from floods.
Damage To Other Structures
If you have detached structures on your property, your home insurance may cover them. Common examples include a shed, detached garage, or fence. Like your home, the damage or loss must be due to a covered event, such as a fire or weather-related damage.
Damage Or Theft Of Personal Property
If an event causes damage or loss to your personal belongings, your home insurance may cover it to an extent, usually 50% – 75% of the total insurance value. If you have valuable items that are worth more than the personal property coverage, it's important to ask about additional coverage with personal property endorsements or riders to ensure you have enough coverage.
Personal Liability For Injuries And Damages
Personal liability coverage is important as a homeowner. If someone fell and got injured on your property, you'd be responsible for the financial liabilities and potential lawsuit. Even if you ruined someone else's personal property or your child or pet did, you'd be liable. Personal liability insurance protects you in these situations, covering both the financial cost of the damages and any court costs/awards if applicable. This applies to both property damage and bodily injury you, a family member, or pet causes.
What Does Homeowners Insurance Not Cover?
Most homeowners insurance policies don't cover damage caused by floods, earthquakes, or wildfires. They also don't cover high-value items, including artwork, collectibles, jewelry, or antique furniture. Consider asking about flood insurance or earthquake insurance if you're concerned about floods, earthquakes, or wildfires. If you have higher-value items, discuss the option to add additional riders to your policy to cover them.
Not all losses are covered with home insurance, no matter how much coverage you have. If the insurance company determines your loss occurred due to a lack of maintenance or upkeep on your part, you could face a non-covered loss.
What Is The Average Cost Of Homeowners Insurance?
The cost of a home insurance policy varies based on many factors, including the location and type of home. The average homeowner pays $104 a month, but no two homeowners pay the same insurance premiums because, in addition to the location and home type, other factors play a role, including:
Deductible:

If you take a higher deductible, you'll have lower insurance premiums but be on the hook for a more significant portion of the loss should one occur. A lower deductible poses less risk for you but increases your premiums.

Coverage options:

Home insurance isn't one-size-fits-all. For example, you may need extra riders for high-value items, want earthquake coverage, or prefer guaranteed replacement cost coverage versus actual cash value, which costs more money.

Credit score:

Studies show that the higher your credit score, the less likely you are to file insurance claims. Insurance companies often give lower premiums to those with higher credit scores.

Claims history:

If you have a history of making frequent claims, home insurance companies will charge you more for your premiums because you're a higher risk.

Age of home:

Older homes typically cost more to rebuild because they often have to be brought up to code or require more expensive/hard-to-find materials that increase the cost.

Type of pet:

If you have what the insurance company considers a dangerous dog or pet, you may pay higher premiums or need an extra rider for them to insure you.
How To Choose A House Insurance Provider
When you're ready to buy a house, you should start pricing homeowners insurance policies right away. Like any financial service, it's best to get at least three quotes so you can compare your options and decide which is right for you.
As you shop for home insurance, use these tips to find the best agencies along with these home insurance tips to ensure you get the right policy:
1. Research home insurance companies in your area
Use the internet to your advantage and read about the different insurance companies in your area, what they offer, and what others say about them. Don't forget to look up their ratings with the Better Business Bureau and AM Best.
2. Ask for references
Ask friends and family about their insurance company. Inquire if they've ever made a claim and ask how it went. Also, discuss the premiums and whether the homeowner feels the insurance offered is a good value.
3. Compare quotes from several companies
Secure quotes from at least three companies to compare your options. Make sure you're comparing apples to apples. For example, don't compare an actual cost coverage policy to a guaranteed replacement cost coverage policy. Also, don't compare policies with different deductibles. Keep the playing field even for a fair comparison.
4. Interview potential agents
Don't be afraid to interview agents and see what you think of them. Not only will you pay them monthly premiums, but they hold your home insurance coverage in their hands. Make sure you can relate with the agent, and they work well with you, leaving you feeling good about your insurance.
5. Choose your provider
Once you've compared your options, choose your provider and send them the information needed to start your policy. You'll need a policy with the first year's premium paid before you can close on your loan.
Apply for a mortgage today!
Apply online for expert recommendations with real interest rates and payments.
Start Your Application
The Bottom Line: Homeowners Insurance Can Protect Your Investment
Homeowners insurance protects you and the lender should you face a loss. You'll have coverage to repair or rebuild your home, replace your personal belongings, and cover you financially for any liabilities you may cause.
Before you secure home insurance, do your research, compare prices, and determine which agent/company offers the service you need to have peace of mind about your insurance coverage.
Homeowner's insurance is just one piece of the puzzle of the closing process. Learn what else it involves so you can have a smooth closing.