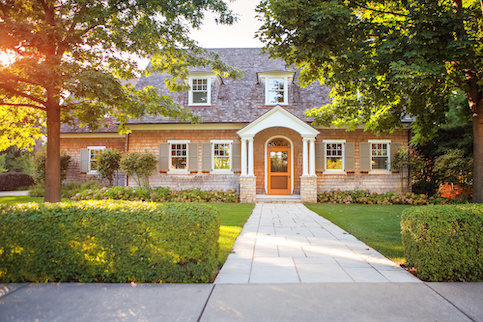 Down Payment Assistance: A Guide To Programs
Published on January 23, 2020
Buying a home remains a huge part of the American dream. There are many hurdles on a homeownership journey. For some, it's struggling with poor credit. For others, it's about making sure they can afford the monthly payment. The thing that holds many people back is the amount needed for a down payment. It's a large chunk of money to come up with for anyone. Sometimes a little help is necessary.
While saving for a down payment can be an impediment in the home buying process, there is assistance available out there if you know where to look. This article will go over what you need to know about down payment assistance and where to find it.
What Is Down Payment Assistance?
Down payment assistance is any program or funding option that provides money for a down payment. More broadly, you could consider low down payment programs a form of assistance, but typically when we talk about this, it's in reference to options for funding a down payment. Also, the down payment assistance we'll be discussing is specifically aimed at helping you afford a home rather than a car or other expensive item.
How Does Down Payment Assistance Work?
There are several different methods of getting funding for your down payment. Different lenders will accept different options for down payment assistance, so it's one of the questions you should ask a lender as you shop. Let's look at the different types of down payment assistance available.
Grants
Grants offer free money that doesn't need to be paid back. Free money is the best kind and it can really help with your down payment. There are many grant programs out there tailored to specific groups and areas of need. You can get grants from nonprofits, local governments and even employers.
Forgivable Loans (At Zero Interest)
Another option for a down payment assistance is a forgivable loan. Many of these have no interest at all. The nice thing about forgivable loans is that as long as you meet the conditions of the loan – like living in a house or working for an employer for a certain amount of time – they don't need to be paid back. The money can go directly toward your down payment.
Deferred-Payment Loans (At Zero Interest)
Deferred-payment loans have a payback period that may not start for several years. This means you could use the money for your down payment now and still have other money available for other costs associated with buying your home, and pay it back later on once you're settled in. The key here is to make sure it's a zero-interest loan or the interest could really build up, particularly if it accrues during the period of deferred payments. This is another type of assistance you might commonly see from employers.
Low-Interest Loans
If you can get a low-interest loan, this may be another option to secure a down payment. However, lenders likely won't allow you to take out an unsecured loan like a personal loan and use it for your down payment, with the exception being if you get a loan from an employer through an employer assistance program. Most of the time, you'll have to have some collateral, like a car or the house itself.
One other option is to take a loan from your 401(k). If you do this, you have to pay back the loan with interest within a specific time frame set in your employer-sponsored fund, but you can borrow up to 50% of the account balance or $50,000, whichever is lower. Not all 401(k)s have this option. You also have to be careful. If you can't pay back the loan, it becomes taxable income. In addition, if you're under 59 ½, there's a 10% early withdrawal penalty.
Apply for a Mortgage with Quicken Loans®
Call our Home Loans Experts at (800) 251-9080 to begin your mortgage application, or apply online to review your loan options.
Start Your Application
Down Payment Assistance Programs
Now that we know the basics about the types of down payment assistance available to the public, let's run through more specifics on how they work by highlighting a few options.
DPA Grants
Grants are the best possible form down payment assistance because you don't have to pay them back. It's totally free money. You typically would receive these through nonprofits, local housing agencies or your employer.
The biggest thing to look out for is to make sure that you're actually getting a grant. If there are any repayment requirements, it's not a real grant and your lender won't be able to let you use it to qualify.
DPA Loans
You can use a loan from a down payment assistance program in order to fund your down payment. In order for it to be acceptable to lenders, you'll need to make sure the loan is backed by collateral, like your car or another piece of property.
Employer assistance also sometimes falls into this loan category. You may be able to fund your down payment through your employer assistance in the form of a repayable, deferred or even forgivable second mortgage. You're also able to fund your down payment through an unsecured loan only if it's through an established company program. The loan may or may not be forgivable in the future.
Good Neighbor Next Door
Although Rocket Mortgage® doesn't offer loans that utilize this program, this is an oft-mentioned down payment assistance option and it's worth bringing up here.
The Good Neighbor Next Door Program is available to law enforcement officers, pre-K – 12thgrade teachers, firefighters and emergency medical technicians. If you live in a Department of Housing and Urban Development revitalization area, you're eligible for a 50% discount on eligible HUD listings in your state.
The discount is in the form of a silent second mortgage. As long as you live in the property for at least 3 years, you don't have to pay any interest or payments on this second mortgage.
HUD Home Buyer Programs
HUD also maintains the largest database of down payment assistance programs offered by state and local governments as well as local organizations. This is perhaps the best place to start if you're looking for down payment assistance.
The requirements vary greatly based on which programs you're applying for, so be sure to carefully read criteria when going through the site.
Qualifying For Down Payment Assistance
When looking for down payment assistance, it's important to understand some of the common qualification criteria so you can look for an option that fits your situation. Every program is a little bit different and tailored to serve specific areas of need. However, there are several different types of criteria that are often seen.
First-time home buyer:

For many grants and other forms of assistance, you have to be a first-time buyer to qualify. However, depending on how they define that term, there may be flexibility. For example, many programs consider you to be eligible if you haven't had a property interest in a number of years.

Location:

Many cities may offer forms of assistance in order to attract residents to live and work in a certain area. Typical requirements for this type of assistance include living in the area for a given time period.

Income:

Many programs are intended to serve residents who have low-to-moderate incomes, so there may be a limit on how much money you can make in order to qualify for assistance.

Special interests:

Some down payment assistance is intended to help specific populations such as a given racial or ethnic group, members of the military or people with disabilities, among others. This type of down payment assistance is often available from charities and other nonprofits with a focus on serving a particular community.
Other Ways to Get Help With A Down Payment
Although down payment assistance is a good way of getting the funding you need, it's not the only way to come up with the cash to get you into a home. There are a couple of alternatives you can take a look at.
Gift money:

Your family members can gift you up to your entire minimum down payment on a 1-unit primary residence as long as you have a conforming (non-jumbo) loan. Depending on the type of loan you're getting, the gift may also come from sources like an employer or labor union.

Gift of equity:

You can think of a gift of equity as the family discount. Basically, you buy a home from your family at a price that's less than they would normally take if they were to sell it to the general public. The difference between the market value and the price you pay is considered a gift of equity and goes toward your down payment.
With any gift, your relative has to produce a letter that says, among other things, that the money doesn't need to be repaid. In other words, it's an actual gift. There also must be documentation of funds transfer. Speak with a Home Loan Expert about the details that apply in your transaction.
A Final Word On Down Payment Assistance
Saving for a down payment certainly isn't easy. Indeed, there are many steps to the home buying process before you get the keys. However, the support of down payment assistance, along with knowing what to expect, can help make homeownership a reality for first-time home buyers and many others.
If you're ready to get started, you can apply online with Rocket Mortgage® or give one of our Home Loan Experts a call at (800) 785-4788.
Apply for a Mortgage with Quicken Loans®
Call our Home Loans Experts at (800) 251-9080 to begin your mortgage application, or apply online to review your loan options.
Start Your Application