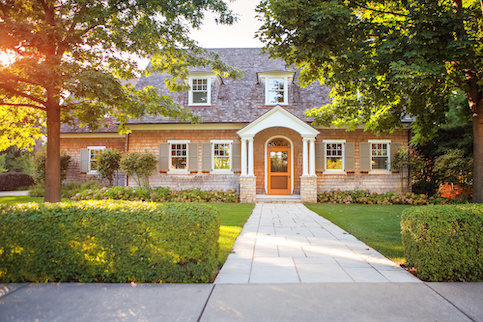 Down Payment Assistance: What Is It And How Does It Work?
Published on December 9, 2022
If you're looking for a home, you probably calculated the monthly payment you can afford. There's a good chance you've even familiarized yourself with all the steps to buying a home. Still, the biggest obstacle for many is saving up for a down payment. While you may or may not still need to come up with some money, down payment assistance can help.
What Is Down Payment Assistance?
Down payment assistance is funding from a third party not associated with the transaction that's intended to help with the down payment and closing costs on a home purchase. It can be an important resource because the upfront costs associated with buying a home are often the biggest obstacle to affordable homeownership for many.
The programs available for down payment assistance generally fall into one of three categories. We'll briefly define these here and then get into more specifics later on.
Grants:

A grant is free money that you can put toward your home purchase. It doesn't have to be paid back.

Forgivable loans:

Forgivable loans are loans that won't have to be paid back as long as you meet certain conditions defined by the assistance program. A lien is placed on your home, but it's removed once the loan is either forgiven or paid back.

Deferred payment loan:

A deferred payment loan is one that must be repaid, but not right away. You pay it back at some point down the line. This isn't always the case, but they often come at 0% interest. Again, a lien is placed on your home until repayment.
See What You Qualify For
Congratulations! Based on the information you have provided, you are eligible to continue your home loan process online with Rocket Mortgage.
If a sign-in page does not automatically pop up in a new tab, click here
Who Can Qualify For Down Payment Assistance?
A wide variety of people may be able to qualify for down payment assistance because many organizations each have their own qualification requirements. Commonly, there are programs available for first-time home buyers, low-income home buyers and those with moderate incomes.
Beyond these, there are organizations set up to serve those from specific communities and backgrounds. For example, you might find programs for your religious affiliation, dedicated to people with disabilities or from the town you're moving to.
First-Time Home Buyer Qualifications
While there are many options for those looking for down payment assistance, some of the most common are first-time home buyer programs. The qualifications for these programs can vary, but many of them have common characteristics. Many even allow you to have owned in the past if there's been a long enough gap. Here are some common requirements:
You haven't owned residential property of any kind in 3 years.

You typically have to be purchasing a primary residence. This is a home that you'll be living in the majority of the year.

Because there is usually a primary residence requirement, you also need to make sure you occupy the home within 60 days.
Types Of Down Payment Assistance
As mentioned above, the three types of down payment assistance you'll see are grants, forgivable loans and deferred payment loans. Let's go a little deeper on each of these.
Down Payment Assistance Grants
Down payment assistance grants are the best option for homeowners looking for help in coming up with down payment funds. Again, that's because these are free money. You never have to repay a down payment grant.
The challenge is qualifying for a grant. You typically must meet income requirements, meaning that your yearly income can't be too high. Others are intended to help specific groups.
Nonprofit organizations, employers or local housing agencies typically offer these grants. Ask your mortgage lender if you might qualify for one of these grant programs.
Forgivable Loans
You might also qualify for a forgivable loan that you can use to cover your down payment. Once you close such a loan, you'd receive payment in a lump sum that you would then use to pay your down payment. You won't have to repay this loan if you meet the specific requirements of it.
The key is to understand these requirements and to make sure you can meet them. For instance, you might have to agree to live in your home for at least 5 years. If you move earlier, you'll have to pay back your forgivable loan. If you don't, you won't. Other forgivable loans might require you to work a certain number of years in a specific profession, such as teaching. If you leave this profession too early, you'll have to repay the loan. Before signing up for a forgivable down payment loan, make sure you can meet its requirements.
Deferred Payment Loans
Unlike grants or forgivable loans, deferred payment loans must be paid back in every case. But repayment doesn't start immediately. These loans have repayment terms that begin after you've been in your house for a while, giving you a chance to settle in and have your finances in order. They may also feature 0% interest.
It's not uncommon that you may not have to pay back the loan during the term of your mortgage. In many cases, the payment of the loan is deferred until you pay off your mortgage, refinance or sell your home. In any case, make sure you're clear on when your payments start and when that loan would come due.
Get approved to refinance.
See expert-recommended refinance options to customize them to fit your budget.
Start My Application
Down Payment Assistance Programs
Now that you know what types of options are available, it's time to find a source of funding.
State Programs
States have different programs that may be available. They're usually through housing finance agencies or development authorities that are state run. They can be a good source of funding. Cities may have their own development authorities as well. The Department of Housing and Urban Development (HUD) maintains a local buying directory that's a good place to start your search.
The important thing to know about these particular programs is that they may limit your options for getting a mortgage. Sometimes you have to go with a certain approved lender to use the program. In other cases, lenders won't accept a source of assistance because one of the conditions is that the assistance is the first lien, meaning that the state gets paid first if you default.
Rocket Mortgage® doesn't accept down payment assistance where you need to be an approved lender or any that gives the state primary lien position. Here's more on down payment assistance we accept.
Private Programs
In some cases, there may be private sources of funding you can tap into. Occasionally, unions or employers will have grant or forgivable loan programs available to support homeownership. You just need to make sure you're clear on what the terms are.
As an example, an employer might have a forgivable loan program that requires you remain with the company for a length of time to receive forgiveness.
Nonprofits
There are nonprofits who help with housing as part of their mission. If they are tied into a specific housing initiative, they may be listed on the HUD directory. However, this may involve casting a wider net for nonprofits dedicated specifically to serving groups with which you're identified. This could require more legwork, but it may open up more resources.
Down Payment Assistance FAQs
Now that we've gone over the ins and outs, let's run through a few common questions.
Is there FHA down payment assistance?
The required down payment is lower on FHA loans. Moreover, there is a lot of flexibility in the source of down payment assistance or gift funds that can be used to cover your down payment and closing costs. However, the FHA doesn't provide down payment assistance of its own.
How much does down payment assistance cover?
There is no specific amount that down payment assistance covers because every program has different amounts of funding and guidelines. Some may provide a flat amount of funding. Others cover a certain percentage of your purchase price up to a maximum amount.
How long does it take to get down payment assistance?
This is another question that's impossible to have a hard and fast answer to. Each down payment assistance program has its own application and underwriting procedures. However, one thing you can do to speed up the process is make sure that you promptly reply with any information that may be requested.
The Bottom Line
Down payment assistance is funding from an entity not involved in your transaction to help cover the down payment and closing costs on your mortgage. Many of the programs are tailored to first-time home buyers, but there are options out there for various groups.
Grants are free money to be used toward your down payment. Forgivable loans are ones that don't have to be repaid if you meet the conditions associated with the assistance. Finally, deferred payment loans have to be repaid, but not right away. In fact, they might not come due until you sell the house, refinance or pay off your mortgage.
There are various sources of funding. You can look to state or private programs and even nonprofits. Just be sure the down payment assistance you apply for is something your lender will accept.
If you're confident you're ready to move forward with your home buying journey, you can start the mortgage approval process. Feel free to give our Home Loan Experts a call at (888) 452-0335.
Apply for a mortgage today!
Apply online for expert recommendations with real interest rates and payments.
Start Your Application