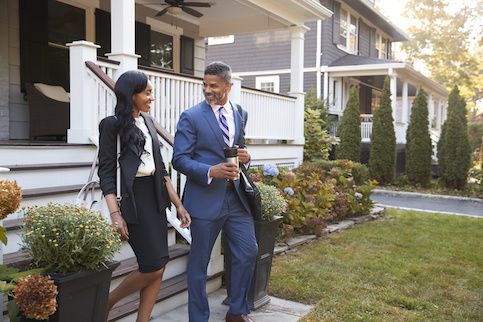 How To Choose A Mortgage Lender: 6 Tips For Success
Published on February 1, 2022
Shopping for the perfect home can be an exciting time. You might spend countless hours seeking out the home of your dreams, but in the process, you might be left to wonder how to find the best mortgage lender as well.
Let's discuss the value of working with a good mortgage lender when buying a home, and how to go about choosing the right one for your needs.
Finding A Good Mortgage Lender: Why Is It Important?
Applying for a mortgage is one of the biggest financial decisions you'll make in life. As such, it's crucial to work with a lender that provides you with the best possible service and that offers loan terms that you can reasonably keep up with for years to come.
There's no single answer to the question, "What constitutes a good mortgage lender?" The best lender for you is the one that can help you achieve your borrowing goals efficiently and responsibly while keeping your specific circumstances in mind. That said, there are a few steps that first-time home buyers can take while vetting all prospective lenders to assess how good of a fit each one would be for their individual mortgage needs.
How To Pick A Mortgage Lender
As you start your search for the right mortgage lender, here are six helpful actions you can take.
1. Look Beyond Advertised Interest Rates
When you're taking out a mortgage, one of the most important factors that you should consider is interest rates. The interest rate, specifically the annual percentage rate (APR), will have a dramatic impact on your home loan's total cost. The higher the APR, the money you will spend in interest and costs over the loan's lifetime.
With the marked importance of this loan metric, many borrowers filter through lenders based on their advertised APR. Although considering the APR of a lender is important, you should look beyond the advertised mortgage rates when shopping for a loan.
Mortgage lenders are aware that borrowers want to secure the lowest APR possible. With that, many advertise APRs on their site that a borrower could qualify for in an ideal situation.
Since the APR on a loan will depend on assumptions that will vary based on your situation, your loan offer will likely include a different interest rate. This is especially true if you have any marks on your credit report.
So how will a lender determine the APR of your loan offer? They'll consider several factors, including:
Loan amount: The loan size will play a role in the lender's decision. The lender may advertise an APR based on a standard loan amount, such as $200,000, but that might not match your desired loan amount. Loan amounts can affect the mortgage rate you'll qualify for and if other costs are included to get that rate (such as discount points). Therefore, depending on your specific loan and financial situation, your lender may adjust their loan offer accordingly.
Term: The loan term can have a big impact on interest rates. The lender may advertise rates based on a particular term. If you're considering a different term length, such as 30 years instead of 15, then you may be presented with a different interest rate than the one you see advertised.
Loan-to-value ratio (LTV): The loan-to-value ratio of the deal can play a role in interest rates. You'll lower your LTV if you can increase your down payment amount. Generally, lenders like to see an LTV of 80%. If you're applying for a loan with a higher LTV, then you may see higher interest rates.
Discount points: Discount points can have a major impact on your final interest rate. These points can lower your overall interest. But you may not choose to take the discount point route, which will affect your final interest rate.
Here are three tips to keep in mind when comparing mortgage rates:
Try to compare apples to apples. If you're looking at a 30-year fixed, compare it to other 30-year fixed rates.
Make sure you're looking at both the mortgage rate and the APR for each loan you consider, because this accounts for both the interest charged for the loan as well as any cost in setting it up. The bigger the difference between the base rate and the APR, the more fees the lender charges.
Remember that lenders may use different hypothetical scenarios in their assumptions to come up with advertised rates.
Interest rates offer an important comparison point to use across potential lenders. However, you should look beyond the advertised rate to consider what the lender may be able to offer based on your situation.
Many of us start with the interest rate when shopping for a mortgage, but it definitely shouldn't end there. Beyond this first step, you should consider various other factors before moving forward with a particular lender.
2. Assess The Lender's Communication Style
When you're looking for a lender, it's a good idea to take their style of communication into consideration. With a mortgage application, and all business relationships, you want to be on the same page as your lender.
Lenders have a variety of communication tools available including phone calls, texts, emails, apps, in-person meetings and more. Think about the style of communication that you prefer. You might like receiving calls from a loan agent to walk you through the next step, or you may simply want an email or text reminder when you need to contribute to the mortgage loan process.
You can avoid many headaches by carefully considering what level and type of interactions you'd like to have with your lender. Otherwise, you might be stuck in a pattern of miscommunication for several weeks as the closing process unfolds.
3. Consider The Lender's Client Services
Beyond the loan terms, you should consider the lender's approach to borrowers. Some lenders offer helpful perks and handy features that other lenders don't put in place.
You should start by considering the loan closing process. Ask questions about how the lender can help you through the application and closing process. Make sure that you're comfortable with their level of involvement.
Fees are another component of the loan experience that vary dramatically based on the lender. You should look into the loan details to determine what servicing fees, if any, are charged. Also, look into any other fees that could affect your bottom line. These might include a prepayment penalty for paying off the loan early, a charge for requesting mortgage documents or a convenience charge for making payments online.
Look beyond the closing date and dig into the services offered. It's especially important that you're comfortable with the mortgage payment options. For example, you may want to set up an automatic monthly payment schedule for your mortgage. Make sure that a lender offers this before moving forward with a lender.
4. Read Lender Reviews
With the sheer amount of information available on the internet, it's a good idea to read some reviews of potential lenders. When you read a review, you can get a better sense of what it might be like to work with a particular company.
Many of us look for reviews when making small purchases, so why not look at reviews for this major purchase? Since this is such a big decision, ensuring that you feel comfortable working with the lender makes sense.
As you go through reviews, pay attention to the common themes. Are borrowers unhappy with the customer service of a particular lender? Are the rates not as competitive as initially advertised? Are customers happy with their experience after the closing is complete?
When you take these reviews into account, you'll better understand how the company treats its borrowers. If you like what you read, then you can solidify a choice. Or you might decide to cross a few lenders off your list.
5. Talk To The Lender Directly
Once you've narrowed your list of potential lenders, take a few minutes to discuss your loan options with the lender directly. When you make the call, you'll have the opportunity to ask questions about the mortgage loan process. You can also better understand what it would be like to work with the lender based on your first impression. If you get a bad feeling, you can simply move on to the next potential lender.
You can kick off a chat or phone conversation with any question you have in mind. But here are a few to consider:
How long will the loan process take?
What type of communication should I expect throughout the process?
What kind of fees will my loan entail?
Will my credit score allow me to work with this company?
As you're researching potential lenders, write down any questions you have along the way. Stumped? Take a look at a few more questions to ask lenders over the course of your vetting process.
6. Compare Lenders Yourself
As you move toward this major purchase, take some time to comparison-shop for yourself. The main points to consider include the APR, loan term and customer experience. You can choose from many types of lenders, such as traditional banks, credit unions and specialized lenders.
Don't rush through the process. Look at the details of a loan offer, think about your unique situation and assess the customer reviews. As you go deeper into the process, don't be afraid to ask questions when you're ready.
Other Factors To Consider When Choosing A Mortgage Lender
In addition to taking the above steps as you decide on a mortgage lender to work with, there are a few extra factors that ought to be taken into consideration. These have more direct relevance to your individual situation and personal needs.
The Type Of Loan You Need
As you explore your lending options, you might be looking for lenders that offer specific types of mortgages, like FHA loans, VA loans or USDA loans. If you have more specific needs as a borrower, make sure the lenders you're vetting actually offer these types of loans so that your mortgage experience provides you with the terms and level of lender support you need.
Your Credit Score (And Whether It Needs Improvement)
How high or low your credit score can significantly impact the types of loans you're approved for and what the terms of your loan will look like. Before starting your search for a mortgage lender, find out your current credit score and assess whether work needs to be done on your end to improve it so you're able to qualify for your preferred loan type.
Then, once you have a more accurate understanding of what loans you'll qualify for given the state of your credit history, you'll be able to realistically determine what mortgage lenders will best accommodate your needs, and provide you with a loan you can manage.
The Benefits Of Pursuing Mortgage Preapproval
For many borrowers, getting preapproved for a mortgage is an extremely useful step in the home buying process. Providing a seller with a mortgage preapproval as part of your offer on a home demonstrates that you've already been deemed a lower-risk buyer by your chosen lender and are therefore a more reliable person to consider selling their home to. Finding a lender that offers mortgage preapprovals may increase your chances of early success while navigating the housing market.
What Are The Different Types Of Mortgage Lenders?
When searching for a mortgage lender, there are a few different types to choose from, so it's necessary to understand their distinctions and what each one can do.
Mortgage brokers: They work with numerous lenders to find the best mortgage rates and terms to meet your needs, but they don't loan money themselves.
Direct lenders: They loan money straight to you by using their own money or borrowing it.
Mortgage bankers: They borrow and fund the loan for you. Mortgage bankers are the most common type of mortgage lender, offering 30-year fixed-rate mortgages, 15-year fixed-rate mortgages and other options.
Secondary market lenders: These lenders buy and sell mortgages and the servicing rights from their market. Fannie Mae, Ginnie Mae and Freddie Mac are examples of secondary market lenders.
The Bottom Line: Choose A Mortgage Lender Based On Your Individual Needs
In the end, the best lender for you will depend on your unique situation. Take the time to determine what lender will be best suited to serve you as you embark on your journey to homeownership.
If you're still unsure of the right choice for your situation, consider connecting with a mortgage expert. They'll be able to provide the answers you're looking for today!
Find A Mortgage Today and Lock In Your Rate!
Get matched with a lender that will work for your financial situation.
Get Started