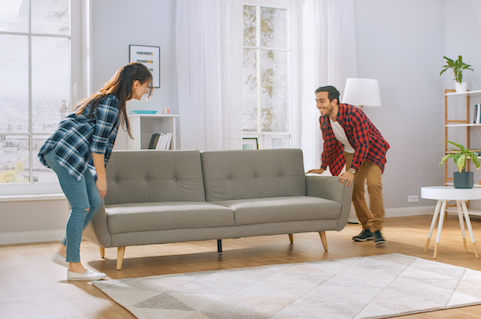 Conventional Loan: What Is It And How Does It Work?
Published on April 23, 2023
Most people think of the conventional mortgage when considering their mortgage financing options, but there are other options too. If you have great credit and a low debt-to-income ratio, conventional loans may be a good option, and they include a wide range of mortgage products to consider.
What Is A Conventional Loan?
A conventional loan is a mortgage not backed by a government agency and is provided by private lenders. It can be conforming (meaning it meets certain guidelines and loan limits) or it can be nonconforming (meaning it doesn't meet certain guidelines or limits).
Government-insured types of mortgages help protect the lender if a borrower defaults on their mortgage. Since conventional loans do not, their requirements are often include a higher credit score, lower debt-to-income ratio (DTI) and, sometimes, a larger down payment.
Loans that are backed by the government and are not considered conventional loans include:
Rocket Mortgage® does not currently offer USDA loans. While FHA, VA and USDA loans are not conventional loans, borrowers have many options for a conventional mortgage.
Types Of Conventional Loans
When considering a conventional loan, here are the options you may have:
Conforming loans: Government-sponsored enterprises (GSEs), Fannie Mae and Freddie Mac, purchase mortgage loans from lenders looking to free up their capital and fund more loans. However, GSEs only buy the loans if they meet certain guidelines. Conforming loans are those that meet those guidelines.
These loans must meet strict requirements, including a minimum credit score and maximum debt-to-income ratio. With a conforming loan, a borrower can only borrow up to the current conforming loan limit. In 2023, the limit for a single-family home is $726,200 in most areas of the U.S. and up to $1,089,300 in high-cost areas like Alaska and Hawaii. These loan limits change annually.
Jumbo loans: Jumbo loans allow people to borrower more than the conforming loan limits. Because of this, these conventional mortgages are considered non-conforming loans. Since they exceed Fannie Mae and Freddie Mac home loan limits, GSEs don't purchase these loans. As such, they usually have stricter credit score and DTI requirements and often come with higher interest rates.

Nonqualified mortgages: Nonqualified mortgages, or nonQM loans, are for borrowers who may need alternative ways to prove they can handle a monthly mortgage payment. NonQM loans don't meet the standard verification expectations established by the Dodd-Frank Act enacted in 2011. These loans may have slightly higher interest rates but more flexible underwriting requirements. Due to the increased level of risk, some lenders do not offer nonQM loans, so check with your lender if your situation warrants this type of mortgage.
How Does A Conventional Loan Work?
Conventional loans can have fixed or adjustable interest rates for up to 30-year terms. In fact, YOURgage® from Rocket Mortgage allows you to choose a term between 8 – 29 years.
The process begins with a loan application. This is the same application you'd complete for any loan type. On the application, you'll provide your personal identifying information, income, assets, liabilities and property information. The lender will also pull your credit.
Along with the application, you must provide documentation to prove you qualify for the loan. The documentation includes, but is not limited to, the following:
Proof of income with paystubs covering the last 30 days and W-2s and/or tax returns from 1-2 years
Documentation for any passive income you receive
Proof of assets with bank or investment statements
Proof of liabilities – if any information is different than what reports on your credit report, such as you have a lower balance or different monthly payment.
Employment contact information
Proof of homeowners insurance
Conventional loans work best for borrowers with good credit, usually 620 or higher, and DTI of no more than 50% - though lenders may have different requirements. You'll also be required to put down at least 3% - though it may be more if you're not a first-time home buyer or you're getting a jumbo loan. If you put down less than 20%, you'll be required to pay mortgage insurance.
Conventional Loan Requirements
Conventional loan lenders have certain requirements to qualify borrowers. When considering buying a home or refinancing with a conventional loan, make sure you meet the following criteria.
Minimum Credit Score For A Conventional Mortgage
You'll need a strong credit score to qualify for a conventional mortgage. Most lenders require at least a 620 credit score. Requirements may vary by lender and other qualifying factors.
Your credit score tells lenders how well you manage your debt and can indicate that you'll make your mortgage payments. The benefit of a higher credit score is that you may get better terms, like a lower interest rate. To help improve your credit score, pay your bills on time and pay down your debt.
Maximum Debt-To-Income Ratio For A Conventional Loan
Your DTI tells lenders how much monthly debt you have compared to your monthly income. This includes the new mortgage. Ideally, your DTI won't exceed 50%, though some lenders may prefer a lower percentage.
Minimum Conventional Loan Down Payment
Conventional loans have a down payment requirement, with the amount depends on whether you're a first-time or subsequent home buyer and the type of loan you're getting.
First-time home buyers usually need 3% down, and subsequent home buyers need at least 5% down on a home. However, a 20% down payment can eliminate the need for Private Mortgage Insurance (PMI). If you can't put down that much, you can have PMI removed once you have 20% of equity in your home. You can obtain this by paying down your loan balance of having the value in your home increase.
If you're getting a jumbo loan, you'll need a down payment of at least 10% - 20%, depending on the lender. Rocket Mortgage requires a minimum down payment of 10% - 15%.
Maximum Conventional Loan Limits
Conventional loans have different loan limits, depending if you apply for a conforming or non-conforming loan. As discussed earlier, conforming loan limits for 2023 are $726,200 in most areas and $1,089,300 in high-cost areas for a single-family home.
Conventional Mortgage FAQs
Conventional loans cover a wide range of loan products. Read the following questions and answers to learn more about conventional loans.
What Are The Current Interest Rates For A Conventional Mortgage?
The current interest rates change daily and sometimes multiple times a day. According to Freddie Mac and as of March 30, 2023, the average rate for a 30-year fixed mortgage was 6.32% and, for a 15-year loan, it was 5.56%.
The rate you get depends on current market conditions and your qualifying factors. The best way to get the lowest rate is to increase your credit score, lower your debt-to-income ratio and make as much of a down payment as possible.
Can I Refinance My Conventional Mortgage Into A Government Loan?
You can refinance a conventional loan to a government loan, such as the FHA loan. The best loan product for you will depend on your situation.
Should I Get A Conventional Mortgage?
A conventional mortgage has many benefits, such as competitive interest rates, the potential to eliminate PMI, and unique options if you need a loan above conforming limits.
However, like any loan program, there are downsides. For example, you need qualifying credit scores, low DTI and a larger down payment if you need a jumbo or non-conforming loan.
Is A Conventional Loan Better Than An FHA Loan?
Conventional and FHA loans can be ideal options when you need mortgage financing. To decide which is better for you, determine if you meet the qualifying requirements. For example, you'll typically need a higher credit score and lower DTI for conventional loans than FHA loans.
While conventional loans allow you to eliminate PMI when you have 20% equity in the home, FHA loans require you pay mortgage insurance premiums (MIPs) for 11 years or the entire loan term – depending on your down payment.
The Bottom Line
Whether you should get a conventional loan depends on your qualifying factors and your financial goals. Conventional loans have many options, including conforming and non-conforming loans. Typically, borrowers can get more competitive interest rates and terms on conventional loans versus other options, though it will depend on your financial situation, loan type and lender. If you'd like to see what you qualify for, apply for approval to see what rates and terms you might receive.