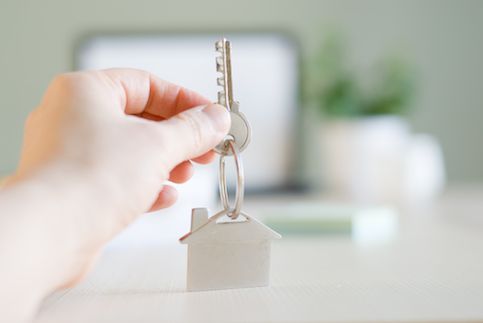 How Long Does it Take to Buy a House?
Published on December 20, 2019
Everyone's path to homeownership is different. Sometimes, it's straight and smooth; other times, it curves, takes a detour or comes riddled with bumps and obstructions. Buying a home involves business and financial transactions, but it's a deeply personal process as well. That's why no two buying experiences are the same, and neither are their timelines.
While the amount of time it takes to close on a house varies by person and by state, it generally takes 30 – 60 days from start to finish. If you're looking for an exact number, according to Ellie Mae's October 2019 Report, it's 47 days. This reflects the average time from loan application to funding for three common types of loans. Broken down even more, that's 47 days for an FHA loan, 46 days for a Conventional loan and 49 days for a VA loan. Of course, that average is for the transactional processes of the home buying experience. What's not included is the more personal stuff, like how long it takes to choose an agent or find the home. Both of these steps can prolong the process and are what makes the length of time to purchase a home so unique to each home buyer.
How Long To Buy A Home?
| | |
| --- | --- |
| Action | Average Amount Of Days To Complete |
| Get preapproved | 1 – 3 days |
| Choose a Realtor® | 1 – 14 days |
| Find a home | Time varies |
| Get an inspection | 3 – 10 days |
| Get an appraisal | 2 – 7 days |
| Loan application to close | About 47 days |
Finding A Mortgage Lender And Getting Preapproved (1 – 3 Days)
It's important to shop around for the right mortgage lender so you can make sure you're finding the best deal on your home loan. Some quick research and a few phone calls to various lenders will help you make your decision. When selecting a mortgage lender, consider the rates and estimated closing costs you're quoted, as well as the company's reputation. During this time, you can learn more about the process by bringing up these questions for your mortgage lender. Finding the right mortgage lender can be done in a day if you dedicate a few hours to the task.
During this time, you'll also want to get preapproved for a loan. This will help you understand how much you can afford to offer on a home and show that you're a serious buyer. To make sure you qualify for a loan, the lender will need to verify your income and your assets and review your credit report, so be sure to have that information handy. Depending on the lender, preapproval can take 1-3 days.
Picking A Real Estate Agent (1 – 14 Days)
There are several ways people find a real estate agent: referrals from family and friends, online listings, billboards or online searches for "real estate agents near me." Finding an agent is easy; choosing one to work with may be a little more difficult. You want to work with someone you trust to put your needs first and foremost. You also want to make sure they are licensed, know the local market and can work with your schedule.
When it comes to purchase a home, there are usually two agents involved in the transaction: a buyer's agent and a seller's agent. The buyer's agent, who would be working with you in this scenario, represents the buyer and does the work to help them find a home, make an offer and negotiate with the seller. The seller's agent puts the home on the market and negotiates the best price for their client, the seller. Having your own agent helps you navigate the home buying process and comes in handy during negotiations. Since you may not know the market as well as an agent, and since the seller's agent is working in the best interests of the seller, having your own agent helps prevent you from making a deal that only benefits the seller.
When choosing a real estate agent, don't be afraid to ask questions. Here are a few that will help you find the best agent:
How long have you worked in real estate?

What makes you different from other agents?

Will you be able to work within my schedule?

How much do you charge?

Do you have references?

Will I be working directly with you or with your team?

How will I be able to contact you?

What is the market like in the area I'm looking?

How will you go about helping me find a home?
The time it takes to find an agent will depend on several personal factors. If the agent was recommended to you or is a friend or family member, you may not have to go through interviewing and comparing him or her with others. If the home buying process scares you a bit, you may take some extra time to find an agent you trust and feel comfortable working with.
Finding Your New Home (Time Varies)
The time it takes to find your new home will depend on several factors, including:
The market. If it's a buyer's market and there are more homes for sale than there are buyers, you may have an easier time finding a home. There are plenty of houses available for you to choose from and you may be able to negotiate a lower price. If it's a seller's market – meaning there's more demand – it may take more time to find the home you want since the pickings are slim and sellers can ask for higher prices.
The location of the home. If you want to find a home in a highly sought-after location, competition can be fierce. And if the average sale price is more than you can afford, you may have to wait some time until a home within your budget goes up for sale.
Your criteria. If you have very specific ideas about your home and are adamant about getting all of your must-haves and avoiding all of the deal-breakers, it may take more time. The more specific and less flexible you are about what you want in a home, the more you limit your search pool. On the other hand, if you have no idea what you want, it may be hard to find and commit to a home that makes you happy.
Your schedule. If you're really busy and can only go to showings on the weekends, it may take you longer to find a home simply because you have limited time to search for one.
To help move the process along, there are a few things you can do. First, create a list of things you'd like in a home, as well as the absolute deal-breakers. While you don't want to be too rigid, you do want to have some idea of what to look for. This list will help your agent find homes to show you. You can also do much of your house shopping online, which allows you to search for homes from anywhere,any time. With online listings, you won't waste your time visiting a home you hate because the photos and descriptions will tell you whether the home is even worth a walkthrough.
Putting In An Offer (1 – 3 Days)
Once you find the house you want to buy, you'll work with your agent to make an offer on the home. Depending on the state, the seller may have a deadline to consider the offer and reply. For example, in California, the seller has until 5 p.m. on the third day of the buyer signing the offer. Even if there is no deadline, the sellers will typically respond within 3 days.
The seller can accept it, reject it or make a counteroffer. If the seller counteroffers, the process restarts. However, once negotiations begin, they don't typically last longer than a few days. Remember, the seller is usually just as eager to sell their home as you are to buy it and won't want to waste time.
Apply for a Mortgage with Quicken Loans®
Call our Home Loans Experts at (800) 251-9080 to begin your mortgage application, or apply online to review your loan options.
Start Your Application
Hiring An Inspector (3 – 10 days)
Once the offer is accepted and the purchase agreement is signed, you should set up an inspection of the home. While inspections are not always required by the lender, it's wise to get one done on the home before you close. Inspections can uncover red flags that may indicate a problem with the home or an issue that could become a bigger problem if it's not addressed. They can also help you understand the inner workings and quirks of your future home, so it's recommended that you attend. Inspections usually happen within a few days of contacting and hiring an inspector and take a couple of hours to perform. From there, the inspector must create a report, which can take up to a few days depending on how thorough the inspector is in their reporting.
Depending on what the inspector finds, you may need to go back to the negotiating table to rework the offer. If there are significant problems with the home, you may want the seller to fix them before you close, or lower the purchase price to help pay for the cost to fix the issues instead. These negotiations can lengthen your purchase timeline.
Getting An Appraisal (2 – 7 days)
Another thing that happens once the purchase agreement is signed is your lender will order the home appraisal. Within a couple of days, a third-party appraiser will come to the property and inspect the home to help determine its fair market value. You do not attend this inspection. The appraisal itself can take anywhere from 20 minutes to a couple of hours. But there is a second part that takes more time. After the home visit, the appraiser will compare the home to similar, recently sold homes in the area (known as comparables) and create a report. This can take anywhere from a day to a few days, depending on the appraiser. How long it takes to complete the appraisal will also depend on when the lender orders the work and how much work the appraiser has on their plate.
Your lender can only fund up to the fair market value of the home, so if the home appraises for less than the purchase price, you'll need to pay the difference out of pocket or try to negotiate a lower price with the seller.
Getting Your Mortgage Approved (30 – 60 days)
Finding a mortgage lender and getting preapproved is just the first step in the mortgage process. You'll still need final approval on the loan. While you're busy completing all of your tasks, your lender is busy taking the steps to approve your mortgage. Once you sign a purchase agreement, you'll complete a loan application that includes information on the home you wish to purchase. From there, your loan will go into underwriting, an in-depth process that verifies your income, assets, debts and information about the property itself. This is typically happening while other steps in the home buying process are taking place, including the inspection, appraisal and preparation for closing.
Though it's the lender who performs the underwriting process, you'll play a role in providing information and helping everything run smoothly. For example, you may be required to provide the following paperwork:
Income tax documents from the last two years

Bank statements from the past 30 or 60 days

W-2s, recent pay stubs or other documents that verify your employment

Gift letter and letters of explanation for large deposits

Legal documents for court-ordered debts, like child support and alimony
The underwriting process can take a few days or up to a few weeks, and you can have a big influence on just how long it takes. To help speed up the process and avoid any snags along the way, follow these tips:
Have all of your documents ready ahead of time.

Respond to questions and requests as quickly as possible.

Be upfront about your finances and any issues that could slow down the process.

Refrain from opening new lines of credit, borrowing more money or making any large purchases with a credit card while you're in the home buying process.
Closing Day (1 day)
Closing on your home happens in 1 day and takes only an hour or so at the closing table. During this time, you'll sign the final documents and pay your down payment and closing costs. To ensure a smooth closing, make sure you have everything you need. That includes:
A valid driver's license, passport or other government-issued photo ID

A cashier's check for all payments due

Your closing disclosure

Your real estate agent's and lawyer's contact information

Anything else your agent or lender tells you to bring
Once you complete closing, your home buying journey will come to an end and your adventure in homeownership will begin.
The Path To Closing
You may not realize it, but there are several things taking place as you approach your closing date. Some will involve you, while others are completed by a few teams behind the scenes. Here are a few things that take place on the path to closing.
A title company will complete a title search and property survey and issue title insurance.

You'll purchase homeowners insurance to protect your property from certain events, including burglary, fire and damage from storms.

3 days before closing, your lender will send you a closing disclosure laying out the final details of the mortgage, including your monthly payment and the amount of money due at closing.

Up to 1 day before closing, you'll attend a final walkthrough of the home to make sure the home is in the condition you agreed upon.
Reasons Why Closing Can Take Longer Than Expected
When you're so close to the finish line, a few days can feel like an eternity and any small hiccup that prolongs the process could seem like the end of the world. Watch out for these common reasons closing can take longer than expected.
The bank is selling the property.

The appraisal comes back lower than the agreed-upon sale price.

There are other liens against the property.

There are underwriting issues.

You take out a new loan or make a big purchase with your credit card.

The inspection uncovered serious problems.

There are significant errors or changes listed on the closing disclosure.
So, How Long Does It Take To Buy A House?
Keep in mind that many of these processes occur at the same time, so adding them all up will not give you the amount of time it takes to buy a house. Instead, assume it would take about 47 days if you already had your agent, knew what home you wanted to buy and didn't hit any bumps throughout the entire process. As stated above, these numbers are purely estimates, and several factors will influence the actual timeline. When it comes to purchasing a home, there's no wrong amount of time it takes as long as you feel happy with the process and comfortable with the speed. What's most important is that you find the right home for you, whether that takes less than 47 days or much more.
Apply for a Mortgage with Quicken Loans®
Call our Home Loans Experts at (800) 251-9080 to begin your mortgage application, or apply online to review your loan options.
Start Your Application