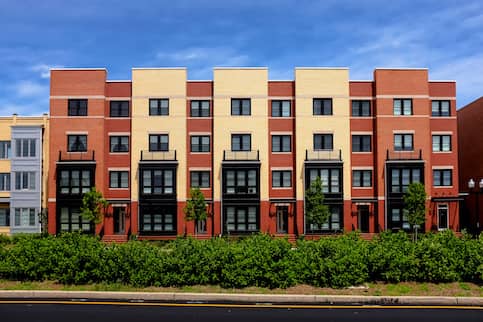 Homeowners Association (HOA) Fees: What Are They, What Do They Cover And What Happens If You Don't Pay?
Published on July 18, 2023
If you're considering whether to buy a home in a community with shared amenities, like a pool, a fitness center and a gorgeous clubhouse – amenities that may be too expensive to own yourself – you may want to consider buying a home connected to a homeowners association (HOA).
You may be wondering whether you can afford HOA fees on top of your monthly mortgage, property taxes and homeowners insurance payments.
If you're considering purchasing a house in an HOA, it's important to understand that you're buying a home and joining an HOA – and with HOA membership come HOA fees. In this article, we'll take a look at what fees you pay.
What Are HOA Fees?
HOA fees, or homeowners association fees, are dues homeowners within an association must pay. It is similar to condo owners association (COA) dues and the maintenance fee required by co-op associations.
Simply put, a homeowners association fee is typically paid monthly by homeowners living within an HOA community to maintain all properties, shared amenities and common areas within the association.
There are a variety of different services and costs that can make up your HOA fees, and the services an HOA offers will vary by community need. When looking at homes in HOA communities, compare them by member amenities and their rules and regulations to determine which HOA community best fits your needs and lifestyle.
What Is A Homeowners Association?
Homeowners associations (HOAs) are nonprofit organizations that manage master-planned communities on behalf of a community's developer. HOAs generally refer to communities of single-family, detached homes. If you move into a condo you'll likely be required to join a COA as well.
HOAs have a few intended purposes: to keep community spaces well maintained and to create and enforce rules that prohibit individual homeowners from making changes to their homes that may jeopardize or decrease everyone's property values.
What Does An HOA Fee Cover?
Every HOA community is different. To learn just how different they are, it's vital that you request a copy of an HOA's rules and regulations, commonly known as an association's Covenants, Conditions and Restrictions (CC&Rs) to avoid joining an association that is more restrictive than you can handle and to learn what kinds of services your monthly dues cover.
If you're attracted to amenities like a swimming pool, fitness center, clubhouse and landscaping, understand that you'll be contributing financially to maintaining those features.
Some of the costs that can be paid for by members' monthly HOA fee payments include:
Municipal Services
HOAs generally provide civic amenities such as trash removal, water and wastewater management and security. These services are often included in your HOA fees, which means you'll have fewer monthly bills to keep track of.
Association Insurance
Your HOA is required to carry insurance for injuries or damage sustained within the confines of the areas the HOA is responsible for maintaining, including common spaces and recreational areas or other exterior locations, like sidewalks.
You'll still need an individual insurance policy to cover everything you're responsible for. Your lender will require homeowners insurance to cover damages to your property.
Maintenance And Repairs
A part of your monthly fees will go toward maintaining and repairing common areas and shared structures, which can include:
Pest control and maintenance of common areas

Maintenance for parking lots and neighborhood roads

Care for common areas that require lawn care and landscaping

Snow removal for shared roads and parking lots
If you live in a condo, your COA is responsible for the maintenance of everything outside your unit. Remember, condo owners own everything within the interior walls of the unit. The HOA retains ownership of everything outside the unit and is responsible for all exterior maintenance.
Amenities And Services
Some HOA communities include resident access to a pool or fitness center. The HOA may also provide certain security services, which can be anything from a gate, providing ample lighting and security cameras or hiring an on-site door attendant or security guard.
High-end communities may provide concierge and valet services, luxury fitness centers staffed with trainers or a relaxing rooftop lounge. As you probably guessed, HOA fees are higher in communities with more or higher-end amenities. Your fees could exceed several thousand dollars a month.
Reserve Funds
A portion of the fees you pay will be deposited into the HOA's reserve funds, which is a savings account the association can dip into for unexpected or out-of-the-ordinary expenses. If the clubhouse roof needs to be replaced or the pipes burst in the laundry room, for example, the HOA should have enough money to cover incidents like these.
Are There Other Fees I'll Have To Pay?
In addition to the monthly HOA fee, there may be other fees and payments you'll need to make to your HOA.
Special Assessments
HOAs impose special assessments or charges to homeowners to pay for major, nonroutine maintenance and other unexpected expenses. A part of your monthly HOA fees should be kept in a reserve account to save up for planned renovations, although the amount often falls short of what's needed for major, nonroutine maintenance.
For example, when the clubhouse roof needs to be replaced but there's not enough in the reserve fund to cover the replacement, homeowners will need to make additional payments to cover the expense. If major systems like air conditioning are old and need to be replaced, the funds will come out of the association's reserves first, and if it's not enough, the remaining cost will need to be covered through special assessments.
Before you move into an HOA community, read through their rules to see if there are any guidelines on how many times the association can impose a special assessment and if there are limits to how much they ask you to pay.
Fines
If you fail to comply with HOA rules, you could be fined. The range of possible fines should be outlined in the association's CC&Rs. Thought no one would notice if you picked a shade of paint just a little different from the colors approved by the HOA? Think again.
What Happens If I Don't Pay My HOA Fees Or Fines?
Even the most lenient HOA will spring into action if you fail to pay your monthly HOA fees or pay assessed fines. The HOA depends entirely on homeowners' fees for revenue.
Immediate Consequences Of Failure To Pay
If you miss an HOA payment, you'll receive a notice that you failed to pay. In most cases, a late fee will be added to the amount you owe. If you don't pay within 30 days, your fine may increase, and your HOA privileges may be suspended, denying you access to the pool or clubhouse. After that, you can expect the HOA to take legal action.
Legal Consequences Of Failure To Pay
HOAs have a few different legal options at their disposal if you stop paying your HOA fees. The association may put a lien on your property, file a lawsuit against you or even foreclose on your home.
Lawsuits
Lawsuits are expensive for everyone. In 2012, a judge in Tampa, Florida, awarded homeowners damages plus costs in a lawsuit they brought against their HOA. They sued the association for a $2,212 special assessment they were charged for lawn care. The lawsuit went on for almost 11 years and finally settled in the homeowners' favor. Winning cost the homeowners $222,000 in legal fees – most of which the HOA was forced to reimburse.
This is an extreme example, but it teaches a lesson about how expensive litigation can get for all parties.
Liens
Failure to pay your HOA fees may result in the association putting a lien on your property. If you don't pay, you'll have a harder time selling your property because the lien will pop up in the title search. To complete the sale, you'll need to remove the lien from your title.
More often than not, a lien stays on your deed, leaving a cloud on your title that can delay or derail the sale of the home.
Some HOAs offer payment plans to homeowners who are behind on payments – but you shouldn't assume this will always be an option. It's important to read up on all of the association's rules on late payments and foreclosure before you join, so you're never surprised with a foreclosure over a $200 HOA bill.
Homeowners Association (HOA) Fee FAQs
We have answers to a few frequently asked questions about homeowners association fees.
Why are HOA fees higher in some areas?
HOA fees can vary based on amenities, services and the general cost of living in the area.
How much are average HOA fees?
HOA fees can vary widely depending on where you live, the type of home you're in and the association's amenities and services. Your monthly HOA fee may be less than $100 or more than $1,000. HOA fees typically cost $200 – $300 per month on average.
When house hunting, check the monthly fees for any HOA communities you're considering. It's not enough to be able to afford the mortgage payment. You must be able to comfortably afford your HOA fees to avoid potential fines, liens, lawsuits or even foreclosure. It's vital to factor HOA fees into your monthly housing costs.
Are HOA fees tax deductible?
HOA fees aren't tax deductible if the property is your primary residence. If you purchased the home as a rental property, you can deduct HOA fees because they're considered a rental expense. Even if you live in the rental property for part of the year, you can deduct the fees for the time the property was rented out.
What if I can't afford my HOA fees?
If you find the cost of your HOA fees to be burdensome, your best option may be to join the HOA board and start looking at areas of the budget where the HOA may be able to cut costs.
The Bottom Line: Paying HOA Fees Is Just As Important As Paying Your Mortgage
If you're seriously considering joining an HOA community, make sure you factor HOA fees into your monthly budget.
Ready to buy a home within a homeowners association? Take the first step and see what you qualify for today.