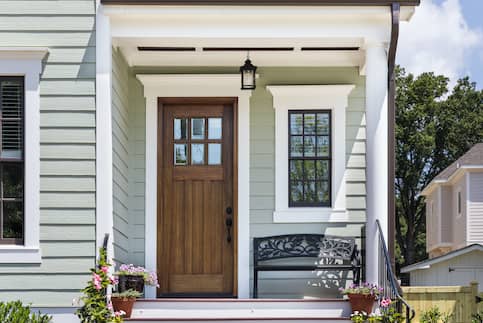 Prequalified Vs. Preapproved: The Key Differences
Published on November 16, 2023
Though the terms are often used interchangeably, prequalification and preapproval are two different steps you take when applying for a mortgage. During the prequalification stage, lenders will do a basic review of your finances and credit to see if you're ready for a mortgage.
In comparison, getting preapproved involves a more thorough review of your financial situation. It's a good idea to learn how getting prequalified vs. preapproved works, the differences between the two and when each step makes sense.
Find A Mortgage Today and Lock In Your Rate!
Get matched with a lender that will work for your financial situation.
Get Started
What's The Difference Between Preapproved And Prequalified?
Most home buyers confuse preapproval and prequalification since the terms are similar in many ways. In both cases, your lender will review your finances and estimate the type of mortgage and amount you can afford.
The main difference between prequalified vs. preapproved is that prequalification means your lender believes you will qualify for a loan based on your credit score and self-reported financial information. It's a more general estimate of your expected loan amount using minimal information.
But to get preapproved for a mortgage, you have to submit documents for your lender to review, like W-2s, pay stubs, tax returns and bank statements. Your lender will also make a hard inquiry on your credit before giving you a preapproval letter. For that reason, a preapproval is more accurate than getting prequalified.
Prequalification Meaning
Getting prequalified means your lender has done a basic review of your finances, and it's an essential first step when buying a house. During the prequalification process, your lender will ask for the following information:
Income

Assets

Debt

Revolving credit
Prequalification is faster and less accurate since you're providing the information yourself. The only information your lender will verify is your credit score.
Preapproval Meaning
Getting preapproved is a more thorough undertaking and is the next step in the home buying process. Borrowers need to provide the following financial information and documentation to get preapproved:
Pay stubs

Tax returns

Bank statements

Personal identification

More details about your assets and debts
If your lender reviews your financial information and determines you're a good candidate for a mortgage, they'll send you a preapproval letter. This letter is a document stating that the lender is tentatively willing to lend you up to a certain amount of money to buy a home.
Prequalified Vs. Preapproved Requirements
Despite any similarities between the two, getting prequalified and preapproved both come with unique sets of requirements. The following chart compares requirements of getting preapproved vs. prequalified.
| | | |
| --- | --- | --- |
| Requirements | Prequalification | Preapproval |
| Application | No | Yes |
| Credit history | No | Yes |
| Credit score | Yes | Yes |
| Loan amount | Yes | Yes |
| Interest rate | No | Yes |
Prequalified Vs. Preapproved FAQs
It's easy to confuse prequalification with preapproval since there are many similarities between the two. The information in the following frequently asked questions may help you understand the differences better.
Does prequalified mean preapproved?
There are similarities between getting prequalified and preapproved, but they aren't the same thing. Getting prequalified means your lender has reviewed the financial information you reported and believes you're likely to qualify for a mortgage.
During the preapproval stage, your lender verifies the information you've provided. So getting preapproved for a mortgage carries more weight with sellers than prequalification alone.
Am I required to get prequalified and preapproved?
You're not required to get prequalified or preapproved before you start looking at houses. But skipping these steps will most likely hurt your efforts to buy a home. Getting prequalified and preapproved shows sellers that you're financially ready to buy a house.
If you haven't gotten prequalified or preapproved, real estate agents and lenders don't know whether you can afford to buy a house or not. And most sellers won't take your offer seriously if you haven't received a preapproval letter.
What are the benefits of a preapproval vs. prequalification?
Preapproval and prequalification both have their place in the home buying process. Getting prequalified helps you gauge the type and size of mortgage you can afford. If you need some assistance with this, you can use a free, online Home Affordability Calculator.
When you get preapproved, your lender will review and verify your financial information. Once they're done, you'll receive a preapproval letter showing the amount of money you're conditionally approved to borrow. Getting preapproved shows real estate agents and sellers that you're a serious candidate to buy a home.
Take the first step toward buying a house.
Get approved to see what you qualify for.
Start My Approval
The Bottom Line
Prequalification is an informal process that involves self-reporting basic financial information to determine whether you can afford a mortgage. Getting preapproved is a more involved process in which the lender verifies the information you submit.
Going through both processes can be beneficial when you're buying a house. Getting prequalified gives you a basic idea of the type of house you can afford. But without a preapproval letter, it's less likely that real estate agents and sellers will feel confident in your offer.
If you're ready to receive your preapproval letter so you can start your home buying journey, you can begin the mortgage approval process today.