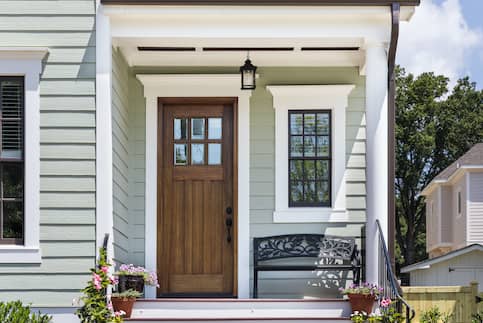 Prequalified Vs Preapproved: Key Differences
Published on January 25, 2022
As a prospective home buyer, you've likely heard that you need to get prequalification or preapproval to get a mortgage. However, these terms aren't interchangeable; they're two different steps you take to apply for a mortgage. Therefore, understanding prequalified vs. preapproved is crucial for your home buying journey.
Prequalification is an estimate of your financial capacity for a mortgage, while lenders base a preapproval on a thorough financial examination from your lender. Here is how you can get prequalified and preapproved and when each step makes sense.
What's The Difference Between Preapproval Vs. Prequalification?
Home buyers occasionally confuse prequalification and preapproval, and with good reason: the terms describe similar yet distinct situations. In both cases, the lender reviews the home buyer's finances and estimates how much mortgage they can afford. However, the two processes differ because of how the home buyer obtains an estimate and how accurate it is.
To prequalify, a borrower simply self-reports their financial information to a lender, or by putting it into a calculator. Initial approval, or preapproval, is a much more formal process. Mortgage applicants must submit documentation, and the lender will check their credit score before issuing an initial approval or preapproval letter.
Prequalification is a rough idea of your expected loan amount using minimal information. On the other hand, preapproval is more precise because it uses your W-2s, pay stubs and tax returns to determine your financial circumstances. As a result, prospective home buyers can have more confidence in a preapproval.
Prequalification
Prequalification means submitting a set of information to your lender, including:
Income
Assets
Installment debt (from loans)
Revolving credit balance (from credit cards and lines of credit)
Credit score
Prequalification is faster and less accurate because the borrower provides this information themselves. The lender doesn't verify this information, except occasionally for credit scores. This last piece is significant because conventional loans have a minimum credit score threshold of 620, while a score of 580 can still qualify you for an FHA loan.
Your lender will then use the information you submit to calculate your debt-to-income ratio (DTI). This comparison between your income and monthly debt payments allows your lender to estimate how much of a mortgage payment you can afford. Finally, you'll receive a prequalification letter stating the loan you qualify for, your maximum loan amount and how long before the prequalification expires.
Preapproval
Also called initial approval, preapproval results in an initial approval letter you can show real estate agents and home sellers to demonstrate your ability to buy a home. Obtaining preapproval requires submitting extensive financial documentation to your lender. For example, you'll submit the following:
W-2 and 1099 forms
Pay stubs
Tax returns from the past 2 years
Bank statements from the past 2 months
Small business documentation, if applicable
Personal identification
Documentation of your assets and debts
Preapproval standards vary by lender, so it's wise to ask yours about their specific process. For example, your lender might provide preapprovals for free with an expiration of 60 days. In addition, some lenders may issue preapproval letters without verifying your information.
If your lender approves you after reviewing your information, they'll provide an initial approval letter stating their willingness to provide a mortgage of a specific size. For instance, you might receive approval for a $300,000 mortgage, meaning real estate agents and sellers can confidently negotiate with you regarding a home in that price range.
Verified Preapproval
Our colleagues at Rocket Mortgage® offer Verified Approval1 to show real estate agents and sellers a borrower can afford a mortgage. Rocket Mortgage uses your income, assets and credit history to grant this.
Your Verified Approval Letter states that you've passed a credit check and have the necessary income to afford a mortgage of a specific size. As a result, it demonstrates your financial backing from Rocket Mortgage, meaning you have reliable financing to solidify an offer you make on a home. Generally, your Verified Approval Letter lasts 90 days, after which you'll need to obtain approval again if you haven't yet found a house.
See What You Qualify For
Congratulations! Based on the information you have provided, you are eligible to continue your home loan process online with Rocket Mortgage.
If a sign-in page does not automatically pop up in a new tab, click here
Prequalified Vs. Preapproved, At A Glance
This list compares the requirements between prequalification and preapproval.
| | | |
| --- | --- | --- |
| | Prequalification | Preapproval |
| Application needed | [ ] | X |
| Credit history check | [ ] | X |
| Credit score needed | X | X |
| Loan estimate provided | X | [ ] |
| Interest rate offered | [ ] | X |
Can I Skip The Prequalification And Preapproval Processes?
Skipping the prequalification and preapproval process will hinder your efforts to buy a home. Both of these conditions are signals from your lender of your financial capabilities as a buyer. In other words, without prequalification or preapproval, you may not be able to assure real estate agents, sellers, and lenders that you're a serious buyer and can afford a mortgage or pay for a home. As a result, sellers will hesitate to take your offers seriously, especially in a seller's market, where dozens of buyers with solid financial backing compete for houses.
Take the first step toward buying a house.
Get approved to see what you qualify for.
Start My Approval
Which Process Is Right For Me?
It's a good idea for those in the earliest stages of the home buying process to seek prequalification. Since you're likely still ironing out your mortgage budget and pulling together financial information, prequalification can help you understand what type and size of mortgage you can get. You can also estimate your financial capabilities for purchasing a home with our Home Affordability Calculator.
Conversely, if you have your financial documentation on hand and need a lender's backing to start making offers on homes, preapproval is likely better for you. Once the lender reviews your information, they'll give you a letter with a commitment to loan you a specific amount of money for a mortgage. This letter will let real estate agents and sellers know you're a bona fide buyer.
The Bottom Line: Prequalification Is For You, Initial Approval Is For Everyone Else
Prequalification is an informal process in which you self-report raw numbers to know if you can afford a mortgage. On the other hand, preapproval is a lender's official endorsement of your financial abilities. Without the commitment from a lender's preapproval, it's unlikely that real estate agents and sellers will take you seriously as a buyer. However, initial approval isn't automatic. You'll need extensive financial documentation to prove to your lender that you can handle a mortgage.
If you're ready to move beyond prequalification and acquire initial approval, apply online now so you can start shopping for a new home.
1 Participation in the Verified Approval program is based on an underwriter's comprehensive analysis of your credit, income, employment status, assets and debt. If new information materially changes the underwriting decision resulting in a denial of your credit request, if the loan fails to close for a reason outside of Rocket Mortgage's control, including, but not limited to satisfactory insurance, appraisal and title report/search, or if you no longer want to proceed with the loan, your participation in the program will be discontinued. If your eligibility in the program does not change and your mortgage loan does not close due to a Rocket Mortgage error, you will receive the $1,000. This offer does not apply to new purchase loans submitted to Rocket Mortgage through a mortgage broker. This offer is not valid for self-employed clients. Rocket Mortgage reserves the right to cancel this offer at any time. Acceptance of this offer constitutes the acceptance of these terms and conditions, which are subject to change at the sole discretion of Rocket Mortgage. Additional conditions or exclusions may apply.
Apply for a mortgage today!
Apply online for expert recommendations with real interest rates and payments.
Start Your Application