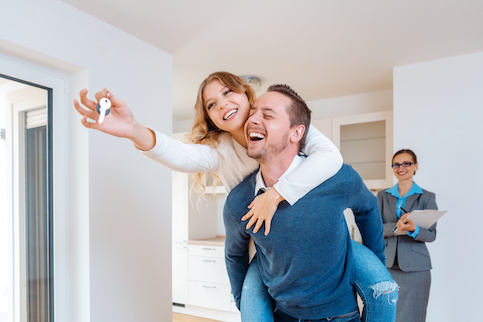 What To Expect When Closing On A House: A Complete Guide
When a seller accepts your offer, one stage of the home buying journey ends and the next one begins. Closing on a house means negotiating with the seller, paying for an inspection and an appraisal and receiving underwriting approval from your lender. Because closing is a complex process that usually takes about a month and a half, it can be stressful. However, understanding what's coming next can help you be proactive and prepared. Here's how to make it to closing day without a hitch.
What Does Closing On A House Mean?
Closing on a house means completing the real estate transaction allowing you to own the home. To close on a home, the seller and buyer are present, along with relevant parties such as real estate agents, attorneys, title insurance agents and bank representatives.
During closing, the buyer pays the necessary closing costs. In addition, the buyer and seller sign the required documentation to complete the home sale. Because multiple parties have tasks to complete, closing usually takes a couple hours.
See What You Qualify For
Congratulations! Based on the information you have provided, you are eligible to continue your home loan process online with Rocket Mortgage.
If a sign-in page does not automatically pop up in a new tab, click here
What Happens At Closing?
At closing, the buyer will usually get the keys to the property at closing, and the deed will be transferred to their name. Before that, all remaining closing costs must be paid, and all the necessary paperwork must be signed.
First, the buyer shows their identification and provides payments for loan origination, title fees and escrow with a certified check or a cashier's check. Then, the seller signs the documents that make the buyer the new homeowner. Finally, the buyer signs documentation to verify the closing costs, establish their mortgage and receive the deed to the home.
How Long Does It Take To Close?
The word "closing" can refer to closing day or the general closing process. Specifically, closing day takes 1.5 – 2 hours. On the other hand, the average closing process takes about 45 days from start to finish.
How Much Does It Cost To Close On A House?
Closing costs are typically 3% to 6% of the home's purchase price. For example, say you're buying a $300,000 home. With this price, you can expect to pay between $9,000 and $18,000 for closing costs. Remember, you'll pay a portion of the costs during the closing process instead of the entire payment on closing day.
Closing costs cover numerous services and expenses associated with closing, including:
Loan origination fees
Appraisal costs
Property taxes
Attorney fees
Title search fees
Down payment
Escrow deposits
HOA fees
Discount point payments
Homeowners insurance
Mortgage insurance premiums (MIP) for FHA loans
Steps To Closing On A House
Now that you know what it means to close and how much it costs, here are the steps to get to the closing table after the seller accepts your offer:
1. Escrow
Generally, homeowners pay their property taxes, homeowners insurance and mortgage insurance premiums through an escrow account. Your lender will manage your escrow account for you. As a result, some of your closing costs fund the escrow account on closing day.
2. Title Search
Next, your title company will perform a property title search to ensure you'll own the home free and clear. In other words, the company researches the home's history to verify that no other parties, such as former owners or mortgage lenders, can dispute your ownership of the home. Because liens and unpaid property taxes can create issues that carry over to the current owner, it's vital that the property title report shows that you can close without a problem.
3. Property Appraisal
Unlike a home inspection, an appraisal is mandatory for your lender to provide a mortgage. The appraiser will put a price tag on the home that the buyer, seller and lender will use for negotiations. As a result, if your offer is above the appraised value, you might need to provide a cash payment to the seller to offset the discrepancy. Remember, you can sweeten your initial offer by promising an appraisal guarantee to preempt this scenario.
4. Home Inspection
While not required, a home inspection helps you understand the home's condition and can point out defects that you wouldn't have caught otherwise, such as a leaky roof or faulty appliances.
5. Homeowners Insurance
One part of your closing costs is homeowners insurance. Your lender will require it to protect their investment (the mortgage and the value of your home). Homeowners insurance covers your house, providing payments to fix damage from storms, fire and other hazards. In addition, the policy will cover stolen property and liability in case someone becomes injured at your house.
6. Renegotiation
The results of the appraisal and inspection can affect negotiations between the buyer and seller. Therefore, closing is the buyer's last opportunity to pursue seller concessions. Concessions are expenses the seller voluntarily pays to sweeten the deal for the buyer. For example, the seller might purchase a discount point to lower the buyer's interest rate or pay for the buyer's loan origination fee. Concessions are less likely to occur in a seller's market, where competition is high between buyers.
7. Underwriting
Even if you're preapproved, your mortgage application must go through underwriting. This process, which technically includes the appraisal, is where your lender reviews your financial information to evaluate your worthiness as a borrower. Providing necessary documentation as quickly as possible helps shorten underwriting, which can otherwise drag out closing.
In addition, because mortgage interest rates fluctuate, your estimated rate can change between the preapproval and your clearance to close. Fortunately, you can purchase a rate lock for 0.25% to 0.5% of the loan amount. This tool freezes your interest rate at the rate you first received it, protecting you from market volatility for a certain number of days.
8. Disclosure Of Closing Costs
Once your lender finishes underwriting, they'll send you a Closing Disclosure. This document itemizes every closing cost, including your origination fee, appraisal and property taxes. To ensure buyers have sufficient time to review the mortgage contract, federal law mandates a 3-day waiting period between when the buyer receives the disclosure and closing day.
Remember, the real estate market shifts daily, so it can take time underwriting to confirm the costs and rates for closing. In addition, your lender verifies your income and other financial information during this time, which can impact how much you pay.
9. Final Walkthrough
Generally, the final walkthrough takes place the day before closing day for the buyer to get an accurate idea of the home's condition. In addition, it gives the buyer one last chance to negotiate or back out if they spot any problems or damage to the home.
10. Sign Paperwork And Pay Closing Costs
The first part of closing day involves paying the relevant closing costs and ensuring the seller receives payment for the home. Then, the property transfers to the buyer. Both the buyer and seller sign paperwork verifying the transfer of property and the buyer's commitment to repay the mortgage.
Tips For A Smooth Closing Process
Closing is fraught with tensions and complexities. Use these strategies to avoid disaster during the closing process:
Prepare your documents: Being prepared can solve many problems before they arise. Therefore, keep the common closing documents at hand for the big day. These include your loan application, mortgage note and proof of homeowners insurance.
Avoid financial shakeups: The closing process is a time to maintain financial stability because your lender can cancel your loan approval if they detect problems. Therefore, it's best to wait to change jobs, buy a car or take out a loan until after you've closed. Otherwise, you could jeopardize your mortgage, hindering the closing process.
Understand what you're signing: It's an excellent idea to ask all your questions during your homebuying journey. From the first time you view your home until you're sitting at the closing table, understanding what's happening is vital for buyers. You're signing legally binding documentation and taking on an expensive mortgage; therefore, don't feel afraid to get every last bit of clarity you need. Remember, you can consult a real estate attorney to review your closing documentation if it doesn't make sense or you're unsure if the contract is a good deal.
Watch out for scams: Stay vigilant throughout the closing process, especially about wire fraud. This scam involves a thief impersonating a real estate agent or mortgage officer through a hacked account. The thief sends the homebuyer an email urging them to wire their closing money to a new bank account. Unfortunately, you can't get your funds back once you wire the money. As a result, it's best never to send your financial information through email or click on links in emails from unfamiliar senders.
FAQs About Closing On A House
Here are the answers to some frequently asked questions to supplement your knowledge on closing day.
What should I avoid when closing on a home?
When closing on a home, it's best to avoid activities that could change your financial status, such as switching jobs, making a massive purchase, or applying for another loan. These actions can change your credit score or debt-to-income ratio (DTI), which are factors that qualify you for a mortgage and certain amount of money. Doing any of these activities could halt the underwriting process and could possibly cause the deal to fall through. In addition, avoid wire scams by staying in close contact with your real estate agent and not engaging with suspicious emails.
How long after closing on a house can I move in?
Your move-in date after closing depends on your negotiations with the seller. For example, the seller might agree to vacate before closing, meaning you can move in after closing day. On the other hand, the seller might prefer a 30- or 60-day window after closing to move out.
Is closing on a house stressful?
Closing on a home is a multistep process involving numerous parties, each with a crucial role to play. In addition, there's a lot at stake financially for the buyer and seller. Therefore, buyers who try to close without understanding the process can become stressed, especially if they don't provide the documentation or payments when they're due. With any big purchase, there may be stressful situations, but along with that comes the excitement of owning a home.
The Bottom Line: Closing On A House Is The Last Hurdle
Heading toward closing day means you've reached the final step in the home buying journey. It's key to remain patient while your lender asks for additional documentation and the underwriting, appraisal and inspection take place. As a result, asking lots of questions and being prepared are the best strategies for making it through smoothly. There may be a few bumps in the road, but focusing on the goal of homeownership can help you stay positive.
Tomorrow might not be closing day for you, but you can kickstart your journey today by filling out a mortgage application.