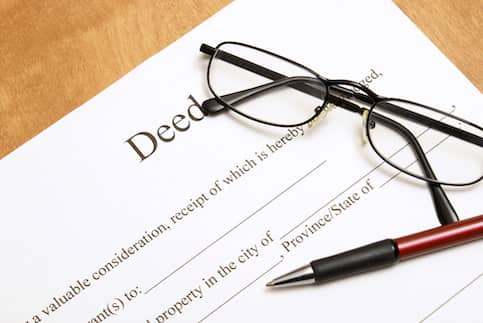 House (Property) Deeds: Everything You Need To Know
Published on June 17, 2022
Disclosure: This post contains affiliate links, which means we receive a commission if you click a link and purchase something that we have recommended. Please check out our disclosure policy for more details.
If you've ever bought a home, then you're probably already at least somewhat familiar with house deeds. A house deed is the legal document that transfers ownership of the property from the seller to the buyer. In short, it's what ensures the house you just bought is legally yours.
But not all house deeds are the same. They can fall into a variety of different categories, and there are certain nuances to each that you may not be familiar with. This article will review what a house deed is and how it affects your property rights as a homeowner.
What Is A House (Property) Deed?
A house deed (also called a property deed) is a legal document that transfers ownership from the former owner (the grantor) to the new owner (the grantee). House deeds are typically drawn up by a real estate attorney and in most states, the grantor will be required to get the document notarized. The grantor is also responsible for ensuring the deed is delivered to the grantee.
Before the grantee accepts the deed, their attorney will perform a title search to ensure that the property is free of liens. The transaction must also be filed with the recorder's office in the county where the property is located.
See What You Qualify For
Congratulations! Based on the information you have provided, you are eligible to continue your home loan process online with Rocket Mortgage.
If a sign-in page does not automatically pop up in a new tab, click here
The Importance Of A Deed To A House
It's important to have a solid understanding of what a property deed is before you purchase your home. House deeds are the primary way that a homeowner can indicate true ownership of their home to protect themselves in the event of a property dispute. During a real estate transaction, both the buyer and the seller should verify that the deed was completed correctly to reflect the transfer of ownership.
What Does A House Deed Look Like?
At this point, you may be wondering what your house deed will physically look like and what specific details it will contain.
In most cases, this document contains the following information:
A statement indicating that it is a deed
A description of the property being sold
The names and addresses of the grantor and the grantee
The signature of the individual selling the property
Since a house deed doesn't always require a lot of information, it can be quite short. But it may contain additional material about any conditions that go along with the title.
House Deed Vs. Title
In a lot of ways, a house deed and house title are very similar, which can cause confusion. However, understanding the difference between these two terms will make it easier to navigate the home buying process.
A title refers to the ownership rights attached to real property. When you hold the title to a home, you have legal rights and responsibility for that home. A title can be held by one individual or several individuals. It can also be held by businesses and corporations.
In comparison, a deed is a legal document that transfers the title from one person to another. It is the document signed by the grantor that transfers the title to the grantee.
The main difference between the two is that a deed represents the right to claim ownership of a property, whereas the title describes who actually owns that property.
Types Of House Deeds
In general, most deeds are either official or private. Official deeds are performed in a court or some type of legal proceeding. Most home deeds are private and take place between individuals and businesses.
Here is an overview of some of the main types of deeds you'll encounter:
General Warranty Deeds
A general warranty deed offers the most protection for the grantee because it ensures that they have a clear right to the property. With this type of deed, the grantor ensures that there are no liens or easements against the property and that if there are, the grantee will be compensated accordingly.
A general warranty deed differs from other deeds in its guarantee that there are no prior claims to the property. By comparison, quitclaim deeds and special warranty deeds make no such assurances.
Special Warranty Deeds
A special warranty deed guarantees a certain amount of protection for the grantee but not as much as a general warranty deed. That's because a special warranty deed only guarantees that there are no problems with the title during the grantor's ownership period.
But the grantor doesn't make any promises about the condition of the title before they owned the property. This type of deed is often used when a home has been foreclosed on and the bank is selling the property to a new owner.
Quitclaim Deeds
A quitclaim deed is also sometimes referred to as a warranty deed. It offers the grantee the least amount of protection, doesn't make any promises regarding the title and offers no legal recourse if there is a problem.
Special Purpose Deeds
And finally, special purpose deeds are often used when the deed is owned by someone in an official capacity. These are similar to quitclaim deeds in that they offer no real protection for the grantee.
Here are a few different types of special purpose deeds:
Executor's deed: This type of deed is used when someone dies and they have a will. The estate's executor will disperse the assets and use this deed to transfer the property to the grantee.
Tax deed: A tax deed is used when a property is sold due to delinquent taxes.
Sheriff's deed: This deed gives ownership rights to a buyer at a sheriff's sale. This typically occurs when the home has been foreclosed upon.
How To Get The Deed To Your House
If you're in the process of purchasing a home, you ought to receive the deed to your new house at the time the title gets transferred to you. This document will be for you to keep, but if you need an additional copy of your house deed once you officially own the home, you can request one anytime through your county recorder's office.
How To Make Changes To Your Deed
There may come a point when you need to make changes to your deed. For instance, if you purchased a property with another individual and that individual dies, you may want to change the deed.
Another instance in which a deed may need to be changed is if you refinance your home. In a refinance, the lender will record a new deed of trust against the property.
Deeds can also sometimes need to be changed due to clerical errors or due to a change in ownership. Either way, there is a specific process that must be followed to make changes to your deed.
Deeds are public documents, so you may need to present the changes you want to make in court. Assuming these changes are approved, you'll need to document these changes with the Recorder of Deeds in your county.
The Bottom Line
A house deed is a document that identifies the new property owner. There are many different types of deeds and as the buyer, a general warranty deed is going to offer you the most protection. Every time a real estate transaction takes place, whether a purchase or refinance, a deed is recorded to indicate the owner's claim to the property.
Hopefully, this article has cleared up some of the biggest questions you have about house deeds. Keep in mind that it's always a good idea to consult with a real estate attorney first to receive personalized advice about your situation.
If you're looking to buy or refinance a home, get prequalified with Rocket Mortgage® today.