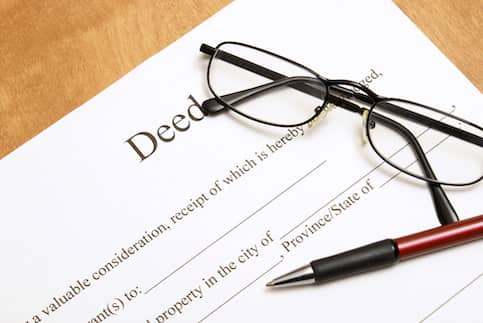 House And Property Deeds: A Home Buyer's Guide
Published on November 22, 2023
If you've been through the home buying process, you're probably already at least somewhat familiar with house deeds. A house deed is the legal document that transfers ownership of the property from the seller to the buyer. In short, it's what ensures the house you just bought is legally yours.
But not all house deeds are the same. They can fall into a variety of different categories, and there are certain nuances to each that you may not be familiar with. This article will review what a house deed is and how it affects your property rights as a homeowner.
What Is A House Deed Or Property Deed?
A house deed is a legal document that transfers ownership from the former owner – legally referred to as "the grantor" – to the new owner – or "the grantee."
House deeds, also referred to as property deeds or real estate deeds, are typically drawn up by a real estate attorney. In most states, the grantor will be required to get the document notarized. The grantor is also responsible for ensuring the deed is delivered to the grantee.
Before the grantee accepts the deed at closing, their attorney will perform a title search to ensure that the property is free of liens, debts and encumbrances. The deed, along with the grantee's mortgage lien, must also be filed with the recorder's office in the county where the property is located.
While putting together a deed may be the work of a real estate attorney, this service is also often provided by title companies.
Why Is A House Deed Important To Property Ownership?
House deeds are the primary way that a homeowner can definitively demonstrate ownership of their home in the event of a property dispute. During a real estate transaction, both the buyer and the seller should verify that the deed was completed correctly to reflect the transfer of ownership.
What Does A House Deed Look Like?
At this point, you may be wondering what your house deed will physically look like and what specific details it will contain.
In most cases, this document contains the following information:
A statement indicating that it is a deed

A description of the property being sold

The names and addresses of the grantor and the grantee

The signature of the individual selling the property

Proof of certification by the Property Clerk, to show it's been recorded in public records
Below is an example of a property deed: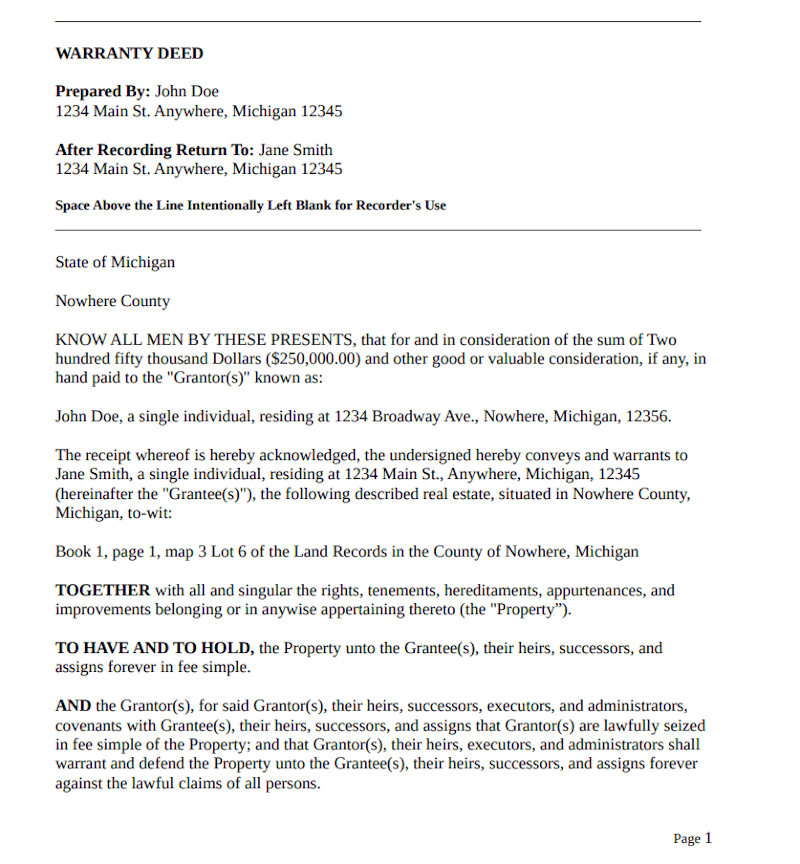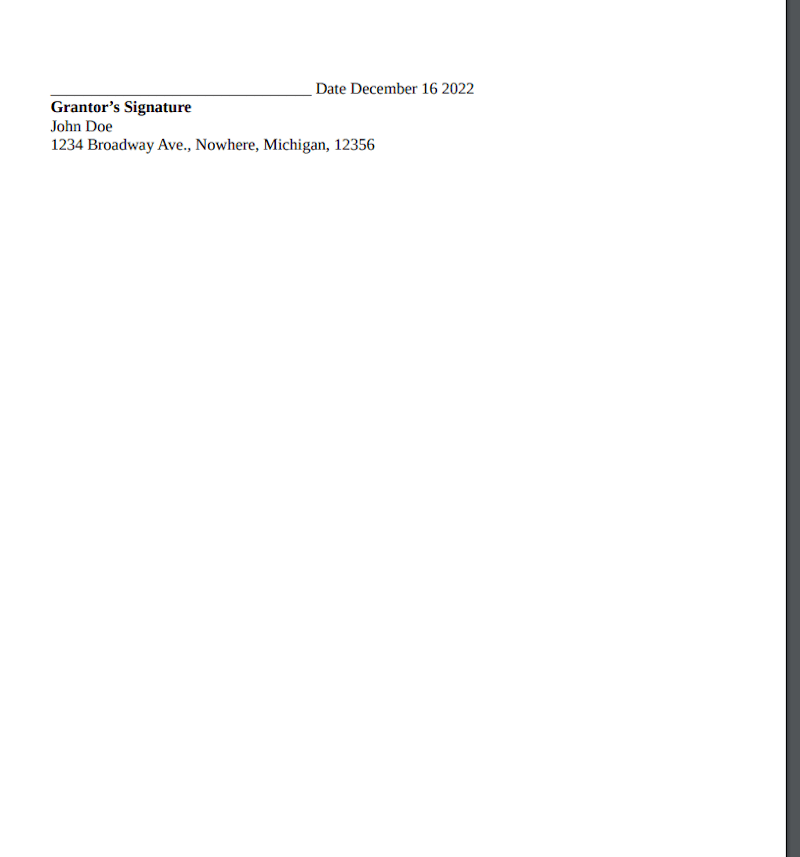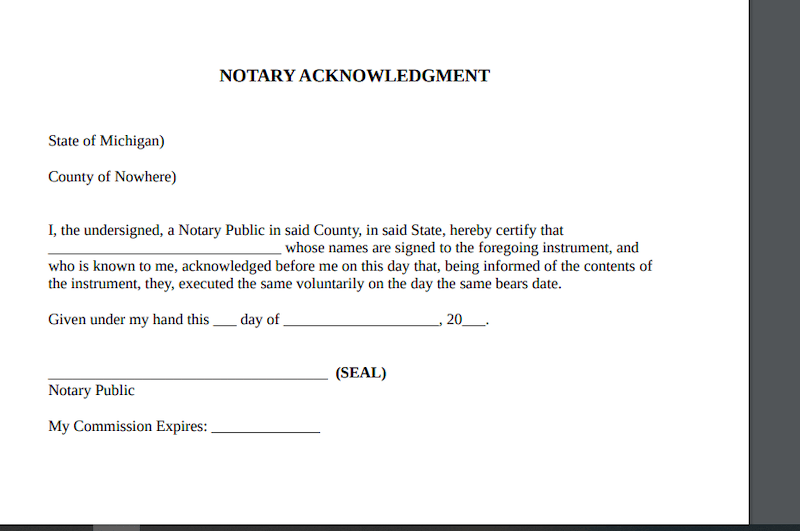 Since a house deed doesn't always require a lot of information, it can be quite short. But it may contain additional material about any conditions that go along with the title.
What's The Difference Between A Property
Deed Vs. Title?
The difference between house deed and house title can cause confusion. Let's go over each to clear things up.
How Does A
Deed Work?
A deed is a physical document that transfers the title from one person to another. It is the document signed by the grantor that transfers the title to the grantee.
For example, let's say you want to refinance your home. You'll need to produce the deed to demonstrate ownership of the home that will be used to secure the refinance loan. That's a simple matter of going through the documents you received when you purchased the home or ordering a certified copy from your municipality's Property Clerk.
How Does A
Title Work?
Title refers to the broader legal concept of the property rights and responsibilities that come with the ownership of real property. Title to property can be held by one or several individuals. It can also be held by businesses and corporations.
Let's think about a different type of situation. Suppose you were involved in a dispute with your closest neighbor because they have a rock band that plays in their backyard into the wee hours, weather permitting, which is preventing you from getting any sleep.
If this conflict grows into a lawsuit, a judge will need to decide whose rights (or title) will be enforced. They'll consider the character of the area in which you live – what's acceptable in a rural environment might not be in an urban or suburban neighborhood, which neighbor was there first, the applicable zoning and state laws – before rendering their decision.
That's a question involving real property law deriving from title.
Find A Mortgage Today and Lock In Your Rate!
Get matched with a lender that will work for your financial situation.
Get Started
Types Of House Deeds
In general, there are two main types of deeds: official and private. Official deeds transfer ownership in a court or some type of legal proceeding, while most home sale deeds are private and take place between individuals and businesses, such as a homeowner selling their home to an individual buyer.
Here is an overview of some of the main types of deeds you'll encounter:
General Warranty Deeds
A general warranty deed offers the most protection for the grantee because it ensures that they have a clear right to the property. With this type of deed, the grantor ensures that there are no liens or previously undisclosed easements against the property and that if there are, the grantee will be compensated accordingly.
A general warranty deed differs from other deeds because it guarantees that there are no other claims to the property. Home buyers should ask sellers to purchase title insurance for the benefit of the new owners to back up their warranty. This way, they don't have to track the prior owner down to defend them should a claim arise.
By comparison, quitclaim and special warranty deeds make no such assurances.
Special Warranty Deeds
A special warranty deed guarantees a certain amount of protection for the grantee but not as much as a general warranty deed. That's because a special warranty deed only guarantees that there are no problems with the title during the grantor's ownership period.
But the grantor doesn't make any promises about the condition of the title before they owned the property. Banks generally offer this type of deed when they've become the owner of the property through foreclosure and are now selling the property to a new owner.
Quitclaim Deeds
A quitclaim deed is also sometimes referred to as a warranty deed. It offers the grantee the least amount of protection, doesn't make any promises regarding the title and offers no legal recourse if there is a problem.
This type of deed is commonly used by divorcing spouses. The spouse leaving the home will file a quitclaim deed to publicly make clear that they no longer have an interest in the property.
Special Purpose Deeds
And finally, special purpose deeds are often used when the deed is owned by someone in an official capacity. These are similar to quitclaim deeds in that they offer no real protection for the grantee.
Here are a few different types of special purpose deeds:
Executor's Deed
When a property owner passes away, their will enters probate and an executor is appointed to oversee the estate. However, an executor would be unwilling to make any warranties on the deed they offer to a home buyer or an heir.
For this reason, the executor's deed was created. The estate's executor will distribute the assets and use this deed to transfer the property to the estate's heir(s) without any warranties as to title.
Tax Deed
A tax deed is used when a property is sold by a municipality due to foreclosure for unpaid property taxes.
As in the Executor's Deed example, the municipality offers this type of deed to indicate that the deed is being issued by someone in their official capacity. They have no personal knowledge of the property or its title and they're making no warranties.
Sheriff's Deed
This deed gives ownership rights to a buyer at a sheriff's sale, usually at auction. This typically occurs when the home has been foreclosed on for unpaid property taxes.
Again, this type of deed makes no warranties regarding title.
How To Get The Property Deed To Your House
If you're in the process of purchasing a home, you'll receive a certified copy of the deed to your new house at the time the title gets transferred to you. This document will be for you to keep.
If you need an additional copy of your house deed once you officially own the home, you can request a notarized and certified copy of your deed through your county recorder's office.
Ready to refinance?
See recommended refinance options and customize them to fit your budget.
Get Started
How To Make Changes To Your House Deed
There may come a point when you need to make changes to your deed. For instance, if you purchased a property with another individual and that individual dies, you may want to change the deed. Another instance in which a deed may need to be changed is if you refinance your home. In a refinance, the lender will record a new lien against the property.
Deeds can also sometimes need to be changed due to clerical errors or a change in ownership. Either way, there is a specific process that must be followed to make changes to your deed.
Deeds are public documents, so you may need to present the changes you want to make in court. Assuming these changes are approved, you'll need to document these changes with the Recorder of Deeds in your county.
The Bottom Line: The Deed To Your House Is Proof Of Legal Ownership
A house deed is a document that identifies the new property owner. Every time a real estate transaction takes place, whether a purchase or refinance, a deed is recorded to indicate the owner's claim to the property.
Ready to start the home buying process? Apply online now to see what rate and terms you qualify for. You can also give us a call at (888) 452-0335.