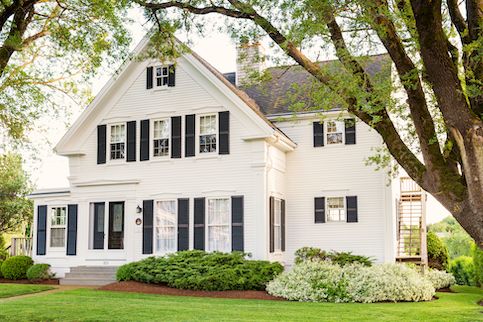 FHA Appraisal Guide And Checklist: What You Need To Know
Published on November 19, 2023
An FHA mortgage appraisal is a type of home appraisal completed for Federal Housing Administration (FHA) loans. FHA appraisals are considered more rigorous than standard home appraisals. Whether you're refinancing or buying a house with an FHA loan – or you're a seller and your buyer is using an FHA loan – understanding FHA appraisals is key.
We'll go over FHA appraisals, including why they have stricter requirements and the safety hazards that may result in a home failing an appraisal. We'll also help identify steps you can take as a buyer, seller or refinancer to help clear the hurdle of stricter requirements.
What Is An FHA Appraisal?
An FHA appraisal is very detailed and is performed by an FHA-approved appraiser. If you're buying a home with an FHA loan or applying for an FHA refinance, you need an FHA appraisal. An FHA appraiser assesses everything a traditional appraiser does, like confirming the market value of a home and evaluating the property's condition, but they also ensure the property meets the FHA's required safety and livability standards.
Lenders are more willing to offer FHA home loans to borrowers with past credit issues or limited finances because the loans have the backing of the Federal Housing Administration. FHA loans are an incredible resource that allow first-time home buyers to benefit from the loan's flexible credit requirements and lower down payments.
Because the FHA guarantees your FHA mortgage when you're ready to buy a new home or refinance your existing mortgage, the agency wants to ensure that borrowers using their loan product to unlock the door to homeownership occupy safe, livable homes. The FHA's strict appraisal process helps ensure borrowers are purchasing properties that are safe, affordable and worth their investment.
Although the FHA appraisal guidelines have developed a reputation for being unnecessarily strict, the standards have been relaxed. Today, most FHA appraisal requirements are easy to meet or relate to major hazards most home buyers and homeowners shouldn't ignore under any circumstances. An FHA appraisal includes a property inspection, but it isn't as comprehensive as a standard home inspection and typically only points out readily observable problems.
FHA Appraisal FAQs
An FHA appraisal doesn't need to be intimidating. Learn more about the guidelines to better prepare yourself and your home. We'll take a look at some common questions from buyers and sellers.
Why do I have to get an FHA appraisal?
You need an FHA appraisal to purchase a home with an FHA loan. An FHA appraisal helps confirm the value of a home and ensure that the property meets the FHA's minimum safety standards. Any home purchased or refinanced with an FHA loan – except for some FHA Streamline refinances – will require an FHA appraisal.
Because FHA loan requirements are often easier for borrowers to meet, the FHA wants to verify that the home you're buying is high quality. FHA loans don't require a high credit score and have a lower down payment requirement than most conventional mortgages. As a result, these benefits come with slightly stricter appraisal requirements.
What happens if the FHA appraisal uncovers problems?
The appraiser will note any problems they uncover in the inspection report. The FHA mortgage loan underwriter will consider the appraiser's findings and decide whether the problems identified in the report disqualify the home for an FHA loan. If the underwriter doesn't approve the loan, the FHA allows a homeowner 120 days to make necessary repairs and bring the property up to the FHA's standards. Repairs that affect an occupant's health, safety and the livability of a property must be completed before closing.
Can the buyer make repairs to the home to pass the FHA appraisal?
The seller is responsible for making repairs after an FHA appraisal. However, buyers with FHA loans can exercise a few options. One solution is to switch from a standard FHA loan to an FHA 203(k) loan. This common strategy folds repair costs into the loan.
Buyers interested in fixer-uppers can choose a 203(k) loan to save themselves from inconveniences and delays. If you want to refinance a home the FHA may deem hazardous, consider an FHA 203(k) refinance.
*Our friends at Rocket MortgageⓇ don't offer FHA 203(k) refinances at this time.
How long does an FHA appraisal take?
Usually, the appraisal happens within a few days to a week after the seller accepts the buyer's offer and the mortgage lender is notified. Of course, this timeline will depend on the lender's process and the FHA appraiser's schedule. Due to the rigorous nature of the assessment, depending on the size of the property and the availability of comparable homes, an FHA appraisal typically takes several hours to complete.
How long does it take to close an FHA loan after the appraisal?
Once your FHA appraisal is complete, you must close on your loan within 180 days. The original appraiser will return to verify the repairs and update the property to its original value.
The FHA requires the original appraiser to verify the repairs and update the property's value. If the appraiser isn't available or the process takes more than 180 days, a new appraisal must be ordered.
Who pays for the FHA home appraisal?
As with most types of home loans, the buyer covers the appraisal's cost. The final price will vary based on specific circumstances, such as owning a large house in a high-cost area or owning a house with unique home features that are hard to find comps for. And factors such as a home's location and the condition of the property will also impact the final price. Typically, an appraisal can cost anywhere from $500 to $2,000.
Your lender will add this charge to your closing costs, which you pay when you finalize the loan and give the lender your down payment.
The Bottom Line: Look Ahead To Keep FHA Appraisals From Throwing A Wrench In Your Plans
Whether you're buying, selling or refinancing, prepare and plan around a scheduled FHA appraisal. Knowing the guidelines for FHA loans can save you a lot of time during the closing process. Buyers and sellers can work together to help ensure a property satisfies the FHA's appraisal standards.
Remember, if a problem is discovered during the FHA appraisal, you'll have an opportunity to fix the problem so the loan can get approved. And if you're a buyer, in some cases, it may make sense to consider switching to another loan type.
Have questions about how an FHA loan can affect your home loan or refinance? Apply for a mortgage today or talk to one of our Home Loan Experts about your options. You can also call us at (855) 900-1623.