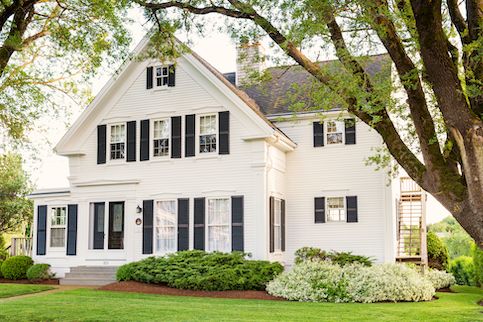 FHA Mortgage Appraisals: What You Need To Know
Published on June 15, 2021
FHA mortgage appraisals are more rigorous than standard home appraisals. Whether you're looking at refinancing to an FHA loan, buying a house with an FHA loan or even selling to someone who will be using an FHA loan to fund their home purchase, you'll want to understand what FHA appraisals entail.
In this article, we'll cover the ins and outs of what an FHA mortgage is and why it comes with stricter appraisal requirements, as well as detailing the key hazards that cause the FHA to reject a loan after an appraisal. We'll also help you identify steps you can take as a buyer, seller or refinancer to help make sure the stricter requirements of the FHA don't get in your way.
What Is An FHA Mortgage?
An FHA mortgage is backed by the Federal Housing Administration. This means the government insures the loan so there is less risk for the mortgage lender in case the borrower defaults on their loan. These mortgages were created in response to a wave of foreclosures in the 1930s and are still very popular, especially for first-time home buyers.
FHA loans are often easier to qualify for because they don't require a high credit score (you can get them with a FICO® Score as low as 500 – Rocket Mortgage® requires a median credit score of 580) or a high down payment (usually just 3.5%). You should be aware, though, that FHA loans do still require mortgage insurance for the life of the loan with a down payment of less than 10%. However, for a conventional mortgage loan, the minimum down payment to avoid paying mortgage insurance is typically 20%. You can also request removal of the private mortgage insurance (PMI) associated with conventional loans when you reach 20% equity in your home.
What Is An FHA Appraisal?
Because the FHA is playing an enabling role in the home purchase or refinance process of individuals with an FHA loan, they want to make sure they're not helping people finance ownership of a property that will put them in physical danger. Although these requirements have developed a reputation for being unnecessarily strict, the standards have relaxed, and today most requirements can either be met easily or relate to major hazards that most home buyers and homeowners should not ignore in any circumstances. FHA appraisers do not go into as much depth as home inspectors do, typically keeping their survey to readily observable problems.
If you're buying a home with an FHA loan or applying for an FHA refinance (with the exception of some FHA Streamline refinances of prior FHA loans), you'll have to get your home appraised by a special FHA-approved appraiser. This appraiser will look at all the factors a regular appraiser does, but they'll also make sure the house meets certain safety standards.
What are these standards, you ask? Let's run through a quick list.
Guidelines For Meeting FHA Appraisal Requirements
Key safety hazards that FHA appraisals will target include:
Exposed studs or floorboards

Wiring and electrical problems

Lot grading that doesn't allow water to drain away from the house

Insufficient heating systems

A foundation in visibly poor repair

Water damage

Holes in the roof or siding

Incomplete renovations

Missing handrails

Major driveway or sidewalk damage

Chipped or peeling paint in houses built before January 1, 1979
It's not possible to provide a comprehensive list of all factors that could result in the FHA rejecting the loan due to the appraisal. The key principle to keep in mind is that if anything could make the house unsafe, you run the risk of failing the appraisal inspection. If, as a seller, you're worried that a sale might fall through due to what an FHA appraisal might find, talk to your real estate agent. You'll also want to do some preliminary research into any known issues with your home. Dig up the inspection report that you received as a buyer and see what it contains, and call some contractors for quotes on some of the more serious issues, if they're present.
Apply for a Mortgage with Quicken Loans®
Call our Home Loans Experts at (800) 251-9080 to begin your mortgage application, or apply online to review your loan options.
Start Your Application
What Happens If The FHA Appraisal Uncovers Problems?
The appraiser will note any problems their inspection has uncovered. The FHA underwriter will then decide whether these problems cause the home to fail to meet FHA standards. If they do, the FHA will allow 120 days for repairs to be made before you have to get a separate appraisal. Repairs affecting the health, safety and livability of the property for occupants need to be completed prior to close. Typically, it will fall to the seller to pay for necessary repairs if they want the transaction to go through. Buyers will likely not shoulder the risk of repairing a home before they own it. However, this is something that can be negotiated in purchase agreements. If a bank is acting as the seller, it'll likely not make repairs, and the deal will be canceled.
One solution that can allow the buyer to make repairs is to switch from a standard FHA loan to an FHA 203(k) loan, which bundles the repair costs into the loan itself. Switching from an FHA loan to an FHA 203(k) loan for this reason is relatively common. However, buyers who know they're interested in fixer uppers may choose this program from the start to save themselves inconvenience and delays. By the same token, those looking to refinance a home that possesses features that the FHA may deem hazardous may want to look into an FHA 203(k) refinance. Rocket Mortgage doesn't offer FHA 203(k) refinances at this time.
How Long Does An FHA Appraisal Take?
The appraisal will typically occur within a week of the seller accepting the buyer's offer. Due to the rigorous nature of the appraisal process, an FHA appraisal typically takes several hours to complete.
How Long Does An FHA Appraisal Last?
Once you get your FHA appraisal, you have to close your loan within 120 days. The original appraiser will come out and verify that the repairs have been done and that your property can be valued as it was originally.
The FHA requires that this must be done by the original appraiser. If the appraiser is not available or if the process has taken more than 120 days, a new appraisal must be ordered.
The Bottom Line: Look Ahead To Keep FHA Appraisals From Throwing A Wrench In Your Plans
Whether you're buying, selling or refinancing, you'll want to plan around any FHA appraisal in your future. For buyers and refinancers, switching to an FHA 203(k) loan might be worth considering. If you're a seller thinking about whether to accept an offer, looking into the repairs you would have to make to meet the FHA's standards could save you a great deal of disappointment, frustration and delay.
If you have further questions about how an FHA loan will affect your refinance or your home buyer's journey, talk to a mortgage expert today.
Apply for a Mortgage with Quicken Loans®
Call our Home Loans Experts at (800) 251-9080 to begin your mortgage application, or apply online to review your loan options.
Start Your Application