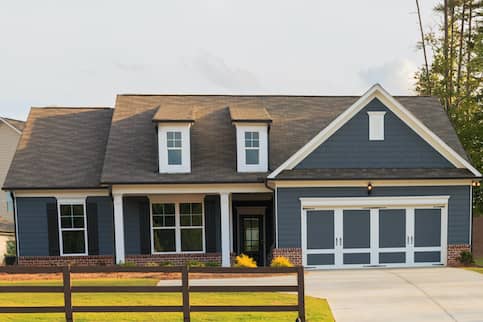 Fannie Mae And Freddie Mac: What They Are And What They Do
Published on December 17, 2020
Fannie Mae and Freddie Mac are government-backed mortgage companies created by the U.S. Congress. Both provide liquidly, stability and affordability to the mortgage market, making them crucial to the country's housing system. You've probably heard both companies mentioned from time to time, but do you know what they do?
To better understand both companies and how they support the mortgage market, here's how they operate and impact the home buying process.
Fannie Mae And Freddie Mac, Defined
Congress established Fannie Mae in 1938 through the Federal Home Loan Bank Act. President Franklin D. Roosevelt wanted to help Americans realize the dream of homeownership. Initially, the company was a government agency that purchased Federal Housing Administration mortgages and put them in its books.
Congress turned Fannie Mae into a company in 1968 to stop funding it as a government agency since Congress needed extra money to fund the Vietnam war. The government allowed Fannie Mae to sell stocks to shareholders as an initial public offering (IPO), instead of using taxpayer dollars to pay for the war.
While shareholders could own a portion of the company, it was also a government-sponsored enterprise (GSE), and the government backed its loans.
Congress established Freddie Mac in 1970. Similar to Fannie Mae, Freddie Mac was a GSE that purchased mortgages to free up bank funds to lend more mortgages to borrowers. Freddie Mac could purchase any mortgage, therefore focusing on 30-year fixed mortgages, unlike Fannie Mae.
Both Fannie Mae and Freddie Mac have nicknames derived from their full names: Fannie Mae from Federal National Mortgage Association (FNMA) and Freddie Mac from Federal Home Loan Mortgage Corporation (FMCC).
Apply for a Mortgage with Quicken Loans®
Call our Home Loans Experts at (800) 251-9080 to begin your mortgage application, or apply online to review your loan options.
Start Your Application
Fannie Mae's And Freddie Mac's Role In Mortgage Markets
Fannie Mae and Freddie Mac purchase mortgages from financial institutions that lend mortgages and then repackage those mortgages into their portfolios or mortgage-backed securities to sell to investors on the secondary mortgage market. By using mortgage-backed securities and guaranteeing on-time principal payments and interest on the mortgages, Fannie Mae and Freddie Mac entice investors to invest in the secondary mortgage market. The attractiveness of the secondary market results in the expansion of housing funds available.
Essentially, the secondary market's popularity makes it more liquid and helps lower interest rates for the homeowners and other mortgage borrowers. When stress and turmoil arise in the economy, Fannie Mae and Freddie Mac can help stabilize the mortgage market and protect housing.
Differences Between Fannie Mae And Freddie Mac
One of the other key differences between the companies is the original purpose of each. Fannie Mae was created in 1938 to combat the lack of affordable housing post the Great Depression by allowing banks to create more mortgages. While Fannie Mae bought mortgages from lenders, it was more likely to keep the mortgages on their books.
For the first few decades of its establishment, Fannie Mae remained a government-owned entity and monopolized the secondary mortgage market. When Fannie Mae was privatized, Freddie Mac was created in 1970 to compete.
Fannie Mae and Freddie Mac also have different programs for borrowers who can only provide minimal down payments. Fannie Mae offers the HomePath loan, which only allows applicants to qualify as first-time home buyers who earn less than 80% of their area's median income. At the same time, Freddie Mac offers Home Possible for applicants who live in their home and make less than the area's average income.
Freddie Mac And Fannie Mae In Times Of Crisis
Fannie Mae and Freddie Mac have played a significant role in causing and responding to recent crises. Not only did they support the housing bubble from 2005 – 2007, but they assisted with the bailout.
Subprime Mortgage Crisis
Fannie Mae and Freddie Mac issued or guaranteed about 40% of the entire mortgage market by 2007. Of the mortgages issued, $300 billion were subprime. These loans were at higher risk but brought forth a higher return. Fannie Mae and Freddie Mac needed high returns to uphold higher stock prices in an extremely competitive market landscape.
By the summer of 2007, borrowers began defaulting on the loans. Unless Fannie Mae and Freddie Mac were guaranteeing the loans, banks were not lending. Essentially, the risk was being put on the two companies, resulting in a massive loss for them, $8.7 billion. This also resulted in stock prices plummeting and investor confidence dwindling.
To bolster the mortgage market, Congress approved Fannie Mae and Freddie back to guarantee more subprime loans in early 2008. As the mortgage crisis continued, the government eventually had to step in and rescue both companies. The U.S. Department of Treasury bailed out Fannie Mae and Freddie Mac on September 7, 2008. Congress authorized the purchase of $100 billion in their mortgage-backed securities and preferred stock held in conservatorship by the Federal Housing Finance Agency.
Fannie And Freddie And COVID-19
Due to the impact of the global pandemic, many homeowners were struggling to make their mortgage payments. Under the Coronavirus Aid, Relief, and Economic Security (CARES) Act, the government provided two protections to offer financial relief to homeowners with federal or GSE-backed mortgages (Fannie Mae and Freddie Mac).
Beginning on March 18, 2020, the first mortgage relief protection was a foreclosure provision that doesn't allow a lender to foreclose on your home until December 31, 2020. The second protection allows homeowners the right to obtain hardship due to COVID-19 and request forbearance up to 180 days. Some lenders may have forbearance deadlines of December 21, 2020.
How Fannie Mae And Freddie Mac Encourage Low-Income Homeownership
The GSEs continue to offer mortgage programs to assist borrowers who earn a low to moderate income. Fannie Mae offers the HomePath mortgage, and Freddie Mac offers the Home Possible mortgage to these borrowers.
Both GSEs offer additional assistance to first-time home buyers and maintain a list of homes at HomePath.com and HomeSteps.com that they own, through foreclosure or deeds in lieu of foreclosure, and offer for sale at a discount. Fannie Mae also offers the HomeReady program to pay closing costs. Additionally, for eligibility, private mortgage insurance (PMI) is a requirement.
| | | |
| --- | --- | --- |
| | HomePath | Home Possible |
| Low Down Payment | 3% | 3% |
| Income Requirements | You must earn up to 80% of your area's median income | There are no income limits in low-income census tracts, otherwise limited to 100% Area Median Income (AMI). |
| First-Time Home Buyers | Must be a first-time home buyer to qualify | Do not have to be a first-time home buyer to qualify |
| Closing Costs Credit | 3% | Premium financing assistance |
Apply for a Mortgage with Quicken Loans®
Call our Home Loans Experts at (800) 251-9080 to begin your mortgage application, or apply online to review your loan options.
Start Your Application