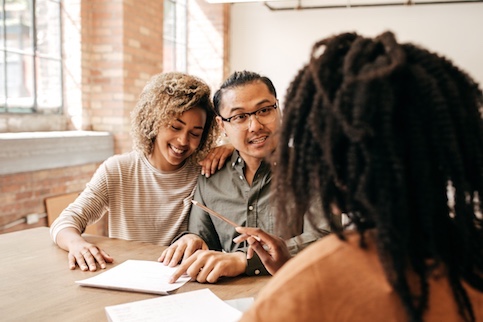 How Long Does It Take To Close On A House?
Published on November 2nd, 2020
You've found your dream home, made an offer and negotiated a final sales price with the seller. The home inspection is done. What's left? One more big step: closing on your home.
The closing process begins after you and a seller agree on an offer. You'll send your completed mortgage application to the lender providing you with a mortgage loan. This starts the underwriting process, where lenders verify your income, debt levels and credit score. If your numbers are strong, your lender will approve your loan application.
Once that's done, you'll attend the actual closing – either online or in person – to sign a series of documents that transfers ownership of a home from the current owner to you.
How long this all takes will vary depending on if underwriters discover any problems with your application, income or credit. You can expect, though, the first part of the closing process, when underwriters are reviewing your application, to take about 45 days. The actual closing when you are signing papers? That usually takes 1 or 2 hours.
Be aware, though, that COVID-19 might slow down the closing process as lenders and underwriters work through the pandemic.
The time it takes to close on a house, and get your mortgage loan application approved, usually runs anywhere from 30 – 50 days. Signing the paperwork on closing day can take up to an hour or more depending on whether there are any problems. A problem-free closing day, though, can last less than an hour.
What Does Closing On A House Entail?
During the closing process, underwriters review your loan application, credit and financial information to make sure you can afford to make your mortgage payment each month.
This process takes time: Ellie Mae in its Origination Insight Report said it took an average of 47 days for lenders to close on purchase mortgage loans in September of 2020. That's up slightly from an average of 45 days in August.
The closing process begins after sellers accept a purchase agreement on the home you are buying. It is then that your lender reviews your Universal Mortgage Loan Application, a document in which you list your personal and financial information.
Your lender will also review documents to help verify your financial information. Typically, you'll have to send your lender copies of your two most recent paycheck stubs, last 2 months of bank account statements, last 2 years of income tax returns and last 2 years of W2 statements.
Lenders will also study your three credit reports, one each maintained by the national credit bureaus of TransUnion®, Equifax® and Experian™, and pull your three-digit FICO® credit score. That number is important: Lenders prefer working with borrowers who have high credit scores. Lenders consider a FICO® Score of 740 or higher particularly strong.
If a lender approves your request for a mortgage, it will schedule an actual closing date. During this time, you'll meet in person – usually with your real estate attorney and real estate agent present – to sign the documents that transfer ownership of a home from its current owners to you. Note that during the COVID-19 pandemic, your closing day might be an online-only event.
The House Closing Process: Step-By-Step
On your actual closing day, you'll be signing what might feel like a mountain's worth of papers. But all of these papers have their own purpose.
1. Signing Of Documents
Here is a partial list of the documents you'll sign on closing day:
The promissory note, which commits you to repay the mortgage loan
The mortgage (or the Deed of Trust), which gives your lender the right to foreclose on your property if you fail to make your payments
The escrow disclosure, which lists how much you'll be paying with each month's mortgage payment to cover the costs of your property taxes and homeowners' insurance.
Proof of homeowners insurance
2. Paying The Closing Costs
Closing on a mortgage loan is not free. Here are some of the closing or settlement costs you'll pay during the process. You should know the final cost of your closing before you get to the closing table. Bring a certified or cashier's check – not a personal check – written in this amount to cover the closing costs. You can also arrange to have your bank wire your payment on closing day.
Down payment: Lenders usually require that you pay a percent of your home's final purchase price (often 3% – 20%) as your down payment. Your down payment will become the equity you have in the home. Equity is the difference between what you owe on your mortgage and how much your home is currently worth. If your home is worth $200,000 and you owe $180,000 on your mortgage – thanks to a $20,000 down payment – you have $20,000 of equity in your home.
Escrow funds: Your lender may collect a portion of escrow funds at closing to ensure there's enough money in your account to pay tax and insurance bills as they come due. Your lender may also roll a portion of these costs into your monthly payment to fund your escrow account throughout the year.
Third-party fees: This covers costs from third parties your lender used to process your mortgage loan. Third-party fees typically include appraisal fees, title insurance costs, and credit report fees.
Prepaid interest: You'll pay daily interest upfront to cover the period between closing and the date your first mortgage payment is due.
Homeowners association fees: If you're moving to a home that charges monthly HOA fees, you may be required to pay the annual fee at closing.
Mortgage points: A mortgage point (or discount point) is a fee paid to lower your interest rate. If you've chosen to pay points, you'll pay for them at closing.
3. Transfer Of Ownership
After the seller signs the deed, it will be registered with your city or county. This filing ensures that the public records show that you are now the rightful owner of the property. Once recorded, you're given the keys to your new home and can move in unless a delayed move-in has been stipulated in your contract.
Apply for a Mortgage with Quicken Loans®
Call our Home Loans Experts at (800) 251-9080 to begin your mortgage application, or apply online to review your loan options.
Start Your Application
How Long Does Closing Normally Take?
The length of time it takes to close a loan will vary, but you can expect your lender to finish the underwriting process within 40 – 55 days after you send in your completed loan application.
The type of loan you are applying for matters. Ellie Mae says that it took an average of 51 days for all mortgage loan types to close in September. That includes both purchase loans and refinances. In August, this average was a slightly lower 49 days.
Ellie Mae reported that the time to close on purchase loans was 47 days in September, up from 45 in August. It took an average of 54 days to close a home refinance in September, up from an average of 50 in August.
Things That Can Delay The Closing Process
Several issues could slow your mortgage closing process.
Financial Issues
Don't delay on providing copies of your bank account statements, paycheck stubs or income tax returns to your lender. Your lender needs these documents to verify that you can afford your mortgage payment. If you don't send these documents, and your lender can't verify your income, your closing will be delayed.
There are two numbers that could scuttle your closing, too. Debt-to-income ratio measures how much of your gross monthly income your debts consume. Usually, lenders want your monthly debts, including your new mortgage payment, to consume no more than 43% of your gross monthly income.
Your three-digit credit score is another important number. If it's too low, that shows lenders that you may struggle to pay bills on time or have had financial issues in the past. Most lenders consider a FICO® credit score of 740 or higher to be an excellent score. You can improve your credit score by paying down your credit card debt and paying your bills on time each month.
Appraisal Issues
Closings can be delayed when the appraised value of the home is less than the purchasing price. A lower-than-expected appraisal value creates problems for the mortgage process. Since the home will be used as collateral to protect your lender in the event you default, your lender will not offer you more money than the property's appraised value.
If your appraisal comes back too low, you have a few options:
Bring more money to the table to make up for the difference in price.
Negotiate with the seller to lower the home price.
Contest the appraisal if you think there's an error in the report.
Walk away from the deal if you have a mortgage or appraisal contingency stipulated in your contract. (Know that you will not be refunded for the inspection or appraisal.)
Home Inspection Issues
Home inspections often reveal unexpected problems with properties. When these problems are minor, closings typically continue according to schedule. However, major issues with the foundation, electrical, plumbing – and even termite or water damage – can lead to significant expenses for home buyers.
Depending on the severity of potential issues, sellers may be willing to pay to eliminate them. Determining how to repair issues and negotiating with the seller to pay for them can prolong the closing process. However, if you have a home inspection contingency, you can break the contract without financial repercussions.
Title Issues
Lenders will run a title search on your new home before closing. If that search turns up liens – claims by other entities – against your home, it could cause a long delay in your closing. For instance, if your home's previous owners failed to pay their property taxes, local governmental bodies might have filed a lien against your home. These unpaid debts must be paid, and the liens must be removed, before your home sale can close.
FAQs About The Closing Process
Still have questions about the closing process? Here are some of the more common questions and some answers to them.
Where Does Closing Day Take Place?
Your closing will most likely be held at a title company, management firm, or escrow office. Depending on your lender, closing day can take place at the home being purchased or another convenient location.
Because of the COVID-19 pandemic, though, your closing might take place virtually. Your lender will go over your options with you.
What Do I Need To Bring On Closing Day?
You'll have a million things on your mind the day you close but keep these items at the forefront. If you don't bring them to closing, you may not be able to complete the process.
Identification such as a driver's license, government-issued photo ID, or passport
A cashier's check to cover your closing costs (if applicable), laid out in your Closing Disclosure
Your Closing Disclosure to double-check the final paperwork
A copy of your homeowners' insurance policy
A list of key contacts, like your real estate agent or attorney, in case any questions come up
Who Should Be Present On Closing Day?
Anyone who's listed on the loan will need to attend the closing. It's still possible to close on your mortgage if you aren't able to make it in person, but you'll need to grant someone power of attorney. You can also expect a representative from the title company to be at closing, and some states require a witness or attorney to be present, as well.
In some states, the buyer and seller will be at the same closing, whereas in other states, each party attends separate ones. In other words, you might see the seller at closing, but it's not a guarantee. Your real estate agent can also attend, although this is not required.
Bottom Line
Closing a mortgage can seem stressful. You can ease this stress, though, by providing documents to your lender quickly and by answering their questions fully. The more information you provide them – and the faster you do so – the faster closing day will arrive. Want to learn more about mortgages, credit scores and the closing process? You can learn more here.
Apply for a Mortgage with Quicken Loans®
Call our Home Loans Experts at (800) 251-9080 to begin your mortgage application, or apply online to review your loan options.
Start Your Application