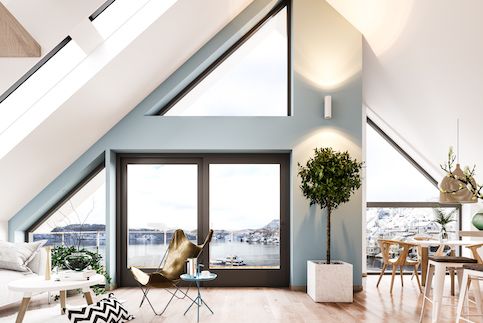 How Is Conditional Approval Different From Approval?
Published on July 30, 2019
When you inquire about qualifying for a home loan, you'll likely hear the term "conditionally approved" but might not be sure what that means or how it differs from an initial mortgage approval to buy or refinance a home. We're here to explain so you can be in the know!
A conditionally approved loan is separate and comes after a preapproval once you've found the house. You can think of this as being approved for the loan, but with a few conditions, usually concerning documentation and income, that must be met before a client can be approved to close.
Whether you're looking to buy or refinance a home, it'll help as you go through the process to understand the difference between these terms. Before we get into the subtle nuances, let's level set on some basic definitions around an initial mortgage approval.
What A Mortgage Approval Actually Means
If you're shopping for a home, it's a good idea to get an idea of what you can actually afford before hitting the pavement. Lenders traditionally give you what's known as a preapproval. Provided the lender asks the right questions and gets the appropriate documentation upfront, the preapproval system can give you all the confidence you need when you're putting an offer on a home. However, not all preapprovals are the same. The definition of preapproval can vary depending on which lender you talk to. They may even offer a couple of different types of preapproval and call them the same thing.
To help clear this up, Rocket Mortgage® has something called the Power Buying ProcessSM. This breaks down your mortgage approval into a few different levels.
Prequalified Approval
Prequalified Approval is the easiest form of mortgage approval to get. In order to get a prequalification, your credit report is pulled to get a look at your median FICO® Score and at the existing monthly debt you have showing up in your credit report. You're also asked for a verbal statement regarding your income and assets that you have saved. Your monthly debts are compared to your monthly income to get what's called your debt-to-income ratio (DTI). Your statement on assets is used to determine how much you might be able to afford for a down payment.
However, because it's a Prequalified Approval and income and assets aren't actually backed up with hard documentation, this really serves as just an estimate of what you might be able to afford. In order to make the best possible offer you can, we recommend all of our clients move forward with getting a Verified ApprovalSM.1
Verified ApprovalSM
A Verified ApprovalSM starts the same way as a Prequalified Approval does. Your credit report is pulled to get a look at your median FICO® Score and a look at your existing debts.
The difference here is that Rocket Mortgage will verify your income and assets for you giving you an extremely accurate picture of exactly how much you can afford. This is also very important for sellers and their real estate agents. If they know your data is verified, they'll have much more confidence that your offer is serious and will close.
During the Verified ApprovalSM process, you share income and asset documentation with us like W-2s, bank statements and tax returns. These will be reviewed by our team within 24 hours and you'll receive a letter detailing exactly how much you can afford. This should give you the confidence to go forward and make your offer. How confident?
If, through no fault of your own, you don't close after getting a Verified ApprovalSM, we'll give you $1,000.1 We want to put our money where our approval is.
Your lender should always be clear with you about what your mortgage approval entails. Now that you know how mortgage approvals work when you're shopping for a home, what's a conditional approval?
What Is Conditional Approval?
A conditional approval occurs once the client has provided the necessary documentation to get their loan set up and had it verified. This may include the following documentation:
Employment and income verification
Pay stubs
Tax returns
Bank statements
Debt obligations (credit cards or loans)
Utility bills (These are sometimes used as tradelines proving worthiness if you have thin credit. They may also be used to verify occupancy status.)
Asset statements
If the underwriter, the person whose job it is to determine whether you meet the guidelines for a particular loan, thinks most of your information looks good, but they want to have a few things taken care of before you're approved, they'll issue a conditional approval at this point.
When you're working on a refinance, you would skip initial mortgage approval and move directly to getting a conditional approval because you don't have to go through the process of finding a house and executing a purchase agreement.
Apply for a Mortgage with Quicken Loans®
Call our Home Loans Experts at (800) 251-9080 to begin your mortgage application, or apply online to review your loan options.
Start Your Application
Conditional Approval Vs. Initial Mortgage Approval
People often confuse conditional approval and the approval you get to shop for a home.
Loans are initially approved by a Home Loan Expert who has reviewed your income and credit information. Your information must be verified and approved before a decision can be made.
As mentioned above, your income and assets may or may not be verified by an underwriter at the time of your initial mortgage approval depending on the level of approval you opt for or what your lender asks for upfront. After your information is reviewed, you'll receive an Approval Letter stating your eligibility for a loan up to a specified amount.
Conditional approval comes after your initial approval and involves going a little deeper. An underwriter conducts a strict documentation review before your loan is conditionally approved.
If the conditions aren't met, the client might not be able to close on the loan.
Conditions On A Conditional Approval
There are a few common conditions attached to a conditional home loan approval.
Additional documentation, such as pay stubs, paperwork for business income and tax documentation, is often required for final approval. Even if some of this documentation has been reviewed upfront, your lender may ask for more paperwork based on the loan option you're trying to qualify for.
As an example, let's say that a young couple is buying their first home and grandma wants to give them $5,000 for the down payment. A check in that amount is considered a large deposit and the underwriter wants the source verified before they can close. In this case, grandma and the couple would just have to provide a gift letter and some documentation on the funds transfer. Once this is done, they would be cleared to close the loan.
Other things that might receive additional scrutiny include written verification of employment from your employer or additional asset statements, depending on what's needed for your loan.
Conditional approval can also require purchase agreement addendums. Title verification, an appraisal, inspection and homeowners insurance are usually needed to verify the market price of the home, and the loan-to-value ratio (LTV) and other details may also be acquired. The LTV is the reverse of your down payment in a purchase situation, or the inverse of your equity amount in a refinance.
This can also include confirmation that there are no unexpected liens or judgments on the home.
Denial Of A Conditionally Approved Loan
Clients with a conditional approval for a home loan are at risk for denial if they fail to meet any of the conditions laid out by the lender.
Here are a few reasons why a client might be denied:
The underwriter is unable to verify the data provided by the client
The home the client is trying to purchase has an unexpected lien
The client has a judgment on their record
The home inspection or property appraisal came in with unexpected issues
The client experienced a decrease in income
The client had negative entries on their credit report
Your loan may also be denied if any of the additional information you submit doesn't match up with what the lender was given at the time of initial mortgage approval. If you have a loss of income or buy a new car at the same time you're trying to get your mortgage, this could throw off your DTI and cause the lender to deny your loan on the basis that it's now too high.
Now that you know the difference between initial mortgage approval and conditional approval, hopefully you can go into your mortgage process with confidence. Start your application online or call (800) 785-4788.
1Participation in the Verified Approval program is based on an underwriter's comprehensive analysis of your credit, income, employment status, debt, property, insurance, appraisal and a satisfactory title report/search. If new information materially changes the underwriting decision resulting in a denial of your credit request, if the loan fails to close for a reason outside of Rocket Mortgage's control, or if you no longer want to proceed with the loan, your participation in the program will be discontinued. If your eligibility in the program does not change and your mortgage loan does not close, you will receive $1,000. This offer does not apply to new purchase loans submitted to Rocket Mortgage through a mortgage broker. Additional conditions or exclusions may apply. Verified Approval within 24 hours of receipt of all requested documentation.
Apply for a Mortgage with Quicken Loans®
Call our Home Loans Experts at (800) 251-9080 to begin your mortgage application, or apply online to review your loan options.
Start Your Application