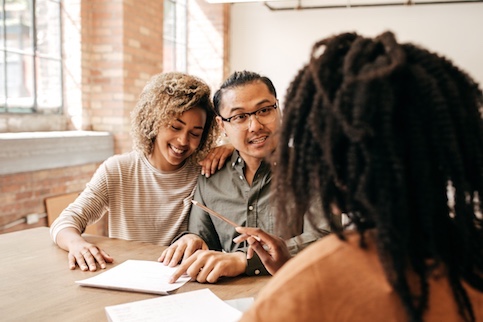 Closing On A House? Here's What To Expect
Published on June 11, 2019
If you're getting ready to close on a house, think of all you have accomplished so far! You found the right home, were preapproved for a mortgage, saved for a down payment, and made an offer they couldn't refuse. You can almost hear the keys to your new home jingling in your pocket. But don't get ahead of yourself just yet. You still need to go through a few final processes, including the actual closing. Here's what to expect during this time and how you can work with your lender to help the process run smoothly. What's the first step? Making sure you are ready to close your loan.
How Lenders Ensure That You're Ready To Close
Before you head to the closing table, there are a few steps the lender takes to ensure you are ready to close your loan and in the best position to do so. A home is a big investment for you and for your lender. You want to know you are getting a fair deal on your new home. The following processes will help protect your investment as well as your lender's.
The Home Inspection
Once you've had an offer accepted, it's time to schedule your home inspection. While this step is usually not a requirement for getting a mortgage, it's a way to protect yourself from buying a home that will cost you more money than you originally thought due to necessary repairs down the line. It's your job to find an inspector and pay for the inspection. However, your real estate agent may be able to help with this. They can recommend an inspector and possibly even set up the inspection for you.
A typical home inspection will cover surface-level elements of the home such as structural components, outlets, heating and cooling systems, and appliances. However, the inspector can't check out aspects of the house that aren't easily accessible or visible. For instance, you'll need a specialized inspector to identify lead, mold, asbestos, radon, and pest problems.
Be sure to attend your inspection and ask all the questions you can think of. This is your chance to walk through your new home with an expert. They can tell you about any potential red flags they see and make recommendations for what to fix first and how to go about it.
The Appraisal
The appraisal is a required part of the home buying process because it protects both you and your lender from paying more for a home than what it's worth. Your mortgage company will order the appraisal for you, but you will be responsible for paying the appraisal fee out of pocket.
The appraiser is always an independent third party. By law, appraisers can't be affiliated with you or your mortgage company. This ensures the appraisal process is fair and unbiased.
If the appraised value of the house comes back higher than your purchase price, good news! You just snagged a deal and some additional equity in your home. It is important to remember that you are not obligated to share the appraised value with the seller; and, as long as you have a signed purchase agreement, the seller cannot raise the price of the home if an appraisal comes back higher than the accepted offer.
On the other hand, a lower-than-expected appraisal value can cause problems for your mortgage process since your lender will never lend more than the appraised value of the property. If your appraisal comes back low, you have a few options:
Bring more money to the table to make up for the difference in price
Negotiate with the seller to lower the home price
Contest the appraisal if you think there's an error in the report
Walk away from the deal (you will not be refunded for the inspection or appraisal)
Underwriting
While the inspection and appraisal are happening, your mortgage company will work on underwriting your loan. This is the process of verifying your income, assets, debt and property details to ensure you are financially able to enter into this loan. Your mortgage company uses information from the underwriting process to issue a final approval for the loan.
Much of the process happens behind the scenes, but your mortgage company may ask you for additional documents during this time. For instance, they could ask for documentation that shows where deposits in your bank account came from or provides proof of additional assets. It's important to stay on top of your lender's requests so you don't slow down the loan process.
What You Can Do To Help Ensure Your Loan Closes
The best way to make sure you don't run into problems closing your loan is to avoid any major financial changes or spending. Don't apply for new credit lines or loans, and don't make big purchases that will deplete your assets. You can do these things after your loan closes.
Taking on new debt changes your debt-to-income ratio (DTI), a key factor in determining the loan amount you can get approved for. If your DTI increases, you may qualify for less – which could be a problem depending on your home price. If you push your DTI past about 45%, it's possible you won't qualify for a mortgage at all.
Purchase Homeowners Insurance
In most cases, your mortgage lender will require you to purchase homeowners insurance and show proof of coverage before closing on your loan. Homeowners insurance not only provides a financial safety net for you, but also your lender. In the event the home is sold and there is still a balance on the loan, you'll want the home to sell for at least the amount owed to the lender. If an event causes significant damage to the home, the value of the home may drop considerably. Homeowners insurance helps you repair those damages and improve the value of the home without depleting your finances.
You'll likely be required to get a plan that covers the full replacement value of your home, at a minimum. If you live in a location that has additional risks – such as a flood plain or areas prone to natural disasters – you may be required to get other coverage, such as flood, fire, hurricane or hazard insurance.
Acknowledge Your Disclosure
Before your closing, you'll get a document called a Closing Disclosure, which will include a summary of the final costs of your loan.
It's important to acknowledge that you received the document as soon as possible. Your lender is legally required to give you the Closing Disclosure three business days before closing, so if you don't acknowledge receipt of your Closing Disclosure quickly enough, your closing could be delayed.
Attend A Final Walk-Through
In most cases, you'll get to do a walk-through inspection of the property up to one day before closing to make sure everything is in order and the property is in the condition that was stated in your purchase agreement. As you take one last look at the property before closing, answer these questions:
Were all the agreed-upon repairs completed?
Did the seller leave behind all appliances, window treatments, etc., that were specified in the purchase agreement? Are these items in the condition you expected them to be in?
Did the seller damage the property in the process of moving out?
Do the lights and faucets work?
Does the garage door open?
Has the seller removed all hazardous materials, such as old paint cans and construction materials?
If there are any major issues, you can ask to delay the closing or contact the listing agent to negotiate a fair solution.
Closing Day
During closing, you'll sign the final paperwork, become the legal owner of the new home, and complete your exciting home-buying adventure. With the finish line in sight, you don't want anything to cause you to trip, so prepare for closing day by knowing what to expect, what to bring to the table, and what costs – if any – you'll need to settle at that time.
What To Bring To Closing
You'll have a million things on your mind the day you close, but keep these items top of mind. You must bring them to closing or you may not be able to close your loan.
Identification such as a driver's license, government-issued photo ID or passport
A cashier's check to cover your closing costs (if applicable), laid out in your Closing Disclosure
Your Closing Disclosure to double-check the final paperwork
A copy of your homeowners insurance policy
A list of key contacts, like your agent or lawyer, in case any questions come up
Who Should Attend Closing
Anyone who's on the loan will need to attend closing. It's still possible to close on your mortgage if you aren't able to make it in person, but you'll need to grant someone power of attorney. You can also expect a representative from the title company to be at closing, and some states require a witness or attorney to be present, as well.
In some states, the buyer and seller will be at the same closing, whereas in other states each party attends separate ones. In other words, you might see the seller at closing, but it's not a guarantee. Your real estate agent can also attend, although this is not required.
What You'll Pay
Your Closing Disclosure, sent at least three days before you close, will list your closing costs and tell you how much you owe. Sometimes, per the agreement, the seller may pay part of the closing costs. The amount you owe will depend on your loan and what you have agreed upon with the seller. Here's a breakdown of the most common closing costs on a house you can expect to pay:
Down payment: Your down payment will become the equity you have in the home.
Escrow funds: Your lender may collect a portion of these funds at closing to ensure there's enough money in your account to pay tax and insurance bills as they come due. Your lender may also roll a portion of these costs into your monthly payment to fund your escrow account throughout the year.
Third-party fees: This covers costs from third parties your lender used to process your loan. These fees typically include appraisal fees, title insurance costs, and credit report fees.
Prepaid interest: You'll pay daily interest upfront to cover the period between closing and the date your first mortgage payment is due.
Homeowners association (HOA) dues: If you're moving somewhere that has HOA dues, you may be required to pay the annual fee at closing.
Discount points: A point (or discount point) is a fee paid to lower your interest rate. If you've chosen to pay points, you'll pay for them at closing.
Final Thoughts
While every closing experience is different, it typically takes about an hour or two to complete. After weeks of waiting for this day, you may want to skip over the piles of paperwork and get to the homeownership part. But don't race through the documents. You are entering into a legal agreement and making one of the biggest purchases of your life. You'll want to understand what you're agreeing to and feel comfortable with that commitment. Take your time reading through the documents. Verify the spelling of your name and such terms of agreement as your interest rate, balance owed, and term of repayment. Most importantly, ask questions if something doesn't seem right. You'll get to the end eventually. Make sure you arrive feeling confident.
With your questions answered, documents signed, and closing costs paid, you'll complete the home buying process and move onto the next journey: homeownership!