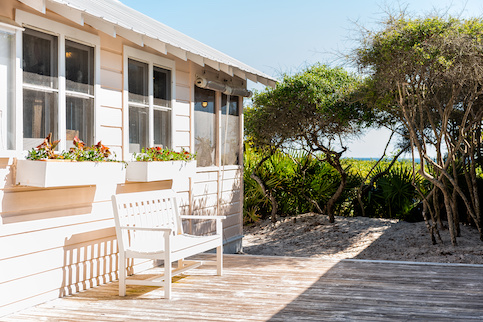 Buying A Second Home: What You Need To Know
Published on July 1, 2020
Homeownership is one of the most common journeys that people aspire to go on. Even people who love their primary residence think of purchasing a second home. This can be an appealing prospect for people who want a vacation home, a place for their children to live while at school or as a way to diversify their assets.
Vacation Home Vs. Investment Property
How you treat your home financially might be dependent on the purpose of your purchase. For example, if you see it as a place to vacation with your family, you might invest in its appearance, but if you intend to buy it as an investment property, you might simply see it as a means of generating rental income.
Pros And Cons Of Owning A Second Home
As you explore the options of purchasing a second home, you should be cognizant that there are many advantages and drawbacks. The following are a few things you should consider before purchasing a second home.
Pros
Buying a second home might be a great way for you to be closer to the people you love and places you enjoy, or it might help you accomplish your financial goals. Here are some of the biggest advantages of buying a second home:
Designated vacation spot. If you and your family love the mountains but are tied to the city for work, you might be able to spend more time getting away if you have a house in a place that you love to be. The same goes for if you have people or other places you want to establish a home near.
A place to retire. If you plan to move after you retire, you can get a head start on creating a community in a place you love by purchasing a second home. You can use the home as a retreat for now and retire to it later.
Diversifying your assets. Homes tend to increase in value, so you can use your second home as a means of diversifying your investments. You can choose to keep or sell your home down the road.
Rental income. If you decide to rent your home, you can earn rental income to help cover the expenses of owning a second home. If you want to vacation at your home, you can rent it out short-term. If you decide to have it only as an investment property, you can rent to individuals or families on annual leases.
Potential tax breaks. Many people choose to leave their second homes unoccupied when they're not using them. If this is the case, the interest and property taxes may be fully deductible from your gross income.
Cons
Although the pros make purchasing a second home sound attractive, there are a few things you should consider before making the leap.
Added responsibility. Owning twice the property might also mean twice the work. You should consider how you will keep up the property grounds and manage the financial burden of taking extra care of your properties.
Risks of security and property damage. You can't be in two places at once, so you may need to consider the security of your unoccupied home.
Additional expense. There may be additional expenses involved in getting from one property to the other. For example, if you live in Ohio but plan to spend a few weeks a year at your second home in Florida, you might incur parking charges, costs of flights and more.
Four Factors To Consider Before Buying A Second Home
There are several factors potential buyers should take into consideration before buying their second property.
1. Affordability
It's extremely important to budget for having two mortgage payments unless you own your primary home free and clear. Since homeowners are more likely to prioritize the payments on their primary home's mortgage in times of financial hardship, second home purchases are considered an increased risk for many mortgage lenders and investors. As a result, the buyer will likely encounter a higher down payment, a higher mortgage interest rate and a higher rate for homeowners insurance with the purchase of their second property.
Some of the additional expenses that can accompany the buying process for a second home are closing costs and property taxes. It's important to discuss the closing costs with your REALTOR® to ensure there are no surprises at the time of closing.
2. Occupancy Rules
To classify the property as your second home, you have to spend a significant portion of the year there. If you have a jumbo loan or another type of nonconforming loan on your second home, you're limited to 14 days of renting capability to another tenant. If your loan is backed by Fannie Mae or Freddie Mac, though, you can rent the property out for up to 180 days without it being considered an investment property.
Keep in mind that, if you rent the property out for 15 days or more, you'll have to report the income to the IRS. However, along with that, you may be able to deduct certain rental expenses. You have to occupy the home for at least 14 days or 10% of the days it would otherwise be rented out – whichever is greater – to maintain your eligibility for the mortgage interest deduction. Lenders will probably also consider it an investment property if you don't follow these IRS minimum guidelines for residency.
3. Location
When buying a second home, it's very important to consider the location. If you plan to use it as a vacation home, you'll want it to be far enough from your primary living space that it feels like you're getting away from the world, but not so far away that you rarely get to travel there. If you plan on hosting family a lot, you may also want to consider looking for a property that's centrally located within a few hours of everyone.
Some other factors related to location that potential buyers ought to think about are the attractions in the area that drew you there in the first place, quality of the surrounding neighborhood – especially if you're renting the property out to other tenants – and what the weather/climate is like throughout the year. For example, you might think moving to Florida sounds great but end up in a town further from the beach than you expected or realize you don't enjoy the heat and humidity. Do your research before purchasing a property.
4. Maintenance
There are some property maintenance factors you'll need to think about for your second home. In particular, it's important to determine how utilities will be handled during the times when you aren't staying in your second home. You'll need to decide whether you want to keep them all active and pay for them in full even when you aren't there, which utilities would potentially be safe to shut off while you aren't using them, which utilities should be kept on and more. For example, you may want to consider leaving some lights on for security purposes.
You should also consider seasonal home maintenance when purchasing your second home. You may need to have some work done intermittently when you aren't there, such as winterizing a home or maintaining the lawn. Some things might be aesthetic, whereas others might help to prevent damage to your home.
How To Buy A Second Home
There are several loans you can and can't use to buy a second home. For example, you can take out a jumbo loan but can't take out an FHA loan or a VA loan. Additionally, there are different financial factors that lenders take into consideration when evaluating someone for a loan on a second home. For example, they're stricter on a person's debt-to-income ratio (DTI) and credit score. A reputable real estate agent in the market you're shopping in can help you make a well-informed purchase.
The Bottom Line
People purchase second homes for several reasons. While it might sound fun to have a vacation home or be a good idea to take on an investment property, there are several things to watch out for as well. If you have further questions about purchasing a second home, check out our Second Home Mortgage resource page for more information.
Apply for a Mortgage with Quicken Loans®
Call our Home Loans Experts at (800) 251-9080 to begin your mortgage application, or apply online to review your loan options.
Start Your Application