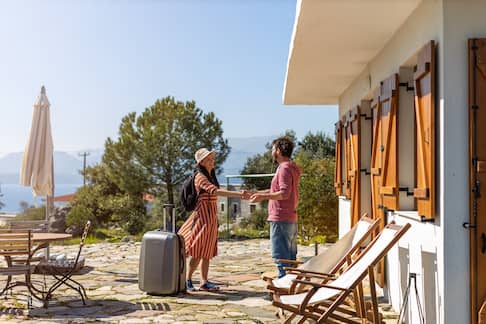 Airbnb Investment Properties: What You Need To Know
Published on April 10, 2023
Airbnb investing has completely transformed how you can approach the real estate market. While you've probably thought of real estate investing as flipping homes, renting or leasing, Airbnb is a new way to diversify your income without being a real estate expert.
The rise of Airbnb's popularity has made it a solid approach to buying an investment property, but doing so does come with its own risks. In this article, we'll discuss all you need to know about Airbnb investment properties.
What Is Airbnb?
Airbnb is a California-based vacation rental company that operates an online marketplace for short-term homestays and experiences. The company allows hosts across the world to list their properties on the official Airbnb website for travelers to book.
Airbnb has boomed in popularity since its establishment in 2008 because it allows users to stray away from traditional hotels and truly experience their destination location in a new way. Instead of being confined to a hotel room, travelers can book entire homes for the duration of their trips. For hosts, the company has made real estate investing simple for people looking to make passive income from short-term renting.
What Is An Airbnb Investment Property?
An Airbnb investment property is, as the name suggests, a property listed on the Airbnb website for guests to book. Airbnb investors (hosts) tend to use the company because of the high return on investments (ROI), low risks and flexibility. Typically speaking, Airbnb makes it easy for hosts to make a solid income with very little experience and upfront costs compared to traditional, long-term investment properties. Simply put, you don't need to be a real estate expert to make money with Airbnb.
Airbnb Vs. A Traditional Rental Property
An Airbnb rental property, unlike a traditional rental property, is only intended for short-term stays. An income-producing real estate property is considered "short-term" if its tenants stay for periods less than 6 consecutive months. Of course, guests will likely never stay for an entire 6 months, as an Airbnb can be rented for a simple weekend getaway or weeklong spring break vacation. On the other hand, tenants will settle down for a while in a long-term rental property. Also known as traditional rental properties, these investments typically have leases ranging from 6 – 12 months.
Another difference between an Airbnb and a traditional rental property is profit. Since Airbnb is intended for short-term stays, hosts can change the nightly costs depending on an area's market rate. For example, weekend rates may be higher than weekdays, or you may raise your rates during spring breaks and holidays. On the other hand, long-term rentals have agreements in which a set rate is to be paid monthly until the lease agreement is up. This may seem like a con of owning a traditional rental property, but it is quite the opposite. Unless your tenant refuses to pay rent, long-term rentals can provide more security in uncertain times.
When COVID-19 restrictions upturned travel, for instance, the short-term rental industry suffered. Furthermore, traveling can slow down during certain times of the year, depending on your location. While your lake house in northern Michigan may get booked out every week during the summer, that income will likely slow down during the colder winter months. You may not earn as much with a long-term investment property, but you're likely guaranteed a steady income.
On another note, traditional rentals and Airbnb investment properties have different stipulations, depending on your state. When you're looking to purchase an investment property, you will have to consider your total overhead costs. You may be responsible for more expenses as an Airbnb host, including a higher insurance rate, Airbnb fees, higher taxes and various services. Of course, the exact cost of your expenses will vary, depending on your situation.
Find A Mortgage Today and Lock In Your Rate!
Get matched with a lender that will work for your financial situation.
Get Started
How Many Airbnb Investment Properties Can You Own?
Airbnb does not impose a limit on the number of properties a host can have. In fact, most cities allow you to list multiple rooms at one address. Each room needs to have its own listing page that should accurately reflect the number of beds, amenities and if a space is shared, but it can be done. This will of course depend on where your Airbnb is located, as you are not permitted to have more than one listing at any single address in some places – New York City is a prime example. So, before you go and rent out every room in your home, it's important to check your city's guidelines before you create your listings.
If you're interested in purchasing multiple Airbnb investment properties, but you can't afford to do it alone, you should consider buying with a friend. Having a good business partner to split expenses will take you a long way in any business endeavor you take on, especially real estate investing.
Popular US Cities For Airbnb Investments
Deciding where to buy an Airbnb investment property is an important step in getting started. Generally speaking, you want to purchase a property in a tourist-dense city. Some popular U.S. locations include:
Miami
Las Vegas
New York City
San Francisco
Orlando
Atlanta
If you want high ROI values, you should absolutely consider purchasing an investment property in one of the cities above. While the average home may be more expensive in one of these locations, the abundant number of tourists looking for a place to spend gives you a vast pool of possible guests.
The Pros Of An Airbnb Investment
Some pros of having an Airbnb investment include:
Earning Passive Income
Who wouldn't want to earn money while they sleep? Investing in an Airbnb property allows you to do just that. A short-term rental property is just one type of income-producing real estate, but it allows you to earn money in any city while you relax.
Short-Term Tenants
Having short-term tenants offers you more flexibility. List your property whenever it best suits you and rent it out whenever you're ready. Want to live in your property during the fall, but visit Singapore for the summer? Hosting an Airbnb allows you to do just that, no hassle. The best part? Airbnb guests pay for their intended stay during the booking, so you do not have to worry about tenants failing to pay you on time.
Guests Pay For Excess Damage/Cleaning
No matter what kind of investment property you own, there is a chance that things could go south. Unfortunately, if a long-term tenant damages your property, the only reimbursement you may recoup is from the security deposit you charged prior to move in. Of course, you could sue the tenant and receive a settlement for damages, but that can be a long-winded, expensive process. On the other hand, Airbnb has a clause that requires guests to pay for any damages they cause to your property. With AirCover for Hosts, you have 14 days after the responsible guest's checkout to file a claim through Airbnb's Resolution Center. After you submit your AirCover for Hosts request, your guest will have 24 hours to pay. If they decline to pay the full amount or don't respond, you will be able to escalate the situation. AirCover is not meant to substitute homeowners insurance, but it does cover unexpected costs related to additional cleaning or pet damage.
You Do Not Have To Own Your Airbnb Property
You don't have to own your home to be an Airbnb host. In fact, there are properties that have leases that would allow you to list the place on Airbnb (for extra rent, of course). It's important to have an open conversation with a building manager about whether you can use a unit to host guests. If you're not ready to buy an investment property, try dipping your toes in this method first.
The Cons Of An Airbnb Investment
Like all things good, there are cons involved in owning an Airbnb property, including:
Additional Expenses
An Airbnb property investment comes with extra expenses that you need to consider. Maintenance cleaning services, furnishings, HOA fees, utilities, higher insurance costs and other overhead expenses all need to be factored into your final cost. There are ways to save money, like charging guests for cleaning, additional guests and pet fees, but keep in mind that Airbnb charges 3% of the booking subtotal (fees included).
Lack Of Long-Term Tenants
While vacationing is a lucrative investment, the money ebbs and flows. You might find that some months are booked every week, and others may fall short. Having long-term tenants erases this uncertainty, almost guaranteeing that you will see a steady income.
How To Start And Manage An Airbnb Property
If you do not have a property you could list on Airbnb yet, you will have to start the process by finding something within your budget. Again, you would likely want to purchase your investment property in a tourist-dense location. Furthermore, you should work with a trusted REALTOR® to help you find the right fit for you.
Once you have a home locked in, it's time to furnish the property. You want to invest in high-quality, attractive furniture that will draw guests in. You don't want to cut corners here. Buying high-end pieces upfront will save you money in the long run, ensuring that your furniture can withstand the waves of people who will be staying at your Airbnb.
Next, it's time to get some high-quality photographs. We would suggest you invest in a professional photographer during this step, as higher quality images will almost always attract more guests. Lighting, angles and overall scenery need to be considered with every image.
Once you have your photographs, you can officially sign up to be an Airbnb host. Carefully post your listing, honestly listing the number of rooms, guests, amenities and other features that make your property unique!
Property Types For Airbnb Investments
The type of property you should choose for an Airbnb property investment entirely depends on your situation. Townhomes, condos, detached single-family homes, duplexes and complex units are all solid choices. However, you might be surprised to learn that a lot of guests enjoy tiny and unique living situations, including vans, RVs and even tree houses. There's no limit to the spaces you can offer Airbnb guests. The success of your investment will entirely depend on the demographics of your location, so it's crucial you take that into consideration prior to making a decision.
The Bottom Line: An Airbnb Investment Can Earn You A Passive Income
Purchasing an Airbnb investment property comes with its list of pros and cons. While it could be a solid, simple way to make passive income, you do need to consider factors like maintenance, amenities, utilities and more. It can be a scary, costly task, but investing with a trusted friend might make the process much easier. Before you make any big decisions, take some time to learn how to invest in real estate, create a budget and decide your steps moving forward. We wish you the best in your Airbnb endeavors – good luck!
Find A Mortgage Today and Lock In Your Rate!
Get matched with a lender that will work for your financial situation.
Get Started