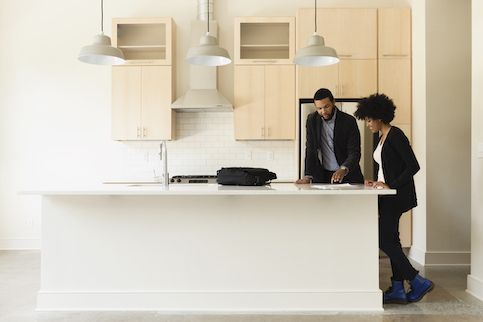 What Is A Home Equity Loan?
Published on June 6, 2023
Owning a home has plenty of benefits. One of the most helpful is the opportunity to build equity. Homeowners with enough equity can tap into these funds in the form of a home equity loan to cover a wide range of expenses.
What Is A Home Equity Loan?
A home equity loan is secured and uses your current home equity as collateral for a loan. When you take out a home equity loan, this second mortgage (or first lien loan if you own the home free and clear) comes with a monthly mortgage payment.
How Does A Home Equity Loan Work?
Homeowners build home equity with each mortgage payment. The principal amount of your loan payment pays down your mortgage balance and grows your equity. You can calculate your own home equity by subtracting your current mortgage balance from the current value of your home.
When you apply for a home equity loan, your lender will accept your home equity as collateral. With that, you risk losing your home if you cannot keep up with the payments of this second mortgage – or first mortgage, if you own the home free and clear.
In general, the lender will only approve you for a loan equal to a portion of your equity – not the entire amount. If you have $80,000 of equity, a lender might approve you for a maximum home equity loan of $70,000, for example.
Once you're approved for a home equity loan, you'll receive your money in a single lump sum payment. You then pay the loan back with a set interest rate over a certain period of years.
The number of years this will take depends on the loan term you agreed to when taking out your home equity loan. Your monthly payment will depend on the amount you borrowed and your interest rate.
See What You Qualify For
Congratulations! Based on the information you have provided, you are eligible to continue your home loan process online with Rocket Mortgage.
If a sign-in page does not automatically pop up in a new tab, click here
Home Equity Loan Requirements
As with all loans, you'll need to meet the requirements of your lender to get a home equity loan finalized. Below you'll find a breakdown of the general requirements:
Debt-to-income ratio: In general, lenders prefer to work with borrowers who have a debt-to-income ratio (DTI) of no more than 45%. A higher DTI ratio indicates you might struggle to squeeze another payment into your monthly budget.
Credit score: A higher credit score may help you tap into a higher loan amount or lower interest rate. Ideally, you should have a credit score of at least 620.
Home equity: Homeowners need significant home equity to qualify for this type of loan. Lenders will usually not allow you to take out all of your home equity. Instead, you may be required to leave 10% to 25% of your equity in your home untouched. Take a look at your own situation to confirm you have enough equity to tap into a loan-to-value ratio (LTV) that fits the lender's requirements.
Of course, every lender has unique requirements. Before applying with a particular lender for a home equity loan, take a look at their requirements to confirm your application has a good chance of approval.
What Is The Process For Getting A Home Equity Loan?
If you're ready to get a home equity loan, understanding the process can lead to a smooth experience.
Evaluate Your Home Equity
Before you jump in, start by taking a look at how much home equity you have. You can determine this number by subtracting your current mortgage balance from the current value of your home.
Remember, most lenders won't let you borrow more than 85% of the equity in your home. For example, if you currently owe $200,000 on your mortgage and your home is worth $300,000, you have $100,000 in equity. From that equity, lenders might only be willing to provide a home equity loan of up to $85,000.
Look at your current home equity to see whether the potential loan will meet your needs. If you cannot borrow enough to cover the major expense looming on your horizon, then you might need to find a different loan option.
Check Your Credit Score And Credit History
Next, see where your credit score stands. You can find out with a simple check. Remember, you can review your credit report annually, for free. If you don't like what you see, take a closer look at your credit history. Any mistakes on your credit report can be removed, which might have a positive impact on your credit score.
Before you move forward with your application, be honest about your credit score. If you have a bad credit score, you might struggle to find a lender willing to work with you. Depending on the situation, it might be a good idea to work on building your credit before diving into your home equity loan application.
Compare Home Equity Loan Lenders
As with all major financial decisions, you should shop around before applying to work with a particular home equity loan lender. If you don't shop around, you could easily overpay.
As you shop around, look for a lender that offers competitive interest rates and fees. Additionally, you'll want to choose a lender with a good reputation.
Apply For A Home Equity Loan
When you find a lender you're comfortable with, it's time to apply for the loan. The initial application will ask a wide range of questions about your financial situation, employment situation and home value.
After receiving your application, the lender will likely conduct some due diligence. For example, you might be required to provide documentation for your income through pay stubs or bank statements. Some lenders might want to call your employer to confirm you have a stable job. Additionally, many lenders will conduct an appraisal of your home to confirm its value.
Here's a quick look at some of the documentation you may need to provide to your lender:
Recent pay stubs
W-2 forms, for the last 2 years
Tax returns, for the last 2 years
Documentation of extra income sources
Recent bank statements
Down payment source
Identity documentation, such as driver's license
Social Security number
Recent home appraisal
A home equity loan is a type of second mortgage if you currently have a mortgage on your home. With that, the documents you provide to the lender might feel similar to the documents you provided during the original mortgage process.
Apply for a Home Equity Loan online.
The Rocket Mortgage® online application is simple and secure.
Start My Application
Average Home Equity Interest Rates
Home equity loan rates tend to be lower than the interest rates tied to unsecured loans, like credit cards. However, home equity loan rates tend to be slightly higher than primary mortgage rates.
In 2023, the Federal Reserve consistently raised interest rates. With that, home equity loan interest rates are higher than they were a year ago. However, it's impossible to know whether home equity loan rates will rise or fall in the future.
Below is a breakdown of average home equity interest rates, as of May 2023.
| | | |
| --- | --- | --- |
| Loan type | Average rate | Range |
| Home equity loan | 8.16% | 7.43% – 9.75% |
| 10-year fixed home equity loan | 8.30% | 6.56% – 9.58% |
| 15-year fixed home equity loan | 8.24% | 6.72% – 10.43% |
Alternatives To A Home Equity Loan
A home equity loan isn't the only way to get access to the funds you need. There are other options worth exploring.
Personal Loan
A personal loan will not impact your home equity at all. Instead, this type of loan is unsecured. With that, you'll take on a separate monthly payment that doesn't use your home as collateral.
In general, personal loans come with higher interest rates than home equity loans due to the lack of collateral. While a higher interest rate isn't ideal, personal loans may provide more peace of mind because your home isn't on the line.
Cash-Out Refinance
A cash-out refinance involves replacing your existing mortgage with one that has a higher loan balance. You'll receive the funds as a lump sum to use as you see fit. But you'll only have one mortgage payment to keep up with.
If, for example, you owe $150,000 on your mortgage, you can refinance that loan into a new one with a balance of $180,000. You'd then receive the extra $30,000 as a single payment.
Because a cash-out refinance is based on your primary mortgage, a lower rate is common relative to home equity loans or home equity lines of credit (HELOCs) that are tied to a secondary lien and riskier for lenders. The catch is that a cash-out refinance can be more expensive upfront due to unavoidable closing costs.
Home Equity Line Of Credit (HELOC)
A HELOC also gives homeowners access to their home equity. HELOCs are generally more flexible than home equity loans, but you'll still be taking on a second mortgage payment.
These types of loans act more like a credit card than a loan, with a credit limit based on the equity in your home. With a HELOC, you only pay back what you actually borrow. HELOCs have a draw period and a repayment period. Both of these periods last for a predetermined amount of time.
If you want more flexibility when borrowing, a HELOC might be a better fit. Keep in mind that some lenders, like Rocket Mortgage®, may not currently offer these types of loans.
Home Equity Loan FAQs
You have questions about home equity loans. We have answers.
How long does it take to get a home equity loan?
It can take anywhere from 2 – 4 weeks to get a home equity loan. This all depends on where you get the loan, when you can get the required appraisal completed, how quickly you can get approved and whether you've completed all the right documentation.
Can I get a home equity loan with bad credit?
Most lenders want to work with borrowers who have a credit score of at least 620. If you have bad credit, consider building your credit before applying for a home equity loan.
Can I use a home equity loan to consolidate debt?
Yes, you can use a home equity loan to consolidate debt. While you may be able to roll your debt into a single payment, using your home as collateral puts the property at risk.
The Bottom Line
A home equity loan might be the right solution for your financial situation. If you've decided that a home equity loan is the right move for you, apply for a home equity loan today.