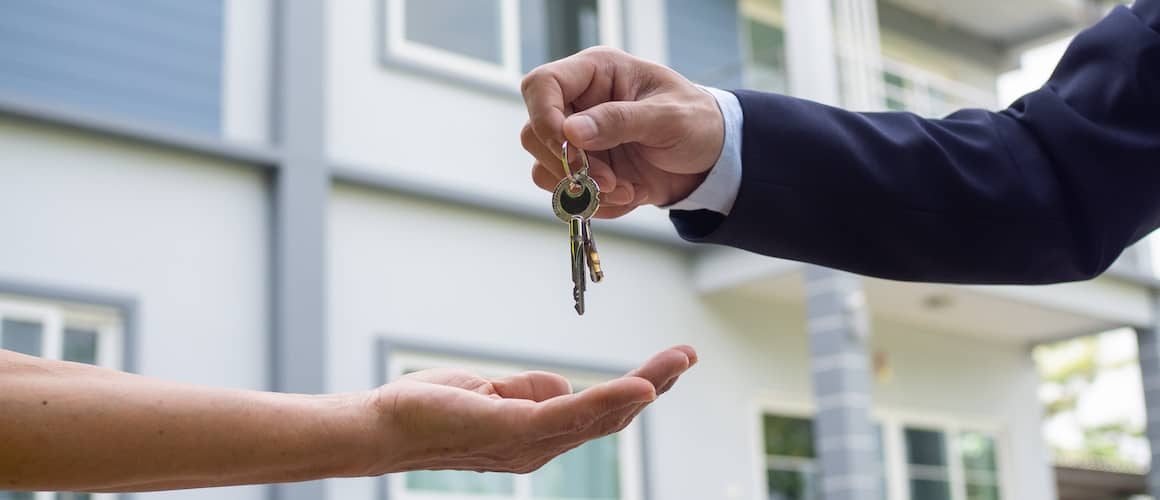 How To Rent Out A House: A Guide For New Landlords
Published on December 16, 2021
So, you're looking at purchasing your second home and wondering what to do with your starter home. Instead of selling, you might think about renting it out.
When you choose to rent out your home, you'll potentially create an income stream while building equity in the property. If that strategy sounds appealing, you're in luck! In this article, we'll explore how to rent out a house as a new landlord.
How To Rent A Home: Quick And Easy Steps To Prepare
Many people decide to rent because it offers more flexibility and lowers monthly costs. For these reasons among others, renting out homes is a popular investment strategy. Before you begin renting out your property, it's important to be prepared. Just follow these steps:
Step 1: Determine your finances. As an aspiring rental owner, you should first look at your funds to determine where you stand financially and what you can afford before you rent out your house.
Step 2: Calculate the cashflow. Once you know what you can afford, it's a good idea to look at the property's cashflow, or the amount of money you'll likely receive from renting. Doing this will help you decide how much money you can make as well as if renting is even worth the effort. Sometimes, depending on factors like market conditions, you may find that renting out a house isn't a viable business for you.
Step 3: Market the property. Good marketing is key, as it helps landlords attract and retain tenants. There are a few different ways you can market a property – you can put up physical signage or list your property online and in newspaper ads. Just make sure that when you list your property, you include high-quality photos that show the home in its best light.
Step 4: Research the market. If you're thinking about renting, you should also know what's going on in the market and what today's renters are looking for in a home. Being well-researched will put you ahead of your competition. If you don't offer the amenities that other rental properties have, for example, you could be overlooked.
Why Homeowners Rent Out Their Homes
When you picture a landlord, you might automatically think of major corporations maintaining homes for renters. There are plenty of businesses out there that own rental homes. But it might surprise you to know that, according to the National Association of REALTORS®, individual property owners manage 77% of two- to four-unit properties. That's right! There are millions of individuals out there renting out homes.
The reasons why individuals decide to rent out a home rather than selling is a long and varied list. A few reasons include:
Job transfer: A new place of work that makes the home's location impractical.
Desire to move to a bigger home: Homeowners upgrading to a bigger home may decide to hold onto their starter home if it's a weak market for sellers or if they owe more than the home is worth.
Wealth building: Individual investors can use real estate as a vehicle to build wealth. Renting out homes is one strategy for real estate investors to pursue.
Additional income: A rental property will create an additional income stream for your household. Who wouldn't love some extra money in their pocket each month?
The decision to rent out your property is a big one but renting out your house could ultimately be the right move for your finances.
Partner With Professional Property Management
Many individuals shy away from the thought of becoming a landlord due to the perceived amount of work involved. That's completely understandable! After all, it will take time and energy to manage the property efficiently.
However, individual investors don't have to go it alone. Instead, you can use a professional property management company to lighten your workload.
Responsibilities
Typically, property managers' responsibilities include the following:
Find tenants
Screen tenants
Collect rent
Handle delinquencies
Perform regular maintenance
Field tenant complaints and manage the books
Although you'll have to pay for these services, your return on investment could make it all worth it.
Payment
The exact amount you'll pay for a property manager will vary based on your location. But you should expect to spend 8% – 12% of your monthly rent on management services. For example, let's say your property rents for $1,000 per month. A property manager may charge $80 – $120 per month.
As the property owner, you'll have to decide whether management services are worth it to you. If you don't have the time to manage rentals, a management service might be required. But if you have the time and bandwidth to manage tenants yourself, you might choose to save the money.
Get Your Property Ready To Rent
If you decide to go at it alone, then you'll be responsible for the entire rental process from start to finish. The good news is that it's possible to learn how to rent out a house without the help of a property manager.
When you convert your home into a rental for potential renters, the first step is to get your property ready to rent. Here's a checklist of tasks to complete before making the property available for renters.
Do a deep clean. The place should be sparkling from top to bottom before you open the doors to a renter. A clean start encourages the renter to keep the home clean. You can hire professional cleaners to make the property shine.
Ensure the appliances are working well. The appliances in your rental don't need to be new, but they should be very reliable. If an appliance isn't reliable, then now is the time to replace it.
Inspect the property for maintenance needs. Take the time to inspect the flooring, roofing, plumbing, HVAC, paint and windows to confirm everything is in working order. If something is not up to your standards, then you should add it to a list of repairs to make before finding a tenant.
Spruce up the curb appeal. Everyone wants to live in a lovely home with lots of curb appeal. Consider upgrading your outdoor landscaping to entice potential renters.
Double-check the safety features. Many states require landlords to install certain safety equipment. For example, you might need to provide a railing or smoke detector. Confirm that your property is compliant with state laws.
Switch your insurance to rental property insurance. Homeowners who plan to rent their home will need to update their insurance to match this increased level of risk.
It'll take some time to get any property ready for rent – and that's why it's better to tackle these projects upfront instead of waiting for a call from an unhappy tenant. Hopefully, though, it shouldn't take too long to get the property ready for its first renter.
Get Familiar With Property Management 101
Once your property is ready for rent, it's time to get familiar with the details involved with becoming a great landlord. Let's look at the basics that you should consider when learning how to rent out your house.
Establish Your Rate
A key part of the rental process is determining an appropriate rate for the unit.
The best place to get started is by searching local listings for other rental properties and apartments. Find out what similar properties are getting for rent in your area. One great tool to research comparable rental rates is Rentometer. It can narrow down rental rates for similar properties in your area in a few seconds.
Beyond the market rents in your area, you should also consider your expenses associated with the property. Expenses might include general maintenance, a mortgage, property taxes, insurance and major repairs.
In an ideal situation, the rental rate would cover all your expenses related to the property plus some profit. But ultimately, you'll most likely only be able to charge market rent rates regardless of your expenses. You'll want to ensure that the potential rewards outweigh the costs you'll have to cover.
Consider An Attorney
When you decide to rent out a home, you're wading into a new legal arena. You'll need to make decisions when writing contracts, navigating tenant laws, mitigating risk and understanding tax opportunities.
Although it is entirely possible to navigate these decisions on your own, it can be helpful to have a real estate attorney to turn to. With the help of an attorney, you can confidently make choices that are in your best interest.
It can be expensive to work with an attorney, but their knowledge could save you from headaches in the future.
Draw Up A Contract
Whether you decide to work with an attorney or go it alone, you'll need to draw up a contract. The contract you use with potential tenants should cover every possible situation you and your tenant might encounter.
Take some time to consider the questions concerning these important items for any tenant contract. Don't leave anything out!
Pet policies: Will you allow pets? If so, are there size or breed restrictions to consider? If a tenant has pets, will there be any extra fees associated with the privilege?
Illegal activities: What are your policies regarding unlawful activity on the property?
Late fees: When a tenant misses the rent payment deadline, what fees will be imposed?
Maintenance and repair: What is the process your tenant should follow to report maintenance issues?
Breaking the lease: Can the tenant leave the lease early? If so, what fees or restrictions will you impose?
Application fees: In the screening process, are there any fees for tenants to be aware of?
Security deposit: What amount of a security despot, if any, will a tenant need to put down upfront?
You can find standard leases online for most areas, but you should take the time to customize the lease to your exact specifications. Otherwise, you and the tenant may run into disagreements.
Screen Potential Tenants
With the property ready to go and a contract in place, it's time to show the property. It might be tempting to rent the home to the first renter that shows interest, but it's important to screen all potential tenants to ensure they'll be a good fit.
First, you'll want to know how many people will be living on the property. Additionally, you should ask about employment, income and credit score. You can verify this information with pay stubs and credit reports.
In some cases, you may decide to ask for references to assess the individual's character. But ultimately, the goal of screening is to ensure that the potential tenant is able and willing to pay rent on time while keeping the property reasonably clean.
Get Familiar With Landlord-Tenant Laws
All landlords will need to get familiar with landlord-tenant laws. These laws exist at the federal, state, regional and local levels to set fair ground rules for landlord-tenant relationships.
The best place to learn more about the laws that apply to your location is the U.S. Department of Housing and Urban Development.
Learn About The Fair Housing Amendments Act
Fair housing laws are designed to protect the rights of all individuals seeking to buy or rent housing. The Fair Housing Amendments Act makes it illegal to discriminate against potential tenants based on their race, color, national origin, religion, sex, familial status or disability.
There are some limited exemptions to this Act for owner-occupied buildings of less than four units and single-family homes rented by the owner without the use of an agent. But you don't want to be found in violation of the Fair Housing Act – it's smart to ensure you always comply.
Ways To Market Your Home When Renting Out A House
Finding the right tenant can be a challenge, but you can expand your opportunities by doing more than just putting a "house for rent" sign outside the home. As we've mentioned, good marketing is critical to securing the right tenant.
It's important that you take the time to create a listing for the property that showcases all the home's valuable amenities. Start with a great slideshow of photos that illuminate the home's best features. In addition to great photos, you should create a great description that highlights what renters are looking for.
Post the listing to all available websites to help potential renters find your property.
How To Report Your Rental Income To The IRS
Hopefully, when you finally have the right tenant in place, the rent checks will start rolling in. At that point, finding a tenant for your property will begin to pay off – but you'll still need to keep Uncle Sam in mind.
As with all income, you'll be required to pay income tax on your rental income. The IRS requires you to report your rental income from a residential property rental. In addition to your income, you'll need to provide a detailed breakdown of the expenses associated with the property and any deductions you may qualify for.
Depending on your situation, you'll need to report your rental income with the 1040 or 1040-SR form. Within the form, there is space to provide details about the rental income, expense and depreciation for your rental properties.
If you run into tax questions, it's best to talk to a tax professional to sort out the best practices for your situation. They'll be able to guide you through the tax specifics for your situation.
The Bottom Line
If you've determined that you can and want to turn your residential property into a rental, you've got a lot of work ahead of you – but renting out could create a new, significant stream of income to support your personal needs. As you explore this opportunity, consider what financial goals you have for yourself and how becoming a landlord could help you achieve them.
Do you have other questions about investment properties, primary residences and other property types? Read more about property classification to learn about the differences.