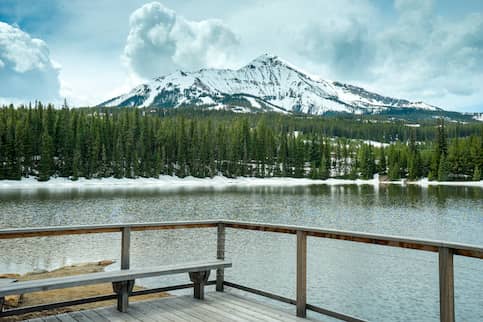 10 Best Places To Buy A Vacation Home In 2022
Published on June 10, 2022
Our homes aren't just the places we live – they're also investments. This is especially true of second homes that you don't live in a majority of the year. If you're in the market for a vacation home to relax in during your free time, you probably already have a location or even a specific neighborhood in mind. If you're looking to also rent that vacation home out a portion of the year, however, you may want to consider this: is that location going to be profitable?
Whether you're an investor or just a homeowner looking into purchasing your own personal getaway, do your research before buying a vacation home, especially if you plan on using it to make some passive income on the side. Let's break down the best places to buy a vacation home for those looking to find a beautiful retreat that also comes with benefits for their wallet.
Best Places For Vacation Homes
What makes somewhere one of the "best" places to buy a vacation home? We looked at data for cities across the country to handpick this list based on average home value, average rental revenue, population and much more.
This list is not definitive but will hopefully help you pinpoint locations in the U.S. where buying a rental property is a smart financial move. For each city below, we'll include the following:
Median listing price for a home:

This is the average cost of a home in this area.

Average daily rate:

The average daily rate is an estimation of how much it costs to stay 1 night at a rental property in this area.

Average occupancy rate:

The occupancy rate measures how often rental properties in this area are booked. This rate is determined by dividing the total number of booked days in an area by the total of days available for rent.

Population:

Population is a measure of how many people live in this area year-round.
Read on to explore the top 10 cities based on our findings. For more information on how we selected these locations, check out our methodology section at the end of the article.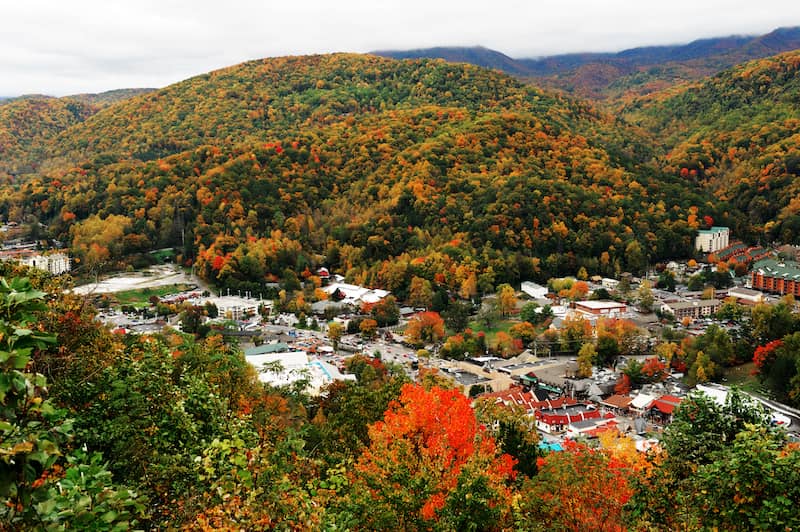 Gatlinburg, Tennessee
While it may not first come to mind as a vacation spot, Gatlinburg has tons to offer. Besides Nashville and Memphis, Gatlinburg is one of the most visited cities in Tennessee. It's a short trip away from Dollywood, the legendary theme park, and is surrounded by beautiful natural splendor. Visitors can enjoy hikes through the Great Smoky Mountains, chairlift rides through the Gatlinburg Skylift park, or even a trip to Ripley's Aquarium, the top-rated aquarium in the U.S.
Median listing price for a home:

$550,000

Average daily rate:

$281

Average occupancy rate:

77%

Population:

3,779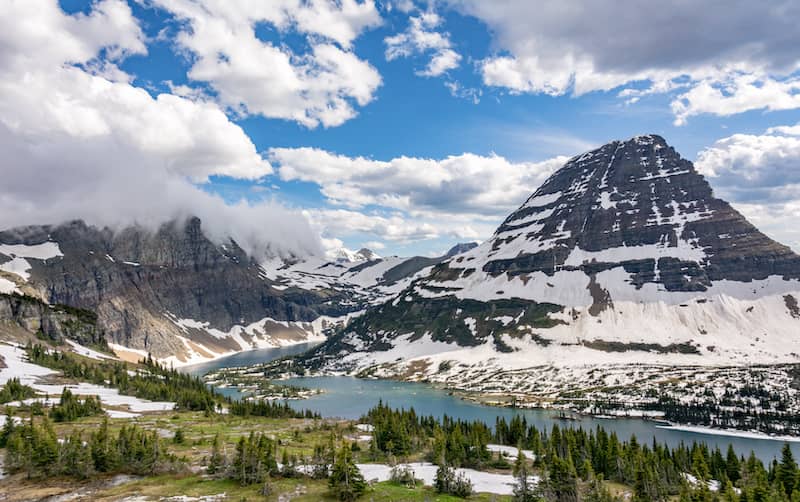 Big Sky, Montana
For those who love the outdoors, Big Sky is heaven. There's a reason Montana is known for spectacular views, and visitors of Big Sky will witness this beauty firsthand. Big Sky is just north of Yellowstone National Park, which makes it a popular destination for travelers coming to see the gorgeous mountains, canyons and geysers of the park. Big Sky is also near multiple ski resorts, gorgeous hiking trails and plenty of curated adventures for tourists to enjoy.
Median listing price for a home:

$1,402,500

Average daily rate:

$627

Average occupancy rate:

67%

Population:

3,357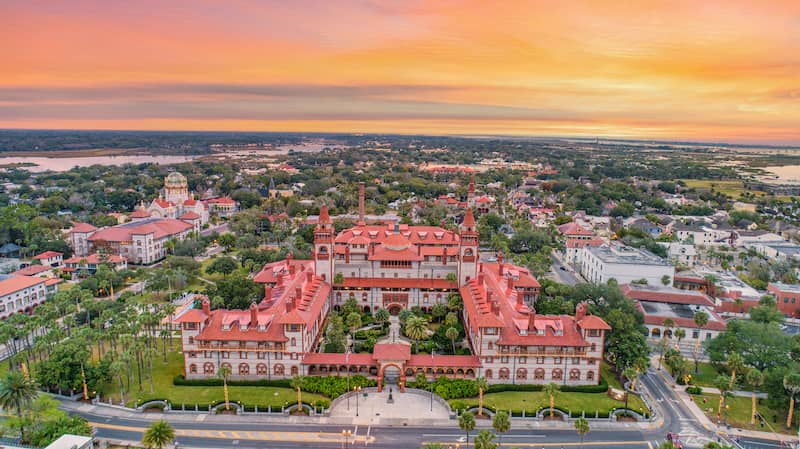 St. Augustine, Florida
Located just south of Jacksonville, St. Augustine is a beautiful oceanside city that draws tourism not only for its beautiful beaches, but also for the wealth of history in this unique location. Founded by Spanish explorers in 1565, St. Augustine claims to be the oldest European-established city in the entire U.S. Visitors can take historic tours of the city, go windsurfing at Anastasia State Park, hit the golf course, and much more.
Median listing price for a home:

$440,616

Average daily rate:

$218

Average occupancy rate:

77%

Population:

16,518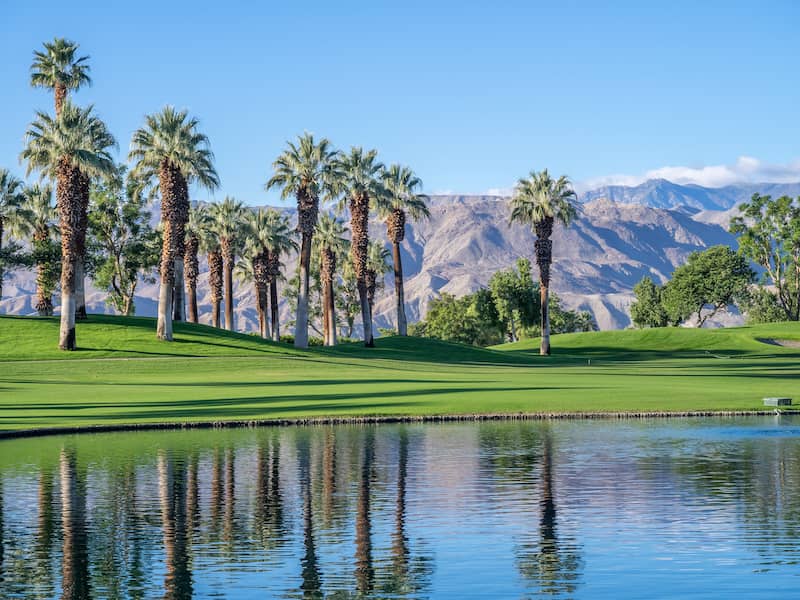 Palm Springs, California
Palm Springs is a beautiful desert resort town in California, located just west of Joshua Tree National Park. It's famous for once being the vacation destination for the stars of old Hollywood, though anyone can visit now. There's a wealth of activities for visitors to enjoy, from lounging beside a pool to visiting natural hot springs, exploring Joshua Tree, golfing, hiking and much more. The city is also home to a great deal of midcentury modern homes and buildings, for those passionate about architecture.
Median listing price for a home:

$612,199

Average daily rate

: $497

Average occupancy rate:

73%

Population:

48,929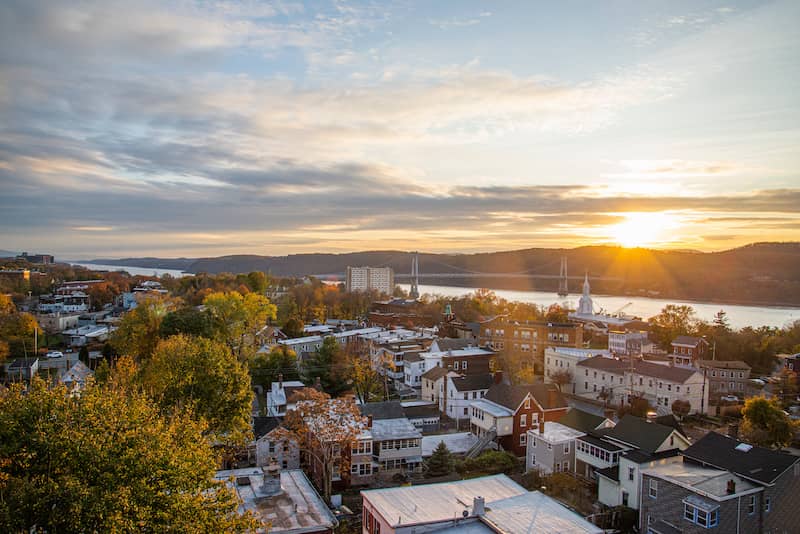 Hudson Valley, New York
The Hudson River Valley of New York is a lovely vacation spot no matter what city you choose to visit, but for the purposes of this article, we'll just look at the city of Hudson. This region is filled with beautiful old buildings and lush, forested areas as far as the eye can see. Named a top-20 must-visit destination by National Geographic, the Hudson Valley has something for everyone. Agritourism is especially big in the Hudson Valley region, with many farmers markets, food festivals and orchards lining the riverfront.
Median listing price for a home:

$817,000

Average daily rate:

$275

Average occupancy rate:

65%

Population:

6,017
Apply Online with Rocket Mortgage
Get approved with Rocket Mortgage® – and do it all online. You can get a real, customizable mortgage solution based on your unique financial situation.
Apply Online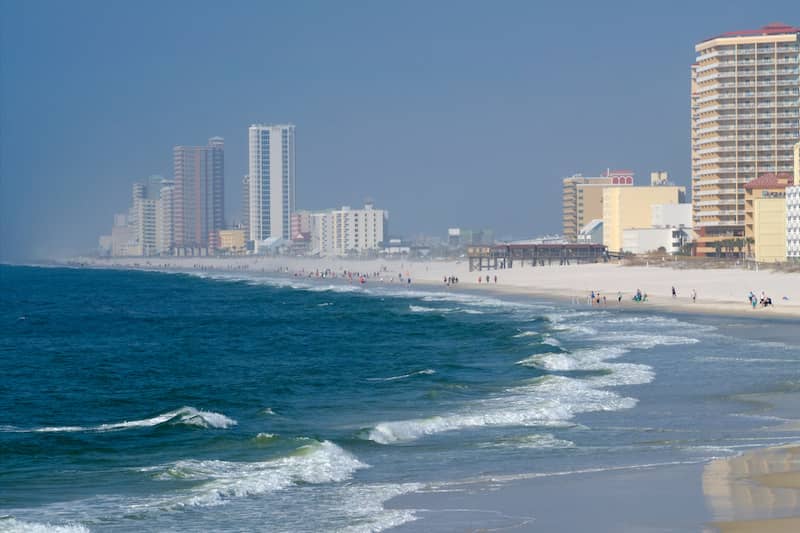 Gulf Shores, Alabama
As a huge vacation and spring break spot, Gulf Shores has a large, booming rental market. It sits right along the Gulf of Mexico and has plenty of warm, sandy beaches for visitors to relax on. There's more than just beaches for visitors to explore, too. Gulf Shores is home to plenty of golf courses, trails, a pier, the Alabama Gulf Coast Zoo and even a zip line over the sand dunes.
For those looking for a warm escape, Gulf Shores can't be beat.
Median listing price for a home:

$427,760

Average daily rate:

$281

Average occupancy rate:

73%

Population:

13,166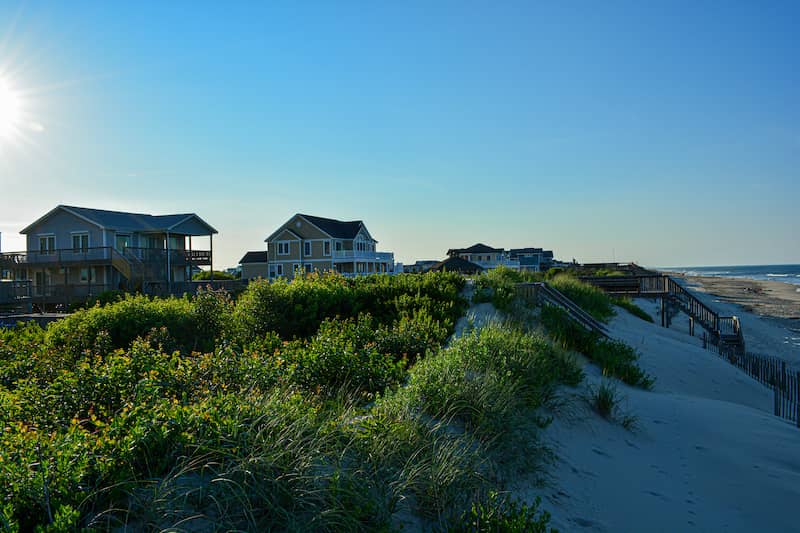 Corolla, North Carolina
Corolla is a village on the Outer Banks in North Carolina. This town is small and has few year-round residents but remains a big tourist destination for its miles of beaches and beautiful views of the ocean. There's plenty to do in Corolla beyond hitting the beach and swimming. Activities include seeing the area's wild horses, checking out the views from local lighthouses, fishing, biking, golfing and more.
Median listing price for a home:

$625,000

Average daily rate:

$389

Average occupancy rate:

90%

Population:

891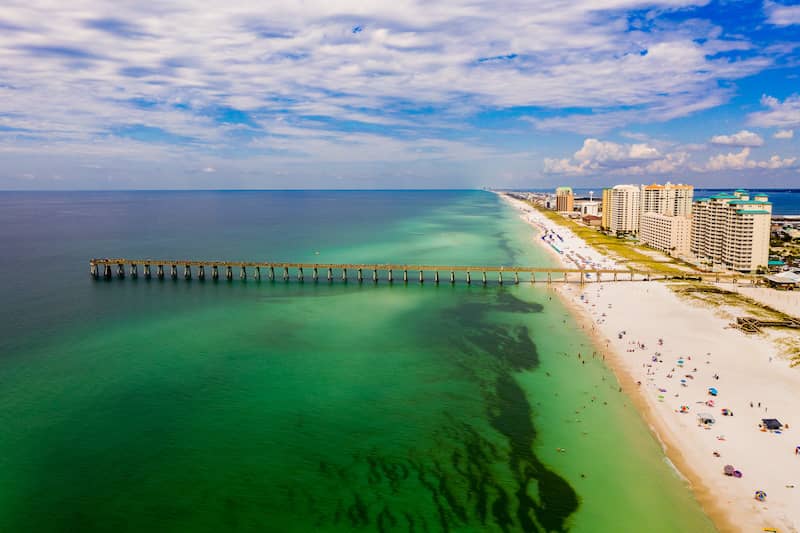 Navarre Beach, Florida
Navarre Beach is a long oceanside area in Florida separated from the rest of the city of Navarre by the Santa Rosa Sound. This beautiful beach area is sought out by tourists for its crystal-clear waters. Plenty of visitors can be found swimming, paddle boarding and fishing year-round.
Much of the land around Navarre Beach is either completely untouched or part of a marine protected area, so it boasts natural beauty that can be found in few other places across the state.
Median listing price for a home:

$732,000

Average daily rate:

$288

Average occupancy rate:

83%

Population:

1,131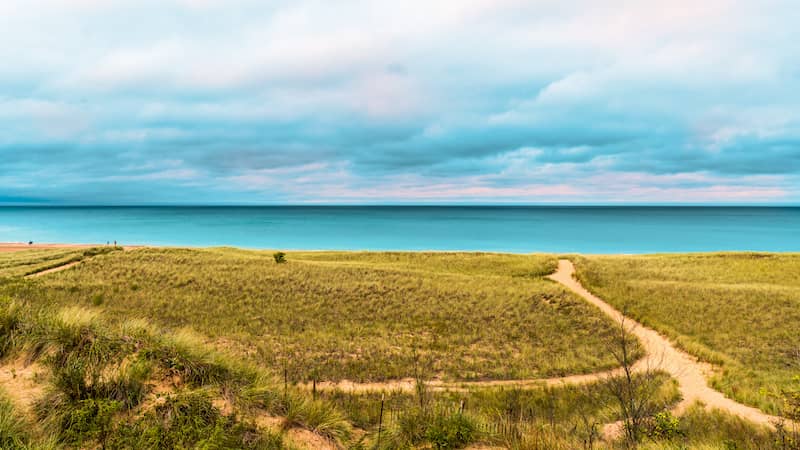 New Buffalo, Michigan
New Buffalo, Michigan, is a beautiful lakeside town that rests directly on Lake Michigan, right across the water from Chicago. New Buffalo gained popularity as a vacation spot because of its prime location in southwestern Michigan, which makes its pristine beaches easily accessible for residents of Michigan, Indiana and Illinois. Besides relaxing on the beach, New Buffalo is full of other activities for visitors too, such as hiking, shopping downtown and visiting the expansive Four Winds Casino.
Median listing price for a home:

$415,000

Average daily rate:

$483

Average occupancy rate:

63%

Population:

1,865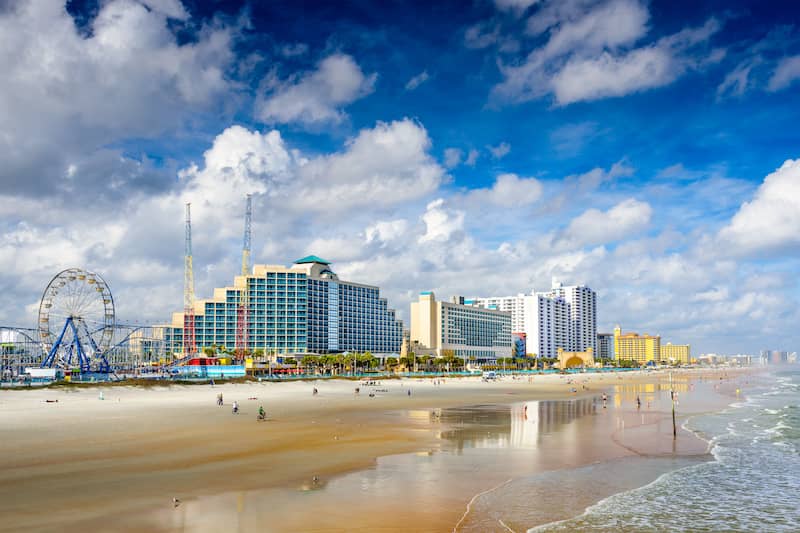 Daytona Beach, Florida
Daytona Beach is a city on the Atlantic Coast of Florida. It's best known for being the home of the Daytona International Speedway, which holds the iconic Daytona 500 NASCAR race. It draws huge numbers of visitors every year, not only for the race but also for its large, beautiful Daytona Beach, water park, boardwalk, shopping areas, festivals and much more. Daytona Beach is also just an hour north of Orlando, making it a great place to stay if you also want to pay a visit to Walt Disney World or Universal Orlando.
Median listing price for a home:

$231,550

Average daily rate:

$202

Average occupancy rate:

79%

Population:

70,143
2022 Trends For The Best Places To Buy Vacation Rental Property
If you're considering buying a vacation home to rent out in 2022, there's a lot to consider. Beyond location and your budget, rates are also on the rise, giving you plenty to think about when making your choice.
Here are a few trends this year that you may want to be aware of as you peruse vacation home options:
Rural travel more than doubled in 2021.

In the U.S., the percentage of rural travelers spiked from less than 10% to 28% in the U.S. According to Airbnb, travel to rural areas like Montana and South Dakota became much more popular last year after the pandemic inspired many to seek out nature and open spaces.

Travelers are taking longer trips.

According to data from Airbnb's 2021 Report on Travel and Living, the average stay for overnight guests increased to over 4 nights.

More people are travelling for work –

or working during travel. With hybrid and totally remote jobs becoming more common, many people are choosing to work remotely from their vacation spot, making travel more accessible to some.

Cozy, comfortable spaces are in demand.

With more and more travelers opting to rent vacation homes over staying in hotels, the demand for worthwhile spaces is high. Visitors want to stay in spaces that can give them experiences that hotels cannot. Natural light, views of the outdoors and relaxation-centered decor makes a big difference. According to research from Zillow, homes with "retreat features" such as she-sheds or freestanding bathtubs sold for 2.2% – 2.6% more than expected.
The Bottom Line
Buying a vacation home isn't just a way of making your dream getaway come true. It's also a great way to make money while you're not staying there. Even with rates on the rise, 2022 remains a solid time to invest in a vacation home if you have the means to do so. Before buying the second home of your dreams, be sure to do your own research into the rental market of that area.
Ready to buy your own slice of paradise? Start the approval process online today.
Methodology
The data used to create this article was sourced from multiple sites and sources. Vacasa's 2022 Best Places to Buy a Beach House Report was used to find the average rental revenue of some locations. Median home prices were determined using May 2022 data from the Rocket HomesSM Housing Market Report. Average daily rate, average occupancy rate and other revenue data was collected from AirDNA, which offers short-term rental data analytics based on rentals booked through Airbnb and Vrbo. Finally, population and other considerations like cost of living were found using data from Bestplaces.net.
Take the first step toward buying a house.
Get approved to see what you qualify for.
Start My Approval