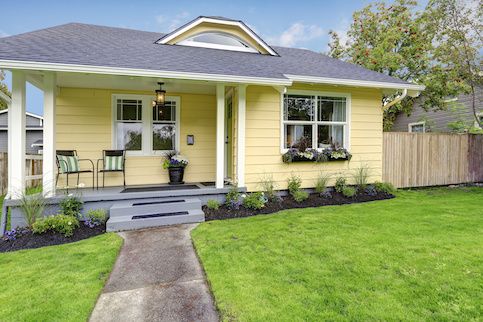 How To Get A Mortgage Loan With Bad Credit: A Complete Guide
Published on July 15, 2022
*As of July 6, 2020, Quicken Loans is no longer accepting USDA loan applications.
It's not hard to get a couple of blemishes on your credit report. Whether it's the mistakes of youth or an unexpected medical procedure that puts you behind on bills, it's easy to see your credit score dip if you're not careful.
If you have a low credit score, it's more difficult to get a mortgage loan, but just because your credit is bad doesn't mean you have to give up on your dream of homeownership.
What Is Considered A 'Bad' Credit Score When Looking To Buy A Home?
To determine your creditworthiness, loan qualification and even an interest rate, a mortgage lender will look at your qualifying FICO® Score, among other factors.
Using information from the three major credit bureaus (Equifax®, Experian™ and TransUnion®), FICO® compiles findings to assign individuals a credit score ranging from 300 – 850. These credit scores are calculated based on factors such as:
Payment history

Amount owed

Length of credit history

Types of credit

New credit
The minimum credit score to buy a house with a conventional mortgage is typically 580 – 620 depending on the loan program. If your credit is lower than that, it may be difficult for you to get a mortgage. While it is possible, you should expect higher interest rates and less favorable loan terms.
See What You Qualify For
Congratulations! Based on the information you have provided, you are eligible to continue your home loan process online with Rocket Mortgage.
If a sign-in page does not automatically pop up in a new tab, click here
Credit Scores Needed To Buy A House
The way your qualifying credit score is calculated will depend on the investor in your loan. Most of the time, your qualifying score is based on your median or middle score between the three credit bureaus. If you have two or more borrowers on the loan, the lowest middle score between all clients is used for qualification.
The exception is a conventional loan from Fannie Mae when there are two or more borrowers. Fannie Mae uses the average of the borrowers median scores in order to determine whether you qualify. If a client has a median score of 580 and the other has a score of 680, their qualifying score would be 630. They would qualify with two incomes where they otherwise wouldn't.
Before going into how to get a home loan with a bad credit score, it's a good idea to get an idea of where your score stacks up and what it means for your chances of mortgage approval, as well as the types of terms you would get on a loan.
| | | |
| --- | --- | --- |
| Credit Score Range | Credit Level | Mortgage Implications |
| 800 – 850 | Excellent | You're at the very top end of the credit score range. You're likely to get approved for the best possible terms on a loan. |
| 720 – 799 | Very Good | While not at the very top of the mountain, you're likely to be approved and get really good interest rates and other loan terms. |
| 620 – 719 | Good | You've got a good score, though it can still be improved. You'll likely pay slightly higher mortgage rates based on risk factors, although your chances of approval are still good. |
| 580 – 619 | Fair | You can be approved for an FHA or VA loan by many lenders at this level, but you may be required to carry less debt and pay slightly higher rates. |
| < 580 | Poor | Loans to consumers with credit scores of less than 580 are considered subprime. That means many lenders won't approve you. Those that do may require high down payments as well as a higher interest rate. |
What Other Factors Do Mortgage Lenders Consider?
Besides your credit score, lenders consider other qualification factors when you apply for a mortgage. These could affect the number of options available to you or the interest rate you receive on the loan.
Before filling out a mortgage application, it's helpful for home buyers to understand what lenders look for. Although these guidelines apply to Rocket Mortgage®, it's important to note that each lender might have different standards for qualification.
Down Payment Amount
Making a larger down payment will signal to your lender that you're more creditworthy, giving you a better chance of getting approved for your mortgage and possibly lowering your interest rate. If you don't think you'll be able to put down a large amount of money, you could try to apply for down payment assistance instead.
Debt-To-Income Ratio
Your debt-to-income ratio (DTI) measures your ability to make payments toward money you've borrowed based on your total minimum monthly debt divided by your gross monthly income.
Your lender will consider car loans, student loans, credit card debt, home equity loans, mortgages and any other recurring debt to calculate this percentage.
Most lenders will consider a DTI of less than 43% acceptable when qualifying you for a mortgage, but the lower your DTI, the more loan options will be available to you.
There are some options that can help you work around your DTI ratio, like FHA or VA loans. This may be an option if you have certain mitigating factors working in your favor. Other than that, paying off your debts is a good way to lower your DTI and get approved for a mortgage program.
Income And Assets
Income and assets are crucial to determining your mortgage eligibility. Simply put, the more income you have, the more likely you are to have a lower DTI and a better chance of making your mortgage payment every month.
This requirement makes the loan less risky for the lender. To document income, your lender will use things like pay stubs, W-2s and tax returns.
Assets are important for two reasons. The first is that you need savings or other resources to come up with a down payment for your home in most situations. Second, depending on the type of loan you're getting, the lender may require you to have reserves.
You can think of reserves as the number of months of mortgage payments you could afford if you were to suffer a loss of income for any reason. Every situation is different, but 2 months' worth of reserves is a good starting point for qualification.
Length Of Work History
As important as having an income is, having a history of receiving that income is just as crucial.
Your mortgage lender is going to want to see that you'll continue to get paid. This is one of the risk factors they'll examine closely when you apply for a mortgage.
Mortgage lenders will sometimes approve you with as little as a year of work history, but ideally, they like to see 2 years.
You'll also want to try to avoid changing jobs in the middle of the mortgage process. If your income structure totally changes or you're moving into a different field, a lender won't necessarily be able to count on that income continuing in the future.
Co-Signers
Having a co-signer is another thing that can help if you're in the mortgage qualification bubble. When someone co-signs a loan with you, their income and assets can be used to help you qualify.
The extra income is important because it can lower your DTI ratio. In certain limited situations, your DTI impacts the actual interest rate you get due to pricing adjustments on certain financing types.
Additionally, the assets of the co-signer could be used to show funds for a down payment or reserves. This process could help you get a lower rate if the down payment is big enough.
Can You Buy A House With Bad Credit?
While it may not be easy to get a home loan with bad credit (FICO® Score under 620), it's possible. However, it's important to closely examine the terms, interest rate and potential risks before moving forward.
FHA and VA loans are two mortgage programs that may be worth looking into. Additionally, there are several local and national assistance options that may be available to you.
FHA Loans
If you have a lower credit score, an FHA loan may be right for you. The Federal Housing Administration offers a government-insured loan with easier credit score requirements.
This type of loan offers lower down payments, low-equity refinances and often lower interest rates. If you have a median credit score of at least 580, your down payment can be as low as 3.5%.
FHA loans do have certain requirements for those who have filed for bankruptcy. There's typically a waiting period to apply for a loan after a discharge or dismissal. However, the length of time depends on the type of bankruptcy. Ask your lender for more details.
An FHA loan also allows you to have a higher DTI ratio than conventional mortgages, as long as you have a median credit score of 620 or better. This is beneficial for first-time home buyers with low income who have debt.
One thing to keep in mind with an FHA loan is that if you put less than 10% down, you'll have to pay a mortgage insurance premium for the life of the loan. You could make a down payment of 10% to avoid it, but you'll still pay it for at least 11 years (unless you refinance once you've reached 20% equity in your home).
VA Loans
If you're a veteran or currently serving in the military, you could also qualify for a VA loan. Because the Department of Veterans Affairs backs these loans, they have less stringent credit guidelines.
Although some lenders may have a number in mind, the VA has no standard required credit score for a VA loan. With Rocket Mortgage you'll need a minimum credit score of 580. Like an FHA loan, a VA loan is more forgiving of past financial difficulties, like bankruptcy, and typically has lower interest rates compared to other programs.
There is usually no down payment required for a VA loan. Additionally, mortgage insurance isn't necessary. Instead, you typically pay a one-time funding fee at closing or build it into the loan.
Keep in mind that to qualify for a VA loan, you have to be:
Currently serving in the United States military
An honorably discharged veteran
A not-remarried (except in limited circumstances) surviving spouse of a veteran or service member who died in service or from a service-connected disability
Able to obtain a VA Certificate of Eligibility, and either you or your spouse (if you're actively deployed) must live in the home
Finally, you need to meet minimum service time requirements that can vary based on how you serve. The exception to this is if you're discharged due to a service-connected disability. If you're interested in a VA loan, check out this complete guide.
Understanding Loan Options For Less-Than-Perfect Credit
It's worth noting that this table is representative of the guidelines of Rocket Mortgage. Other lenders may have different policies.
Type Of Mortgage

Qualifying Credit Score

Bankruptcy

Foreclosure

Judgments And Tax Liens

Conventional Loans

620

Chapter 7: Discharged or dismissed more than 4 years ago

Chapter 11: discharged or dismissed more than 4 years ago

Chapter 12:

Discharged more than 2 years ago and filed more than 4 years ago OR dismissed more than 4 years ago

Chapter 13: Discharged more than 2 years ago and filed more than 4 years ago OR dismissed more than 4 years ago

7 years from the date shown on the credit report

These must be paid in full.

FHA Loans

As low as 500, but Rocket Mortgage and many other lenders require 580

Chapter 7: Discharged or dismissed more than 2 years

Chapter 11: Discharged or dismissed 2 years prior to application

Chapter 12:

Discharged or dismissed prior to application

Chapter 13: Discharged or dismissed prior to application

3 years from the date of credit report

You can pay them in full or be on a repayment plan under certain circumstances.

VA Loans

No standard minimum, but Rocket Mortgage requires 580

Chapter 7: Discharged or dismissed 2 years prior to application

Chapter 11: Discharged or dismissed 2 years prior to application

Chapter 12:

Discharged or dismissed prior to application

Chapter 13: Discharged or dismissed prior to application

2 years from the credit report date

These must be

paid in full if they're showing up on the title. If just on credit, you can have a repayment plan provided you meet qualifications.
Assistance And Loan
Programs For First-Time Home Buyers
There are various assistance programs and resources that make the home buying process easier for first-timers.
While Rocket Mortgage doesn't offer any in-house programs, we do accept the following:
HomePath® Ready Buyer Program: Fannie Mae offers this product to help first-time home buyers (people who have not owned a home in the past 3 years) purchase foreclosed properties and provides 3% back in closing cost assistance.

Home Possible® and HomeReady®: These programs from Freddie Mac and Fannie Mae offer home buyers who make less than 80% of the' median income in the area where they're looking to purchase a home for as little as 3% down without a first-time home buyer restriction.

Government and nonprofit grants:

The Department of Housing and Urban Development offers a list of state and local home buying programs. You can also look for charitable organizations that will help with the financing of a home.

Employer assistance:

Some employers offer forgivable loan assistance if you stay with the company for a certain number of years. You might also be able to get assistance from your labor union.

Down payment assistance: Beyond employers, there are local governments, nonprofits and housing assistance through which you can apply for repayable or forgivable loans that can be used toward your down payment. Make sure you fully understand the terms of the assistance.

Borrowing from retirement funds:

After checking with your financial advisor/tax professional for advice, you could take a loan from your retirement funds to be paid back over time on a set schedule and use it for down payments or other mortgage transaction costs.

Mortgage credit certificate:

This is a state or local government option that is available for low- to moderate-income buyers to take a credit to reduce their tax bill based on their mortgage interest.
How To Get Approved For A Mortgage With Bad Credit
If you decide to buy a house, here are some steps you can take to increase your chances of success.
1. Check Your Credit Score
Before you talk to a lender or submit a loan application, you need to know what your credit score currently is. Even if you think you know, you could be surprised to see what remains on your report. Past-due medical bills, outstanding credit card balances and even unpaid subscription fees can all end up hurting your score.
Make sure you know where you stand by checking your credit report before beginning the home buying process. This step allows you to assess your history, figure out how you can improve your score or catch and correct any errors that may show up.
You can get your free VantageScore® 3.0 credit score and report from TransUnion® once a week courtesy of our friends at Rocket HomesSM.1,2
2. Pay Down Your Debts
Like we mentioned above, paying off outstanding debts will help lower your DTI and ensure that you have enough monthly income to cover your mortgage payments. Getting rid of credit card debt can also reduce your credit utilization, which will additionally improve your chances of getting approved for a mortgage.
Most banks, credit unions and online financial institutions want to see that you're a trustworthy borrower and responsible homeowner who will make their mortgage payments on time. By reducing any outstanding balances or debts ahead of time, you're showing prospective lenders that you'll be motivated to also pay off your mortgage.
3. Speak With Your Lender
Explain the whole story of your credit issues to your mortgage broker or lender. Perhaps you have a high income, and your credit was damaged because of past mistakes, or you were a victim of identity theft. If you try to hide any of these financial issues, your lender will most likely discover them during the underwriting process and they could end up declining your mortgage.
Being upfront with your lender could persuade them to work with you and provide alternative solutions. Make sure you have income and financial documentation with you when you explain your credit issues, as these things may help you build a stronger case.
4. Apply Individually
If your spouse's credit score prevents you from qualifying for a mortgage or drives your interest rate higher, you may want to apply for the mortgage solo. Keep in mind that if you apply without your spouse, you may qualify for a smaller loan amount because only your individual income and assets will be factored in.
If your spouse has a relatively high income and low debt, though, it may be smart for you to apply together. A good lender should help you work through these scenarios to determine what is best for you.
5. Liquidate Assets
If you don't have the cash for a large down payment on hand, look for assets that you can liquidate without taking large losses. For example, your 401(k) retirement account could be a source of cash for your down payment (but check with your financial advisor/tax professional first).
6. Ask Family For Help
Depending on the type of loan you're applying for, a parent or another non-occupant can co-sign on your mortgage so you can get approved (you may even get a better interest rate). Be sure to ask your lender for details on what's required for co-signers.
You can also consider funding your down payment with gift money from relatives. However, the amount of gift money you use can affect the mortgage type you qualify for. Learn more about how using financial gifts impacts your loan approval with our guide to using gift money for your down payment.
The Bottom Line
Buying a home with poor credit is still possible. While it may take additional time and research to find an option that works for you, it will be well worth the effort. If you feel like you've been able to use these tips to improve your credit and you're now ready to move forward and buy a home, apply online or talk to a Home Loan Expert to learn more about your options. You can also call us at (833) 230-4553.
1 Rocket Homes℠ is a registered trademark licensed to Rocket Homes Real Estate LLC. The Rocket Homes℠ logo is a service mark licensed to Rocket Homes Real Estate LLC. Rocket Homes Real Estate LLC fully supports the principles of the Fair Housing Act.
For Rocket Homes Real Estate LLC license numbers, visit RocketHomes.com/license-numbers.
California DRE #01804478
2 Rocket Mortgage, LLC and Rocket Homes Real Estate LLC are separate operating subsidiaries of Rocket Companies, Inc. (NYSE: RKT). Each company is a separate legal entity operated and managed through its own management and governance structure as required by its state of incorporation and applicable legal and regulatory requirements.
Take the first step toward buying a house.
Get approved to see what you qualify for.
Start My Approval