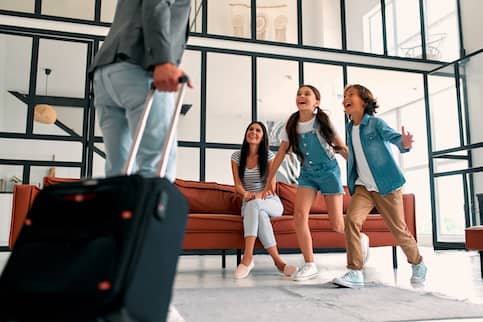 VA Certificate Of Eligibility: Everything You Need To Know
Published on October 7, 2021
VA loans are an incredible benefit offered to service members who meet certain criteria. These benefits are exclusive to qualified veterans, service members and their surviving spouses. They provide opportunities that you don't get with other loans – such as the ability to refinance your home up to 100% of its worth, plus no down payments on home purchases and more.
In order to take advantage of these benefits, however, you need to prove you're eligible with a Certificate of Eligibility, or COE. In this article, you'll find more information on the VA loan COE, including what it is, how to get it and how it works.
What Is A VA Loan Certificate Of Eligibility?
A COE is a form provided by the Department of Veterans Affairs that indicates to the lender that you're eligible for a VA loan. In order to be eligible for a VA loan, you must meet one of the following requirements:
181 days of service during peacetime

90 days of service during wartime

6 years of creditable service in the Reserves or National Guard

You're the surviving spouse of a service member who died in the line of duty or passed due to complications of a service-related disability
Providing a COE (also referred to as Form 26-1880) proves that you meet these requirements and are eligible to receive a VA loan. Service time requirements don't apply to veterans who receive VA disability benefits.
See What You Qualify For
Congratulations! Based on the information you have provided, you are eligible to continue your home loan process online with Rocket Mortgage.
If a sign-in page does not automatically pop up in a new tab, click here
Why Is Having A Certificate Of Eligibility Important?
Without a COE, lenders are unable to approve you for a VA loan and the benefits that come along with it. Providing an up-to-date COE allows lenders to determine your entitlement and to help you get the right loan for your needs. However, it's important to note that a COE should not be confused with a statement of service, which acts as a form of income verification during the VA loan process.
Your COE also provides the entitlement code for lenders to use to determine your loan eligibility. That entitlement code informs the lender about your military service and allows lenders to determine if you're required to pay the VA funding fee, a fee that goes directly to the Department of Veterans Affairs.
Where Do I Get A VA Home Loan Certificate Of Eligibility?
There are a few ways to go about getting a COE. You can apply online directly or print out a request for your COE from the VA website. You can also work with your lender to receive your COE, but keep in mind that not all lenders are able to do this due to VA guidelines. Make sure to ask your lender if they're able to originate VA loans. Rocket Mortgage® is able to help you obtain your COE.
There are some instances in which your lender may be unable to request your COE for you. Please keep in mind that if any of the following factors apply to you, your lender may not be able to retrieve this document, including receiving a discharge other than honorable. Surviving spouses will also have to fill out VA form 26-1817.
It is also recommended that you provide your proof of service form with your COE. For veterans who entered the service after September 7, 1980, and were discharged after serving fewer than 2 years, proof of service is required. The DD214 Form (which you can obtain online if you don't have a copy) will ask you for information about your current living situation and your dates of military service.
How Long Does It Take To Receive A VA Loan COE?
The length of time it takes to receive a Certificate of Eligibility varies based on different factors, but it can take up to 6 weeks. A few factors that can increase the time it takes to receive your COE include:
Requesting the document by mail

Length of time since you've served
Allowing your lender to request your COE is generally the quickest way to receive this document. Rocket Mortgage is a VA-approved lender, and we have automated systems that could help us pull your Certificate of Eligibility in the majority of cases.
What Do I Do Once I've Got My Certificate Of Eligibility?
Once you've received your COE – whether through the Department of Veterans Affairs or through your lender – you can begin the process of finding a home to purchase and getting approved for a VA loan.
Once you've found your home, your lender will work with you to get your loan approval and complete the steps needed to close on a loan if you're approved.
When Does A COE Expire?
A COE does not expire. However, there may be some instances where a new COE is needed. An example of this is if your original COE was obtained while you were on active duty. If you're no longer active duty, a new COE would be required upon your discharge.
What Else Should I Know About The VA Certificate Of Eligibility?
While your COE proves to lenders that you're eligible for a VA loan, it doesn't guarantee an approval. Providing the COE allows the lender to review your loan for approval but isn't an approval on its own.
It's also important to note that the term "Certificate of Eligibility" can often be found in use on collegiate websites when discussing VA education benefits connected to the GI Bill. However, the correct term for the official document detailing the education benefits belonging to an active or veteran member of the military is a "Statement of Benefits." As far as the VA is concerned, COEs only relate specifically to home loans.
The Bottom Line: Take The First Step Toward Homeownership
Receiving your Certificate of Eligibility is the first step toward purchasing a home using a VA loan. Find additional details regarding the COE, including a list of evidence needed to receive the COE, on the Department of Veterans Affairs website.
You can also apply online or speak to a Home Loan Expert at Rocket Mortgage. You can also give us a call at (888) 452-0335.
Apply for a mortgage today!
Apply online for expert recommendations with real interest rates and payments.
Start Your Application