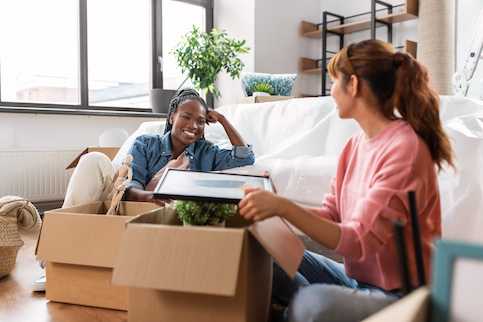 Collateral Loans: What Are They And How Do They Work?
Published on May 25, 2022
Have you ever pledged something to someone else as a way to fulfill a promise? For example, maybe you let your neighbor hold onto your fancy grill as a guarantee that you'll fix the hole in your fence (so your dog can't chase the neighbor's chickens). That way, your neighbors know you plan to do what you've promised because you've given them something of value as collateral.
Collateral loans work using the same idea, except they involve the repayment of a debt with added interest. In this article, we'll answer your main question, "What is a collateral loan?" and walk through how collateral loans work, examples of collateral loans, pros and cons and who offers collateral loans.
Apply Online with Rocket Mortgage
Get approved with Rocket Mortgage® – and do it all online. You can get a real, customizable mortgage solution based on your unique financial situation.
Apply Online
What Is Collateral?
First, let's go over the definition of collateral. Collateral is an asset a borrower uses to secure a loan from a lender. This means that if a borrower defaults on their loan payments, the lender can take possession of their asset.
Examples of collateral include cars (for a car loan). Collateral on a house loan (mortgage) is often the house itself.
See What You Qualify For
Congratulations! Based on the information you have provided, you are eligible to continue your home loan process online with Rocket Mortgage.
If a sign-in page does not automatically pop up in a new tab, click here
What Is A Collateral Loan?
A collateral loan, also called a secured loan, means that a lender accepts an asset of yours as "backing" for a loan in case you default on the loan. Mortgages are also secured loans, which means that the real estate property is used as collateral on the loan.
Collateral loans lessen the lender's risk, which means it could be easier for you to get a loan (in some cases, you may more easily get a larger loan). It might also cost you less in the long run.
How Do Collateral Loans Work?
Lenders use collateral to ensure repayment from you, the borrower.
In the case of a mortgage, the lender holds a lien on the mortgaged property as collateral. The lien is the mechanism that gives someone certain rights to your collateral if you default on the terms of the agreement. Your lender can take the house back, sell it and pay off the loan with the money it makes from the sale. When you've fully paid off the loan, the lender takes the lien off your property.
Unsecured loans don't use collateral in the same way. Collateral loans work differently from unsecured loans, or revolving lines of credit, which can include credit cards, student loans and personal loans. "Unsecured" simply means the loan is not backed by collateral such as a home, boat or car.
Unsecured loan lenders allow you to borrow the money outright. This means it's riskier for the lender because these loans are only supported by your creditworthiness. They may require higher credit scores for approval.
Examples Of Collateral Loans
There are different types of collateral loans that use a variety of assets. Learn more about these types of loans by reading through some of the collateral loan options below.
Residential Collateral Mortgage
A mortgage is slightly different from a standard collateral loan. In this case, real estate is used as collateral for the loan, even though the borrower doesn't own it yet.
With a mortgage, you can undergo foreclosure. If your lender has made good faith attempts to contact you, attorneys can file first legal, which initiates a complaint or mortgage default, depending on your state.
If you still do not seek options to avoid losing your home to foreclosure, your lender can either (depending on your state laws) file a lawsuit through the judicial system (in a judicial foreclosure) or auction off the home without involving a court (in a nonjudicial foreclosure). You'll then get evicted from the home.
Second Mortgages
A second mortgage is similar to a primary mortgage on a home, only it's an additional mortgage on a home. Just like your first mortgage, you use your home as collateral for the second mortgage as well.
However, you tap into your home equity to access a second mortgage. Equity refers to the difference between the value of your home and what you owe on it. Depending on your qualifications, you may be able to access a large amount of your home equity.
For example, home equity loans are a type of second mortgage where your lender gives you a lump sum. Home equity loans are more risky for the lender, however, because the first mortgage gets paid in the case of default and the second mortgage gets paid next. Still, home equity loans are secured, which can mean you'll get a lower interest rate.
Auto Loans
Auto loans use the vehicle being purchased as collateral. If you don't make your payments for your auto loan, the lender can repossess the vehicle to pay for some or all of the debt you owe.
Loan Against Securities
You can also get a loan by pledging shares of items like stocks and bonds as collateral. This loan against securities may also be called portfolio-based lending. In this case, you can use certain personal assets as collateral for a loan, such as:
Stocks

Mutual funds

Exchange-traded funds (ETFs)
Bonds
Insurance policies
Certificates of deposit (CDs)
Personal savings accounts
Retirement accounts
You may use securities as collateral for many things, such as for buying real estate, investing in a business or buying a vehicle. With a loan against securities, the value of the asset used for collateral will affect the loan amount. Furthermore, if the securities you've put up as collateral go down in value, your lender may ask you to come up with the cash to bring your balance back up.
Business Loans
Business loans use assets such as machinery, equipment, inventory or buildings for the loan's collateral. Securities collateral may also be used, such as stocks, bonds, mutual funds, etc. The lender may also use future earnings of the business as collateral as well.
It's also possible to get an unsecured business loan, but these typically come with higher interest rates and more difficult borrower requirements.
The Pros And Cons Of Collateral Loans
Collateral loans come with many advantages and disadvantages for borrowers. It's a good idea to carefully consider both the pros and cons before choosing to apply for a collateral loan.
The Pros
The main benefits of a collateral loan include the following:
Good for those with limited or imperfect credit: A collateral loan can improve eligibility for borrowers with a limited credit history or poor credit score.
Larger loan amounts: You can typically access larger loan amounts with collateral loans than you can with unsecured loans.
Lower interest rates: Because you put an item up for collateral, you can typically tap into a lower interest rate with a collateral loan than you can with an unsecured loan.
The Cons
The drawbacks, on the other hand, include the following:
Riskier for the borrower: If you decide to use a collateral loan, you have a higher risk of losing the asset used for collateral.
Restrictions: Some lenders may restrict what the money can be used for.
Can take longer: The approval process may take longer to get since the lender has to assess the value of the collateral. You'll also need to provide more information to your lender than you would need to for an unsecured loan.
Stricter repayment terms: You may face stricter repayment terms with a collateral loan compared to an unsecured loan
Who Offers Collateral Loans?
If you're interested in applying for a collateral loan, many types of financial institutions offer collateral loans, including:
Traditional banks
Credit unions
Online lenders
Research and compare lenders before filling out a loan application to make sure you find the best rate and loan terms.
Curious about more loan options?
A nonrecourse mortgage loan favors the borrower because it assures the borrower loses only their collateral and will never owe more on their loan than the asset is worth.
Hard loan lenders also offer a way to get money quickly. Your home is listed as collateral, meaning they can resell the property themselves if the borrower cannot follow through on their loan repayment.
The Bottom Line
A collateral loan is a type of loan in which you pledge an asset to a lender as security for a loan. Mortgages are one of the most common types of collateral loans. In the case of a mortgage, they work by putting a lien on your house. Lenders like having collateral for larger purchases because it's a way to ensure that you'll continue making your monthly payments.
Learn more about home loans by reading about common mortgage qualification requirements.
Take the first step toward buying a house.
Get approved to see what you qualify for.
Start My Approval