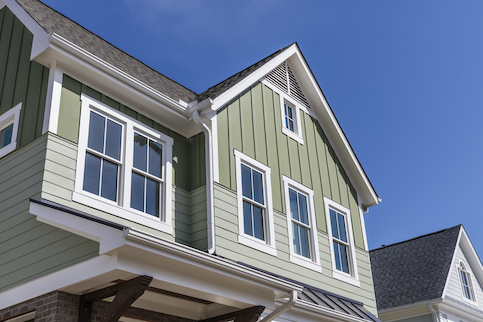 5 Options For Refinancing Your Mortgage With Bad Credit
Published on February 10, 2020
You may have heard about the attractive refinancing opportunities available. But what if you have bad credit? Let's take a closer look at your options to refinance in this case.
Common Reasons To Refinance
Before you explore your refinancing options, it's a good idea to stop and consider whether refinancing is the right move for your finances. There are several reasons why refinancing could be the right fit for your situation.
Consider the following factors when deciding if you should refinance your current mortgage.
Change The Loan Term
The loan term on your current mortgage affects the monthly payments you are required to make each month. A loan term is the period of time that you have to repay the mortgage. For example, a 15-year mortgage has a 15-year loan term.
With a shorter loan term, you will have higher monthly payments. If you want to save money each month, you could stretch out the mortgage's total amount over a longer loan term.
When you refinance, you can seek a longer loan term to add more flexibility to your monthly budget with a lower monthly mortgage payment.
Lower Interest Rate
A lower interest rate can have a dramatic effect on the total cost of the mortgage.
Since interest rates are relatively low right now, it can be a smart move to refinance. If you're stuck with a high interest rate on your current mortgage, refinancing has the potential to save you thousands over the course of the loan.
Remove Mortgage Insurance
Mortgage insurance can be an additional monthly expense that cuts into your budget. Although it may be unavoidable when you're first taking out your mortgage, you might be able to refinance and eliminate mortgage insurance from your payments.
If you have an FHA loan with at least 20% equity, you have the perfect opportunity. You might have the ability to refinance into a conventional loan and leave mortgage insurance behind forever.
Pay Off Debt
If you've built a substantial amount of equity in your home, then a cash-out refinance could be used as a helpful financial tool to eliminate high interest debt. A cash-out refinance could provide the funds you need to eliminate any high-interest debt taking a toll on your finances.
Before you move forward with this strategy, consider the costs of refinancing against your outstanding debts. Ensure that you'll save enough money on your high-interest debt to make refinancing worth the effort.
Fund Home Improvements
A cash-out refinance can be used in another helpful way. If you need funds to cover the costs of home improvements, then a cash-out refinance could be the right solution.
With this option, you'll be able to use the equity you've built in your home to fund any improvements. Of course, this may prolong the term of your mortgage. But depending on your situation, it may be worth it.
Credit Score Required To Refinance
In most cases, the required minimum credit score to refinance with a conventional loan is 620. But luckily, the requirements will vary for other refinancing options. This means that you have more refinancing opportunities if you have a less-than-perfect credit score.
5 Options For Refinancing A Home With Bad Credit
If you have a credit score that keeps you from securing the most ideal refinancing terms, you may be left to wonder if you can meet refinance requirements with bad credit. Thankfully, that answer is often yes.
Here are some options that will help you explore how to refinance with bad credit.
1. Get An FHA Streamline Refinance
An FHA Streamline Refinance can allow you to lower your monthly payment or change the loan term. The program is available to borrowers with an existing FHA loan, whether or not they have any equity built in their home.
Although you cannot take any cash out of your home, the paperwork process and credit requirements aren't too burdensome. The major drawback of this option is that you could be stuck with mortgage insurance payments for years. But it could be worth it to enjoy a lower interest rate with minimal paperwork requirements.
2. See If You Qualify For A VA IRRRL
If you have an existing VA loan, then a VA IRRRL could be a good option. The VA IRRRL – aka the VA Streamline Refinance – is backed by the Department of Veterans Affairs and can allow you to lower your monthly payments with the help of a lower interest rate or longer loan term.
The VA IRRRL is open to anyone with a VA loan that can meet the qualifications and often involves less paperwork than a traditional refinance. With that, you can take advantage of lower interest rates, even with less-than-perfect credit.
3. Consider A Cash-Out Refinance
A cash-out refinance can allow you to accomplish other financial goals. You could use the funds to pay off high interest debt, pay for a home improvement project and more.

If you have built enough equity in your home, then a cash-out refinance can provide the opportunity to take care of other financial obligations with the help of a refinance.

The requirements of this option will vary based on the mortgage lender. But it can be a good avenue to explore as you seek out refinance options for bad credit.
4. Find Someone To Co-Sign
A co-signer can give your application a boost in the eyes of a lender. If you can find someone that is willing to co-sign on your mortgage, then the lender will consider their credit score and income as well as your assets.
With the help of a co-signer, you could receive better refinancing opportunities.
5. Improve Your Credit First
When you're looking at your refinancing options, you'll quickly realize that you can access better financing opportunities with a higher credit score. In some cases, taking some time to increase your credit score may be the best course of action. If you take some time to improve your credit score, you could unlock refinancing terms that are better suited to your refinancing goals.
You can take steps to increase your credit score right away. Making an effort to pay your bills on time, keeping your credit card utilization low and reducing your debts can help to paint a better picture of your creditworthiness on your credit report. In time, this will lead to an increase in your credit score and improve your debt-to-income ratio (DTI).
Overall, this is often the most effective way to maximize the benefits of your refinancing opportunities. Take some time to build your credit score and then move forward with your refinancing plans.
The Bottom Line On Refinancing With Bad Credit
If you want to refinance your mortgage with bad credit, there are many options available. In fact, there may be too many options for you to choose from. Luckily, you can get started with a Rocket MortgageⓇ refinance expert at any time to find out more about the best refinancing opportunity for your situation.
Find A Mortgage Today and Lock In Your Rate!
Get matched with a lender that will work for your financial situation.
Get Started